Background
Sonny's BBQ is a franchise-based barbecue restaurant chain headquartered in Maitland, Florida. With 110 locations in 8 states, Sonny's is one of the largest barbecue chains in the United States. Prominent in their community, they pride themselves on "Throwin' a BBQ Slathered in Southern Hospitality."
Sonny's faced a lot of challenges typically associated with a franchise model of business.
They struggled to ensure their brand and vision were consistent across every franchisee location.

They had no effective way of communicating important news stories—nor did they have any assurance over what announcements were read, and by whom. And third,

They had no way of appreciating and recognizing the valuable contributions of their employees.
Searching for a solution
Heather Kruskamp, a training manager at Sonny's BBQ head office, had long recognized the need for a platform that unified their communication across their franchisee locations.
Heather experimented with a few different tools and platforms—including a wiki-like solution, but was dissatisfied as she felt it didn't meet their communication needs. "The navigation was confusing, messaging was getting lost, the layout was poor, and it was not user friendly," said Heather.  "It was frustrating because passwords needed to be reset over and over again, which was time consuming". There was also limited reporting, which meant that Heather had no way of knowing who logged in and who hadn't.
If the lengthy process had a positive side, it was that it was helping Heather understand what she needed and wanted from an intranet, and what she didn't. The goal was to find an intranet that helped improve communication, both within the head office (BBQHQ) and with the franchisees who are dependent on information from the top. The chosen solution would also need to deliver an easy end-user experience with the ability to search for people and content.  
With help from IT Manager, Joshua Gravely, Heather continued her search for intranet software, and quickly discovered ThoughtFarmer. They were immediately impressed by everything ThoughtFarmer offered.
"ThoughtFarmer were very thorough in their demonstration, and answered every single question we had," said Heather.  They were the clear choice, providing all the features and functionality we desired."
ThoughtFarmer in Action
Rolling out ThoughtFarmer was easier than Heather or Josh ever expected, thanks in part to the support they received from ThoughtFarmer's Customer Success team. Named "Smoke Signals," Sonny's now relies on their intranet for a variety of communication and branding related activities including:
Employee Recognition
ThoughtFarmer's Shout-out feature enabled Sonny's BBQ to recognize their employees for their hard work and success. "Our employees definitely feel more appreciated than they did before," raved Heather.  
Important News and Announcements
The ability to post news stories and corporate updates was important for the Florida BBQ chain. Heather now has complete confidence that the news and information posted is read by the franchisee locations. "Before ThoughtFarmer we never knew if a news story was getting read, or appreciated. Now we have that information."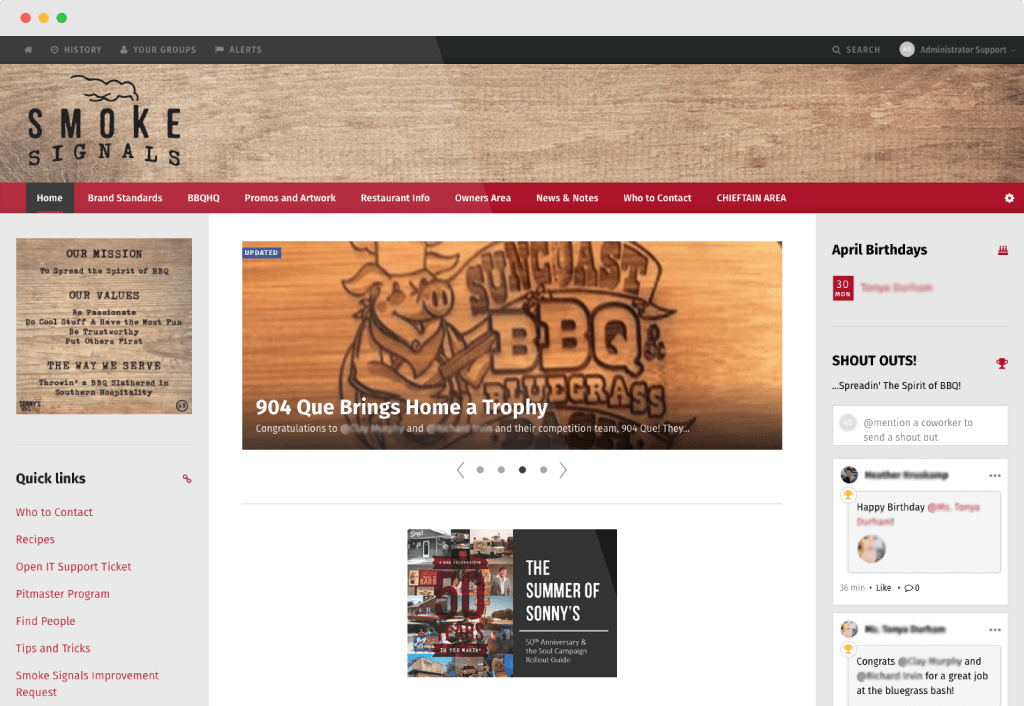 Centralized Resources
ThoughtFarmer helped Sonny's BBQ create a secure, scalable repository where all their franchisees could locate accurate, up-to-date information about the Sonny's BBQ brand. Things like recipes, or important policies are now easier for everyone to access.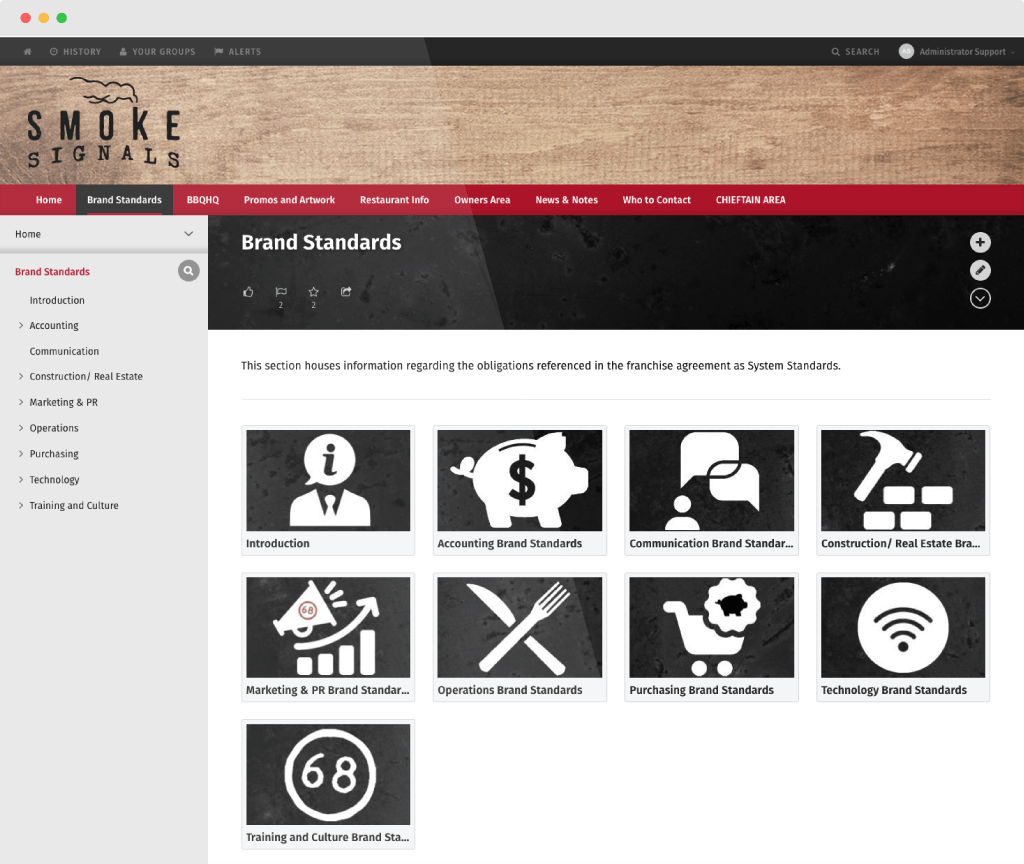 Simplified Search
ThoughtFarmer's customizable navigation and dynamic org chart makes it easy for Heather and others to find and locate employees, as well as important documents.
Ongoing Support
ThoughtFarmer's ongoing support through the Customer Success team meant that Josh and Heather were never on their own."Support has been amazing, and I have never felt that any issue wasn't addressed," beamed Heather.  
Looking towards the future
While Heather is still learning the analytics, she is confidant it won't take long until she has proof on just how much Smoke Signals has improved their communication and collaboration. "Now that we can see which news stories have been received and read, we can measure the reach and effectiveness of our communication."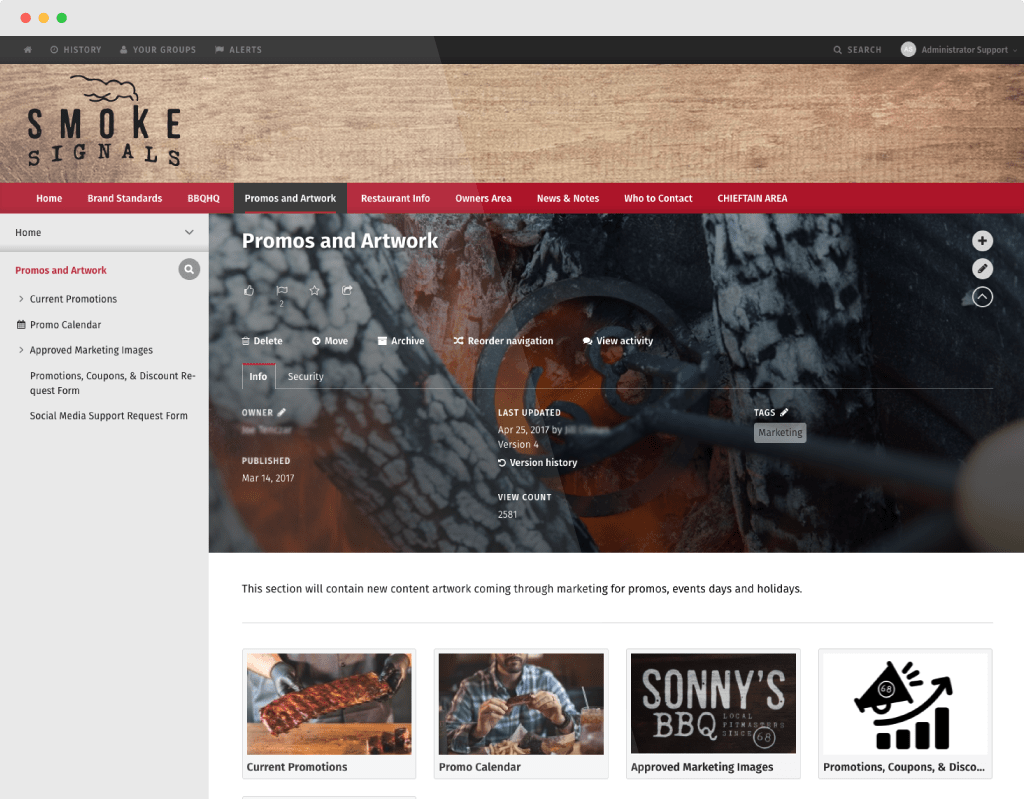 Meanwhile Josh looks forward to optimizing Smoke Signals and incorporating social media and RSS feeds. "We look forward to applying new features to our existing build, and achieving all our intranet goals" said Josh. "At the end of the day we just want to do cool things, and provide the latest and greatest to our community."