Leveraging the collective wisdom of employees is an organizational asset. But how do you do it when employees are scattered across multiple offices? Learn how an engineering consulting firm launched a new intranet and immediately expanded their knowledge base.
About Thurber
Thurber Engineering Ltd. is a geotechnical engineering, environmental consulting, and construction materials engineering and testing firm with over 500 employees in 14 offices across Canada. 
The problem
In 2022 Thurber faced some common communication problems. They had no way of centralizing knowledge, learning who's who, and sharing successes. 
The concept of sharing successes is important to organizations—particularly engineering firms— as it enables employees to learn from each other, fostering a culture of knowledge exchange and continuous improvement.
While Thurber had previously relied on a SharePoint intranet, they found it cumbersome to manage and unable to meet their communication and collaboration needs. 
"We mostly wanted a place where engineers could share knowledge," said Alexandria King, marketing and communication lead at Thurber. "Employees were relying on the expertise of only the employees within their office which was limiting because people in that office might not have that information." 
Finding the perfect tool
Sometimes, achieving buy-in for an internal communication tool isn't easy—especially when management doesn't value communication. Fortunately for Alexandria, that wasn't a problem at Thurber. 
"My role was created because leadership saw the value of communication," said Alexandria. 
Once settled in her new role, she immediately sought out a new intranet.  
"We interviewed quite a few different companies. We narrowed it down to two vendors, and ultimately chose ThoughtFarmer. We liked that ThoughtFarmer offered support and helped us set up our intranet site," said Alexandria. 
Thurber opted for a Professional Services package. Professional Services is a popular choice for ThoughtFarmer customers wanting a smooth and successful intranet launch. It helps organizations leverage ThoughtFarmer's intranet expertise while learning best practices and valuable insights.  
ThoughtFarmer worked closely with Thurber to develop a custom/intuitive site navigation, train administrators, gain a deeper understanding of valuable features, and optimize site setup in accordance with Thurber's top strategic objectives. 
Because Thurber followed our new intranet guidelines, their launch was successful and quick. This allowed them to use any additional Professional Services hours for customizations. One such customization included a vacation form that auto-populates a calendar. This has helped branch administrators automate a step of their process which saves time, and results in a better understanding of who has booked time off.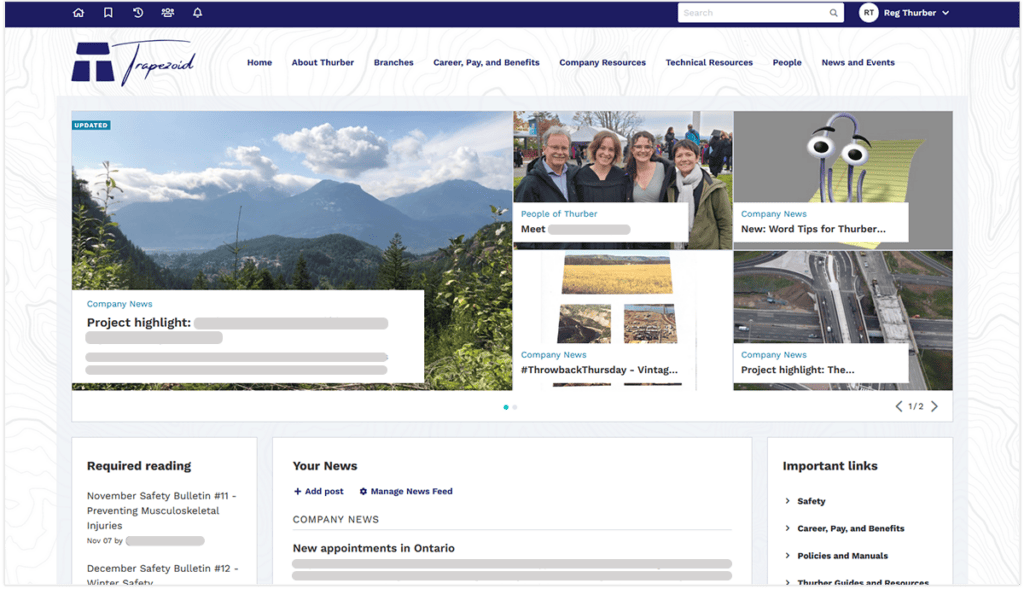 The results
Since launching their intranet, called Trapezoid, at least 50% of all employees regularly use the platform, which has greatly increased employee engagement. 
"It's been such a game changer – the traffic is constant, and everyone loves it," said Alexandria.  
As Thurber understands well, managing an intranet requires diligence and dedication. Alexandria ensures there is a constant stream of scheduled posts, helpful content, and tags that stay relevant to help employees find what they need. . 
While the results have been incredible so far, Alexandria isn't really surprised. "I knew it couldn't fail, because this intranet was desperately needed."
Alexandria particularly likes ThoughtFarmer's creative and interactive features. "I like the Falling Fun card, the polls, and the photo albums. I also like how clean and crisp our intranet looks." 
A place to onboard new employees
As Thurber continues to grow as an organization, it was important to them to have a centralized location for new employee onboarding. 
Thurber created an entire new hire onboarding section within Trapezoid. This section includes a welcome page, the history of Thurber, and any relevant forms that require completion. 
The onboarding section helps new employees get instantly familiarized with Thurber's corporate culture, people, and HR policies.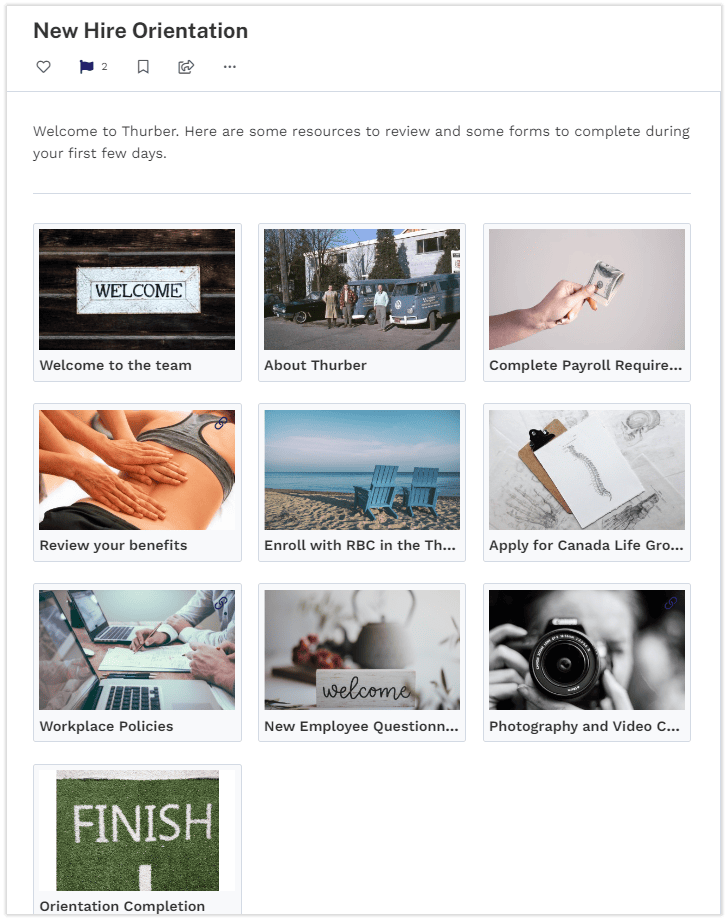 Understanding who has read what 
The Required Reading feature within ThoughtFarmer allows users to designate essential content as a mandatory read. It is the ideal way to ensure employees are up-to-date and informed on current policies and processes, or regulatory requirements and SOPs. 
Typically administrators can search via a document to see who has and who hasn't read it. But Thurber also invested in a customization with ThoughtFarmer that allowed them to filter unread documents by user. 
An internal knowledge hub
As an engineering consulting firm, Thurber employees rely on the expertise of other engineers. Previously, when expertise was required, employees relied on collaborating only with those within the specific branch. Now they can extend this reach by asking questions on their intranet, and allowing any employee from any branch to contribute.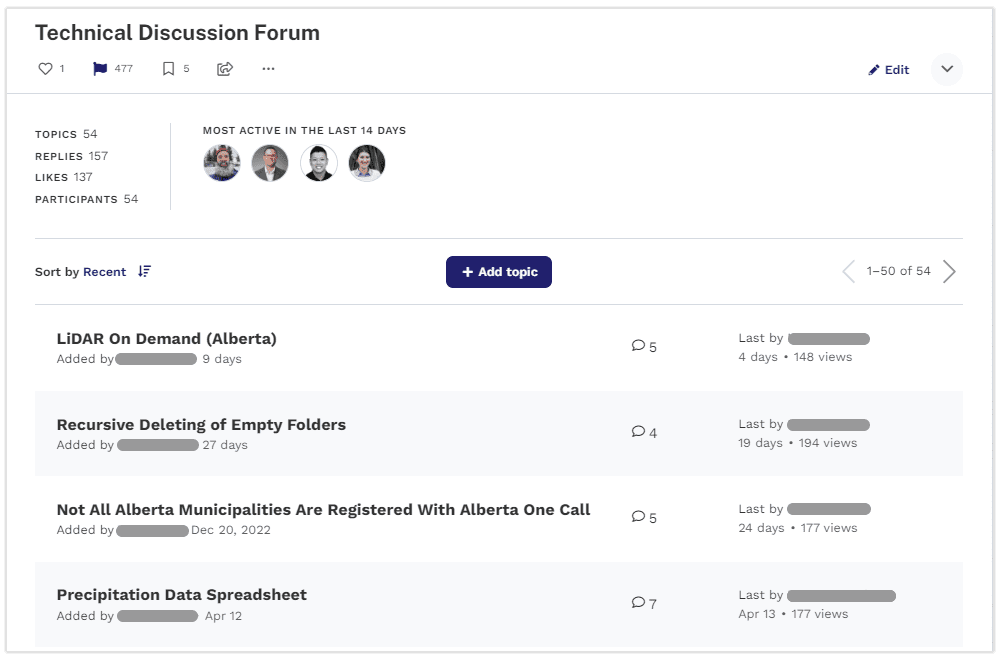 A form for everything 
Thurber leverages FormFlow, a built-in form builder. FormFlow's intuitive interface and a drag-and-drop builder allows anyone to build, launch, and manage forms from within their intranet. "We have used FormFlow for event planning, internal truck bookings, and for employee surveys and new employee questionnaires,"said Alexandria. "It's been extremely usable, and really easy to update." 
Help along the way
Alexandria and her team have appreciated all the help the team at ThoughtFarmer have provided along the way. "The instructional videos have been great," said Alexandria. 
Alexandria has regular monthly check-ins with a customer success manager, which helps guide their intranet success. "Whenever I have a question, they respond immediately. I am very satisfied with the level of support I have received from ThoughtFarmer. Everyone I have interacted with has been great." 
Future goals
While Thurber is still getting to know the benefits of ThoughtFarmer, Alexandria and her team have some lofty goals for their intranet.  
"Increasing engagement is definitely a priority," said Alexandria. "But ultimately, I want to keep the site fresh and relevant. And, I want to listen to the employees, so I can better understand what they need to do to make their lives better."
In conclusion, Thurber faced a communication problem due to scattered offices, which was limiting employee engagement and knowledge sharing. Thurber found the perfect solution with ThoughtFarmer, which has helped them centralize knowledge, increase employee engagement, and streamline communication. The intranet software has provided a knowledge hub for employees to extend their reach beyond their specific branch and has improved onboarding for new hires. With a strong focus on keeping the site fresh and relevant and listening to employee needs, Thurber is confident that their intranet will continue to provide value to the organization.