How an engineering, planning, and design firm elevated their game with a new intranet, boosting employee engagement and knowledge sharing. 
Background
RICK Engineering is an innovative, growth-driven planning, design, and engineering firm. Since its founding 65 years ago, RICK has expanded to 11 offices across the United States. Through innovative, creative designs and sustainable engineering practices, RICK has become the leading engineering consulting firm in the West.
Overcoming an outdated intranet
Although RICK did have an intranet in place, it wasn't being used or updated.  The vast majority of their team couldn't access or add content, and with little to no oversight, there was virtually nothing on their intranet that would drive employee engagement.  Plus, with so many 'deskless' employees working in the field, their existing intranet wasn't conducive for effective communication or content sharing.
It was time to create a brand new intranet.
But with a small team trying to reimagine what a new intranet could be—and over 400 employees in the company—it would be a massive undertaking; even just to create enough content to prepare for a relaunch.
Jennifer Shenefield, RICK's Communications Manager, made the decision to move forward with a new intranet and was tasked with leading the project. She knew that their team would need help if they were going to achieve their ambitious goals of completely reinventing their engagement strategy, as well as making a major culture shift within their organization.
Driving transformation with ThoughtFarmer
Besides choosing ThoughtFarmer as their new intranet platform, RICK also enlisted ThoughtFarmer's Professional Services for extra help and expertise to support them every step of the way. "Your staff are fantastic. Every single person that we have worked with has been phenomenal," said Jennifer. "It was really great to have your professionals advising us along the way and giving us that roadmap."
ThoughtFarmer was able to help RICK get their new intranet set up quickly and painlessly thanks to valuable guidance on intranet strategy, content migration, and departmental integration. RICK was able to fast-track their new intranet (aptly named the RICK Hub), so they could start using it as a tool for operational success. 
In addition to making the transition to a new intranet seamless with minimal obstacles, FormFlow (ThoughtFarmer's forms and business processes solution) has allowed RICK to get content topic suggestions directly from employees. The built-in form feature gives RICK's team the freedom to quickly and easily build and distribute employee engagement surveys across their organization.
Collaboration and engagement like never before
To encourage engagement with their intranet, RICK ensures that every new employee starts with intranet access. "Literally, before they start on day one, they have an account. It's the key to success. Eliminate those types of barriers," said Brian Laird, Associate.
Not only does each new employee get an intranet account on their first day, RICK also includes a training program as part of their onboarding process. That way, new employees are taught how to effectively use and navigate their intranet.
This has encouraged better engagement, and removed the barrier for new trainees to start using their intranet. In the first six months since launching the new intranet, there were over 12,000 unique logins from team members, which was far more than they expected or even hoped for. 
"I'm seeing the change happen even faster than anticipated," said Jennifer. "We have news going up constantly — every month we have 12 to 20 news articles posted. People are really excited about having that constant information flow. We never had this before." 
By integrating forms into their intranet, they're achieving outstanding results. Employees have started creating their own forms, which is improving and expanding their interdepartmental communication.
RICK's team is no longer struggling to get news stories and ideas from their employees. In fact, they have over 20 news sources that are now funneling into their main intranet news feed, so team members are better informed and participating more than ever.
ThoughtFarmer's native mobile app is making the intranet more accessible for off-site team members. With around 100 employees regularly on the road, the app has completely shifted the way they can access intranet content outside the office. 
To make mobile app adoption easy, RICK's team uses a homepage QR code so remote users can quickly find, download, and install the app for use.
Now anyone can get important updates and stay in touch while they're working remotely.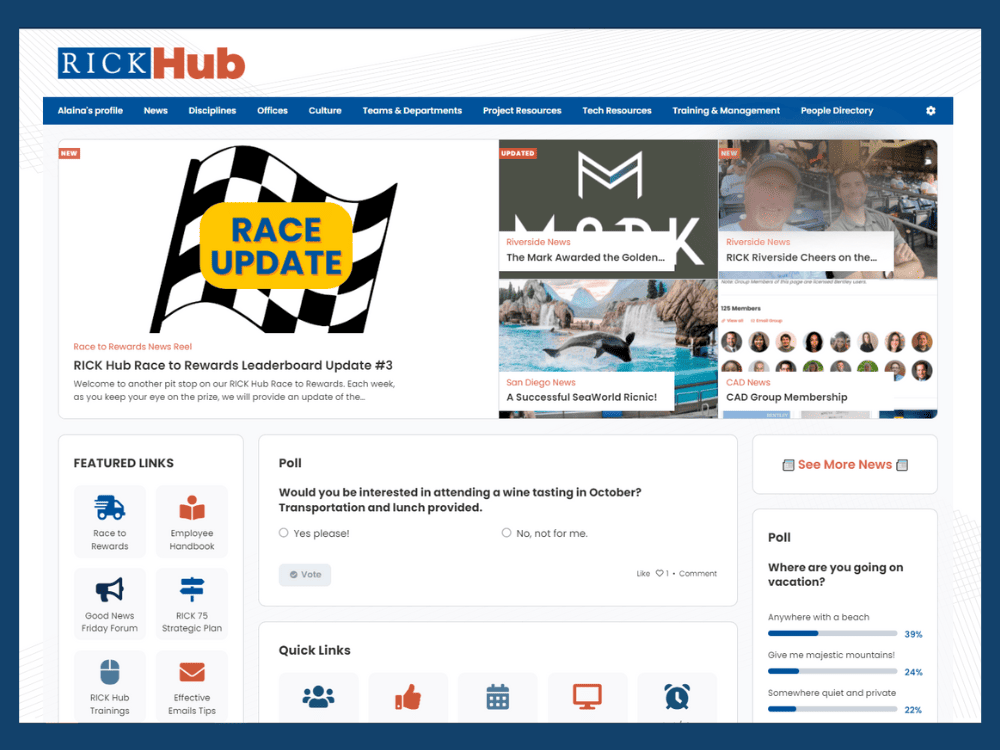 Taking it to the next level — RICK gets their game on
Now that the team is finished migrating and integrating the new intranet across all their offices, they're looking for new ways to grow engagement.
RICK's communication management team introduced gamification to their intranet, sparking excitement among employees. Their goal is to encourage employees to explore new parts of the intranet each day, and encourage them to find new ways to collaborate. For example, a new contest taps into ThoughtFarmer's gamification tools, showcasing badges, points, and leaderboards. People are rewarded for exploring the intranet and engaging with content with medals and gift cards for winners, including both interoffice competitions and individual prizes.  
"It's all about striving for more engagement and driving more exploration through competition," said Jennifer.
With less than a year under their belt, RICK's team has already seen such tremendous success and positive momentum, that they are confident their intranet will continue to foster increased interactions and sustain progress for years to come.