About Corus
Corus Orthodontists was founded in 2019 by a group of orthodontists across North America who wanted to give doctors an alternative to the traditional dental service organization (DSO) model. 
Their founders created a solution that allowed them to focus on their craft and their patients while freeing themselves of the many HR, accounting, marketing, and IT tasks that come with running an orthodontic practice. So they united to form Corus, an umbrella organization that provides various levels of business support, so orthodontic professionals can focus on what matters most: their patients. 
With over 1100 employees, Corus is one of the largest and fastest-growing orthodontist partnership networks in North America. Their network is owned and operated by doctor-partners who share a deeply collaborative spirit.
The challenges associated with rapid growth
In late 2020, Corus was on the verge of rapid growth. They were adding new doctors, practices, and members, and quickly became a team of over 500. 
And as we all know what works for 500 employees doesn't work for 1000; especially when it comes to communication and culture. 
Information was disseminated through point solutions such as Zoom and email, which often meant that important communication was lost, or unread. It was also becoming increasingly difficult for employees to locate critical information, or to trust the information they found. 
But there was an even more pressing concern for Corus: Their workplace culture. 
With no centralized platform to unite their workforce, employees were disconnected from each other, and had no sense of who Corus was, what Corus stood for, and where to get the latest news.  
And so began a search for the perfect intranet. 
The strategic journey to a new intranet 
Having a strategic and dedicated intranet strategy is one of the best ways to ensure the intranet you end up with is the best one for your organization. 
Corus focused their intranet strategy on three distinct components: Connection, Collaboration, Community. 
"It was important for us to have a space for disseminating communications, connecting people, and collaborating," said Nicole Hewitt, Communications Specialist for Corus. 
Nicole and her team investigated several intranet solutions but unanimously agreed on ThoughtFarmer. 
"The decision was quite simple. We had a whole team involved, and everyone decided ThoughtFarmer was the best option," added Nicole. "We looked closely at another solution, but it was almost too customizable, which made it hard to understand. ThoughtFarmer gave us the exact level of customization we wanted, but not so heavy that we couldn't understand it." 
ThoughtFarmer was also chosen for its scalability. Knowing they were primed for rapid growth, it was critical for Corus that they found a solution that would work not only now, but in the future too as they expanded. 
Smooth and informed deployment 
To ensure the smooth rollout of their new intranet, Corus engaged ThoughtFarmer's Professional Services team and received a more hands-on approach for topics, including:
Organizing content 

Content inventory and analysis 

Information architecture 

IA configuration and application 

Content migration 

Launch communication

Analytics

Administrator training 
"The ThoughtFarmer team was really great. They immediately set up meetings to help us get started," said Nicole. 
Nicole especially enjoyed the Intranet Strategy sessions. "It was a great process and it was so clear. All the information we needed was given to us and the team was very helpful." Meanwhile, the session helped Corus identify and understand what information should be readily accessible for intranet users, and what pages should go underneath. Corus also decided on a name for their intranet: Coco, which stands for Corus Community. 
Once Coco was set up, Corus created individual groups for each orthodontic practice. By creating and cloning a single standard template, new practices had everything they needed to get started, including a calendar to add vacations, a photo gallery, and a newsfeed.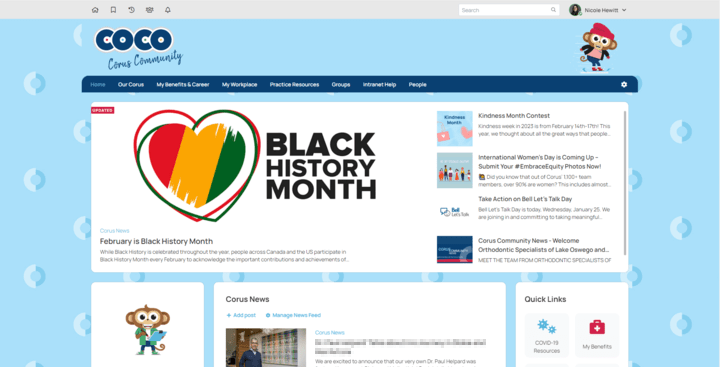 Intranet adoption tip? Create an adorable mascot and host a scavenger hunt
Intranet adoption is always a concern—and a valid one too. If employees aren't using their intranet, it can quickly spiral into a wasteland. 
While there are many ways to encourage employee adoption, Nicole's strategy was definitely one of the most clever approaches we have seen. 
The first thing Corus did was create a mascot, and cute monkey, also named Coco. As Corus learned, mascots are more than just adorable characters; they can create a connection between your employees and their intranet. 
Next, they embarked on creating an intranet scavenger hunt. Typically, intranet scavenger hunts involve asking users to find specific people and content on their intranet. Eg. the latest work from home policy. 
Instead, Nicole instructed her team members to locate their mascot.  "We put him in key areas that we wanted people to see, like the org chart. The instructions were pretty simple. 'Go find Coco', or 'what outfit is Coco wearing?'" 
Nicole plans on continuing the fun with Coco. "All our practices just love Coco!," said Nicole.  
A platform to reinforce core values 
Core values are extremely important to Corus. So much so that their CEO, Dr. Paul Helpard, is continuously encouraging employees to uphold these values. Corus now leverages Coco to push these values, understand them, and learn from them. 
One of their values, Supporting each other, is easily achieved through ThoughtFarmer Shout-outs. "We are always encouraging people to recognize colleagues, so it is great to see that. In fact, Shout-outs are Corus's favorite feature," said Nicole. Nicole especially loves the ability to target Shout-outs, so she can choose to display them on either specific pages, or on Corus' homepage.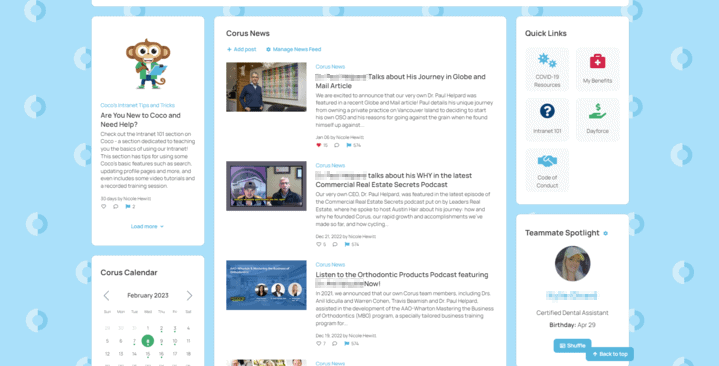 Using analytics to understand user behavior
Few organizations measure the impact of their intranet. In part this is due to a lack of access to decent analytics data. Thankfully ThoughtFarmer's Intranet Analytics makes measuring intranet success easy. 
Nicole enjoys how easy to use ThoughtFarmer Analytics is. "It's very similar to Google Analytics which makes it simple to understand. I love using it." 
Nicole uses a variety of different reports which help her understand the intranet users. These insights help Nicole and her team deliver and validate their communication objectives. It also helps them be more purposeful in their internal communication by answering questions like: 
What do employees want to read? 

What is important to them? 

What were some trending pieces of content? 

Do deskless employees access the intranet as much as desk-based employees?  
From there they can create action items to do things like:
Engage employees and practice groups further

Send important announcements on high traffic days/times 

Surface key content and resources that didn't get as much attention
To further understand the benefits of Coco, Nicole runs surveys within their intranet to better understand how power users and non power users are benefiting from Coco. "So far the response has been positive," said Nicole. 
The result: engaged, connected, and productive employees
Corus has been thrilled with the results so far. 
"Our intranet has helped me a lot. Not having to send out emails saves me a lot of time because it's easier to set up a post on Coco and press publish," said Nicole. "It also prevents us from duplicating efforts."
As a central hub, Coco provides a single source of information and resources for all Corus employees. "People know where to go now," said Nicole. "Everyone is really enjoying using Coco, and it's been really easy to use." 
Nicole and her team are also enjoying accessing Coco through the ThoughtFarmer mobile app. "We use a Single sign-on tool that connects seamlessly with it. I can just go into the app, and I am set to go."
Future intranet goals
Nicole and her team have a strong vision for Coco. Goals include having more participation from senior leaders, empowering more content creators, increasing engagement and adoption, and of course designing more outfits for Coco.
"ThoughtFarmer has been such a great tool. It has really connected our employees. We conducted a survey recently, and employees are definitely feeling more engaged and connected."