Launching an intranet for the first time can be a daunting endeavor. How long till you are up and running? How do you get employees to use it? And, which features should you be using?  Learn how a healthcare organization quickly launched an intranet and immediately saw value. 
Background
Arkansas Urology is the largest urology practice in the state of Arkansas, offering patients cutting-edge urological procedures and surgical techniques, with compassion and a patient-first approach. They treat approximately 110,000 patients a year at 16 facilities across the state. Arkansas Urology is made up of 19 physicians, more than 21 physician extenders, and more than 325 clinical and business staff employees.
The challenge
Up until 2020, Arkansas Urology didn't have an intranet. This meant they had no way to easily share news and information, locate important documents and expertise, or unite their dispersed employees. 
The executives at Arkansas Urology long recognized the significance of strong communication—in fact they frequently advocated for it. But as Arkansas Urology CTO Ian Moore noted, "If you are going to preach about the importance of internal communication, you need the right tool." Ian also recognized that an intranet was no longer a nice to have solution, but rather a must-have tool. "If you don't have an intranet, you are way behind." 
The solution
Ian began searching for an intranet in 2020. He initially looked at SharePoint, but quickly realized it wasn't a good fit. 
"Sharepoint is not an intranet. While you can try to make it an intranet, each major update will break your templates. It is not worth the trouble," said Ian. 
After extensive research and several demos of competing solutions, Ian decided on ThoughtFarmer. "I liked how flexible ThoughtFarmer is, and I especially liked the integration with Active Directory. The ability to integrate iFrames from external data sources has been very beneficial; for instance, something as simple as the weather or location of all our clinics."
Rapid deployment and quick adoption
With the help of ThoughtFarmer's Professional Services, Ian was able to quickly launch their new intranet without any hurdles. "It took only a couple of weeks. The training and support was instrumental in how quickly we were able to launch," said Ian. ThoughtFarmer's Professional Services is a popular option for organizations looking to fast-track their intranet launch.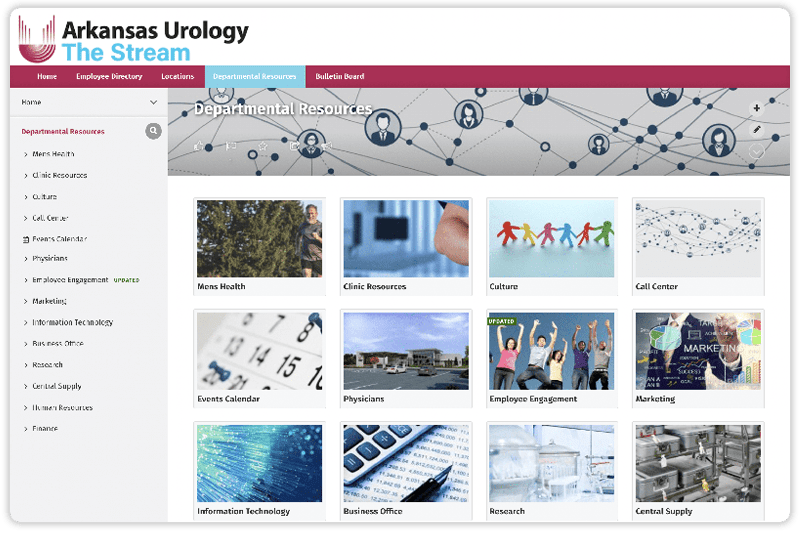 Once their intranet (named Stream) was up and running, it didn't take long for different departments to quickly begin building team pages. "Our research department were quick adopters. They added all data about ongoing research programs in one location instead of constantly spamming users' email accounts." 
The physicians at Arkansas Urology also created their own section, a resources page that makes it easy for physicians to safely share important information including financial documents. 
ThoughtFarmer's ease of use and intuitive features makes it easy for anyone—regardless of skill level—to design and build a beautiful and user-friendly intranet. No need for developers, designers, or technical experts. This allows for a quicker, and smoother launch. 
While user adoption has been high, Ian is still working to empower some teams and departments to upload and share their own content. 
To encourage and maintain user adoption, Ian launched a contest for employees who completed their intranet profile page. For Ian, those profile pages have proved useful, as he and his colleagues have enjoyed the benefits of an org chart, and quickly locating subject matter experts. 
Features that drive results 
One of Ian's favorite ThoughtFarmer's features is FormFlow, an online form builder. FormFlow enables ThoughtFarmer users to build and manage forms (vacation requests, business card orders, volunteer sign-ups, employee surveys, address changes, benefits enrolments, etc.) directly within their intranet.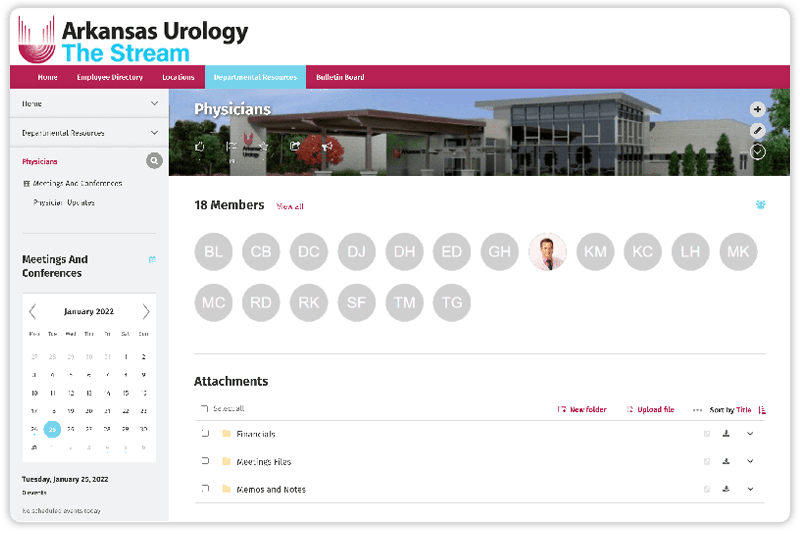 Ian sees endless possibilities for different forms and workflows at Arkansas Urology. "I think our marketing department will really benefit through this feature, even for things like t-shirt orders." Ian also sees FormFlow as a big driver for increasing intranet adoption. "Once HR and Marketing see that, I think it will really hit home what the intranet can do." 
Ian is also a fan of the subtle features that help drive employee engagement. "I really like the polling feature, the events calendar, and the birthday card feature."
While Ian has yet to make use of ThoughtFarmer's Broadcast feature, he anticipates a need for it. "We never know when we might get an ice storm, or another type of emergency situation." Broadcast allows for the dissemination of quick and urgent messages. These alerts can be used for emergency communications, such as alerting people to a severe weather event or a health and safety issue at their location. These alerts are especially useful for users of the ThoughtFarmer Mobile App, who will receive push notifications in the event of an emergency. 
For a healthcare organization like Arkansas Urology, keeping employees informed and updated is critical. "The ability to post news has been so helpful. It is just a more efficient and simple platform for keeping users up to date."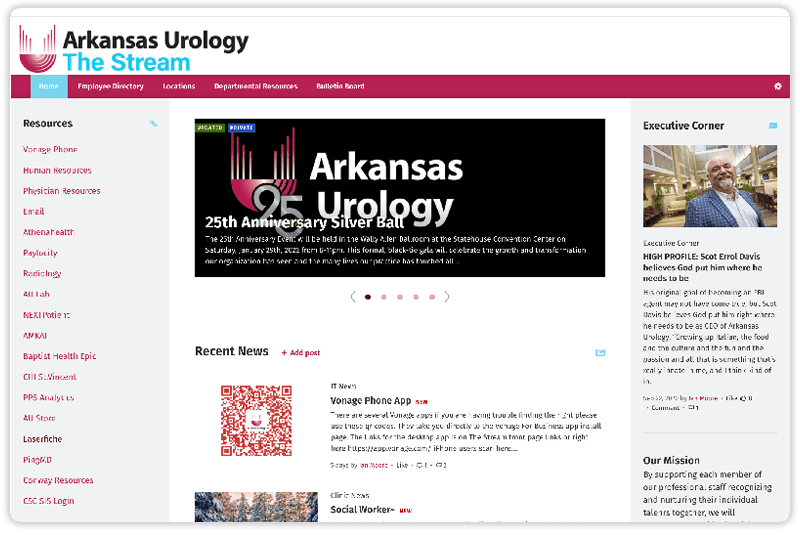 Although Arkansas Urology remained fully operational even during the height of the pandemic, they still benefited from having a centralized location for links and resources. "A lot of our apps are cloud based, so using our intranet has been a great way for employees to access these links and resources." 
Future goals
Looking ahead, Ian plans to focus on intranet adoption, but he doesn't anticipate that will take too long. "The best part is when employees come to me wanting to get messages out on the intranet. Users are really the people driving adoption."
Ian also plans on leveragingThoughtFarmer Analytics. "We have access to analytics, and I would like to start measuring our usage."  
Ian is aware that he and his team still have much more to learn about the capabilities within ThoughtFarmer. "I know we are under utilizing ThoughtFarmer, so I look forward to exploring new features and functionality."
For now, the employees at Arkansas Urology are now enjoying all the benefits of a new communication platform. "An organization's culture is tied to how you communicate. ThoughtFarmer is perfect for keeping team messages on point, and ensuring important information is distributed to everyone across your organization," said Ian. "Without a great communication tool like ThoughtFarmer, it would be much harder to grow our company's culture.
You see? Launching an intranet isn't so daunting after all!