Intranet adoption is tricky.
No matter how much excitement you generate over an intranet launch, it still requires constant nurturing and attention. After all, you can't just set up an intranet and forget about it.
But what can you do to keep employees coming back day after day? Or better yet, what can you do to ensure employees actually want to visit your intranet.
That's exactly what MedData wondered when they first deployed a ThoughtFarmer intranet in 2016. Thanks to some passion, strategy, and help from the ThoughtFarmer Professional Services team, they were able to attain and sustain high intranet engagement across all employees.
Who is MedData?
MedData is a healthcare technology company that helps hospitals enhance their patients' experience. In 2016 they had acquired several companies and subsequently grew from a few hundred employees in four offices, to thousands of employees across the country—many of whom were remote.
As a healthcare organization, people are at the centre of what MedData does. It was therefore important for them to acquire an intranet that connected their employees to the resources required to do their jobs.
What led them to ThoughtFarmer?
They had originally relied on a SharePoint intranet, but it was unsuccessful. Like many SharePoint instances, it required a lot of development and maintenance from IT, who didn't have time to dedicate to employee communication and engagement. Because of this, there were files and threads within the SharePoint site that had not been updated or responded to in over five years.
When they deployed ThoughtFarmer they were immediately impressed—particularly by the flexibility of the platform.
As the Head of Creative services, Sean Biehle understood the intrinsic value of engaging employees on a new intranet, and so when they deployed ThoughtFarmer, he couldn't wait to take advantage of all the customization opportunities available.
Gamification: a strategic approach to a common problem
Many intranet projects fail simply because there isn't enough activity or incentive for employees to continually visit. But just because it's a common problem doesn't mean something cannot be done about it.
MedData turned to ThoughtFarmer's Professional Services team as well as their own internal resources to develop customized content and tools to keep employees coming back to their intranet.
After naming their intranet Pulse, one of the first things they did was incorporate gamification elements. Complete your profile? Get a badge. Comment on a discussion? Get another badge. There were also rewards given when employees completed relevant learning modules.
The gamification spurred immediate adoption after launch and encouraged engagement. It also tapped into something more inherent—the enjoyment people get when they compete.
"Gamification has really been a fun, innovative way for our employees to have a fun competition and show off their participation on Pulse," said Sean.
But what if employees still aren't paying attention?
Even though the gamification elements were making an impact, Sean wasn't quite finished his pursuit of increasing employee engagement on Pulse. With further help from the ThoughtFarmer professional services team, Sean created auditory notifications.
"We wanted a fun way for employees to be alerted when they received a new notification on Pulse, so we worked with ThoughtFarmer to set-up notification sounds," said Sean.
A holiday-themed "Ho, Ho, ho" was created for the winter holidays, while a gobbling turkey was used for Thanksgiving.
And for those of you thinking that some sounds might be just a little over the top, don't worry, there was an option to mute these notifications.
That wasn't the only time that Sean turned to audio. MedData also began recording a weekly podcast series which were made available to all employees on Pulse.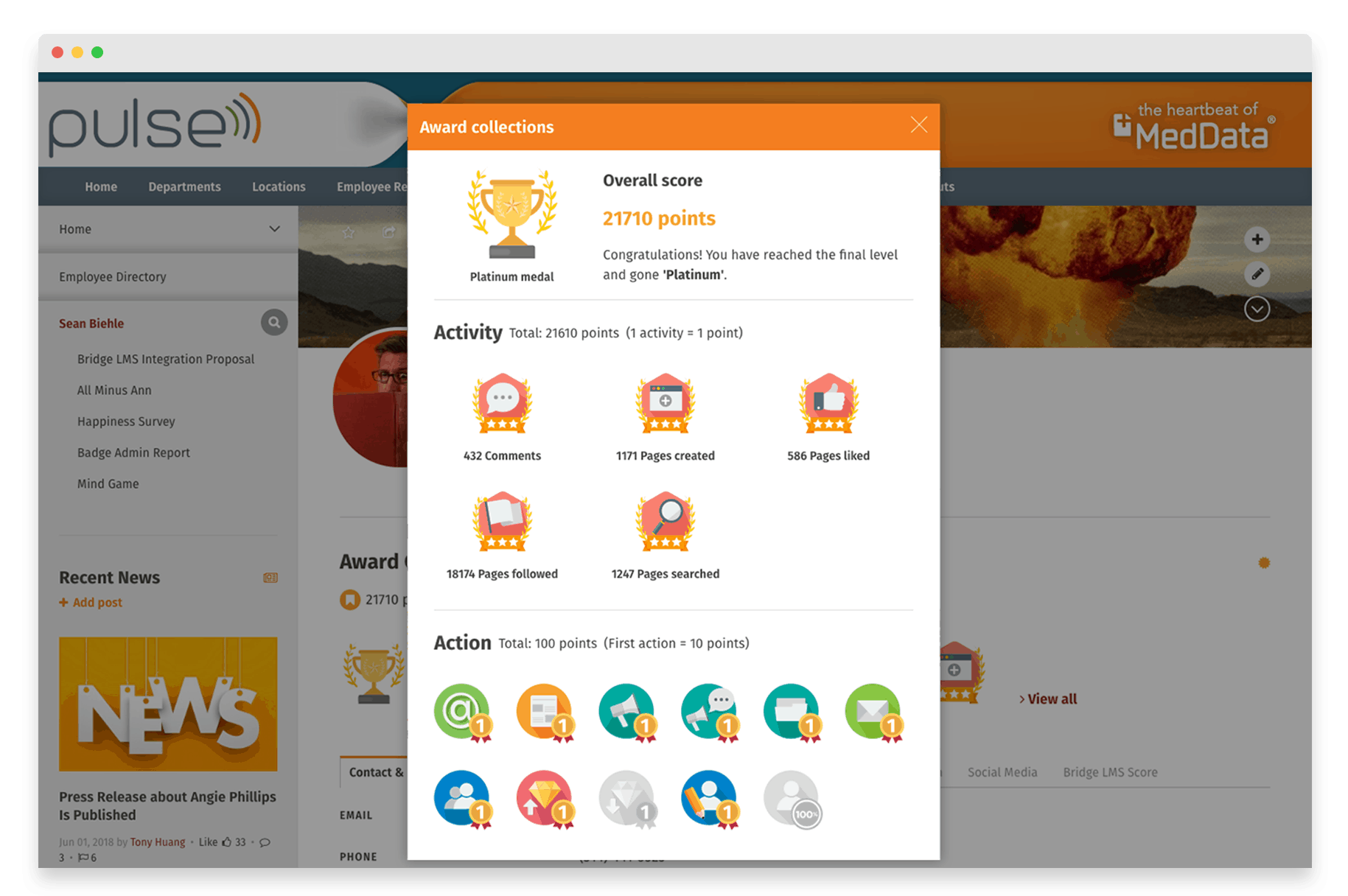 Providing sales team with customized resources
Ask any sales team what they require to hit their sales objectives and chances are they will mention customized collateral. The MedData sales team were no exception, and thanks to their ThoughtFarmer intranet they were able to make this happen.
"Rather than have marketing develop pieces individually each time a salesperson had a meeting, we created a piece of collateral for each service line and a form in Pulse that a sales rep could fill out to customize the collateral," said Sean.
This approach allowed sales reps to personalize content based on the prospect/client's specific pain points.
Not your everyday newsletter
A newsletter digest is a fantastic way to keep employees returning to your intranet as well as informing them on any relevant news they may have missed. Within ThoughtFarmer this feature is automated and easy to configure. However, it still didn't have the level of personalization Sean desired. Because of the flexibility of the ThoughtFarmer platform, Sean was able to create a more innovative and visually appealing digest.
With the goal of driving employees back to Pulse, the bi-weekly news digest captured important content from all over Pulse, while reminding employees to log into their intranet.
Getting leadership AND employees involved
One of the strongest ways to guarantee employee engagement on your intranet is to obtain leadership buy-in. Realizing this, Sean reached out to the President and CEO of MedData, Emily Fisher, and asked her to host a live "ask me anything" video broadcast hosted on their intranet.
The event was a huge success and allowed employees to get up close and personal with the MedData president. Healthy executive-employee connections are all about breaking down barriers and hierarchy. Hosting executive video broadcasts helps build mutual trust and respect with employees.
Democratizing content creation
Once employees saw just how simple it was for their president to host live videos, they opted to create and upload their own video content. This was easy to do because most employees had publishing rights to post their own content.
While in some organizations it makes sense to restrict intranet content authoring to specific users, MedData enables company-wide posting. This was a huge driver of engagement. Democratizing content creation also reduces the workload of those responsible for overseeing the intranet.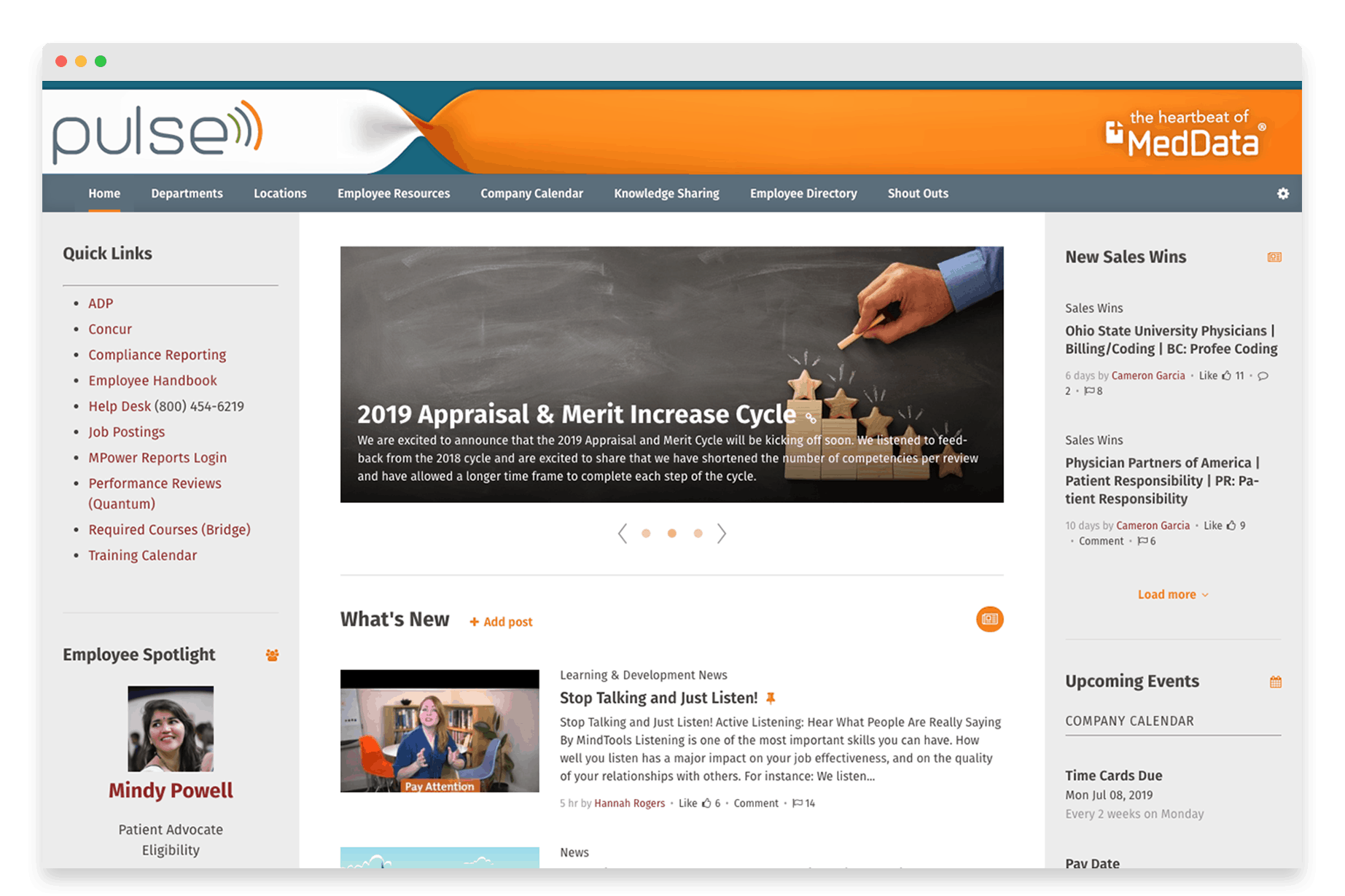 Improving the onboarding experience
The first few weeks on the job can make or break the employee experience; not too surprising considering many organizations struggle with onboarding new employees. In fact, a recent Gallup poll revealed only 12 percent of employees strongly agree that their organization does a great job of onboarding.
One of the easiest ways to improve this phase of employment is to ensure employees are equipped with all the necessary tools and resources for them to be successful.
At MedData, all onboarding information is now hosted on Pulse. New employees complete a short training course to familiarize themselves with Pulse and can access further on-demand videos from there.
Creativity for the win
By personalizing and customizing Pulse, MedData transformed their intranet into a vibrant and engaging site that employees continually want to access.
"I am continuously amazed by the responsiveness and creativity of the ThoughtFarmer Professional Services Team. They seem to be able to create every customization idea I approached them with," said Sean.
This level of personalization and gamification helped MedData align their intranet with their corporate objectives and playful culture. It also helped them find creative and innovative ways for employees to discover and leverage all the tools they required to be successful in their roles. Most importantly, Pulse helped MedData get to the heart of employee engagement.