Through 4 generations and over 80 years as a family-owned business, Ozinga has established itself as the US Midwest's premier supplier of concrete and materials. After a period of rapid growth and expansion, the company realized it needed a centralized hub where employees could easily access critical information.
A Family-First approach
Even though the company is spread out across the Midwest, Ozinga is committed to a company culture built on strong, lasting relationships. They wanted an intranet solution where everyone could easily communicate with each other and see what was going on across the enterprise as a whole. As Tim Ozinga, Director of Marketing & Communications, said, "We started off as a small family business and didn't want to get too corporate. It was important for us to make sure we weren't letting anyone go by the wayside. We wanted to make sure we were keeping everyone informed about what's going on in the company."
"We wanted to reinforce the company culture, build morale, and ensure that everyone was engaged." — Tim Ozinga, Director of Marketing & Communications
Identifying ThoughtFarmer as the solution
The Ozinga team driving the project wanted an intranet that was easy to use and easy to update and adapt. After considering various alternatives, including an in-house solution, they chose ThoughtFarmer. "We realized that we needed something quicker, easier, and more cost effective than the in-house solution," Tim told us. "Plus, we didn't want to build something and then have it fade into oblivion. After looking around at all the options, we found that ThoughtFarmer was the right fit."
The birth of "GO Ozinga"
ThoughtFarmer was able to help Ozinga quickly develop a solution that satisfied all of their requirements for improving company communications and efficiencies. The result was "GO Ozinga," as Tim referred to it, an intuitive intranet with an accessible interface that still has lots of room to scale. This will allow the site to expand as Ozinga grows and employees learn to use their new intranet to its utmost.
"When something good happens, now the whole company gets to enjoy it. There are lots of little examples of people sharing. It's been really good for company culture." — Tim Ozinga, Director of Marketing & Communications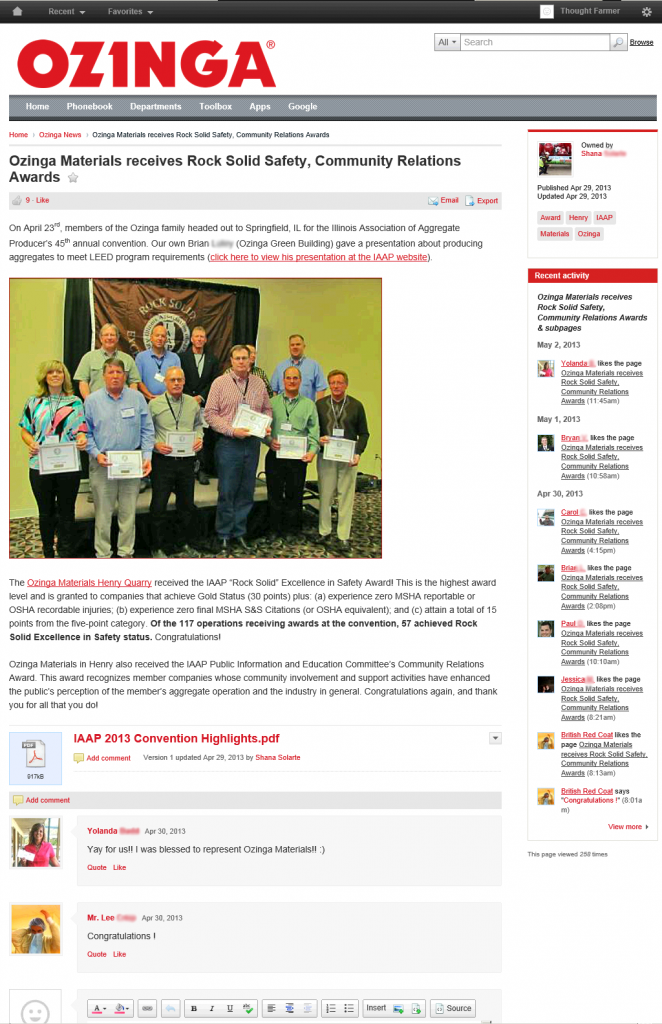 ThoughtFarmer in action
The homepage is designed to deliver company news and let employees share information. "We wanted a community section that gives everyone free reign to post or do whatever they want," Tim said. He also noted that information gets around quickly now. "There's more cohesiveness across the board. People understand what's going on, who's part of the company, who's doing what."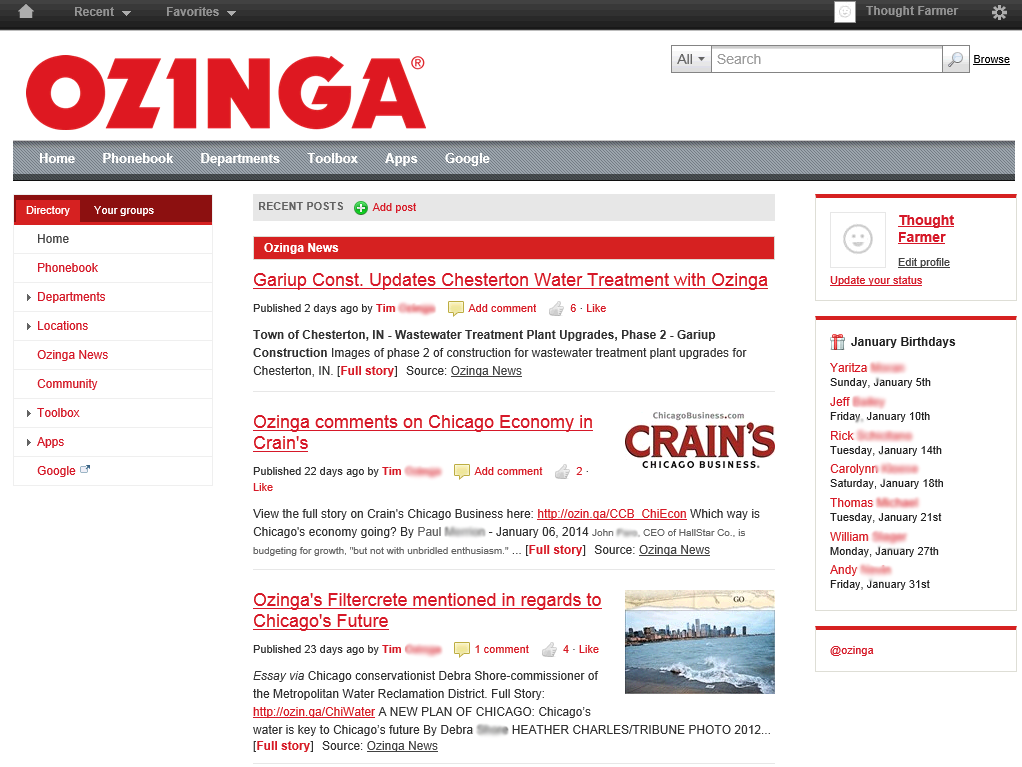 Another primary goal the team identified was to develop a dynamic employee directory. Previously, employees had relied on spreadsheets, usually as printouts, which were often out-of-date and incomplete. With ThoughtFarmer, they now have an easily managed directory that is comprehensive and current. More importantly, it allows anyone to easily find a phone number or address in seconds. As an added bonus, the new directory has further improved company culture, with everyone now able to see who they're talking to and any personal details that they've shared.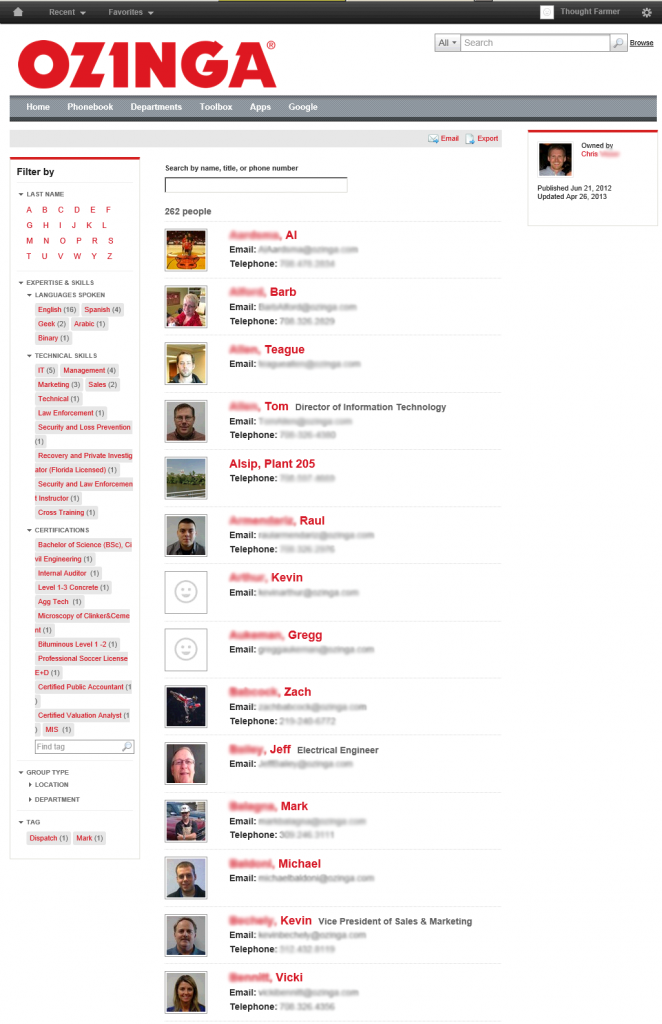 "I can't overstate how helpful the whole employee directory feature has been. Our dispatch center takes 1000s of calls a day and now they have everything they need at their fingertips."  — Tim Ozinga, Director of Marketing & Communications
Another core aspect of Ozinga's ThoughtFarmer solution is the Toolbox, a section of the intranet that provides easy access to company information and documentation. It will eventually include everything that employees need on a day-to-day basis, including FAQs, HR docs, and marketing materials.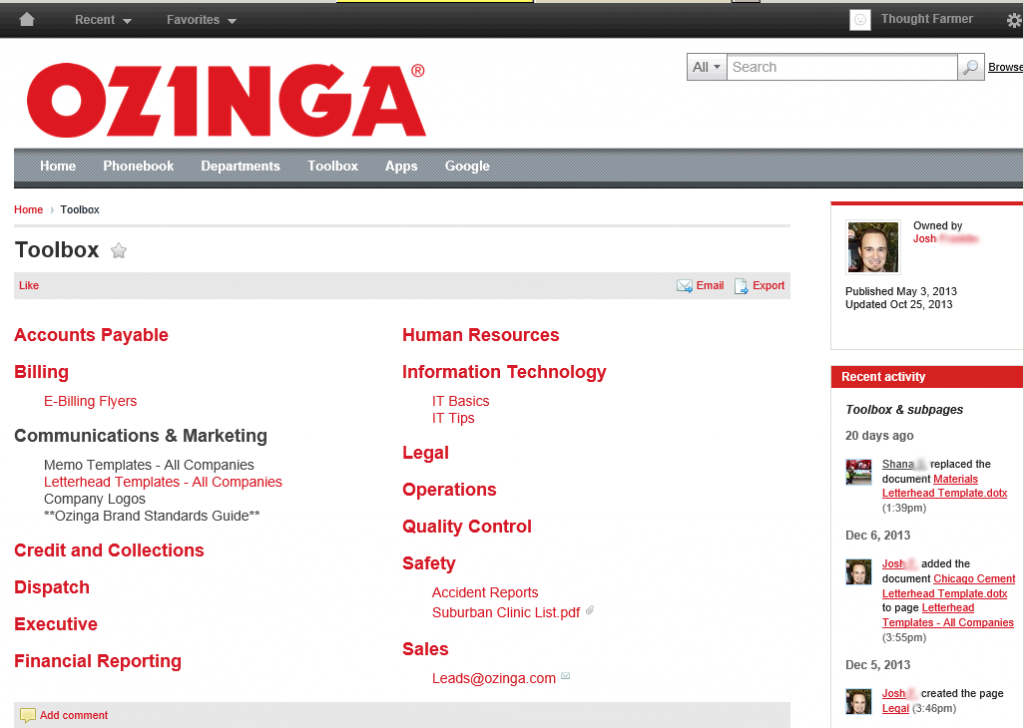 The result
With the initial phase of ThoughtFarmer in place, Ozinga is seeing great improvements in company communication and culture. They have also identified improved efficiencies in their operations because of their new intranet.
And that's just the beginning. With the team busy rolling out new features, we're sure that GO Ozinga is destined to be an invaluable resource for the entire Ozinga family well into the future.