Social intranets often outperform expectations because they are so effective at fostering employee engagement. Fully engaged employees seize the initiative and run with the intranet, and it suddenly takes on a life of its own.
That was the experience at Farm Bureau Bank (FBB), online banking arm of the Farm Bureau, the nationwide non-profit advocacy group for American farmers and ranchers. FBB implemented its ThoughtFarmer intranet, the Insider, in mid-2010 as part of an overhaul of internal communications.
Within a few months of launch, the Insider had surpassed expectations, says CIO Richard Hamlin. "It was amazing to see. Management began to realize that this was a major system in the bank," Hamlin says.
Employee engagement
The business objectives for it were relatively modest at the outset. Increasing employee engagement was part of the agenda. And the bank did want to build a system that could become a primary means for management to communicate with employees and employees with each other.
But no one dared imagine it could pull FBB employees together the way it has.
It is the social aspects, the way ThoughtFarmer gives employees the tools to make the intranet their own, that has engaged them most – and increased their engagement with the company.
FBB's old intranet software, which forced a top-down approach because all updates had to be done by IT, was "very dry, as you can imagine," says Valerie Arocha, the bank's training director, Insider co-administrator and one of a cadre of departmental contributors who drive the intranet.
"This one does have its dry business side, built by IT," Arocha says. "But the content contributors decided we wanted a more social intranet."
She makes it sound like a coup d'état, which in a sense it was, but it's one that management couldn't be happier about it.
A social intranet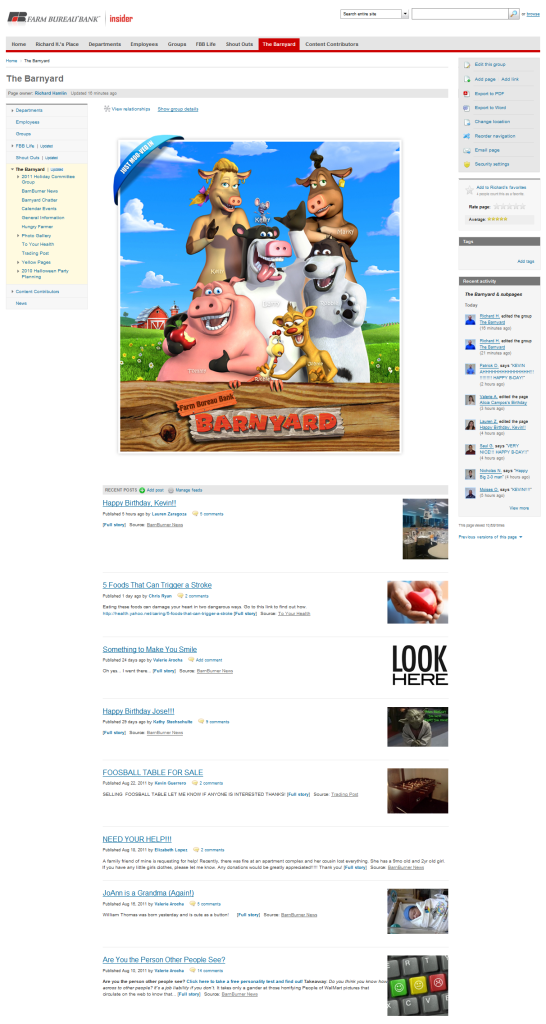 The Barnyard is the social heart of the Insider. It's a Facebook-cum-Kijiji space, where employees can post news, pictures and videos, advertise articles for sale, launch discussions and use the calendar to announce milestones or plan social events. They particularly like the shout-out feature for posting thankyous to colleagues who have helped them.
"The Insider has really opened up the doors for employees in departments that don't often interact with each other for business," notes Janie Casas, FBB's HR coordinator and intranet co-administrator. "It really has worked out perfectly."
It's not a complete free-for-all. Even on the social side, the content contributor group, overseen by Hamlin, still manages some content closely – choosing and posting the Employee of the Month, for example, another popular feature.
It also posts interactive polls on behalf of committees tasked with organizing company social events such as the annual Christmas party or summer picnic. The online polls ask employees to vote for their preferred venue. The results go back to the organizing committee.
"We wanted to engage people so they realized they actually have a say in the social things we do," Hamlin says.
Contributors who care
Appointing departmental content contributors and meeting with them as a group twice a month was a key part of the strategy.
"The biggest driving factor in the success of this intranet," Arocha contends, "is having a person from each department who cares enough to spend time on it."
Apparently most employees care. When one content contributor left the company recently, 70% of her former colleagues said they wanted the job.
It's not just the social side that drives engagement. Much of the information on the intranet is business-related: policies and procedures, project updates, schedules, reports. Updates on the bank's key performance indicators (KPIs), have had a real impact.
"We're trying to create a team feeling here," Arocha says, "a feeling that we all have to work together to meet our goals. The KPI page helps to do that."
"It's stuff that wasn't really exposed to employees before," Casas adds. "Now it kind of feels like everybody is more involved."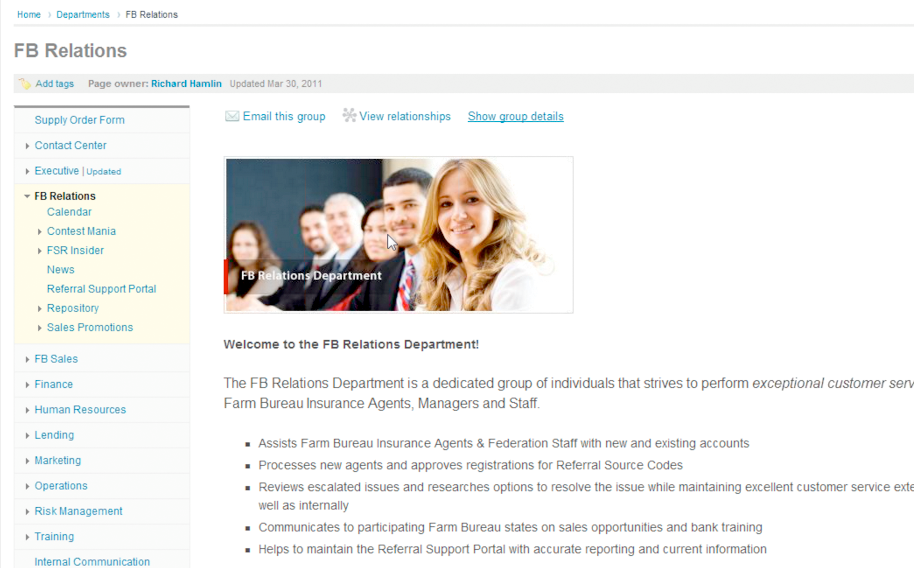 Gallup Inc., the polling and consulting company, uses a 12-part questionnaire to determine employee engagement levels. ThoughtFarmer co-creator Chris McGrath believes a well-implemented social intranet can have a major impact on results from such surveys.
"Do I know what's going on at my company? Is my opinion valued at work? Do I have a friend at work? Do I have the tools to do my job?" McGrath is paraphrasing the Gallup Q12 questionnaire. "Social intranets have a bearing on all four," he says.
The Insider plays a vital role in providing employees the tools they need to do their jobs. One Insider feature lets them place clickable icons on their intranet home pages to launch business applications or jump to often-used pages.
"We thought the Insider should always be open on employees' computers," Hamlin says. "This was a way to encourage them to keep it open. Rather than having to go back to the [Windows] desktop and launch an application, they can do it right inside the intranet."
Employees rely on this feature so much, in fact, that there was some consternation when the Insider server briefly went down several months ago.
Major efficiencies
That was just one of the tools they missed. Every department uses the intranet for a range of critical applications. Most save time, and ultimately money.
"We've saved hundreds of person hours, just in the last year alone," Hamlin says. "There have been huge cost savings as well."
Casas, for example, uses the intranet to post information for employees that she would have e-mailed or sent in memos before.
"They get it instantly, and it saves a few trees of paper. It also saves me the time. Now I just post it on the intranet and I'm done, and I know everyone got it."
Arocha publicizes upcoming training courses she's offering. "If I slap an article on the home page about a course, it generates a lot of additional enrollment," she points out.
She also uses ThoughtFarmer's calendaring to schedule courses, and use of the training room. And she posts information for managers about which employees have completed required training.
It means managers can find information they need themselves without bothering her, and it's always available when they need it.
Information on demand
"We're getting so much more information out to the masses now," Arocha says. "It has seriously cut down on how much e-mail we send in Outlook. That's the biggest value: getting information out so no one is caught off guard."
Sarah Sanchez, a sales support and reporting specialist, does exactly that, posting information about the marketing promotions and sales contests she runs for outside agents.
"That way, other departments know to be ready for the phone calls from customers and enquiries from agents, and how to respond," Sanchez explains.
Her department also uses the intranet as a project collaboration tool. Participants post results, observations, ideas. It saves "having to have constant meetings," she says.
Sales reps use the Insider to collaborate on developing new sales materials, to source existing materials and submit time and expense reports and help requests. Regional reps working outside the bank's San Antonio, Texas headquarters especially appreciate the Insider.
"Just the time savings alone when they're searching for sales material – it's massive."  Hamlin says, "And they feel more part of the team.  They can see everybody, talk to everybody."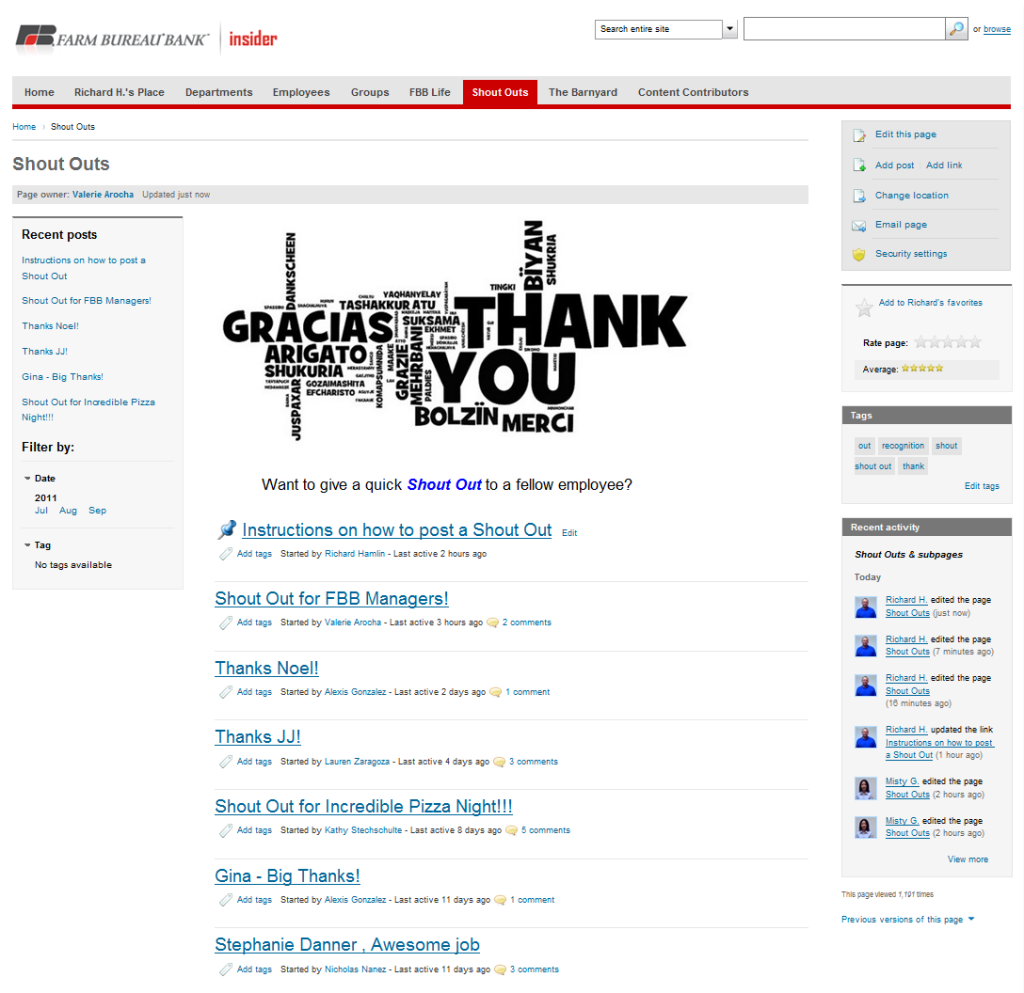 Connecting, engaging
It always comes back to that: keeping employees connected, engaged, informed. The business benefits are welcome, but the Insider is first and foremost about engagement.
"Having the sense that everyone is responsible for how the bank does – that has come from The Insider," Arocha says. "It's our intranet, it's our resource."
Hamlin goes further. "To be honest, before the intranet, we did not have a readily identifiable corporate culture. The Insider has become the very root of our culture."
Would any social intranet have achieved the same?
Hamlin thinks not. FBB chose ThoughtFarmer over competing solutions such as Claromentis and Confluence for a few reasons.
Advantage ThoughtFarmer
It's more, and more easily, customizable, so it was relatively simple to give the Insider the same look and feel as other company materials, including the public website. This was a key requirement.
ThoughtFarmer is also easier to integrate with other systems. FBB could continue to use its Docutrieve document management system, for example, making all its documents available through the intranet – without duplicate storage.
Given the importance of winning employee buy-in, ThoughtFarmer's ease of use was probably the biggest factor. Hamlin set up demo environments for each solution considered, and let end users play with them.
"ThoughtFarmer just felt better, to everybody," he says.
Today, he has nothing but praise for ThoughtFarmer, much of it centering around the way the company engages with customers – not unlike the way smart organizations engage employees.
"The support we get from ThoughtFarmer is phenomenal," Hamlin says. "Response times on help requests are great. We just wish all our vendors were that way."