Financial organizations rely heavily on quick access to data and resources to provide the service their customers expect; but without the right communication platform, information can easily become buried and outdated. See how a Louisiana-based bank empowered their employees with a new intranet that served as a single source of information throughout their organization.
Overview
Founded in 1947, JD Bank is a Louisiana-based bank that offers a variety of personal and commercial lending and deposit products through both physical and digital delivery channels. They operate through 25 locations with approximately 240 employees, and donates both the time and effort of their employees, as well as financial resources to the many philanthropic organizations in our service area
Problem
In early 2020 JD Bank began seeking a new intranet platform. Company information and content was hosted on a Joomla-based intranet that was quickly becoming outdated. The existing intranet was difficult to support and not user-friendly. This made it complicated for employees to quickly locate and update necessary information. Most of the roles at JD Bank are dependent on quick access to information. This includes departmental information, forms, procedures, links, resources, and current news. "It was becoming obvious that we needed a centralized source for all employees to access consistent information and resources throughout the organization," said David Wallace, Network Administrator for JD Bank.
While searching for a new solution, the team at JD Bank reviewed several options, which included ThoughtFarmer. After due diligence ThoughtFarmer was selected for its rich feature set and transparent pricing structure. 
Result
Since deploying ThoughtFarmer, employees now have instant access to news when it happens and a streamlined system accessing information necessary for job performance. Some of the other benefits include: 
Central source of information
Corporate data should exist in one spot. JD Bank's new intranet provides a single source of information for all employees. Having this central source of information is important so their employees aren't working with documents in multiple locations. This saves time and reduces stress.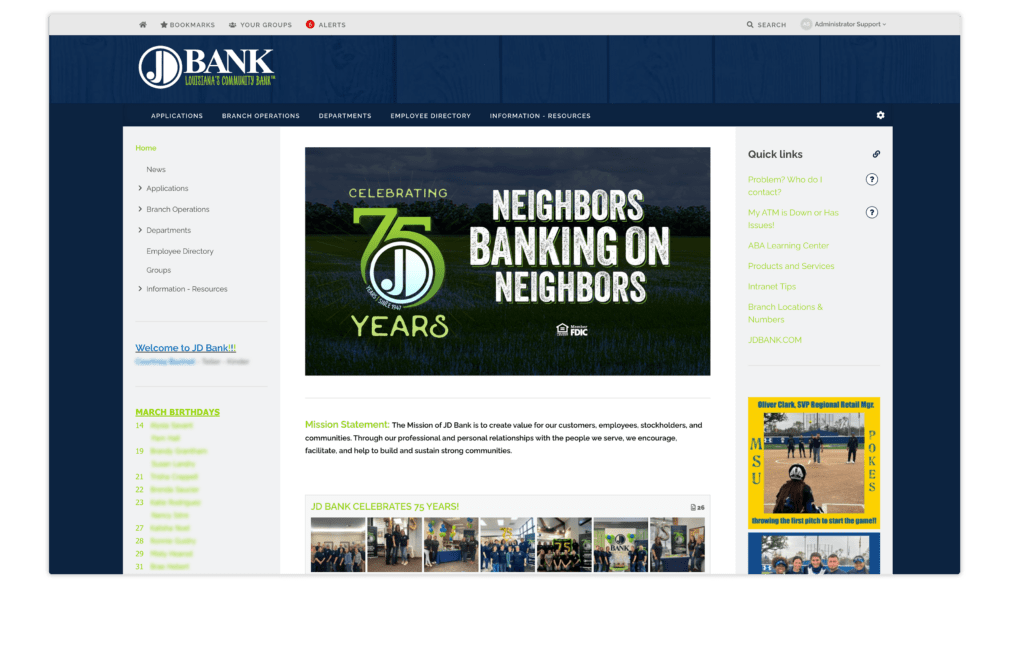 A central source of information also eliminates the reliance on email, by allowing easy access to all information in one location. 
"Our homepage gives us access to all the news and information that is relevant to us, at a glance. It also serves as a launch pad to critical business systems, and gives us one-click access to all our internal forms," added David. 
Showcased culture
ThoughtFarmer has helped JD Bank to instantly showcase their culture and people, as well as all the amazing work they are doing in the community.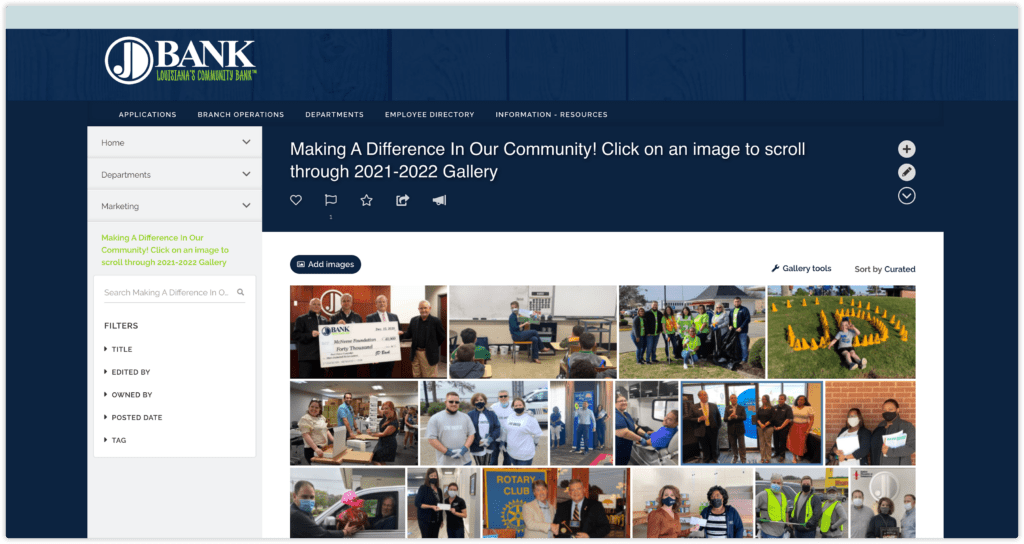 "We really like the ability to share and view photos on our intranet. Whether it is sharing company events, or employee news, having a visual element helps employees feel connected to each other and the wonderful culture at JD Bank," said David. 
Empowered content creators
JD Bank's intranet is managed via a distributed content ownership model. Each department is in charge of their own section, and there is no one central manager. While their marketing department still has the final say in content, it is no longer a burden to publish and approve content like it was with their previous intranet.  
Quick access to information
ThoughtFarmer's modern search engine offers Search-as-You-Type, Best Bets, and "Did you mean" to help JD Bank's employees find the resources they need, faster. Meanwhile, the Employee search feature allows users to search for a specific person, or find out who has the specific skills or experience. Users can search the employee directory by keywords, first letter of last name, expertise tags or group membership.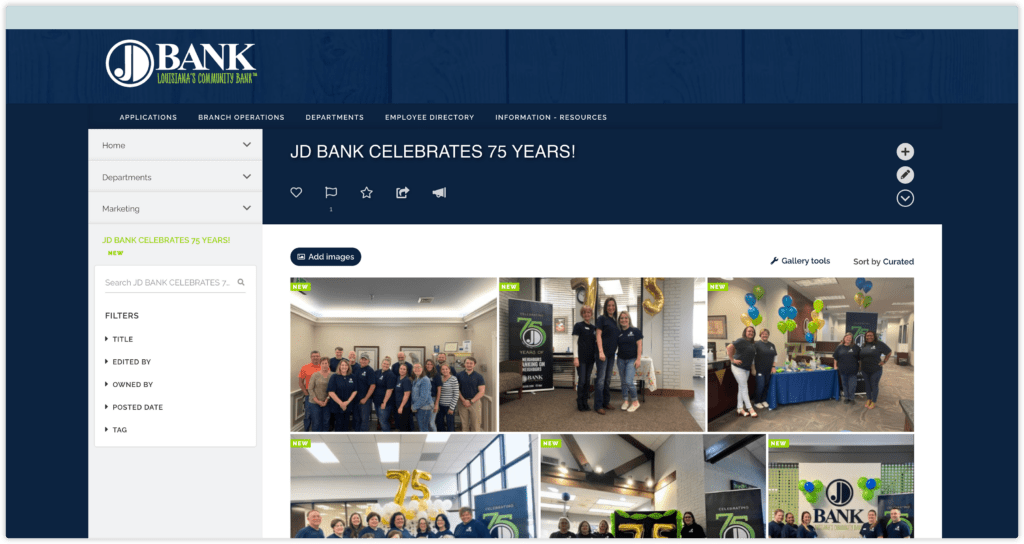 Automated business processes 
ThoughtFarmer has helped JD Bank improve several business processes through FormFlow, an easy to use online form builder.  They currently use FormFlow for community investment service, expense reports, and logo apparel.  David and his team look forward to adapting numerous PDFs into the new online forms on their intranet.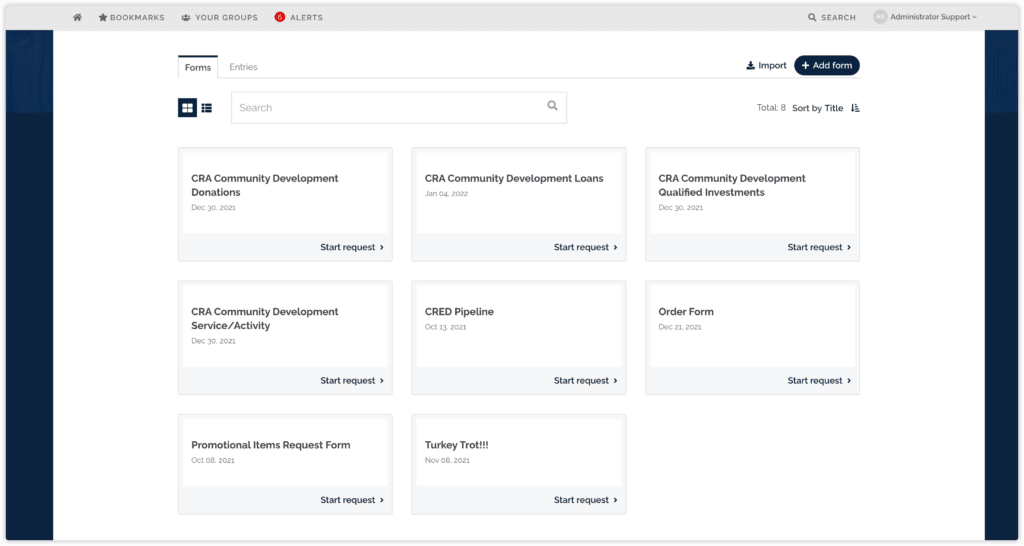 Next steps
Now that their intranet is up and running, the JD Bank team is focused on ensuring intranet adoption grows. To achieve high visitation rates, the Marketing Department turns to contests and other tactics. "We ran several games to help our employees navigate the new intranet. We send reminder emails, to encourage individuals to go for up-to-date news, information and promotions," said Robyn Settoon, Marketing Specialist for JD Bank.  "The ability to like and comment on posts has also led to an increase in intranet usage."  
Sounds like an intranet to bank on.