Have you ever wondered what makes a workplace exceptional? Or what it takes to win a top employer award? 
The answer probably won't surprise you. It's the workplace culture. 
PCI's story is nothing short of amazing. When we sat down to do a case study with them we were blown away with not only what an exceptional workplace they are, but how extensively they use their ThoughtFarmer intranet to truly amplify and grow their culture. Admittedly, not even we use our intranet that well, so this case study is inspirational on so many levels. 
Humble beginnings 
PCI (Publishing Concepts Inc) is a publishing company headquartered out of Dallas, Texas. Their publications include alumni and member directories for colleges, universities, high schools and service organizations. PCI's history goes all the way back to 1921, where it was started by Rockwell Clancy. These days, Rockwell's grandson, Drew Clancy, is at the helm (we love a good family business!). 
PCI has approximately 460 'associates'. One of the core elements of a company's culture is how an organization refers to the people who work there. At PCI, everyone is an associate; not an employee, and not staff. With locations in Dallas, San Antonio, and Virginia Beach, and a large number of associates working remotely in Arkansas, PCI is one of the fastest growing companies in America and is consistently listed as one of the best places to work.
In a competitive market, PCI sets itself apart from it's competition with their mantra "notthebigcompany." It's their way of staying close to their values and humble beginnings, yet still striving to be the best. 
PCI's corporate values and client promises aren't just a set of words on a wall; they live by these statements every day. Their values are: pursue excellence purposefully, unlock human potential, act with integrity, innovate a culture of relationships and fun, lead with a servant's heart. Their client promises are: Be proactive, be accountable, be trustworthy, be positive, and be passionate.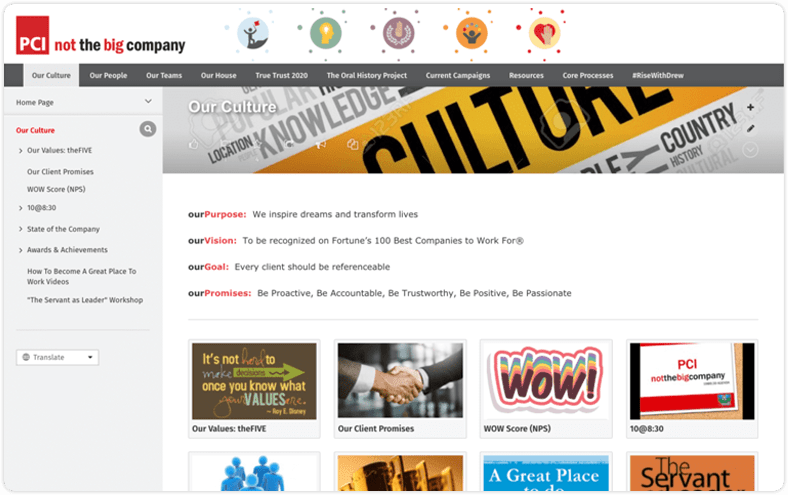 The search for an intranet
It's hard to imagine a company the size of PCI had no intranet. However much of PCI's growth has been in the last few years, and primarily as the result of the 2016 acquisition of another publishing company (and number one competitor) Harris Connect. 
Mergers can be tricky—especially with two different cultures uniting—but as Angie Zatezalo, Marketing Manager for PCI, points out, "it's worked out well. Two different worlds came together to create one big great world." 
In 2019, with the merger complete, the new and bigger company needed a way to connect their remote associates across four locations. They were also looking for a repository for learning and process documentation, as well as a way to reinforce their incredible culture. PCI enlisted the help of a trusted friend and consultant to begin the research process for an intranet. 
They initially looked at several different products. Like many organizations seeking an intranet, the team at PCI had a comprehensive list of requirements. "We were really looking for a vendor that gave us everything and that checked all the boxes we needed to accomplish our goals," added Angie. PCIs requirements included a solution that was user friendly, easy to manage, and one that had excellent customer support. 
PCI eventually decided on Thoughtfarmer. "We did look at a few other options, but ThoughtFarmer just had a better package," recalled Angie. 
Solving the adoption challenge
Intranet adoption is a huge and valid concern for many organizations, because if no one uses their intranet, it can quickly become a wasted expense. Fortunately Angie and her team understood this ahead of time, and were eager to tackle this from day one. 
"We knew adoption could be tricky. We never had an intranet before, so getting people to embrace the idea would be a challenge," said Angie. "People are used to emailing and change is hard, so it was important for our associates to understand they were going to get their information in a different way." 
Understanding that associates need a valid reason to visit their intranet, PCI began reducing the amount of information contained in organizational emails, and instead included links to their new intranet, which they named PubHub. 
"I wanted them to understand that we can avoid extra emails. I remind them that everything they need is on PubHub," said Angie. 
A culture building tool
Building a dynamic, engaging company culture and becoming a great place to work is the primary business strategy at PCI. But what role can an intranet play? 
We were awestruck by the many unique and clever ways PCI consistently uses their intranet to grow their culture. In fact there are too many to list in this case study, but here are some of our favorite ones:  
Promoting side-hustles
On PubHub is an Associate Marketplace where associates can promote and advertise any goods or services they sell on the side. Current side-hustles at PCI include a lip gloss making business, real estate services, and painted glassware courtesy of Angie. 
Sharing associate talent
PCI organizes a talent show through their intranet during specific holiday events. Associates tune into a live Zoom session posted on PubHub to watch associates sing, dance, or whatever their talent may be! Winners are rewarded with gift cards. 
Humanizing associates
PCI recognizes its associates are so much more than the work they contribute. Through a section on their intranet called Our House, PCI highlights (and feeds the announcements into the homepage carousel) personal events in their associate's lives and their closest family members such as graduations, engagements, weddings anniversaries, even the purchase of a new home. Birthdays and anniversaries are celebrated on the homepage.
Social justice commitments
Supported by their leadership team, PCI associates were encouraged to read a book to support their journey in building True Trust at PCI. Participants then gathered for a remote book club meeting where they further discussed topics such as white fragility and awareness for racial injustices. The feedback collected led to the creation of a library of resources (books, films, and podcasts) on their intranet dedicated to social injustice.
Identifying the true heroes
Perhaps the most meaningful section on their intranet is a page called Victory Vault. As a way to build strong and lasting relationships at PCI, associates are encouraged to share difficult times they have endured. On this page the bravest of associates share stories of unbelievable circumstance with one simple hope—that their story will help, heal, or inspire a fellow associate who may be going through a similar scenario, and that regardless of the circumstance, there is light at the end of the tunnel.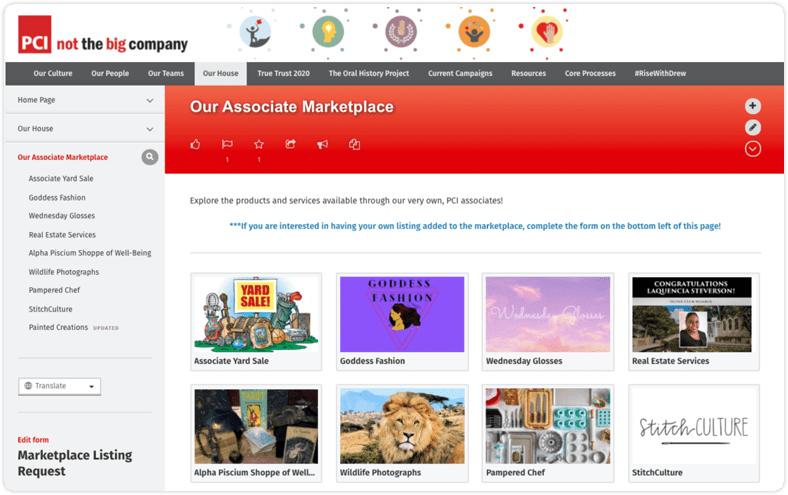 Great workplaces start at the top 
It's no surprise that PCI's incredible culture begins at the top. As a self labeled workplace culture enthusiast, CEO and President Drew Clancy blogs every single day and shares it on PubHub. His goal is to write about the "hows" and "whys" of building a great workplace culture as well as reflect on other topics that impact workplaces. 
Drew and the rest of the leadership also use their intranet to post videos on how to be a great place to work. Prior to ThoughtFarmer, PCI had no centralized location to post video content. 
Recognizing the value of complete transparency and authenticity, Drew also makes himself available to every single associate at PCI. Through a section on their intranet called Drew's Red Button, anyone in the company can submit an issue or question to our Drew directly and he will respond.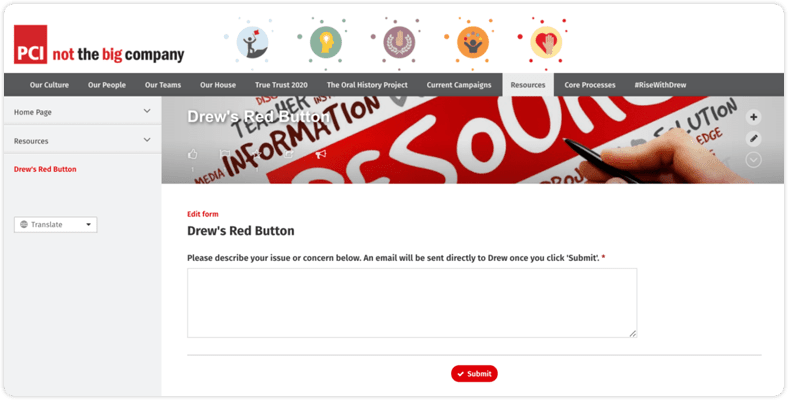 Drew and other members of the executive team also hold regular "skip level meetings" where associates have the opportunity to say what's working well (or what isn't) to those who have the power to make changes. Angie contributes these initiatives with helping PCI become a truly transparent company."If our CEO had to choose between making an additional million dollars a year or having engaged happy associates, he would choose the latter."
To further maintain transparency, there is a section on the intranet called "State of the Company." It includes things like the weekly CEO Council Meeting Minutes, the COO's Monthly Operating Letter, and skip level meeting results. They also record their virtual quarterly business meetings and post segments of the video so anyone who missed the meeting can watch it on demand. 
Simplified workflows and processes 
One thing that really stands out when talking to Angie is her level of efficiency. PCI isn't just a great culture, they are also a forward thinking process orientated organization. It's therefore no surprise that Angie and the PCI team leverage FormFlow, ThoughtFarmer's built-in form builder. "We love the form builder in ThoughtFarmer and use it for almost everything—our suggestion box, Drew's feedback section, and even our Associate Marketplace." 
FormFlow's intuitive form builder enables users to create a form, customize the design, set up a workflow, within minutes. Information is then visible in a simple dashboard that collates key performance indicators such as: average time to submit, average time to review, and open entries.  
PCI also leverages their intranet to post daily meeting notes. Having a centralized repository for meeting information helps Angie and her team stay accountable to important tasks and deliverables. 
Personalized customer support
Angie is also a big fan of ThoughtFarmer's customer support. While she feels like she understands the platform well, she still relies on the customer success team to help her out with detailed requests. "Customer support is incredible, quick, and helpful. I feel like we are the only customer ThoughtFarmer has and that I have my own personal IT guy," said Angie.   
A strong customer success experience helps Angie take full advantage of the entire platform, thereby gaining real value from it. 
Looking towards the future 
Angie has ambitious plans for PubHub, most starting with a full training library. "In the beginning my focus was around engagement and setting up pages, but the next step is all about making sure everyone is empowered to maintain their content so that we can have a full company training library," said Angie. "ThoughtFarmer is so easy to use, so I think this will be easy to achieve." 
PCI also has high hopes their intranet will one day achieve accolades. "A goal of ours is to be recognized as a company with an award winning intranet," said Angie.  
Angie is relieved that PubHub was set up prior to the pandemic. "We set up our intranet at the right time. We never felt lost or disconnected during the pandemic and business has run seamlessly," said Angie. "We've always had associates who have worked remotely, but PubHub has definitely made us realize that working from home on the largest scales can work—and can work even better than we'd even imagined."   
Angie is amazed at the difference ThoughtFarmer has made during the last year. "It's starting to bring people from different locations closer together through the different ways we are sharing things. There has definitely been a bigger feeling of family." 
Sounds like one incredible family.