Imagine knowing lives were dependent on the information you could access. Wouldn't you want to ensure you had the most efficient and resilient knowledge network possible? Here's how a crime unit leveraged their intranet as a comprehensive knowledge management platform. 
In the world of Digital Forensics and Cybercrime, it takes a certain type of skill and knowledge to combat criminals who leverage technology like mobile phones and computers. At the Vancouver Police Department, these officers work in the Digital Forensics Unit and Cybercrime Units (DFU and CU). 
The DFU provides digital forensic assistance and computer forensics on devices, while the Cybercrime Unit provides online and internet investigative assistance to members of the Vancouver Police Department. Investigators from the DFU and CU examine any computers and/or mobile devices that may have been used as a tool to commit a criminal offence, or to store information storage related to a crime and report their findings back to the VPD.
The amount of information the DFU officers come into contact with in the course of their work is astounding. In 2018 alone:
816 devices were examined

876 devices were submitted for analysis

10-20 hours were spent analyzing each phone 

20-40 hours were spent analyzing each computer 
They additionally have 2,160 days worth of HD Video, 103 years of music, 1.7 KM of photos, and 27 terabytes of data. 
But this data isn't just a bunch of numbers; it's so much more. In the case of the DFU, the data was information and knowledge relevant to solving crime and ultimately protecting the community. 
The question was, is this information easily available and searchable to the DFU when they need it?  
A lesson in DIY networks
In 2009, a senior DFU employee created an internal knowledge network to manage the large and exponential volume of data. 
The system was based off an outdated version of Windows Search Server with a SharePoint add-on. It contained 400 documents, a 2GB wiki, and a 2GB blog. It wasn't an ideal solution, but for five years it solved many of the challenges associated with knowledge management (KM). 
In 2014 the employee who managed the project was tenured out, meaning they were repurposed into another department. This meant that there was no one to manage the department's growing database. And if that wasn't bad enough, the entire system crashed four months later. Despite repeated efforts, there was no way of restoring it.  Overnight, the DFU had lost all the information they grew to depend on. 
Unfortunately, that's the reality of what happens when employees leave; they take with them valuable knowledge that cannot be replaced. Without an effective KM system, the DFU was at risk of losing future expertise. 
Could an intranet solve their KM problems?
In 2017 with no solution in place, and a growing demand for access to important data, Brandt Watkins, the Digital Forensics Unit Sergeant became involved in the project to acquire a new knowledge solution. 
Because the DFU was already invested in the concept of knowledge management, there was no pushback in pursuit for a new solution from the Information Communications and Technology Section (ICTS) managing the RFP process. In fact, most DFU employees were begging for a new platform, and the winning bid came from a Vancouver-based company. 
There were two key  features that Brandt and his team were on the hunt for. First, it was critical that the new platform could host videos. "We have hundreds of instructional videos and webinars that we needed access to from one central location. For example, videos on technical solutions that show team members actually how to solve problem," said Sergeant Watkins. 
The other crucial feature was the ability to easily and quickly surface critical information-—even on a PDF. Standard Operating Procedures for 300 software, hardware, or equipment tools were stored in various formats and in a variety of platforms.
As the RFP search began in early 2017, the VPD was immediately impressed with ThoughtFarmer. While ThoughtFarmer is an intranet software solution, it is increasingly used to support knowledge management. ThoughtFarmer helps organizations manage knowledge by capturing and storing intelligence and uncovering important data. 
Because large technology purchases, like an internal knowledge management system, must go through an RFP process, The DFU and ICTS was forced to investigate other platforms. None matched the strength of ThoughtFarmer. 
"We looked at several other solutions, but ThoughtFarmer was a perfect match in assisting us in our goal of managing knowledge and expertise across our department," said Sergeant Watkins.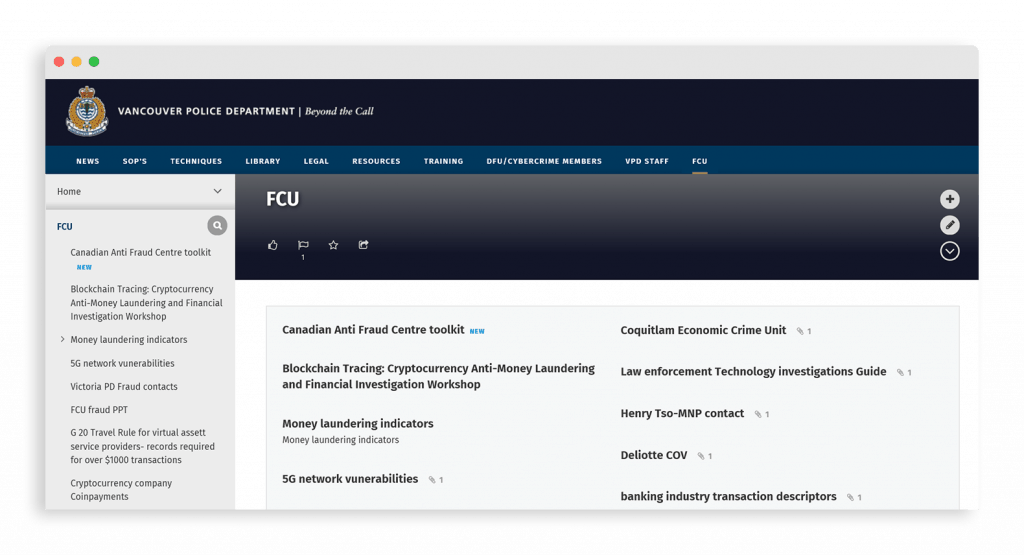 Using KM to fight crime
Sharing knowledge in policing remains a significant challenge for police forces around the world. Many law enforcement agencies don't know what knowledge they require and what knowledge they already have. 
Since deploying ThoughtFarmer, the DFU's intranet now contains: standard operating procedures, training videos, software solutions, hardware solutions, equipment solutions, webinars, legal correspondence, High Technology Association information bulletins, and employee suggestions and solutions. 
"ThoughtFarmer has been a complete game-changer. The speed at which we can uncover relevant information has been incredible," said Sergeant Watkins.
Sergeant Watkins and his team recently put this knowledge to use when attempting to extract data from older model flip-style mobile phones. When the instructions were finally uncovered, they were immediately posted to their intranet. Having this information readily available helps save the investigators time and money. 
The entire DFU and CU uses daily ThoughtFarmer entries to manage multiple sets of knowledge and expertise. They have already made plans to roll ThoughtFarmer out to other departments within the VPD, including the Information Communications and Technology Section (Responsible for housing all VPD information).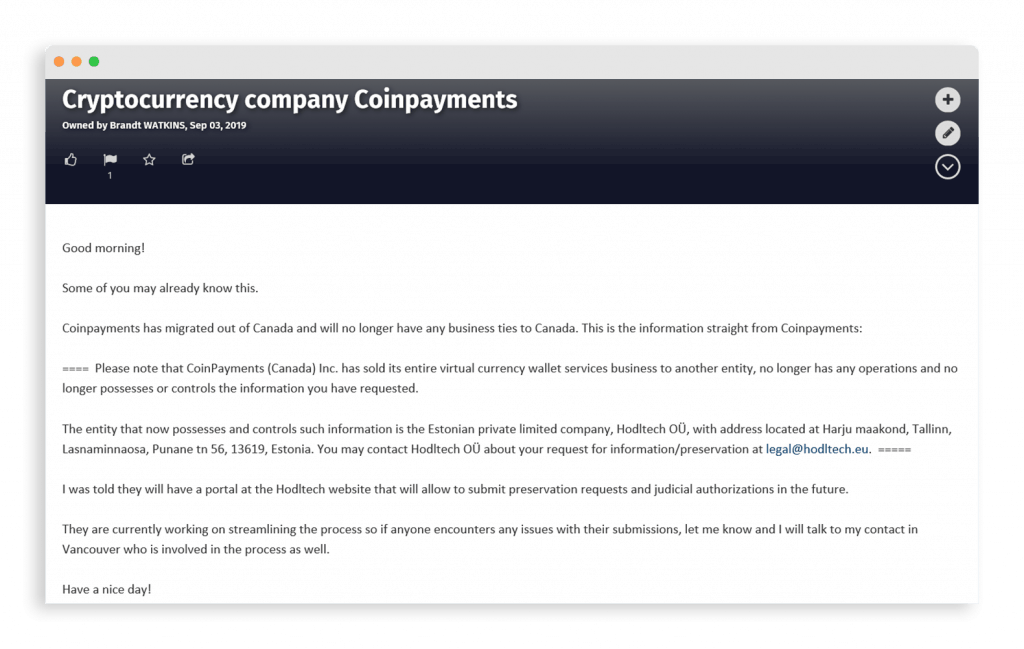 The power of a KM champion
Having a champion who sees the value of KM is critical to the success of a good KM strategy. 
As the KM advocate and champion, Sergeant Watkins continuously encourages others to share relevant knowledge. "When I receive emails with critical information, I will often respond back directing others to post this information on the intranet." As Sergeant Watkins knows, an email thread is no place for essential information. "'TF (ThoughtFarmer) please' is my automatic ingrained response to a great new idea or vital solution."
Sergeant Watkins also understands firsthand the challenges associated with retiring employees, otherwise known as the silver tsunami. He leverages his department's story to educate others about the dangers of loss of knowledge in exiting and retiring employees.  "No one talks about knowledge management, but everyone talks about loss of knowledge and expertise," said Sergeant Watkins. 
Sergeant Watkins also doesn't hesitate to advocate ThoughtFarmer to other policing organizations when he attends conferences throughout the year. 
"The policing community is all about trust. They listen closely to what other colleagues and people in the industry have to say. Otherwise, they don't trust the solution," said Sergeant Watkins.  
While we are pretty excited for Sergeant Watkins and the VPD teams, he is quick to correct us when asked how they are enjoying their ThoughtFarmer intranet. "It's not just an intranet; it's a knowledge management network." 
We aren't about to argue with this officer.