It can be difficult to appreciate the value of an intranet—until you become completely dependent on it. That's what happened to a law firm when they launched their new intranet at the start of the COVID-19 pandemic, thereby spurring company-wide adoption.  
Canada's leading litigation practice
With almost 200 employees, Lenczner Slaght is widely recognized as Canada's leading litigation practice. They have successfully represented clients' interests in some of the most complex, high-profile cases in Canadian legal history. Their lawyers are distinguished by their depth of courtroom experience, appearing regularly at all levels of the federal and provincial courts and before professional and regulatory tribunals, as well as in mediation and arbitration proceedings. They have a robust business team and are supported by dozens of other legal professionals. 
A common problem
Like many of our customers, Lenczner Slaght came to us with an existing intranet that was first built decades ago. Unfortunately, yet not surprising, over time it failed to deliver on its expectations. 
"We outgrew our existing intranet. We pride ourselves on delivering excellence in everything, but our ability to share resources and communicate broadly within the firm was falling behind. We needed an intranet that would work for our needs today and into the future," said Lindsey Bombardier, Director, Marketing & Business Development at Lenczner Slaght.
A popular solution
Taking the lead in the procurement of a new intranet was the Knowledge Management (KM) team. The team reached out to several other law firms and asked for recommendations on an intranet, and quickly learned about ThoughtFarmer. Lenczner Slaght then spoke to several of ThoughtFarmer's customers to better understand the benefits of their intranet software.  
"All of the ThoughtFarmer customers we talked to spoke highly of the product including its ease of use, its ability to scale, and its implementation process," said Lindsey.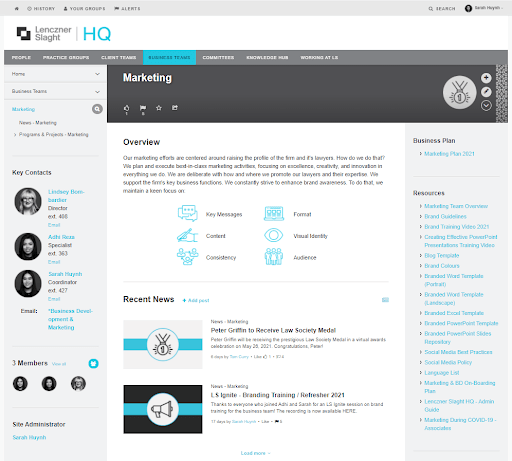 Lenczner Slaght chose ThoughtFarmer for several reasons:  
Simplicity


When comparing systems, ThoughtFarmer had a more simple and effective design. This would allow Lenczner Slaght to maintain core brand priorities including visual identity and consistency. "It was important to us that everyone felt like the intranet was an extension of our brand, and truly best-in-class," said Lindsey.  

Ease of implementation
The implementation process was practical and digestible, ensuring a successful deployment within their specific timeline.
Ease of use
Once launched, Lenczner Slaght knew that many employees would be empowered to oversee and create content. It was therefore essential to pursue a platform that was easy to train employees on and not intimidating to use.
Ongoing support
Lenczner Slaght was instantly assigned a Customer Success Manager. "Our Customer Success Manager has been with us every step of the way and continues to be an excellent resource as we customize the platform to enhance usability," said Lindsey.
Price
Lenczner Slaght has several major projects in queue at all times. Fortunately,  ThoughtFarmer fit well into their budget in the short and long-term.
A uniquely-timed virtual launch
Because of the COVID-19 pandemic, the entire workforce at Lenczner Slaght transitioned to working from home on March 16, 2020. They knew that their launch date of April 2020 had to work. "Overnight, our new intranet was deemed a critical communication tool for the firm and implementation had to succeed. We also had to pivot and launch the intranet virtually. That meant re-thinking our communication, education, and training plans," said Lindsey.  
The instant reliance on their intranet helped spur adoption. "Our immediate adoption rate was close to 100%. I am not sure we would have seen that had we not transitioned to working from home" added Lindsey.
Tackling and maintaining intranet adoption
Adoption of a new intranet is a common and valid concern for organizations—especially for Lenczner Slaght who had previous unsuccessful experience with intranet software. 
"We knew that adoption would take time as we had never had a well-functioning intranet before. An important part of our launch plan was communication and education," said Lindsey.  
To increase engagement on their new intranet, Lenczner Slaght focused on simple designs and functionality. They limited the overall number of clicks on their new intranet, employed a consistent format across pages, maintained their corporate branding, and created an intuitive search function.  
To maintain engagement, the marketing team developed campaigns to highlight and celebrate new features and milestones of their intranet. For example, they had a virtual countdown leading up to their intranet launch to bid farewell to their old and outdated intranet. They also celebrated their intranet's half-birthday. "The pandemic has proved that even the small milestones are worth celebrating," said Lindsey.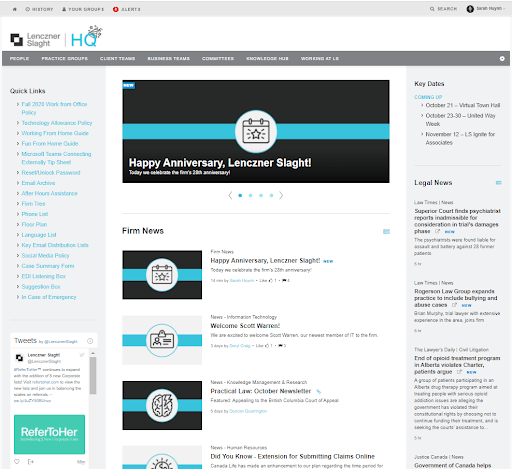 Because the pandemic altered the way employees connect with each other, Lenczner Slaght also turned to their intranet to showcase their vibrant workplace culture. "Whether it's photos from our Managing Partner's Goodwill Tour, or a recording of our Chris Noth Cameo from our (first-ever) virtual Holiday Party, our ability to share this type of content has been so important for us as the pandemic has rolled along."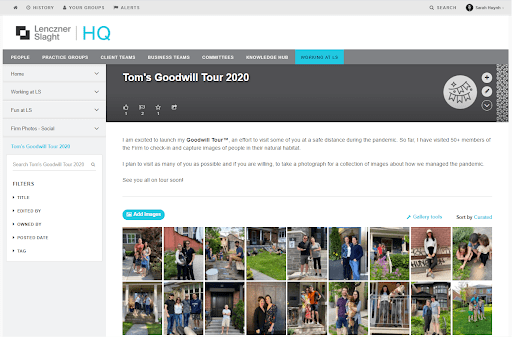 A virtual headquarters and knowledge hub
Because their office had initially closed during the pandemic, Lenczner Slaght's intranet became their new virtual headquarters. In fact, they even named their intranet: Lenczner Slaght HQ. "It's the one place that you can find everything related to our firm—from a comprehensive 'about us' section to our current policies, news, and projects," said Lindsey.  
Lenczner Slaght HQ also hosts an array of practice resources, acting as a one-stop shop for their lawyers, law students, and law clerks looking for tried and tested toolkits, precedents, and technology and services. "During the past year, when everything has turned virtual, it's been a saving grace for everyone at the firm," added Lindsey.
Lenczner Slaght's intranet has played an instrumental role in uniting the firm throughout the pandemic. "We have a page dedicated to our COVID-19 Resources including our various policies, guides, compliance rules, links and Twitter feeds to trusted news sources, etc." They also have a page dedicated to Court Resources. Their lawyers are in virtual court every single day and Lenczner Slaght HQ has helped keep the firm updated on the changes to processes and technologies. .  
Perhaps most impressive is the Knowledge Hub. Lenczner Slaght's Knowledge Hub is a centralized repository of critical legal information. "Whether it be a curated set of precedents or a practice specific legal toolkit, the Knowledge Hub has brought a new level of transparency to the resources available to our lawyers and law students," said Lindsey.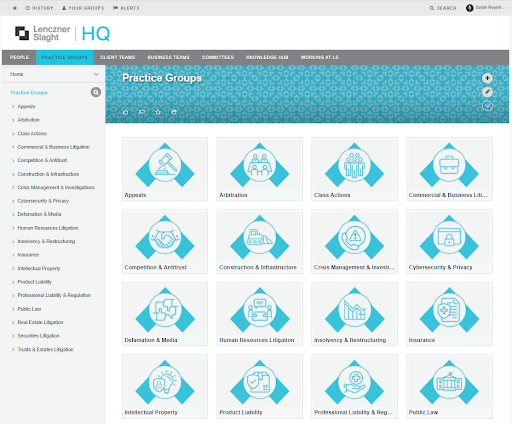 An intranet supporting diversity equity and inclusion initiatives
Lenczner Slaght is deeply committed to promoting and advancing equity, diversity, and inclusion in their workplace and in the legal profession—not only because studies show it results in better work product for their clients, but because it produces a more connected workplace. 
"We recruit and support diverse candidates and are deeply committed to their retention and advancement," said Lindsey. "While we recognize we are a work in progress, we take pride in advancing it inside and outside of our firm through concrete initiatives like resume anonymization, unconscious bias training, inclusivity dialogue sessions, firm-wide resource sharing on racism and allyship, access to justice internships, the R&R Lounge, ReferToHer™, and support of organizations dedicated to advocating for underrepresented groups. We have a dedicated EDI page on Lenczner Slaght HQ, including links to our various policies, our EDI Listening Box, and a curated Twitter feed."
In January 2021, Lenczner Slaght added name pronunciation buttons on all of their website biographies. They are now working on adding the same feature to every single people page on Lenczner Slaght HQ.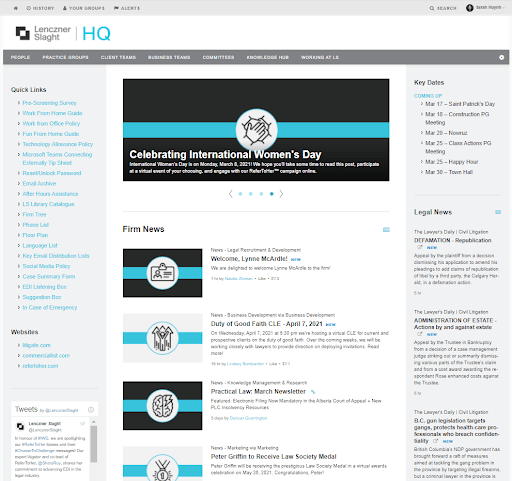 Reduced email and improved communications
Prior to deploying ThoughtFarmer, Lenczner Slaght relied almost exclusively on email to communicate and inform employees of firm updates and news. "We knew that an intranet wouldn't solve that problem entirely but, it would allow us, over time, to prioritize how, when and where we communicate," said Lindsey. 
Lenczner Slaght's new intranet has shifted employee communication away from email and towards real-time communication. "The whole process really works. Adding real-time news to any particular practice group, client team, business function, or committee page and having it fed to the homepage, and then alerted to specific people through notifications, has been a game-changer for us," said Lindsey.  
A new intranet also allowed Lenczner Slaght to take inventory of their firm content, make important updates, consider gaps, and decide what new content was required. "It provided us with the opportunity to centralize our content and organize it in a way that allowed everyone at the firm to easily find what they needed," added Lindsey.
Measurable success 
Lenczner Slaght measures the success of their intranet through analytics within the ThoughtFarmer platform. 
"Given that we are in our first year, it's important for us to understand who is viewing content, what type of content they are viewing, how long they view it for, how they find that content, etc.," said Lindsey. Within a year, Lenczner Slaght recorded: 

272,047 Total Page Views


Averages 24K per month 

22,567 Total Visits


Averages 2K per month 

7,568 Total Searches


Averages 650 per month 
They are also tracking the following data points to gain further insight:

Active Users by Group


To date, the business team is consistently the most active 

Page Visits by Category


Knowledge Hub and the Working at Lenczner Slaght pages are the most frequently visited

Top Search Keywords
This helps the firm identify gaps, particularly if there are multiple searches for resources that don't currently exist
Future goals
As the firm approaches their one-year anniversary, they're excited about the future of Lenczner Slaght HQ. 
"Continuous improvement is an important value at our firm. In this context, that means we will continue to apply resources to review, edit, update, and consolidate content as often as possible. We also have several new projects in queue which are aimed at enhancing the user experience and providing new ways to promote and support inclusivity among our people," added Lindsey. 
In the next year the law firm plans on transitioning to a cloud environment, launching a kudos section, creating an employee marketplace, and taking advantage of ThoughtFarmer's new mobile app and FormFlow feature.