Modern intranet software has changed the rules of successfully launching an intranet. Today, we're seeing more robust and vibrant intranets with social and mobile-enabled features to support the rise of the digital workplace, and the hybrid workplace.
While in the past it was quite helpful to involve employees throughout the process, today it's a necessity. But in order to build a fruitful community employees need to feel a sense of involvement and ownership early on.
Many of the ideas to engage employees in a new intranet are standard practice for building an intranet that adds value to an organization's internal communications strategy. Each one represents an opportunity to build a sense of shared ownership and community, while generating excitement about the new site.
15 ways to engage employees in a new intranet
1: Send out a survey to evaluate your existing intranet
A survey that measures employee satisfaction with the existing intranet is useful for gathering feedback. If you word questions carefully, you can re-apply the survey six months after you launch the new intranet and compare it to the baseline data about the old intranet. You can then continue to send out that same survey every 6-12 months to monitor satisfaction with the new intranet. The survey doesn't have to be extensive, and it can be a pulse survey. Keep in mind that self-reported satisfaction surveys are not a complete approach to measuring the value of an intranet.
2: Hold focus groups about intranet problems
Focus groups are useful for capturing feedback about the current intranet and gathering information about employee needs. Focus groups (as opposed to individual interviews or surveys) create shared experiences that help create a sense of connectedness among colleagues. This can help lay the foundation for the sense of connectedness an intranet will foster.
3: Interview employees and key stakeholders early on
Stakeholder interviews have been a key ingredient in intranet planning as long as intranets have been around. They are an opportunity to listen to employees throughout the company and build relationships you'll need throughout the project. Be sure to follow up with all interviewees on an ongoing basis to maintain their sense of involvement (read about how Capital Region BOCES used a consultative approach to create the ideal intranet).
4: Observe employees in their daily workplace
This technique is a secret of some of the best intranet managers in the world but is standard practice for usability experts. Workplace observation gives the intranet team real-world insights into how people work on a daily basis and the information and tools they use to do their jobs. Obviously this is more challenging in remote and hybrid workplace settings, but it can provide much more realistic information than approaches that require participants to self-report.
5: Ask employees to post ideas for the new intranet
James Robertson famously said, "don't ask users what they need on the intranet". While that's a good motto for intranet managers, it can't hurt to ask for ideas for the new intranet. Be clear that no idea is guaranteed to make it into the final product, but give people the chance to share their thoughts. You may discover brilliant and innovative ideas the intranet team wouldn't have come up with. Try to hold this process in an open online space where employees can see and comment on or contribute to colleagues' ideas.
Looking to make your intranet launch successful?
Our newest whitepaper walks you through every step to a successful launch.
Download now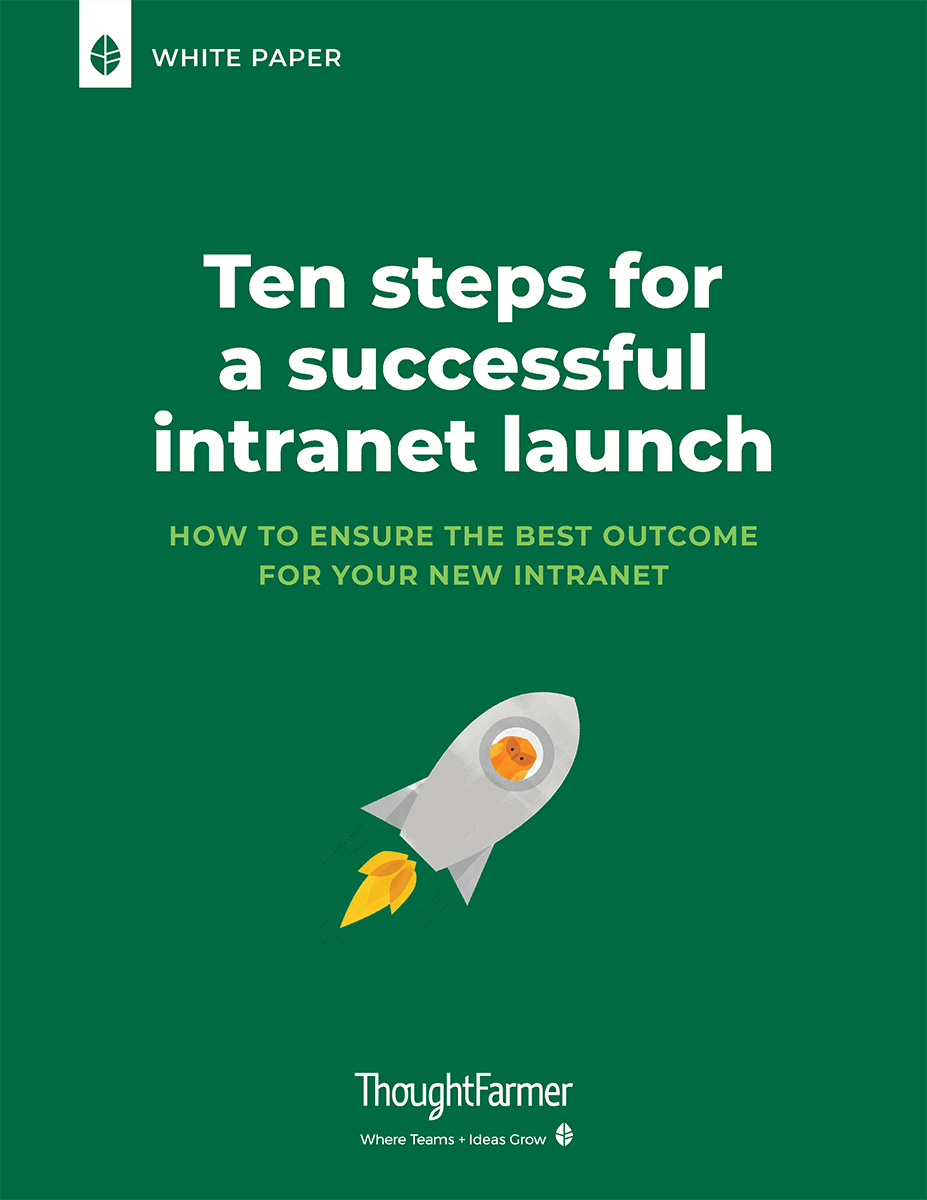 6: Create a group for content owners
As soon as you begin the path to a new intranet, it's important to get close with your content owners. Content owners play a critical role in your project by acting as a support system in carrying out content-related tasks to ensure information is accurate and up-to-date. They also act as champions by sharing the benefits of the new site and supporting colleagues with project efforts, such as training new and existing content authors.
7: Involve key employees in product evaluation
Finding the right intranet software is as much an art as it is a science. Meeting business and technical requirements is just as important as finding a good cultural fit. Strategically select employees to involve in the product evaluation process. Don't make them scour complex requirements spreadsheets, but do give them demo access if it's an option and let them get their hands dirty. Consider involving content owners in this process as well, as they will likely have some useful feedback to share. For further reading on this, check out our whitepaper on Building an Intranet Business Case.
8: Run a contest to name the new intranet software
Holding a contest to name the new intranet can build excitement help engage employees in a new intranet. You'll want a structured process that's timed right to fit into the rest of the intranet project. See our case study of crowdsourcing the name for a new social intranet for specific ideas on how to implement a naming contest.
A naming committee can either be the governing group that oversees the naming contest or an alternative to the naming process. A company's culture, the project timeline, or other factors may make a committee a better way to select a name for the new intranet than a contest. The committee could include stakeholders, content owners, and even an executive.
9: Hold voting on graphic design alternatives
If your intranet project includes the time and budget to compare several design alternatives, this can be a great opportunity to involve employees. Create a simple system for people to vote or comment on two or three different design concepts and be clear from the start about how employee voices will be weighed. It's a good idea to make sure the intranet project team and executive sponsors are comfortable with all of the options you're putting out there. This ensures everyone is ready to embrace whichever option employees choose.
For a glimpse at some visually appealing intranets, check out our whitepaper: 10 Award Winning Intranets.
10: Take an inventory of content on existing intranet
This may be the least glamorous way to engage employees in a new intranet, but it's one of the most critical for building an effective new intranet. Usually, the content owners conduct the content inventories, sometimes referred to as content audits, guided by the intranet team. This can be time-consuming, so start it early and provide plenty of support and coffee to the content owners who'll be carrying out this activity.
A content audit is one of the first tasks in achieving effective intranet information architecture. For a comprehensive look at each step, check out our whitepaper on Information Intranet Architecture.
11: Run online card sorting
Card sorting is a standard and common process for involving employees in developing an intranet information architecture (or site navigation) in a meaningful way. It's a structured approach for gathering employee input on how to organize the information on your intranet, whether online or face-to-face. Card sorting can be an opportunity to involve a very large group of employees in a substantive way. 
If you're new to card sorting you can learn the basics in our article, How-to guide for intranet card sorting to help you run this type of activity within your organization.
12: Run online task testing
Task testing is another standard tool in the User Experience Designer's toolbox and can follow a card sorting effort. While card sorting helps you understand how employees group content in their minds, task testing lets you test how well a draft intranet navigation helps employees complete actual daily work tasks. Check-out our how to guide for intranet task testing to learn how you can carry out this process for your intranet project.
13: Run user testing on mockups or pilot site
One of the best ways to engage employees on a new intranet is through user testing. User testing is similar to task testing but happens on a live site or mockups that include page layouts and some graphic design elements. User testing provides a third round of validation for the navigation structure you are creating for your new intranet and can inform the layout of pages. It involves a smaller group than task testing and card sorting and is a little harder to do remotely. For a more comprehensive understanding of intranet usability,  check out our post: How to determine if your intranet is easy to use. 
14: Create pilot groups on the new intranet
If your project timeline allows it, include a period for pilot groups to test out your new intranet. Most intranet software includes features for groups (communities, teams, etc) to work together online. Carefully select groups for the pilot phase. Try starting with teams or employee communities that are either tech savvy already or that are most in need of online collaboration tools. Listen carefully to your pilot users and treat them as partners. The pilot effort can provide critical insights into how to launch and manage group pages and pilot users may become active champions who help with intranet adoption after launch.
15: Identify community managers for early adopter groups
A key component of intranets is community spaces and a key success factor for online communities is having effective community managers. A community manager is like a content gardener and an online facilitator. By building a community management strategy into your intranet plan you can increase the chances of adoption of the new intranet and ensure employees get real value out of it. This could include communities of practice, or ERG groups. 
As you identify communities that could benefit from your new intranet, reach out to staff members whom you think would make effective community managers based on their role and their relationship with colleagues. Provide them with plenty of guidance and resources.
Build a culture of collaboration, together
The end results most organizations seek from their intranet software is high levels of connection, knowledge sharing, and employee engagement. The best way to achieve this is to take a truly collaborative approach to planning and launching your intranet. Actively engaging all of your stakeholder groups from the beginning will reflect positively on your end result and the success of your new intranet software.
Editor's Note: This post was originally published in December 2016 and has been revamped and updated for accuracy and comprehensiveness.
Have questions? Get in touch! We're always happy to hear from you.