A new intranet can significantly improve your workplace, but getting your team to adopt and engage with it won't happen on its own. You need a focused, dedicated, and creative intranet launch campaign, if you want your new intranet launch to be successful.
Here are 25 actionable intranet launch ideas you can use to propel your intranet (or extranet).
Phase 1: INTRANET PRE-LAUNCH
Involved employees are engaged employees. Spark excitement and relieve concerns by giving team members a sneak peek at their new intranet.
Idea #1: Involve key employees in product evaluation
Include employees in early discussions, so they can learn some of the ways your new intranet can help improve their daily workflow. Check out our blog for more information on how employees can search for content more easily across your intranet.
10 steps to a successful intranet launch
Ready to launch your intranet? Download our informative guide.
Download now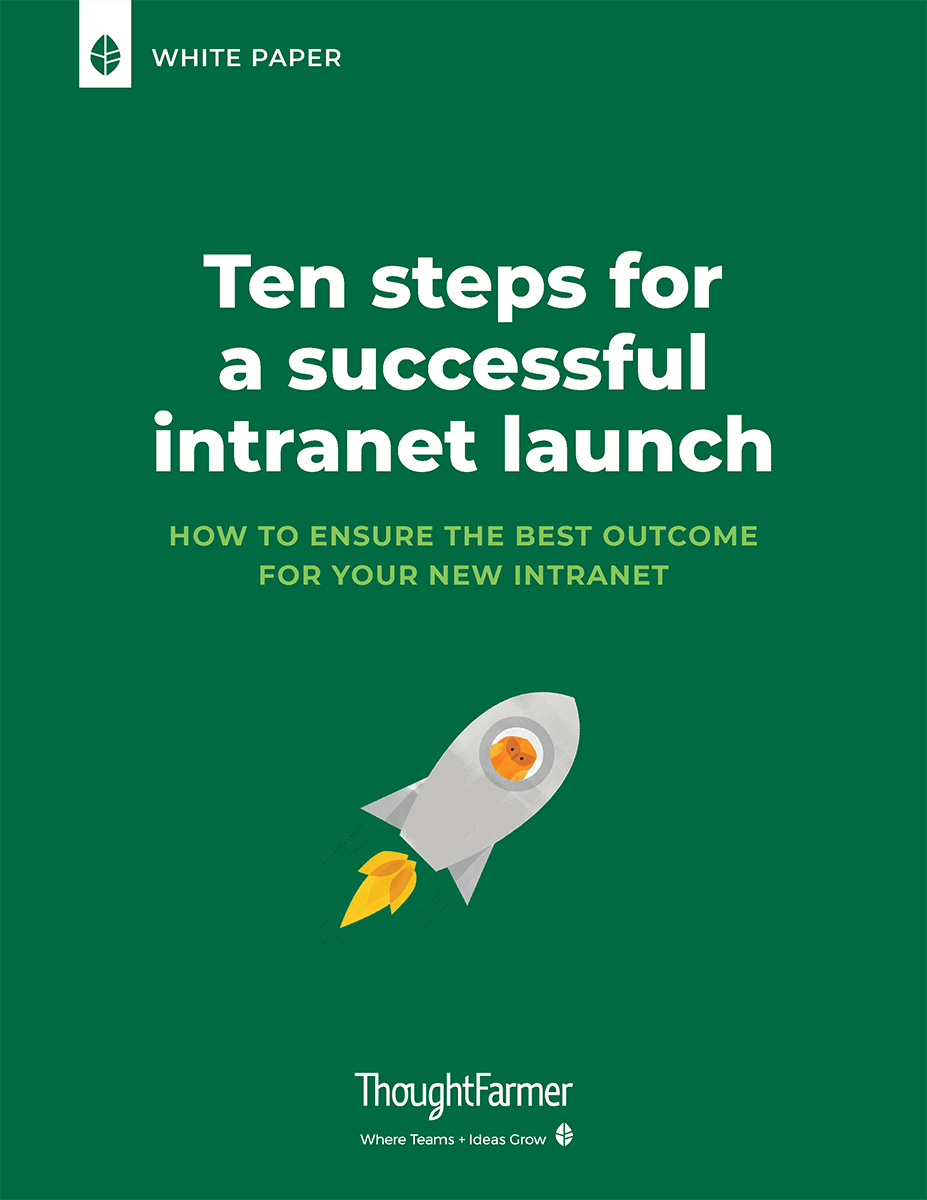 Idea #2: Encourage employees to offer feedback
Employee feedback is essential to designing a useful, intuitive intranet. Get employees to participate in card sorting and task testing activities. Show employees that you value their input, while simultaneously improving your intranet navigation.
Idea #3: Let employees help name your intranet
To paraphrase Shakespeare, what's in an intranet name? Not much, if it's named by only one person. Running an event where employees can suggest and vote on names for the intranet, makes the process exciting and engaging for everyone. Check out our step-by-step guide on crowdsourcing an intranet name for more information.
Idea #4: Send home QR code teasers
Consider creating a QR that leads to a simple landing page with all of your vital intranet information. They can include:
A copy of the new intranet's navigation

Your intranet's vision statement

The site's URL for easy home access

Simple instructions for logging in

An email address to use when asking for intranet assistance
Idea #5: Share fun facts from employee profiles
Penn State ran a brilliant intranet launch campaign that sparked a lot of excitement. Their launch included a series of posters, which shared trivia about Penn State employees to generate interest in their profiles.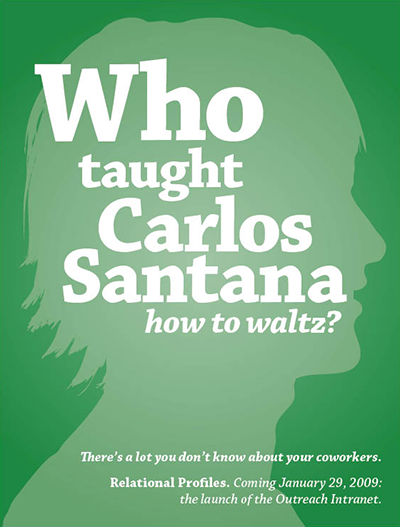 Idea #6: Distribute welcome packages
Another part of Penn State's outstanding intranet launch campaign was welcome packages assembled by a team of volunteers. The kits included:
A booklet introducing the intranet

An agenda for launch day

A thumb drive preloaded with required documents
Idea #7: Give your intranet a strong visual identity
How do you make some brands fun that normally wouldn't be considered playful? Corus Orthodontists created a mascot to go alongside their new intranet - both named Coco. Read our case study on how Corus used Coco to create a visual identity for their intranet and made exploring their intranet fun for employees.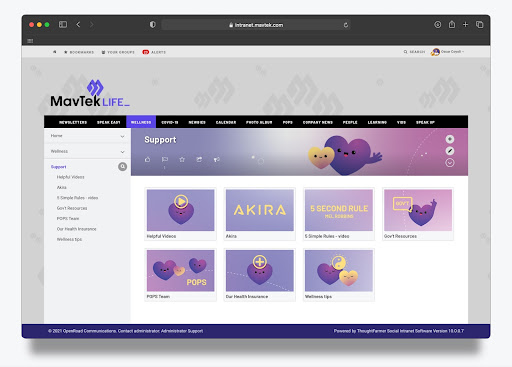 Idea #8: Suggest super users create example profiles
By having a few engaged users fill out their profiles as examples, you can achieve two things: You'll provide recognition to highly motivated users, and you'll help other users see their potential. Also, using this approach means less work for you and more credibility with your users. Win-win.
Idea #9: Pre-populate employee profile photos
If you have a database of security badge photos, or another repository of staff pictures, consider uploading them to user profiles ahead of launch. Replacing blank profiles with real photos will instantly bring your personnel directory to life.
Idea #10: Set up key groups and locations in advance
Your new intranet will likely have group pages for each department and company location. Adding employees to their respective group pages ahead of time allows you to:
Reduce the time and effort required for users to complete their profiles

Ensure your team directory is organized from day one

Enable personalized news delivery for each group
Idea #11: Construct a contributor community
If you've already engaged your intranet stakeholders and power users ahead of time, this should happen quite naturally. The key is to get content owners, news authors, and group owners involved beforehand. Waiting until after launch is a wasted opportunity to increase adoption and engagement right from the start.
Idea #12: Circulate an internal press release
Some employees only want the specifics. An announcement or press release gives you the ability to concisely educate employees ahead of time on the name of your intranet, how to navigate it, and most importantly, why it exists.
Idea #13: Host a focus group lunch
Focus groups are valuable for determining how your users feel about your intranet prior to launch. Take this small group out for lunch and pick their brains about the upcoming intranet launch. Ask them for honest feedback. Be sure to include team members from multiple departments, so you can gain insights from a variety of operational perspectives simultaneously.
Idea #14: Display a launch countdown clock
A countdown clock creates a sense of urgency and excitement in all of us. It also sets firm expectations about when changes will take effect. To excite users about their new intranet, one of our customers made the banner from their old intranet look like it was decaying.
Idea #15: Showcase your brand consistently
Ensure that all your brand assets are incorporated into all the new content, news, and updates present in your intranet at launch. When team members can tell every part of your intranet is also part of your brand, it makes your entire system feel more cohesive and collaborative.
Idea #16: Feature your intranet in a town hall meeting
There are few events that attract employee attention like a corporate town hall. These company wide meetings are a great opportunity to get your intranet in front of everyone at once, and show employees that leadership supports and values the transition.
Idea #17: Collect and share feedback
Potential users will be more likely to explore your intranet if they see positive feedback from another team member. Leverage the super users, who are already familiar (and passionate) about your new intranet to share their thoughts. They'll likely be keen to talk about all the reasons they're excited for the new intranet, and these useful changes are much more captivating and persuasive coming from colleagues than trying to convince users on your own.
PHASE 2: LAUNCH DAY
This is the day you've been preparing for! If you want employees to have a good first impression of your intranet, it must be immediately interesting and useful. Don't be afraid to think outside the box.
Idea #18: Create a launch video
We had a recent customer, who got their President and CEO involved in the creation of an intranet launch video. For a company with several locations, this was an ideal way to build engagement with their new intranet, while also offering an entertaining way to get multiple departments directly involved.
Idea #19: Run an intranet scavenger hunt
Nigel Williams, former intranet manager at Romec, led a virtual treasure hunt as part of their new intranet launch. It helped build familiarity with the new intranet, and offered an excellent prize worth winning—a trip to New York City! Your prize doesn't even need to be that extravagant to draw lots of attention quickly. Everyone loves winning free stuff.
Idea #20: Engage remote employees using virtual conferences
For dispersed offices, or hybrid workplaces, an intranet launch campaign is the perfect opportunity to bring people together. Hosting a video conference allows you to introduce your new intranet software personally, as well as actively demonstrate its value as a resource for your whole team - onsite and off.
Idea #21: Plan your launch around a sporting event
Consider coordinating an intranet launch party around a specific sporting event. For example, you could host your party to coincide with an MLB game. You can even provide treats for employees like a loot bag full of Big League Chew, sunflower seeds, and a QR code that highlights important intranet information. Who says educating and engaging your team can't also be fun? Not us.
Idea #22: Throw a baby shower!
One of our clients held a New Baby celebration when they launched their intranet. They actually named their intranet 'Mark', and then promoted his arrival by announcing "Come celebrate! Mark is born!" A baby shower where no one has to buy presents? No wonder their team loved the idea so much.
Idea #23: Hire an influencer
Influencers can have a dynamic impact on marketing, without a doubt. Hiring an influencer to promote your new intranet may seem expensive, but sites like Cameo actually make it easy (and affordable) to get personalized messages from celebrities.
Idea #24: Integrate instant messaging
Email fatigue is real, and it's created a huge demand for instant messaging platforms, like Slack. Slack can be a quick and easy way to promote your new intranet or distribute teaser images. ThoughtFarmer's Slack integration makes it easy to share, search, or link to intranet content.
Idea #25: Make it a form-al event
As part of your launch day strategy, create a contest and award prizes to the first five employees that submit their vacation requests through the new intranet form builder (it's already built into ThoughtFarmer, so it's super easy-to-use). This will assist with automating some processes, as well as help employees become familiar with completing forms through your intranet.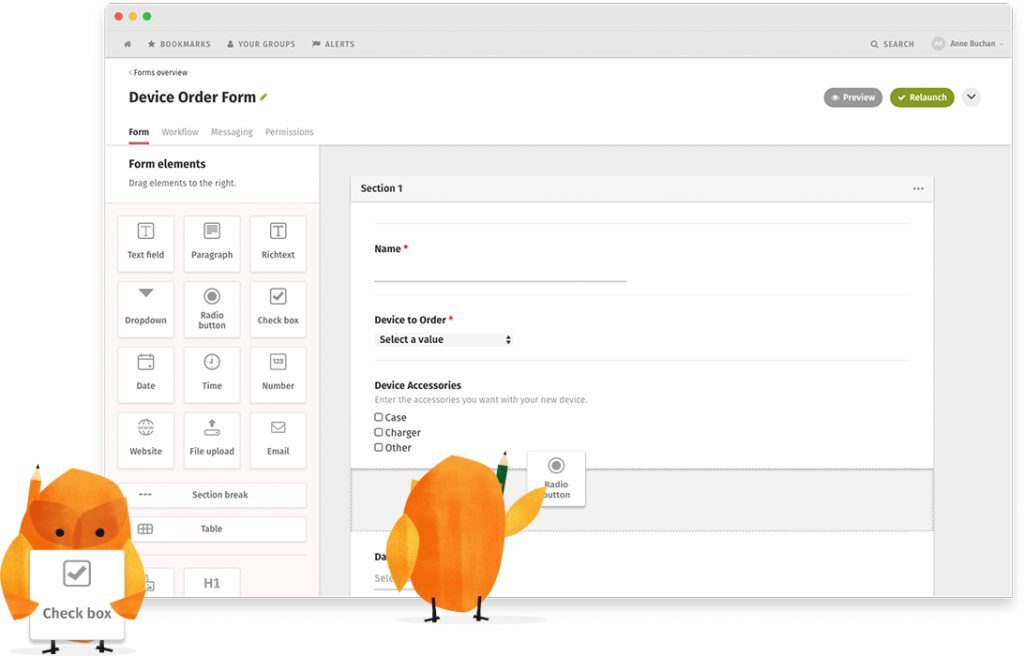 Are you ready to launch?
These 25 ideas represent just a small sampling of what's possible for an intranet launch campaign. If you're like us, it will get your creative juices flowing.
We hope his list of intranet launch ideas provides some inspiration to help you get the most out of your intranet software. The next step is to combine your own creativity, alongside your company's unique culture, and figure out some ideas that will work best for your intranet launch. We know you can do it!
Have questions? Get in touch! We're always happy to hear from you.