A new intranet can significantly improve your workplace; but that success isn't going to happen on its own. To ensure the success of your intranet you need a focused, dedicated, and creative intranet launch campaign.
Here are 50 real-world intranet launch ideas you can use to propel your intranet (or extranet). We've grouped launch ideas to correspond with your intranet launch timeline and stages.
Phase 1: Pre-Launch of a new intranet
Involved employees feel more ownership in the intranet process, which is why this is a vital part of an intranet launch campaign. Spark excitement and relieve concerns by offering employees a sneak peek into their new intranet.
Idea #1: Involve key employees in product evaluation
Include employees in early intranet discussions and learn how your new intranet software can help them. Check out our blog for information and resources on how to engage your employees in the process. 
10 steps to a successful intranet launch
Ready to launch your intranet? Download our informative guide.
Download now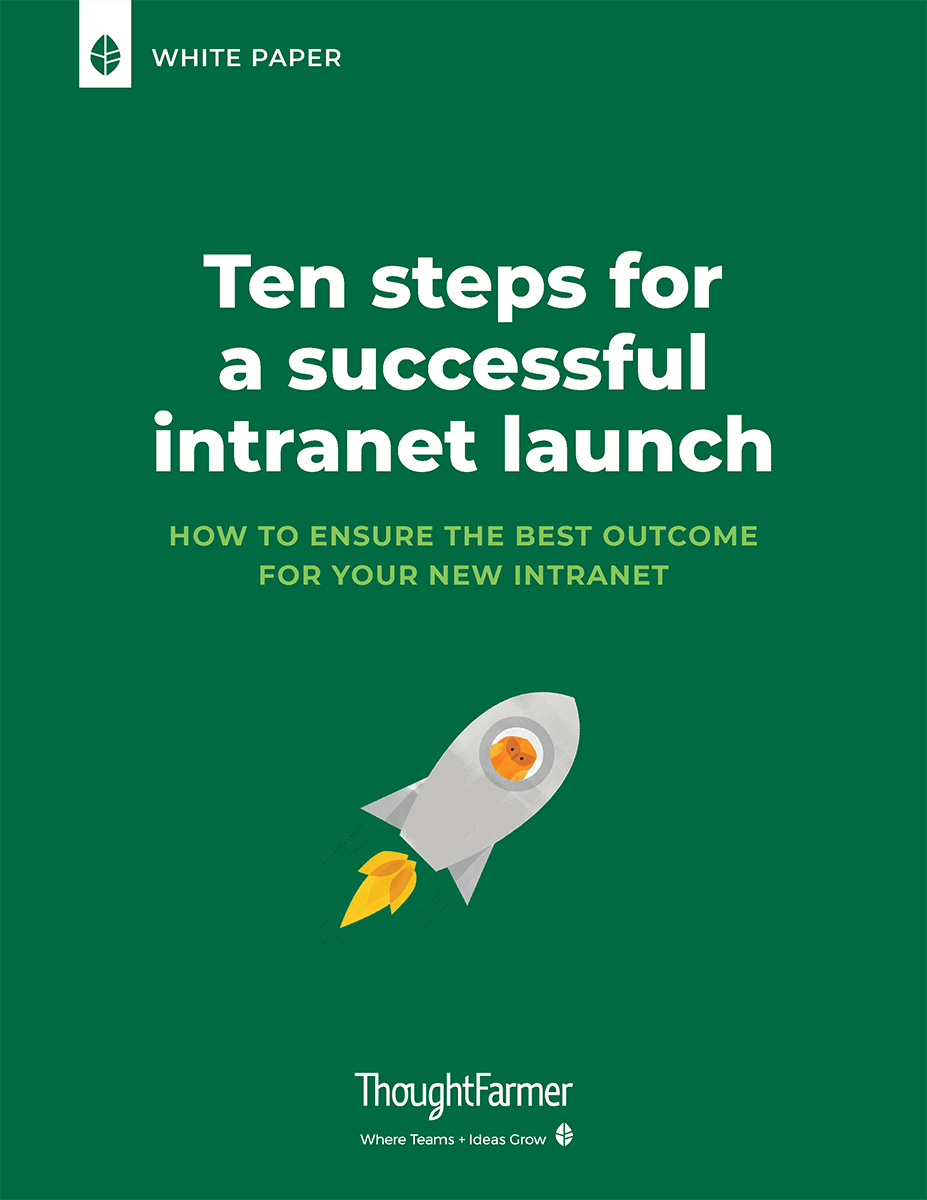 Idea #2: Encourage employees to participate in intranet research
Employee feedback is essential to designing a useful, usable intranet. Get employees to participate in card sorting and task testing activities for your new intranet. Not only will you end up with a stronger navigation, but you'll also show employees that you value their input.
Idea #3: Give employees a say in your intranet name
What's in an intranet name? Well, if one person determines the name, not so much. But, if you run an exercise that allows all employees to suggest and vote on names for the intranet, then the name will be exciting and engaging. For a step-by-step guide, see our article on Crowdsourcing the name for a new social intranet. 
Idea #4: Send out postcard teasers of your intranet launch
One of our customers distributed postcards to every employee prior to their launch. The postcards said "Take me home with you!" in big bold letters and included:
A copy of the new intranet's navigation

The intranet vision statement

The site URL for home access

Simple instructions for logging in

The Intranet Help email address
Idea #5: Share fun facts from employee profiles
Penn State had a brilliant intranet launch plan that sparked a lot of excitement. One aspect of launch included a series posters that shared little-known tidbits about Penn State employees. These posters generated interest in the intranet's employee profiles.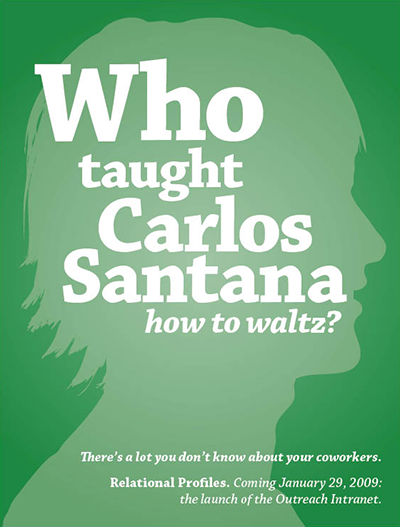 Idea #6: Distribute intranet launch welcome packages
Tangible hard copy materials  are so retro, they are almost cool again. Another piece of Penn State's outstanding intranet launch campaign was welcome packages assembled by a team of volunteers. The welcome kit included:
Booklet introducing the intranet

An agenda for launch day

A thumb drive with required documents
Idea #7: Give your intranet a strong visual identity
Mavtek recently won a ThoughtFarmer award for best looking intranet. Their fun intranet brand started with a clever name that tied into their company culture and extended to every page of the intranet, including their support screen.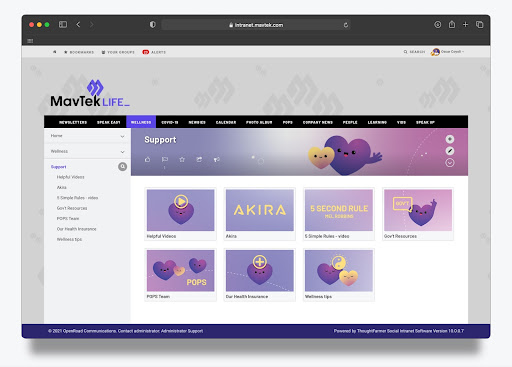 Idea #8: Help super users create example profiles
By having a few engaged users (hopefully tech-savvy executives) fill out their profiles as examples, you can achieve two things. First, you'll provide recognition to a group of highly motivated users, and secondly, you'll help other users see what's possible. This approach uses influencers to promote your intranet, which means less work for you and more credibility with your users.
Idea #9: Pre-populate employee profile photos
If you have a database of security badge photos or some other repository of staff photos, consider uploading them to user profiles in advance. Replacing blank profiles with real photos will instantly bring your people directory to life. This will make your intranet look even more engaging on launch day.
Idea #10: Set up major groups and locations in advance
Your new intranet will likely have group pages for each department and company location. By adding employees to the proper group pages ahead of time you can:
Reduce the effort required for users to fill in their profiles

Ensure the people directory shows rich data and connections

Enable personalized news delivery based on group membership
Idea #11: Build a contributor community beforehand
If you've engaged your intranet stakeholders and power users ahead of time, this step should happen quite naturally. The key is to get your content owners, news authors, and group owners involved before launch. See our article on how to manage intranet contributors for long-term success for specific tips and guides.
Idea #12: Write an internal press release
Some employees just want the specifics. By creating and circulating an internal announcement or press release you can concisely educate employees ahead of time on what your your intranet is called, how to navigate it, and most importantly, why it exists.
Idea #13: Have a pre-launch focus group lunch
Focus groups are important in determining how your users feel about your intranet prior to launch. Take this small group out for lunch to discuss how they feel about the upcoming launch, and ask if they have any feedback to share. Be sure to include potential tech laggards in this group too!
Idea #14: Have an intranet launch countdown clock
A countdown clock reminds employees of when an old intranet (or way of doing things) will be retired. It also sets firm expectations about change. To prepare users for a new intranet, one of our customers actually made the top banner of their old intranet look like it was decaying.

Idea #15: Create an intranet mascot 
Mascots create a deep bond between the brand and its audience, so why not create one for your intranet. As evident in the example below from Triumph Bancorp, an intranet mascot can bring your intranet to life, and create an engaging relationship between the user and the intranet.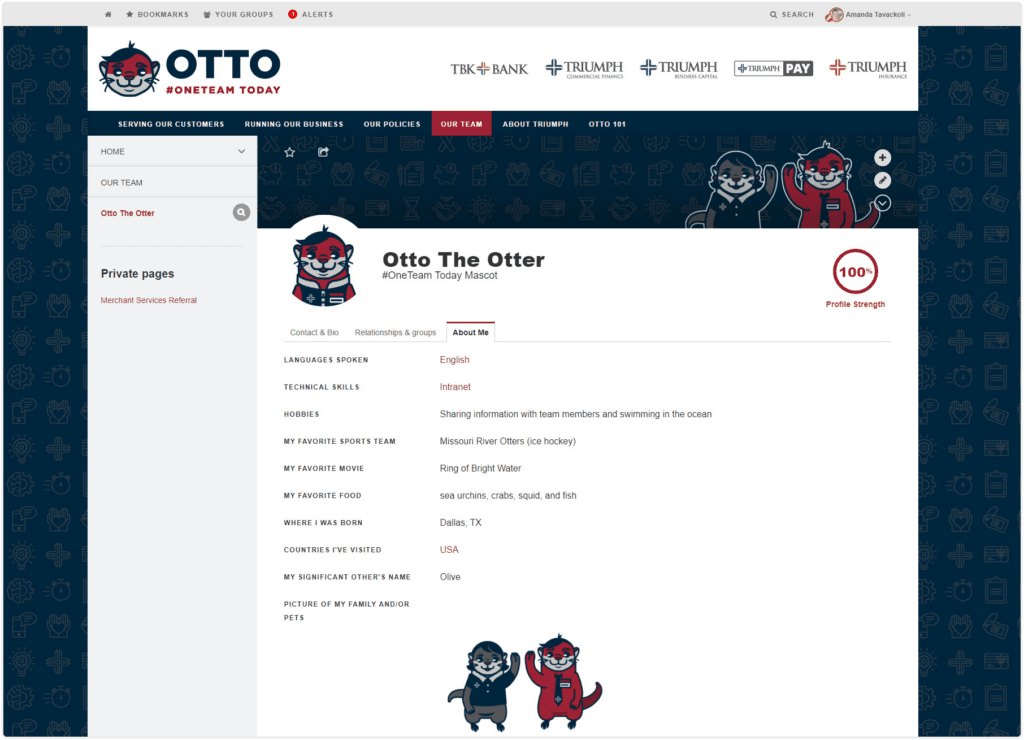 Idea #16: Include it in a town hall meeting 
There are few events that attract employee wide attention like a corporate town hall.  These company wide meetings are a great opportunity to get everyone's eyes on your new intranet. It's also an ideal way to show employees that leadership supports and values a new intranet. 
Idea #17: Personalize the intranet home banner
Ever noticed how the Google doodle catches your eye? The same impact can be created with your intranet home banner. Your intranet home page banner is likely the very first thing your intranet users will see when visiting your new intranet site, so it is important that it is welcoming, and that it reflects your culture and brand. The latest release of ThoughtFarmer makes it easy to have multiple themes on your site at once.  
Idea #18: Accumulate some pre-launch testimonials
Potential intranet users will be more likely to test out the intranet if they see or read a review from another user. Hopefully by now you have a small team of super users who are familiar (and passionate) about their new intranet and keen to write a testimonial. Testimonials from super users are much more captivating than just trying to convince potential users with your own words.
Phase 2: Launch Day for your new intranet
This is the day you have been preparing for! If you want employees to have a good first impression of your intranet, it must be immediately interesting and useful.  Don't hold back—no idea is too wild for launch day.
Idea #19: Create an intranet launch video
LPK, a design and branding firm, launched their intranet with this entertaining video designed to look like a movie trailer. But don't worry,  your intranet launch video doesn't have to be that elaborate. We also had a recent customer who got their President and CEO involved in the creation of an intranet launch video.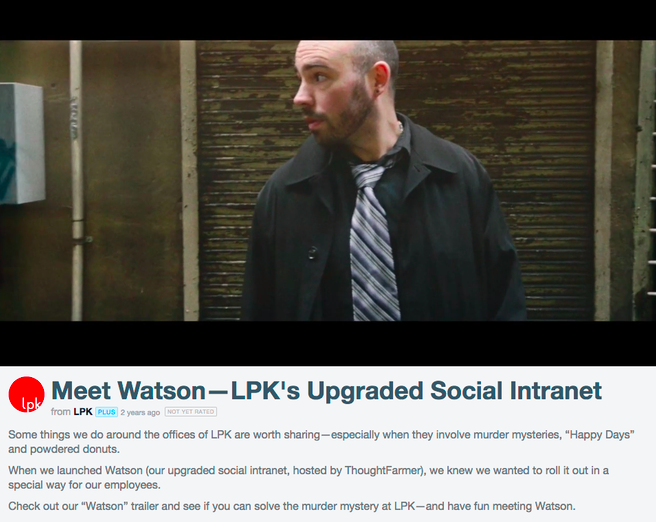 Idea #20: Run an intranet scavenger hunt
Nigel Williams, former intranet manager at Romec, led a successful intranet treasure hunt as part of the launch of their new intranet. The competition was designed to build familiarity with the new intranet and offer an excellent prize worth winning—a trip to New York City! Learn more about what makes Nigel Williams a successful intranet manager in an article from our Real Intranet Managers blog series, Nigel Williams is a workplace anthropologist.
Idea #21: Connect with virtual employees through video conference
For dispersed offices or a hybrid workplace, an intranet launch campaign is the perfect opportunity to bring people together. By hosting a video conference, you can introduce your new intranet software, and show it as a global resource.
Idea #22: Hold a no-meeting day
Penn State advertised a No-meeting Day when all employees could spend time exploring the new intranet. Office-workers' common distaste for excessive meetings fuelled excitement for No-meeting Day and, consequently, the new intranet.
Idea #23: Host an intranet drop-in lounge (with snacks!)
Informal get-to-know-you sessions can help employees ask questions and learn about your new intranet in a non-intimidating environment. Don't forget the cookies and pizza!
Idea #24: Put your intranet on the big screen
Display your new intranet wherever possible, including any big TV screens. The TV in reception, or the kitchen, or even the small screen in the elevator — show off the intranet everywhere you can.
Idea #25: Play Intranet bingo
It's important employees become familiar with your intranet's features and functionality as soon as possible, and Intranet Bingo can help. To play, simply distribute Bingo cards that list things like employee titles, departments, or group names in a bingo format, and then instruct participants to look it up on the intranet. The first person to successfully complete the activities and get five in a row wins a prize. By hosting an Intranet Bingo game, you can challenge employees to successfully navigate your intranet in a fun and creative way.
Idea #26: Plan the launch around a sporting event
Consider coordinating an intranet launch party around a specific sporting event. For example, you could host a your party to coincide with an MLB game, and provide employees with a loot bag full of Big League Chew, sunflower seeds, and a postcard that highlights important intranet information.
Idea #27: Throw a baby shower!
One of our clients held a New Baby celebration when they launched their intranet. The named their intranet Mark and promoted his arrival by announcing "Come celebrate! Mark is born!"
Idea #28: Hire an influencer
Love them or loathe them, there is little doubt that influencers can have a dynamic impact on marketing. Hiring an influencer to promote your new intranet may seem completely out of your budget, but sites like cameo.com actually make it easy (and affordable) to get personalized messages from celebrities. 
Idea #29: Leverage internal instant messaging applications

The decline in internal email open rates has created a demand for instant messaging platforms like Slack. If you currently use Slack, it can be an additional way to promote your new intranet or share teaser images.  ThoughtFarmer's Slack integration makes it easy to share, search, or link to intranet content within Slack. 
Idea #30: Make it a form-idable event
If you are still relying on old fashioned paper forms, you can now transfer them online within your intranet. As part of a launch day strategy, create a contest, and award prizes to the first five employees to submit their vacation requests through the new online form builder. Not only will this help automate some processes, but it will also help employees become familiar with completing online forms. In ThoughtFarmer we have a built-in form builder which makes it super simple to create. You can learn more about it in this brief tour.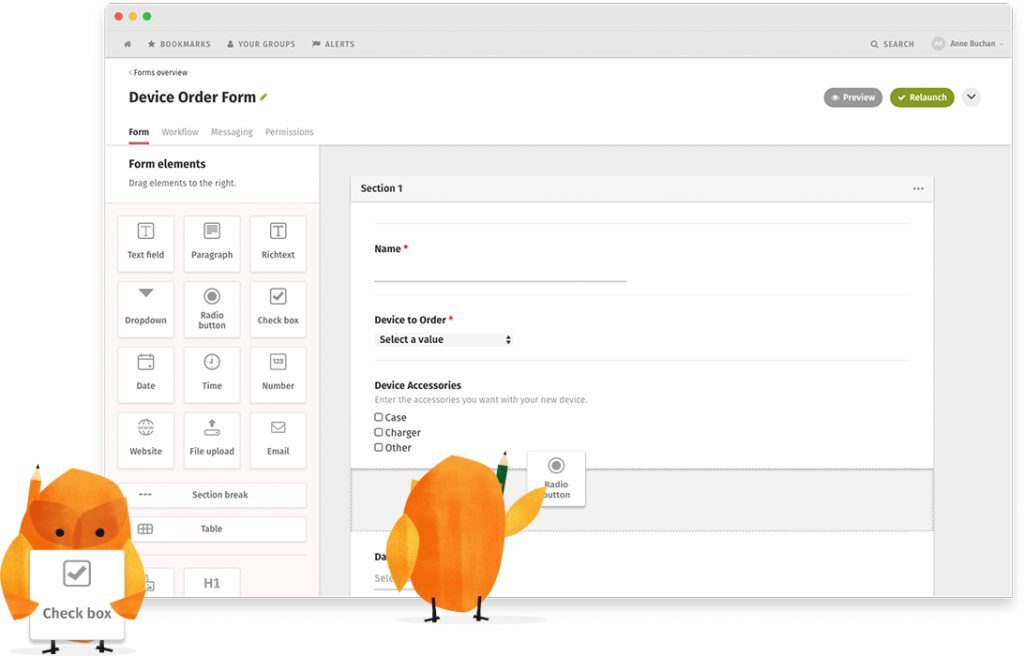 Idea #31: Get leadership involved
ThoughtFarmer customer Southern Star Central Gas Pipeline wanted their intranet launch to be fun and exciting, so they created a very imaginative yet humorous launch video. Their launch video, featuring the company's President and Chief Executive Officer, highlights all their previous intranet's shortcomings in a humorous way (click here to view it). 
This served as a good teaser for all the new and engaging features they were about to enjoy with their new intranet. Even more importantly, it sent a strong message that leadership supports the new intranet. Having leadership support for an intranet can go a long way in achieving adoption, and helping your intranet succeed. 
Phase 3: Post launch
Don't let the excitement of launch day wear you out. If you want to sustain solid adoption metrics, your intranet will require an ongoing commitment of post-launch activities.
Idea #32: Enable Shout-outs
Employee recognition has a big impact on employee satisfaction—especially if it's sincere and spontaneous. A Shout-outs section lets any employee contribute new posts, allows commenting on every post, and sits in the global navigation. This is empowering for both the people offering kind words and the recipients of congratulations.
Idea #33: Make the intranet mobile accessible and available from home
With many employees now working remotely, it's essential that your intranet is available outside of the workplace. Your intranet should also include full mobile accessibility to deskless employees and frontline workers can also access the information, resources, and contacts they require to be successful on the job.
Idea #34: Encourage employees to upload their own intranet profile photos
If you allow your employees to edit their profiles and choose their own profile photos, they'll feel more invested in the intranet. You'll also see people's personality come through too. Some companies bring in an actual photo booth to take employee photos.
Idea #35: Write employee-centered news
What's the most popular type of news on intranets? News about employees! Employees will always flock to stories about other employees, regardless of company size. This type of news is relatable, human, and interesting. Employee stories are also a fantastic way to tell your company's brand narrative.
Idea #36: Have a photo of the day contest
One of our clients has a large backlog of photos to post because so many employees love the photo-of-the-day feature. It puts employees in the spotlight and highlights their creativity. If this is something your employees would enjoy, why not use it to drive more eyes to the intranet?
Idea #37: Make timesheet software accessible through the intranet
One of our clients launched their new intranet at the same time they launched a new online timesheet system. They made the timesheet system easily accessible from the intranet, which helped drive consistent traffic to their intranet.
Idea #38: Add a name pronunciation feature
Taking the time to learn the correct pronunciation of your colleague's names isn't just a courtesy, it's an important component in creating a diverse and inclusive workplace. Stikeman Elliott, ThoughtFarmer customer and Canadian Law Firm, is one of the many organizations to benefit from a customization within their intranet that makes name pronunciation easy.

Idea #39: Announce new employees
Announcing employees on your intranet is not only a great way to showcase new employees, but it's also a good opportunity to involve new staff in your intranet from their very first day.
Idea #40: Post a quiz of the week
Creative quizzes have gained a lot of popularity in the last few years thanks to sites like BuzzFeed. Why not feature one on your intranet? They are a fun way to learn about your coworkers. After all, who doesn't want to discover which Full House character they look like the most? Or which state they should really live in?
Idea #41: Create employee avatars
Why use regular employee photos when you can have creative sketches and avatars instead? Thanks to freelance service like Fiverr, it's easy and affordable to manage these illustrations.
Idea #42: Feature an employee of the week
A large component of intranets revolve around your people, so why not individually celebrate them? Dedicate space on your intranet to showcase not only an employee's role within the company, but also to highlight their interests and achievements.
Idea #43: Publicize your intranet goals
Your intranet should have attainable goals and metrics, so why not make it visible to the entire organization? When employees see the intranet metrics for themselves they will be more invested in the adoption and success of your intranet.  
Idea #44: Change up your intranet header
Keeping your intranet fresh and dynamic is a great way to keep employees returning. One of the easiest ways to accomplish this is by taking advantage of customization opportunities—like the header on your intranet homepage. A few of our customers change this up frequently, as seen below with Central1 Credit Union.
Idea #45: Send email newsletters
Once your new intranet is up and running you'll have plenty of news; especially if you've enabled news authors throughout the organization. By sending a weekly email with links to popular news, you can reach employees in their inboxes. People can easily scan the news digests and follow links to stories that interest them. ThoughtFarmer has this feature built in—you just need to turn it on in the admin panel.
Idea #46: Launch an intranet poll
The secret to sustained intranet adoption is to populate it with content that employees will read. A quick and interactive way to understand what employees want to see on your intranet is through a poll. The latest release of ThoughtFarmer makes it easy to add a poll card to a news post. The result? Instant feedback on how employees are feeling about a new intranet, or what content they want to see. 
Idea #47: Launch an intranet survey
As mentioned above, a poll is a great way to immediately gauge interest. However if you want a deeper dive into how employees are truly feeling, it's worth sending out a survey. An intranet survey will provide deeper insight into questions relating to the findability of content,  navigation, or general satisfaction with a new intranet.  You can learn more about this by reading the posts How to Create an Intranet Evaluation Survey, and Designing, Launching, and Analyzing an Intranet Survey. 
Idea: 48: Incorporate gamification
A few of our customers have incorporated gamification elements to keep employees constantly coming back to their intranet. Our Customer MedData set up a system that awarded badges for intranet related tasks such as commenting on a discussion, completing an employee profile, and completing relevant learning modules. The result was immediate adoption after launch and sustained engagement.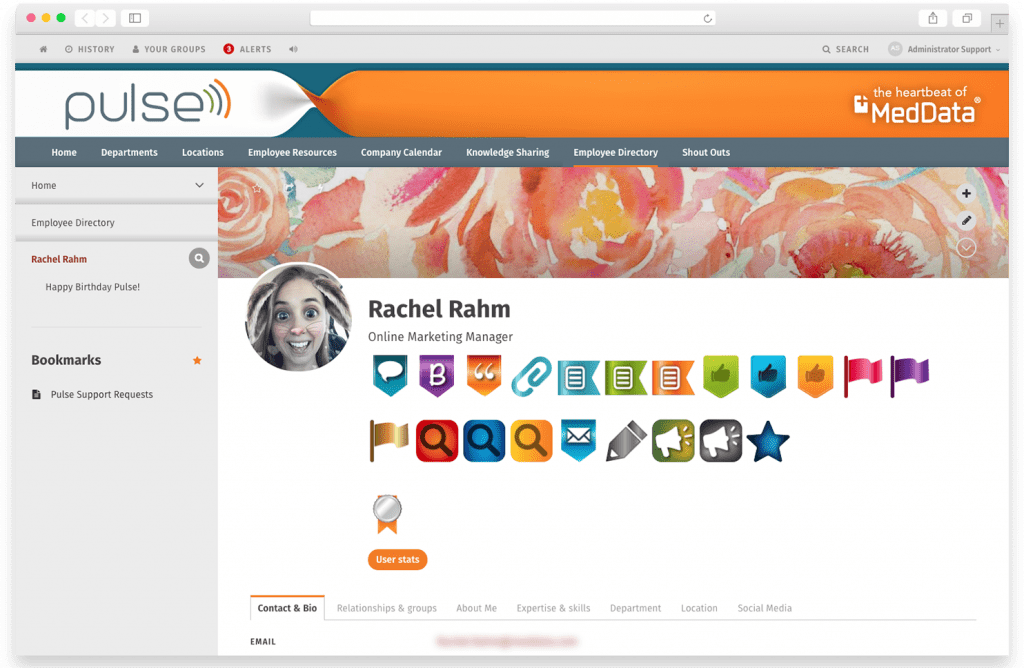 Idea #49: Enable intranet audio notifications
We are always amazed at the lengths some of our customers go to to achieve intranet adoption. For example, healthcare company MedData configured a gobbling turkey auditory notification to engage intranet users during Thanksgiving.  As silly as it may seem, creating auditory notifications is a great way to alert employees (especially new users!) when they receive a new notification on their intranet.
Idea #50: Launch a pet photo gallery
While employee-centric stories and photos attract a lot of attention, it's often the pet galleries that get the most return visits on an intranet. If you haven't already set up a pet photo gallery, now is the time to launch one. You could even make it a competition and have remote working employees share photos of their newest 'furry colleagues' snuggled beside them.  
Now it's your turn to launch an intranet
These 50 ideas represent just a tiny sampling of what's possible for an intranet launch campaign. You can find inspiration in advertising, in public marketing, and even in business and history books.
Hopefully this list of intranet launch ideas provides a spark of inspiration to help you get the most from your intranet software. The next step is to combine your own creativity with your company's unique culture to find the ideas that will work best for your intranet launch. Good luck!
Have questions? Get in touch! We're always happy to hear from you.