We're often asked by prospects, "How quickly can I launch an intranet?", or "How soon can I expect to see results?"
These are some of the questions Arkansas Urology asked before embarking on their first ever intranet launch. The healthcare organization researched a bunch of options—including SharePoint—before deciding on ThoughtFarmer. 
 "I liked how flexible ThoughtFarmer is, and I especially liked the integration with Active Directory," said Arkansas Urology CTO Ian Moore.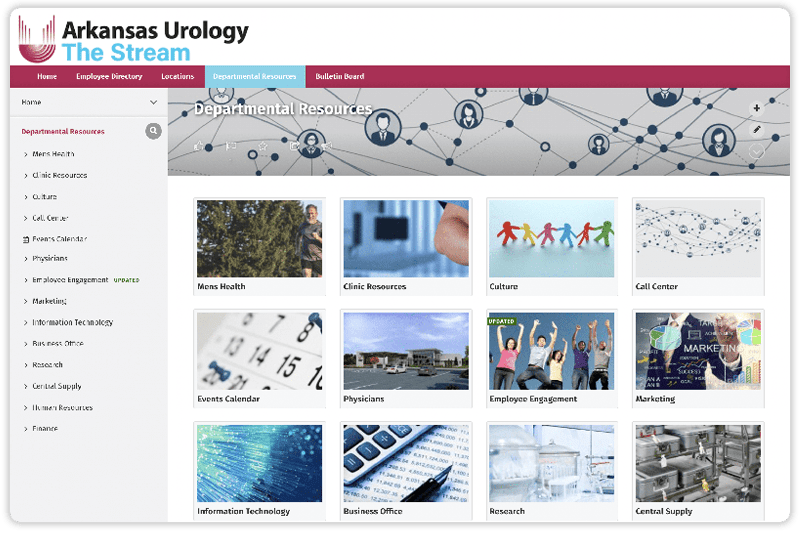 With the help of ThoughtFarmer's Professional Services, Ian was able to quickly launch their new intranet without any hurdles. "It took only a couple of weeks. The training and support was instrumental in how quickly we were able to launch," said Ian. 
ThoughtFarmer's ease of use and intuitive features makes it easy for anyone—regardless of skill level—to design and build a beautiful and user-friendly intranet. No need for developers, designers, or technical experts. This allows for a quicker, and smoother launch. 
The employees at Arkansas Urology are now enjoying all the benefits of a new communication platform. "An organization's culture is tied to how you communicate. ThoughtFarmer is perfect for keeping team messages on point, and ensuring important information is distributed to everyone across your organization," said Ian. "Without a great communication tool like ThoughtFarmer, it would be much harder to grow our company's culture."
Have questions? Get in touch! We're always happy to hear from you.