Run a Google search for what is a digital workplace? and you will uncover over five hundred million results.
What you won't find however is a consistent definition. As the popularity of the term digital workplace has increased, so too have the interpretations. Not since the emergence of Big Data, have so many experts felt the need to weigh in with their explanation.
Part of the reason it's been so challenging to nail down a definition is because the line between the physical office and the place where work actually happens is becoming more blurred—especially as most of us are now operating in a hybrid workplace. 
Definitions also vary because the digital workplace means different things to different people.
Since the concept changes according to industry and individual, we've never really managed to progress beyond an abstract or theoretical definition. Each variant is inherently ambiguous.
The history of the digital workplace
Up until recently the term workplace referred to a physical space where employees went to get work done. Now the term is more conceptual. A workplace is now an always-connected environment that provides instant access to everything employees need to get work done.  
As far back as 2009, Paul Miller, CEO and founder of Digital Workplace Group (DWG), included the term in his lexicon. It was conceived as an understanding that an exploration into how technology would affect both the workplace and the nature of work would be necessary.
A few years later, Miller authored the book: The Digital Workplace: How technology is liberating work. Miller's angle focused on the evolution of the workplace and how work happens. Miller cited three defining elements of all digital workplaces: digital presence, governance, and speed and efficiency.
In 2012 Deloitte also joined the conversation proclaiming, "The digital workplace encompasses all the technologies people use to get work done in today's workplace–both the ones in operation and the ones yet to be implemented. It ranges from your HR applications and core business applications to e-mail, instant messaging and enterprise social media tools and virtual meeting tools."
By 2014 industry analyst Gartner also entered the discussion with their own definition. They defined it as "An ongoing, deliberate approach to delivering a more consumer-like computing environment that is better able to facilitate innovative and flexible working practices."
If the above definitions appear vague, they are. And they have to be since the concept affects almost every employee, regardless of industry, at some level.
Conversely, there have also been definitions that are too narrow, or have focused too intensely on specific digital workplace solutions like software applications and document management platforms. Yes, software matters and is an integral component of the digital workplace, but it cannot exist without people, and it cannot function without processes.
Ready to take the next step in your intranet journey?
Download our comparison report and see how we compare to other vendors.
Download now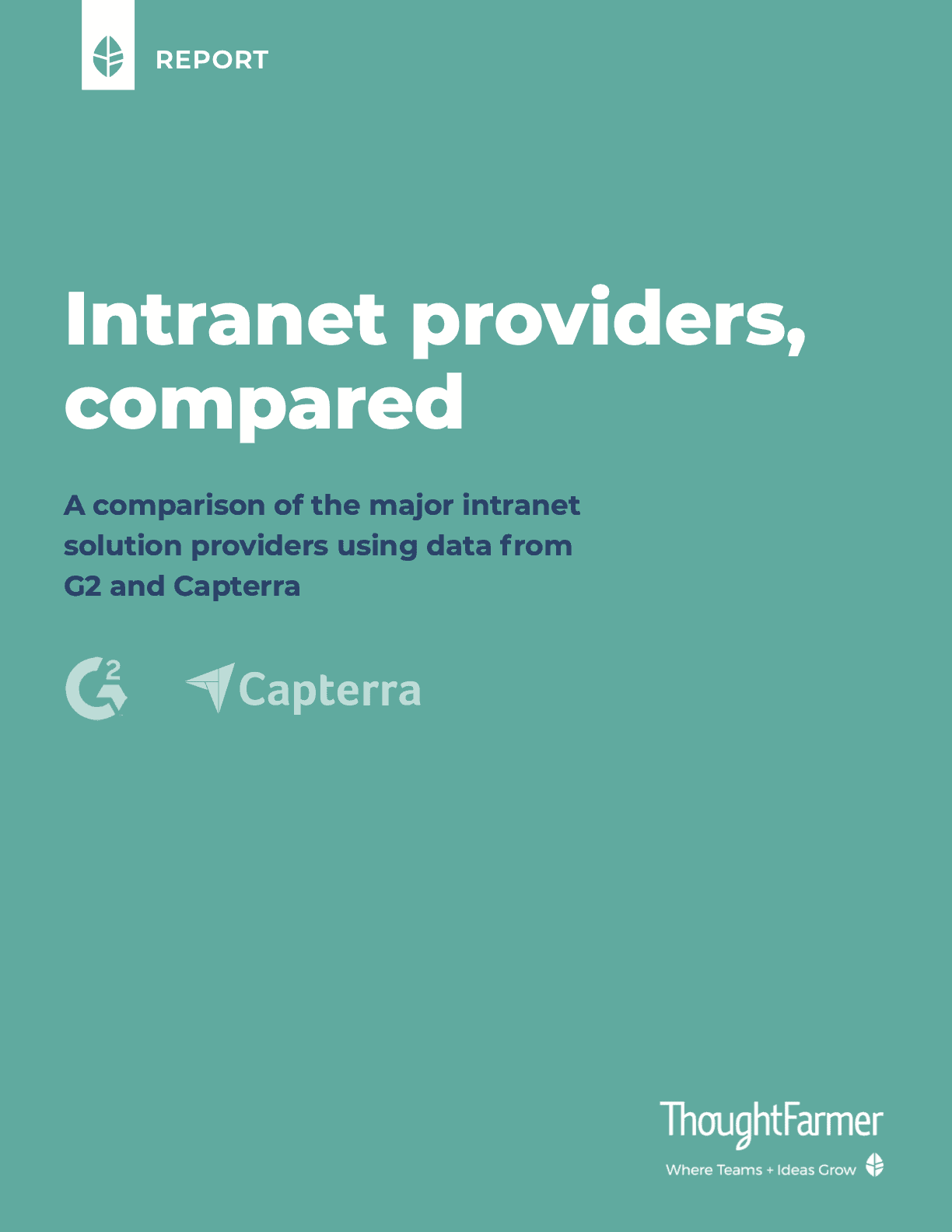 What is a digital workplace: Digital workplace definition
As intranet software vendors, we believe that the digital workplace is a change in the mindset of an organization. It's a culture shift. It's an understanding that the way we work today is different to how we worked when the term workplace was conceived, and that difference is driven by the evolution of technologies.
It's an understanding that work is no longer a place we go, it is a location-agnostic event that can happen at any time of day using any connected device. The digital workplace is all about how technology is transforming the type of work employees perform, as well as where and how work gets done.
As we learned in the pandemic, the digital workplace may be reliant on software but it must be supported by both people and improved processes, and governed by a set of policies and procedures.
What a digital workplace isn't
A digital workplace is not uniquely applicable to a defined number of industries or individuals.
In fact, the digital component is somewhat redundant since every collar today—pink, green, red, black, gold —works within some form of technology that enables employees to do their job.
For example, restaurant servers use iPhones to process orders and payments; doctors use iPads to make notes and write prescriptions; retail clerks need to lookup inventory; and judges need to review digital transcripts. If we limit the definition solely to organizations who use technology, then all of these listed are digital workplaces.
Digital workplaces is also not something you can buy. Those of you searching Amazon for a digital workplace will be out of luck. This is no must have technology that checks every single box.
Finally, the digital workplace isn't about how we think employees work, but rather how they actually work.  
Benefits of a digital workplace
When executed correctly the digital workplace increases interaction, boosts employee engagement, elevates digital employee experience, and improves efficiency.
It delivers all the tools employees need to accomplish their tasks, while opening up existing silos. Booking meeting rooms, juggling various calendars, distributing agendas and handouts--it can all happen without friction.
It is also an inherent collector of data. It can, and should, make constant use of collected data to deliver measurable result, actionable insights.
What's next?
The digital workplace will continue to evolve, with or without input from management. Thanks to the exponential growth of mobile, and the shift to hybrid and remote work environments, the tools and technology employees require to do their job will change. Current technologies will be exchanged for new ones, and new technology will be adopted internally. 
As more and more tech becomes adopted, there is a growing risk of shadow IT. If you are unfamiliar with the term, shadow IT is defined as any software, hardware or IT resource used on an enterprise network without the IT department's approval and often without IT's knowledge or oversight.
The best organizations will evolve their digital workplaces faster, with purpose, and with approval. But that doesn't mean employees won't still dictate a lot of this direction. We've definitely seen that first hand, as many organizations with frontline employees and deskless workers are turning to mobile solutions. 
As for the term itself, it doesn't seem to be disappearing anytime soon. Unlike expressions previously used (e.g. Enterprise 2.0), the term resonates at a deeper level. However, as digital transformations continue all businesses will become digital (or fail), and when everything is digital we will again refer to it as just the workplace.
Businesses who capitalize on this evolution will be better positioned in areas of innovation, productivity, and collaboration. In addition, well executed digital workplaces will help organizations attract the right employees to remain competitive in an almost exclusively digital world. 
***This post was originally written in 2018, and revised in 2023.
Have questions? Get in touch! We're always happy to hear from you.