Don't go into the office. Go into the office. Oh wait, new variants are causing a third wave, so maybe don't go into the office. 
Have I lost you yet? 
The future of the workplace is undecided at this moment. Some believe we will never return to the pre-pandemic grind, and a daily commute into a downtown office. Others think it is just a matter of time before things go back to the way they were. After all, corporate developments are still underway in many parts of the world. 
The most probable outcome appears to be the hybrid workplace. A flexible workplace model that permits employees autonomy over where they work. 
But, as outlined in a previous post, a hybrid workplace isn't without its challenges. Not everyone has access to quality intranet, cushy workspaces, or distraction free environments. There are also concerns that the reduced visibility of remote employees may put them at a disadvantage against those who return to the office. 
Perhaps the biggest challenge relates to managing two distinct employee experiences, and ensuring that no one feels left out. Mastering this won't be a smooth ride, but that doesn't mean it cannot be achieved. 
We've been amazed at how some of our customers have transformed uncertainty into opportunity and mastered the hybrid workplace. With the help of one digital platform they were all able to unite and inform their employees, while even growing their workplace culture. Here are five incredible examples:   
With the pandemic just underway, legal firm Lenczner Slaght couldn't have launched their new intranet at a better time. Like workplaces around the world, their employees were suddenly forced to work from home. For Lenczner Slaght, this meant they had a new headquarters—their intranet. 
Because employees were immediately dependent on their new intranet, Lenczner Slaght didn't have to worry about employee adoption. "Our immediate adoption rate was close to 100%. I am not sure we would have seen that had we not transitioned to working from home," said Lindsey Bombardier, Director, Marketing & Business Development at Lenczner Slaght.
Lenczner Slaght now has a page dedicated to COVID-19 resources including various policies, guides, compliance rules, links and Twitter feeds to trusted news sources, etc.. Their lawyers are in virtual court every single day and their intranet has helped keep the firm updated on the changes to processes and technologies. 
Their intranet also hosts an array of practice resources, acting as a one-stop shop for their lawyers, law students, and law clerks looking for tried and tested toolkits, precedents, and technology and services. "During the past year, when everything has turned virtual, it's been a saving grace for everyone at the firm," added Lindsey.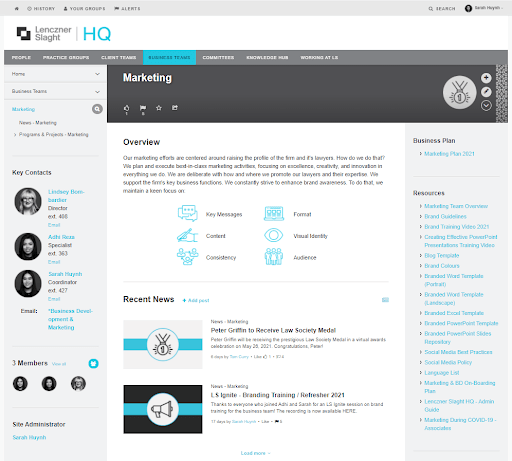 What role can an intranet play in supporting remote workers?
See how these 10 organizations are empowering their diverse workforce.
Read more
Not all organizations are running a hybrid model as a result of the pandemic. Many companies operate a mix of onsite and field workers due to the nature of their industry. One such example is VHA. As a nonprofit homecare organization VHA has a diverse workforce with many employees working remotely. 
One of the things VHA did best to accommodate remote employees was to automate their paper forms. Through ThoughtFarmer's FormFlow, an online form builder, VHA automated tasks including employee training modules and communication requests. 
Paper forms are not only wasteful, but they won't work in remote settings. And if you are managing a hybrid environment, well good luck in managing paper forms for off site workers.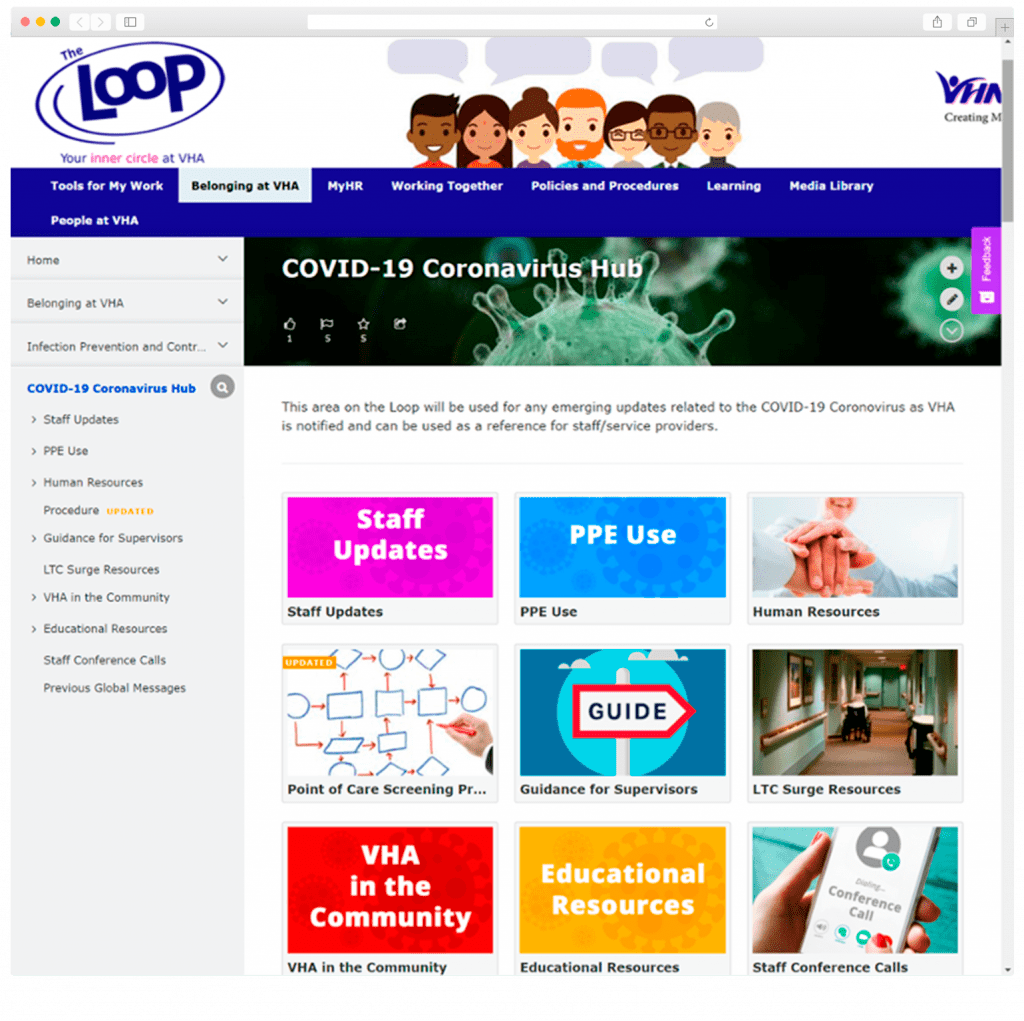 Whether employees are in the office or not, they need to be able to find information and expertise quickly; particularly health and safety information. Publishing company Hachette devoted an entire section on their homepage for COVID-19 updates—a popular tactic among ThoughtFarmer users—which employees came to rely on for up-to-date news information. 
As Hachette began welcoming employees back into the workplace, they again relied on their intranet, but this time for health and screening. Through ThoughtFarmer's online form builder, they were able to mandate daily health screenings and attendance registration for onsite employees. As organizations come under increased pressure to satisfy health and safety regulations we expect screenings like this to play a huge role in the reopening of workplaces.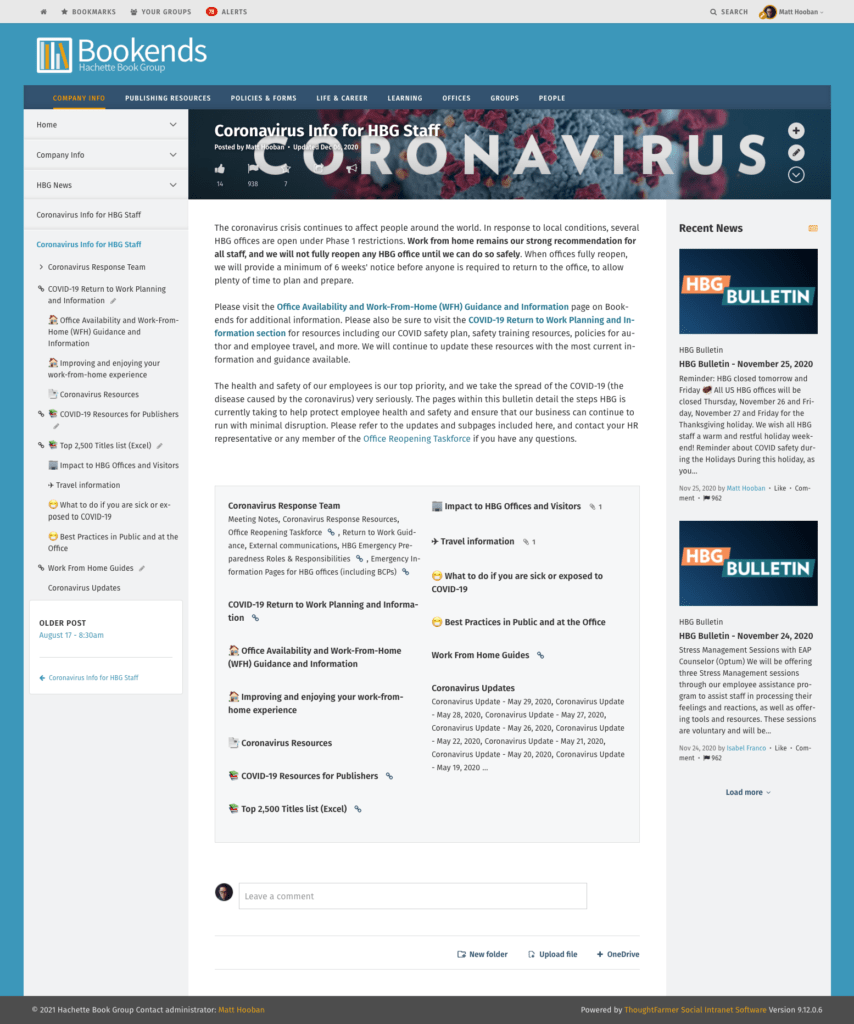 Like the others on this list, Coast Mental Health (CMH) were forced to put their intranet to the test when the pandemic unfolded.  They turned to their intranet to create easy to access daily updates, Q&A forums, protocols, and resources to stay in touch with employees and clients in a very challenging situation. With anxiety running high and information changing frequently, employees were put at ease knowing their employer is providing them with tools and resources to keep them safe. 
Uncertainty also requires frequent communication from the top. The leadership at CMH turned to their intranet to keep everyone updated while also providing opportunities for employee recognition. 
They say luck is the combination of preparation and opportunity. Well, 'lucky' for us we had a pandemic plan in place long before COVID-19. Not that we anticipated the pandemic to continue this long, but it did give us a framework to stay productive and focused in those early days. We also had enabled remote work for many years, so we understood all the intricacies of managing a dispersed workforce. 
But of course the biggest advantage we had was our reliance on our own intranet platform. For years it has served as a centralized platform for our employees to connect, communicate, and collaborate. When the pandemic hit, it played a critical role in helping us maintain business continuity.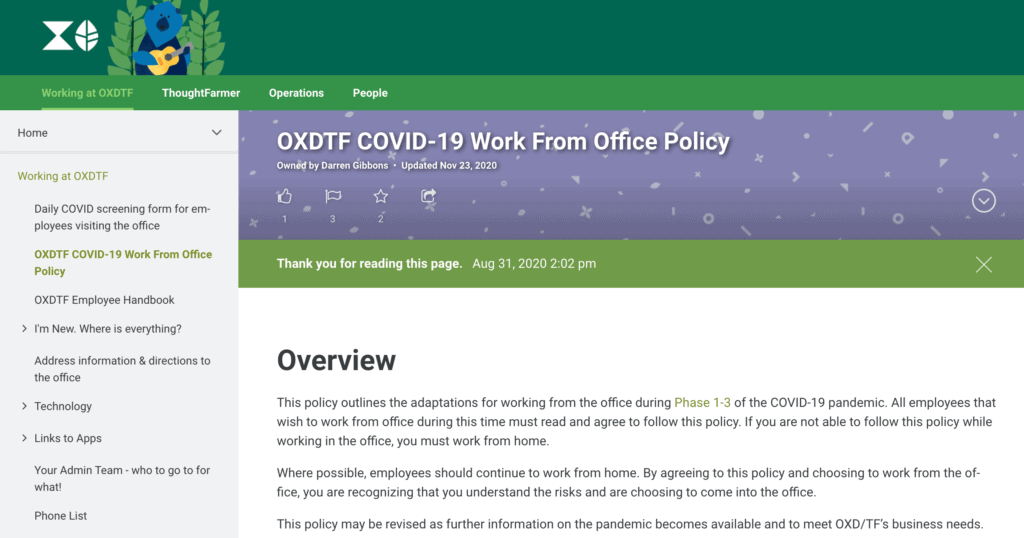 As we pivoted to a hybrid environment last summer, very little changed. Managers still conducted regular video check-ins, leadership hosted online town hall meetings, and all important policies continue to be hosted on our intranet. Our mobile app has further improved communication to hybrid and remote employees, as we now have the option to push critical notifications to employees. 
The early days of the pandemic may have been chaotic for some organizations, but there is no denying that the tools and resources exist to facilitate remote or hybrid environments. While some changes may be temporary, the pandemic will have lasting impacts on the workplace. The good news though is that there is a lot we can and should control. 
Have questions? Get in touch! We're always happy to hear from you.