How do you measure collaboration, employee engagement, and improved communication in hard numbers? In other words, how will you determine your intranet's success? 
Creating intranet metrics can be challenging. Since intranets affect many areas of the business and are used for different purposes within an organization, figuring out how to measure intranet success can feel like trying to nail jello to the wall.
The good news is that it's actually not that hard, as long as you start with your intranet strategy and objectives. Your intranet strategy should be aligned with company goals, and it should be designed to drive business outcomes.
Once you have defined your business outcomes, creating and implementing KPIs are pretty straightforward. From there, you can identify problems, celebrate intranet success, and create an ongoing improvement plan.
*If you are looking for which specific metrics to measure, you can check our our post 8 Key Intranet Metrics You Should be Tracking.
The Measurement Process
What role does information architecture play in your intranet's success?
Download our informative whitepaper on information architecture to learn more.
Download now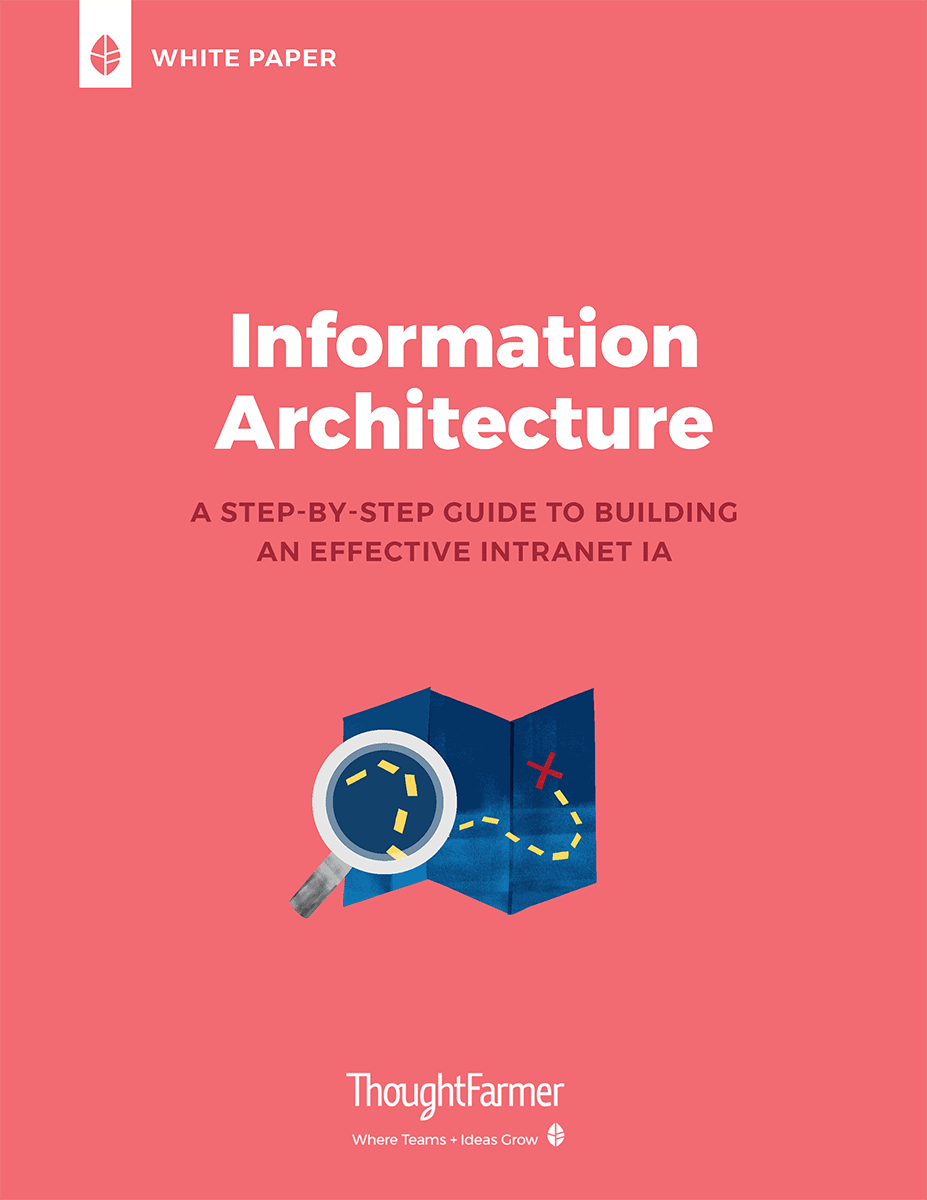 Step 1. Create a Strategy
If you don't have an intranet strategy, don't worry. Many people have a general idea of what they want an intranet to accomplish but haven't laid it out on paper. Go back and create one now. If you need additional help, check out our post on how to build an intranet business case.
Step 2. Define KPIs for intranet success
Discuss what intranet success looks like with your intranet stakeholders, and define some key performance indicators (or KPIs). Going through that journey together keeps all relevant stakeholders on the same page. This ensures discussion surrounding a metric focuses on how to improve it, rather than debating if it's the right metric or not.
It's helpful to think about the kinds of evidence you will see when you've accomplished your goals.
There are five types of intranet success evidence:
Success Evidence Type
     Success Evidence Examples

Financial

Reduced travel expenses for internal meetings.

Reduced printing costs.

Behavioral

Employees store documents on the intranet instead of the shared drive.

Employees make fewer errors on routine processes.

Attitudinal

Employees express satisfaction with the new intranet.

Internal communications express delight with new functionality and tools.

Technical

Pages load more quickly than the old intranet.

Employees no longer have to contact IT to reset their passwords.

Experiential

Reduced time required to submit expenses.

Customers receive more consistent and accurate information.
Once you have defined success, take your evidence and think of ways you can measure it. Make a laundry list of all the intranet metrics you can think of.  Here are a few examples, based on success evidence we defined above:
Success Evidence Examples
Metric Examples

Reduced travel expenses for internal meetings.

Quarterly travel expenses for internal meetings.

Quarterly travel expenses for internal meetings per employee.

Employees make fewer errors on routine processes.

# of errors made per month

# of rejected requests

# of rejected requests per employee

Average quality score for process errors (sampling).

Employees express satisfaction with the new intranet.

Average employee intranet satisfaction rating (survey).

Reduced time to submit expenses.

Total monthly hours spent submitting expenses.

Average monthly time to submit expenses.

Customer receive more consistent and accurate information.

Customer satisfaction with information received (survey).

Complaints per month about misinformation.
Refine your list for relevance (does it really measure the business outcome?) and feasibility (do I have the tools to measure it on a regular basis?) and action-ability (can we use it to make better decisions?).
Here are a few more tips for selecting great KPIs:
Use the SMART goal framework. Good KPIs should be Specific, Measurable, Achievable (for targets), Relevant, and Time-limited.

Rates, ratios, percentages, and averages are better for true comparison.

The K in KPI is Key. What intranet metrics are absolutely mission-critical? Which ones would you take to a deserted island? Cut it down to a short list of the most important intranet metrics.
Step 3. Implement them
To get the most data from the start, begin implementing your KPIs prior to launching any software. You also want to pull as much data from the old system as you can before you stop using it. Test your new measurement process before it goes live. There may also be KPIs where, although they measure the intranet, the outcomes are seen in different systems. These could include quality reports, customer satisfaction surveys, employee surveys, timesheet systems, etc.
Step 4. Measure and Improve
There are three approaches you can take to measure your baseline data:
Baseline from launch

: Take your baseline either from the last month of your old intranet or the first month of your new intranet. This is usually the easiest data to pull and may be all you have available. However, the other methods are more accurate and are preferable.

Baseline against historical average

: Look back at 12 weeks of rolling data and take an average. Because you are taking a longer period of time, the data is more likely to be accurate and should help remove any weird seasonality issues (for example, your intranet usage might drop significantly over the Christmas holidays).

Baseline against the same period last year:

This is the best method, but obviously requires a lot more data.
The final step is to summarize your KPIs and targets into a dashboard. Display your KPIs and targets in a way where readers can easily see if targets are reached. Include notes on key insights, actions, and steps taken, and KPI definitions. Avanish Kaushik's post on Strategic & Tactical Dashboard Design provides some excellent examples.
And if you are curious about the future of intranets, check out our post on 2020 Intranet Trends.
Editor's Note: This post was originally published in September 2014 by Jill Purse, and has been revamped and updated for accuracy and comprehensiveness.
Have questions? Get in touch! We're always happy to hear from you.