Most of us understand that an intranet plays a critical role in improving internal communication. However, many organizations have failed to appreciate the full depth and capability of intranet software. 
Unlike accounting software, you don't reap the benefits instantly. To get the most of your intranet, you need to obtain participation from all employees—especially your leadership. 
But before we jump into some intranet best practices for internal communication, let's first make sure we understand what internal communication is, so we know what we are trying to improve.
What is Internal Communications?
As discussed in our post Internal Communication: Definitive guide with examples, we define internal communication as the process of aligning employees to company strategy by systematically informing, influencing, motivating, and engaging people at all levels of the company through the one-way and two-way channels—digital and physical—that are most relevant to each employee. 
Barriers to Effective Communication 
No one intentionally wants poor communication to occur. Sometimes it's the result of years of decay and employee apathy. Other times it is the result of one of these barriers: 
Language differences
In today's globalized workplace, The way employees interact with each other can vary depending on the demographic and cultural differences. If we are unaware of these differences, communication challenges may arise. 
Various communication styles and preferences
"This call could have been a text." With communication evolving and workplaces comprising a variety of generations, it's no surprise that we all have our own preferred communication style. Unfortunately this can create barriers to communication if some employees are unable to, or choose not to, access specific communication channels. 
Geographical distance
The last year and a half have helped understand the strengths and limitations of online communication. Fortunately technology, like intranet software, helped organizations keep employees connected and informed. However, as many workplaces have reopened offices, or are now operating in a hybrid work environment, fresh communication challenges have cropped up. 
Disengagement
Disengaged workers cost the U.S. $483 billion to $605 billion each year in lost productivity. They are one of the biggest barriers to effective internal communication, because they fail to interact and collaborate with their colleagues. 
Information overload 
Not enough information can be costly, but too much isn't ideal either. With more communication and information channels than ever before, many employees feel overwhelmed and unsure who or what to trust. Information overload can have a negative impact on employee productivity, success, and overall well-being. 
Weak communication technology
The wrong communication technology can destroy an organization's communication strategy. To prevent this from becoming a communication barrier, employers need to find and implement solutions that best match their organizational communication needs and goals. 
Lack of personalization
When employees receive information that is not relevant to their job or team, they are likely to ignore these messages. To avoid this communication barrier, organizations must strive to deliver targeted messages. 
What are Signs of Poor Internal Communication?
Internal communication challenges may seem like they come out of nowhere, but chances are they have been brewing silently for a while. Here are a few subtle (and not so subtle) signs of a lack of communication. 
High turnover
When employees don't have a sense of an organization's direction or larger purpose, they quit. Fast Company put it best in an article saying: "Increasingly, employees are more interested in a clear alignment and understanding of a company's culture and values than they are in benefits like flexible working, training, access to tech, and even bigger paychecks." 
Siloed knowledge
Poor communication isn't just about top down communication, it's also about communication and information shared between colleagues. So if your employees are confused as to what they should be doing, or perhaps what they should be telling your customers, chances are you have a knowledge management problem. This could be the result of a bottleneck in your communication, or it could be a problem with your communication channels. Either way, it's a problem that can have an enormous impact on your organization.  
Poor employee recognition
Does your internal communication focus solely on leadership or sales figures? Or does it consider all the amazing work that your employees do? A Salesforce report found that employees that feel heard were 4.6 times more likely to feel empowered to perform their best work.  
No access to critical information
I recently noticed on the front page of our corporate intranet was a section on arming and disarming the alarm. Talk about critical information!  Your urgent information should be in a location that is easily accessible by all employees. 
How can an Intranet Improve Communication?
An intranet is one of the best ways to improve and encourage communication and increase employee engagement. Here's how an intranet can improve internal communication in your organization: 
It surfaces critical information
Are you able to alert your employees in an emergency? Even your frontline employees? Intranets make it easy to quickly and easily send critical messages to every single employee regardless of whether they are in the office or are desk-based. 
It strengthens knowledge sharing
As mentioned above, siloed knowledge is a growing and costly concern. An intranet helps encourage knowledge sharing by easily surfacing information and connection to subject matter experts. 
It helps showcase employees
Intranets make it easy to celebrate, reward, and motivate employees. The benefits of employee recognition goes far beyond employee satisfaction. Companies who make it a priority to recognize employees raise sales by 37% and increase productivity by 31%, and companies with highly engaged employees outperform non-engaged companies by 167%!
It improves organizational clarity
Intranets have a long way from org charts, but they still provide exceptional organizational clarity. Modern intranets go beyond simple employee profiles, and now include relationships, teams, and associated groups. This helps employees understand their colleagues' roles throughout the entire organization. 
It reduces/eliminates meetings
Intranets help reduce unnecessary meetings by providing a location to collaborate and easily share information. This also helps reduce emails, and dreaded 'reply all' discussions. 
It increases employee engagement
An intranet can help bring your workplace culture to life. With opportunities to celebrates success, and showcase colleagues, employees will feel more invested overall. And the happier and more engaged your employees are, the more productive they will be, and the less likely they will be to leave.
It improves online collaboration
Modern intranets make it easy to share, edit, and collaborate in real-time. This helps reduce incorrect document versions, and inconsistent file storage on various drives and locations. Having a centralized location to collaborate also provides deskless employees and frontline workers an opportunity to participate in real-time. 
Intranet Communication Best Practices
We are constantly amazed at the clever and creative ways our customers use ThoughtFarmer. Here are three examples of real companies using intranet best practices to improve internal communications:
Improving knowledge management
Law firm Davies Ward Phillips & Vineberg LLP uses their intranet as a one-stop-shop for hosting everything from calendar events, forms, policies, precedents, dedicated practice groups, news, and announcements.
Their intranet also gives them instant access to regularly updated documents like legal precedents without having to dig through multiple systems.  Thanks to the intranet search functionality, users can find this information quickly. Meanwhile, collaboration spaces within the intranet allow users to brainstorm, share insights, and jointly work together. Easier collaboration also means reduced email volume. They also use their intranet to share interactive floor plan maps that allow users to find the location of an individual firm-wide.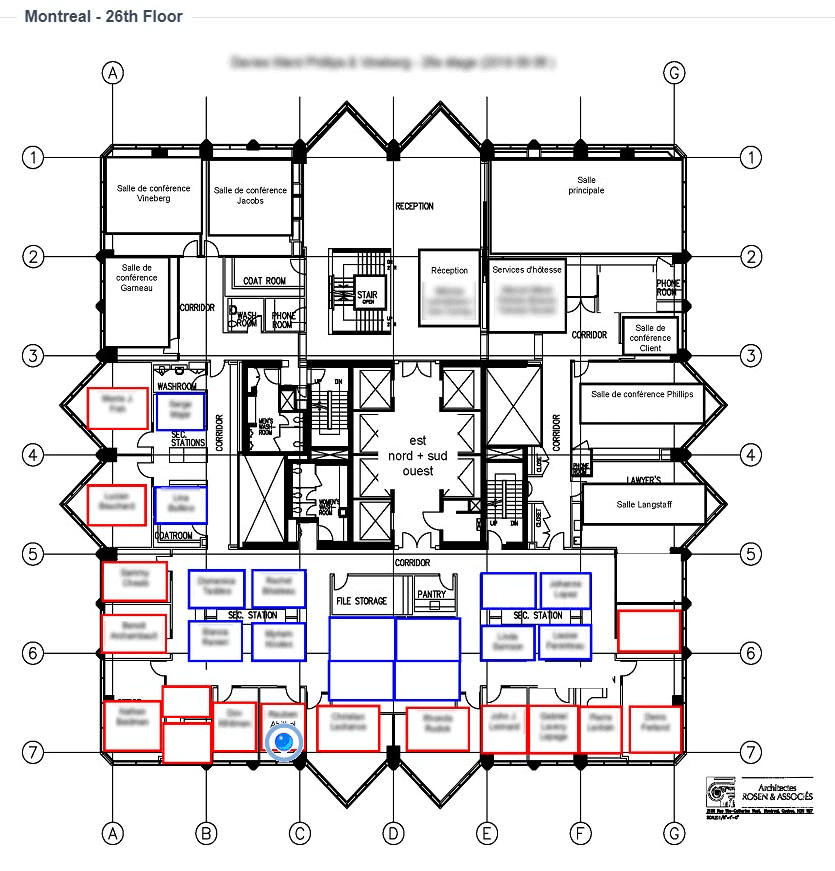 A single source of information
When publishing company Hachette launched a brand new intranet, they were lucky their employees already understood the value. Their previous intranet may have been insufficient, but employees already referred to their intranet as a single source of news and information.  
Adoption of their ThoughtFarmer intranet was further propelled by the pandemic. Overnight, employees turned to their intranet to find news, information, guidance, and resources in a single spot as they transitioned to working outside the office.  Hachette was also fortunate that they had not only executive buy-in, but executive involvement. Their CEO actively posts videos and other announcements.
Creating an employee recognition program
When Capital Region BOCES learned that their employees weren't feeling appreciated, they instantly took action. They started by using their intranet to build a three-tier recognition program. The first tier was to launch shout-outs.  The second tier was to provide monthly commitment awards. And the third tier was to annually acknowledge employees who went above and beyond. 
And how did employees react? There were over 35 shoutouts in the first month. Capital Region BOCES launched an additional survey and saw a marked increase in employee satisfaction. The Capital Region BOCES team has also noticed an increase in employees posting spontaneous congratulations and comments of appreciation. 
Final Thoughts
As you can see, internal communication plays an enormous role in organizational success. And while there are many tools and platforms available to improve internal communication, there is one specific technology that stands out from the others. Intranet software connects employees, departments and teams – giving them access to targeted information that helps them do their job. Who can argue with that?
Have questions? Get in touch! We're always happy to hear from you.