If the last two years have taught us anything, it's that we can't just assume a crisis won't occur. 
As we observed with many of our customers, those that had effective internal communication strategies were much better equipped during the pandemic and had stronger outcomes than those who were unprepared. 
If you still don't have an internal communications strategy, or have been dragging your heels on implementing one, it's time to get that ball rolling. 
For over 15 years we have guided organizations on optimizing their internal communication strategies. In this article we will break down what an internal communication strategy is, why it's important, how to create one, and some incredible examples of our customers who are truly rocking their internal communication. 
What is an internal communication strategy?
An internal communication strategy is defined as an actionable plan to achieve internal communication objectives. It is the framework for keeping employees informed and updated, so every employee is working toward the organizational missions and vision. 
If you like this blog, you'll love our newsletter
From workbooks and whitepapers, to blog content and best practices, our monthly newsletter is full of great content, advice, and expert insight.
Why is an Internal Comms Strategy Important?
Internal communication has been a factor in the workplace for over 100 years. Planning an internal communications strategy is important because it provides a focus, with a clear goal and roadmap for how to best get your message to employees, and ensures that your messages are impactful, and move employees to action.
It's also important because it can help an organization thrive by preventing costly mistakes that may occur as a result of miscommunication. 
A well written internal communications strategy accomplishes more than just managing and distributing information. It helps to foster an engaging environment with relationships built on trust, which in turn creates a strong and engaging corporate culture. 
How to Develop an Internal Communication Strategy
Effective communication strategies require effort, but if we break it down into small actionable steps, it is much easier to accomplish. ThoughtFarmer recommends a four step approach for developing an internal communication strategy:
Start with an audit
Although you may be starting from scratch, most organizations—particularly established or large organizations—have an existing internal communications plan. Use this as your starting point for an audit. If you don't have an existing plan, consider how news and corporate information has previously been communicated within your organization. 
What do you like about the plan? What is it currently missing? Who is involved? If you were to rely on it right now, would it suffice? This section is perfect for a SWOT analysis. 
You might also want to review all the tools you currently use for internal communication, like Slack, email, newsletters, or your intranet. Don't forget to also review leadership meetings or town hall meetings. 
Create goals and define metrics
While setting goals can be intimidating, step back and remember your original big goal: improving internal communication. From there you can break it down into several goals, like increase open rate of employee newsletters by X%, or increase visits to your intranet by X%, or increase town hall attendance by X%. You will also want to think about how you plan on measuring these metrics. This should be easy with modern intranet software that includes analytics. 
Create actionable tasks 
No matter how amazing your aspirations are, you aren't going to reach your goals without putting in the effort. So now is the time to outline some actionable tasks. For example, if your goal is to increase the attendance of town hall meetings, you might want to consider investing in an enterprise video platform so you can live stream the event to a larger audience. 
Commit to your deliverables
Sometimes the best plans get derailed because we spend so much energy coming up with a plan that we lose steam at the most critical part: putting the plan in action. 
One way to ensure accountability is to assign tasks with dates. Once this is in place, consider meeting with your team on a weekly or bi-weekly basis to ensure accountability and action. 
Effective Internal Communication Strategy Examples
We are always amazed at the incredible ways our customers are able to excel at internal communication. Below are a few examples of how ThoughtFarmer customers were able to overcome simple communication challenges, and transform their internal communication. 
Uniting a Dispersed Workforce in a Pandemic 
At its core, an intranet is an internal communications tool, and a fantastic way for organizations to meet their internal communication strategy goals. 
ThoughtFarmer customer Hachette publishing relies on it to disseminate important information to employees. "We make use of the News Feed feature to power news distribution to specific groups and the entire company," said Ryan Pugatch, VP, Strategic Technology, Hachette Book Group "Sharing news and resources can be done instantly, which has allowed us to expand both the breadth and depth of the content we've been able to produce."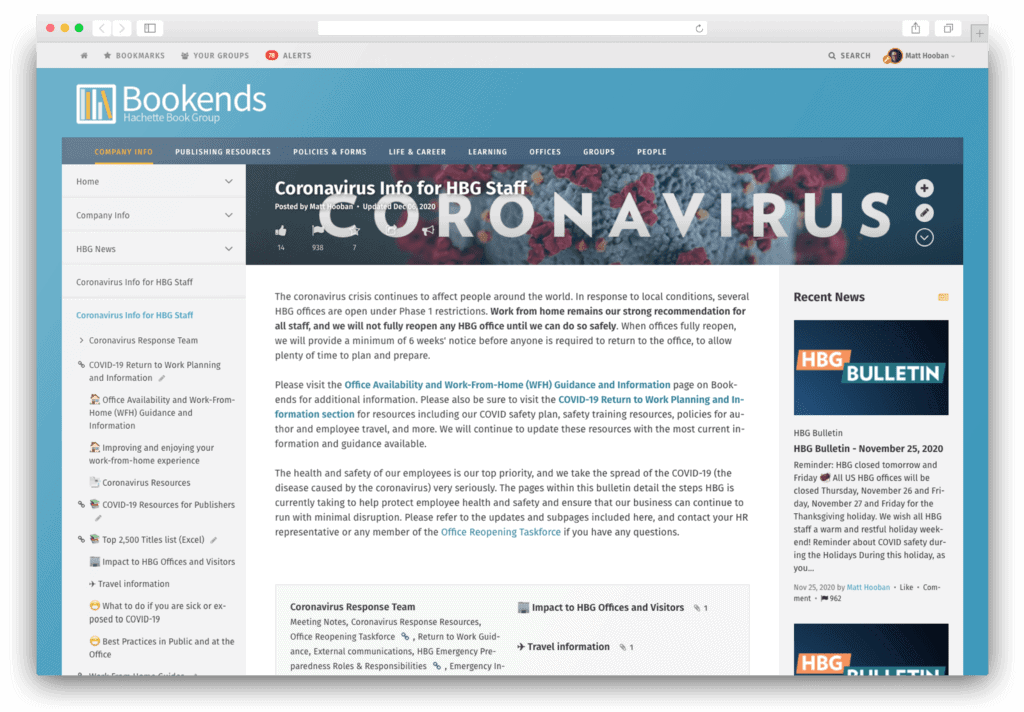 With the pandemic creating a dispersed and remote workforce, employees need a way to surface documents and expertise. One of the greatest strengths of ThoughtFarmer is its search functionality, and the 'Best Bets' feature has been a huge success for Hachette: "Best Bets has been helpful in refining and targeting searches for specific terms," said Ryan. Read the rest of their story.  
Establishing a Communications Channel during a Natural Disaster
An internal communications strategy is especially important in a crisis. 
Back in 2017, when a tornado hit the headquarters of BOK Financial (BOKF), the 30 billion dollar financial services institution was literally and figuratively in the dark in regards to their technology systems.
The financial institution did, however, have a way of communicating—through their intranet.
Just three months prior, BOKF had deployed ThoughtFarmer. Because it was hosted in the cloud, it was easily accessible to any BOKF employee through their mobile device. Learn how they tied their intranet into their internal communications strategy. 
Consolidating Communication in a Merger and Acquisition 
An internal communications strategy also plays a large role in uniting organizations during a merger and acquisition. 
Each organization brings a different set of tools and expectations around communications and information sharing. So how can you ensure that everyone is on the same page and united with the same vision? If you ask the team at CM Group, it's a universal intranet with the modern tools and integrated functions that makes working together a breeze. Learn more by reading their case study. 
Final Thoughts
As you have probably realized, developing a communications strategy is a lot of work. However, it is one the the most pro-active things you can do to ensure your organization is equipped during a potential crisis. And as we have learned in this last year, we can never predict when a crisis may impact your organization.
Have questions? Get in touch! We're always happy to hear from you.