Ok, so I lied. There is no cute puppy. 
I wrote that for the sole purpose of getting your attention on this blog post. 
But before you stop reading and get angry for being deceived, I want to say that as the Senior Content Writer at ThoughtFarmer I empathize with anyone tasked with creating compelling intranet content. 
Why? Because I know that intranet content writers have the responsibility of creating compelling content that gets read. (Actually, I think intranet content writers might even have it worse, because there will always be an employee who claims they don't know what is going on inside the company, despite corporate updates regularly posted on their intranet). 
So it's understandable that you (and me) might resort to desperate measures—like promising puppy pictures. This may work in the short term, but it isn't sustainable if you want to keep your audience coming back again and again.
Here are 30 innovative intranet content ideas that will help you grab employees' attention and keep them coming back to your intranet for more. 
Intranet content ideas
1. Surveys
Whenever someone mentions survey fatigue, I am always quick to remind them that I absolutely love surveys. What could be better than knowing my workplace values my input? Not saying you should abuse your survey privileges, but it's definitely worth leveraging. Also, once your survey is completed, you have fresh new research to post to your intranet. For further reading on intranet surveys. check out our post on how to create an intranet evaluation survey. 
What does good look like?
Get inspired with a collection of our award winning intranets.
Read more
2. Policies and procedures 
When the pandemic hit and we were instantly forced to work from home, we were fortunate to rely on our intranet to keep us informed and updated. All the information and resources we needed to stay productive was available on our intranet. This included critical policies including a pandemic plan, remote work policy—and as we return to the office— a return to work policy. 
3. Corporate updates 
Many intranet content writers neglect posting corporate information because they assume employees aren't interested, or that the content itself isn't compelling enough. So why not make it interesting? For example, an announcement about a new office site could include a photo gallery, as well as mini-bios of new employees.   
4. Round-up
Your intranet should have analytics that provide deep insight into your users. Why not share this data with your users? You could create a round-up post that includes insights such as the most popular intranet post, most active user, most popular photo gallery. For further reading on what metrics you should track, check out our post 8 key intranet metrics you should be tracking.
5. Customer stories
Never underestimate the power of a good customer story. By posting customer stories, you are helping employees understand and affirm the role they play in the organization. When employees can see their work impacting customers, it makes their jobs much more meaningful.
6. Customer reviews
Similar to customer stories, customer reviews can have a positive impact on your entire organization and should be posted on your intranet. Don't be afraid to also post any sub-excellent reviews too, as this will help identify any potential areas of weakness. 
7. Messages from leadership
Posts from leadership consistently get more traffic than other intranet content. Want proof? Check out this webinar where we analyzed customer data from over 80 high performing intranets. If you are lucky, your leadership will feel empowered to create their own weekly or monthly messages (If you want some real inspiration check out the case study with publishing company PCI, and see how their President and CEO blogs every single day!)  
8. Product announcements
How are you communicating important product news and corporate information? The worst feeling (for both an employee and a communicator!) is hearing someone say "I didn't know", or "No one told me about this." By posting this information to your intranet you can ensure employees are kept in the loop over the latest product updates and announcements.
9. Employee ideas
A great strength of intranet software is its ability to uncover valuable insight and ideas from employees. In fact, some of the most amazing ideas and solutions are sitting in the minds of your employees. Consider adding dedicated areas on your intranet to crowdsource ideas to help solve your organization's biggest challenges.
10. Jobs
Hiring can be challenging at the best of times, but fortunately a shift to remote work has enabled organizations to widen their hiring net and hire outside their geographical region. Use your intranet to post job updates where employees can quickly view the job posting and potentially pass along the information to someone within their network. Posting job openings also provides transparency into the overall growth of your organization.
11. Anniversaries or milestones
Celebrating work anniversaries, birthdays, or other milestones is a fantastic way to celebrate employees. If you are like us, and operating under a hybrid workplace model, you are managing two different employee experiences. Recognizing employees for simple milestones is a great way to help them feel united and engaged with the rest of the team. 
12. Food
I recently asked my colleagues for some restaurant suggestions, and I couldn't believe how fast everyone responded. In fact, I am considering mistitling my next blog "Seeking Restaurant Suggestions," solely to increase open rates. Food always has, and always will be a popular topic, so consider posting local and popular restaurant options. Or, you could create an entire page devoted to  employee recipes. 
13. Home office setups
Early in the pandemic, when we were mandated to work from home, many of us were setting up our home office for the very first time. This naturally led to some interesting set ups, as evident in this picture below: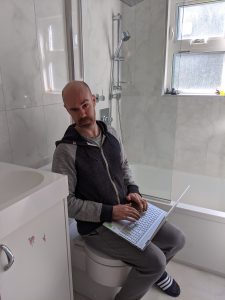 With many of us still operating in either a remote or hybrid setting, posting employee home office set-ups are a great way to unite employees. 
14. New employee announcements
It's probably no surprise to learn that employee news is some of the most consumed content on our intranet. At ThoughtFarmer every new employee is announced on our intranet, along with a bio, and some fun facts. It's an engaging way for existing employees to interact and learn about new employees. 
15. Contests 
I mentioned earlier that you shouldn't bribe your employees to read content, but there is no harm in holding a healthy competition. Why? Because everyone likes to win stuff. 
Post specific questions on your intranet to encourage employees to scroll through and navigate your intranet site. One of our customers even created badges when employees have taken specific action on their intranet. Complete your profile? Get a badge. Comment on a discussion? Get another badge. 
16. Ask employees 
If you are struggling to engage employees with the content you post on your intranet, why not ask employees what specific content they might want to see? The easiest way to manage this is through a form submission. Simply create a form requesting feedback (the less questions the better) and post to your intranet. 
17. Events
Whether your organization is operating in-person or remote, there are likely still events happening. This may be a social online cocktail hour type format, or, this may be a virtual conference that your organization hosts. Regardless, if the event is happening, your employees should know about it, and the best way to promote this is through your intranet. 
18. Departmental and team updates
One of our newer initiatives at ThoughtFarmer is sharing departmental updates with the rest of the company. These updates keep us transparent, keep other departments in the know, and provide a way for us to acknowledge team members contributing to our success. 
19. Sales wins
Never miss an opportunity to celebrate success. My absolute favorite intranet posts are when our sales team announces a recent win. It's not just an announcement, it's insight into why prospects choose us, which organizational size we best relate to, and what features they may be most interested in. 
20. Training opportunities
Posting information about workshops, webinars, conferences, and courses is a great way to not only encourage education, but it helps position your organization as one that values professional development. Many of our employees are currently enrolled in a course through the University of Alberta called Indigenous Canada. 
21. Competitor intelligence
Competitor intelligence is valuable information, but is often locked inside email threads, shared networks, and even inside employee heads. Post this information on your intranet so employees can all benefit.
22. Video
Too lazy to come up with written content? Try adding a video to your intranet to increase engagement. One of our customers created an intranet launch video that highlighted their previous intranet's shortcomings in a humorous way. This served as a good teaser for all the new and engaging features the employees were about to enjoy with their new intranet. You can view the video and judge for yourself by clicking here. 
23. Company history
Do you know when your company was founded, and why? Highlighting your organization's history is an excellent way to help employees learn more about your organization, and what kind of culture you're trying to build. 
24. Blast from the past post
Because we have been around for almost two decades we have a lot of old photos kicking around, like the one below. Posting these photos not only provides some entertainment, but it's a great reminder of just how far we have come.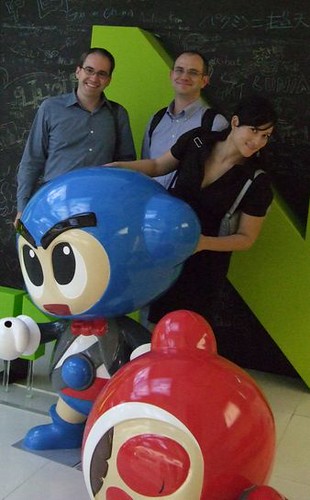 25. Company goal updates and progress
Create a section on your intranet where your quarterly and annual KPIs, goals, and other metrics are updated. If you can, transform this data into a visual chart so employees can easily see the progress the company is making, and any potential areas of concern. 
26. Town hall recaps
Town hall meetings are a great way to keep employees informed and connected to what's happening inside your organization. However, not every employee will be able to attend every single meeting. This is why it makes sense to record your town hall and post it on your intranet for all employees to access

27. Trivia
Which employee has been around the longest? What month has the most employee birthdays? Who has travelled to most countries? There is no shortage of fun facts you can share about your company, projects, or employees. Trivia is also a great way to increase familiarity and engagement in your intranet. 
28. Social media chats
While we wish our employees were more engaged on our corporate social media channels, we also recognize that they aren't always aware of these posts and discussions. Adding social media channels to your intranet helps keep employees informed about discussions on social media, product reviews, customers concerns, or even just the latest blog post. 
29. Branding standards
Branding standards are one of the most important assets to add to your intranet (If you oversee anything related to branding and design you probably relate to the frustration of having employees constantly ignore branding standards because they didn't know any better). Keeping branding assets on your intranet ensures that the latest versions are always available for logos and other related design components.
30. Surprise—Puppies!
If all else fails you absolutely should include adorable puppy pics! We have an entire intranet page devoted to the furry friends of ThoughtFarmer employees. And based on a recent peek at our analytics, I can assure you this page gets consistent traffic. 
So I didn't lie after all. I just made you consume the entire article; and in return you are rewarded with an adorable puppy! I call that a win for both of us.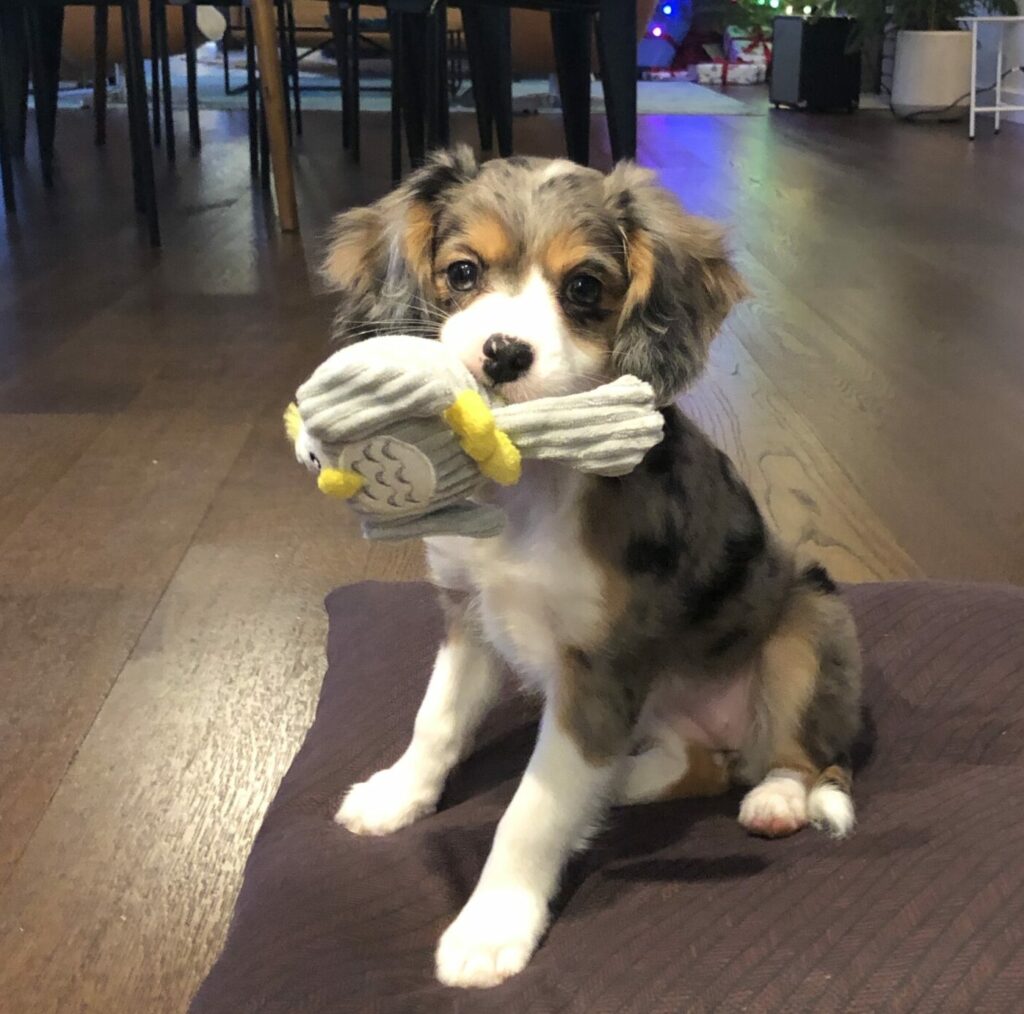 Have questions? Get in touch! We're always happy to hear from you.