Most employees wake up to a flurry of workplace messages. New emails, Slack messages, intranet notifications, and sometimes even text messages (even though this is now illegal in some countries). 
That's a lot of places to check. 
So, we must all be amazing at communication right? 
Er, not exactly. Despite all the collaboration tools and platforms at our disposal, we still haven't mastered communication in the workplace. 
Why? Because as great as these tools are, they aren't a magic bullet. Especially if we don't understand the core challenges we are trying to address in the first place.
Or, we mistakenly conclude that because we hold town halls, launch an intranet, send out newsletters, and host team-building events, that surely we must be doing everything right. 
But solid internal communication is much more complex than satisfying a list of comms best practices. It's about quality, not quantity. It's about choosing the right comms channels, sharing the right content to the right people at the right time, and creating real opportunities for feedback and idea sharing. 
But before we get into how to fix a lack of communication in the workplace, let's first look at some of the most common signs. 
Signs of lack of communication
Lack of communication is defined as a lack of trust among colleagues, managers, and top-level administration; information and knowledge is not shared and passed along as it should be. 
There are a lot of obvious signs of lack of communication, like: low email open-rates, weak adoption of the intranet, or scattered internal knowledge. 
However poor communication isn't always obvious. It often creeps up slowly without us even realizing it. In fact, you might be dealing with a lack of communication and not even know it. Here are some not-so-obvious signs:
Low trust
Lack of trust reduces transparency and communication which leads to diminished innovation and lack of agility and responsiveness to changing conditions. While every organization has unique factors that contribute to trust, communication plays an important role. When organizations fail to set and meet expectations around communication, trust crumbles. 
Low survey response rates
Most internal comms and HR professionals rely on employee surveys to measure the effectiveness of both internal communications and employee engagement. But if you continuously find these results less than satisfying, it might be an indication that you have a communication problem.
Duplicated work
If your employees don't know where their role ends and their colleague's begins, be prepared for crossed wires, confusing email chains, duplicated work, and a lot of lost time.  Employees at organizations with healthy communication understand their individual and team goals. They also understand the organization's mission and vision, and how their work individually relates to these. 
Frustrated employees
When employees feel left out of the loop on employee communication, it's easy for them to become disgruntled and unhappy within their job. The trickle down effect not only increases employee turnover, but also creates frustrated customers. 
Looking to measure the results of your internal communication?
Download our guide to learn more.
Download now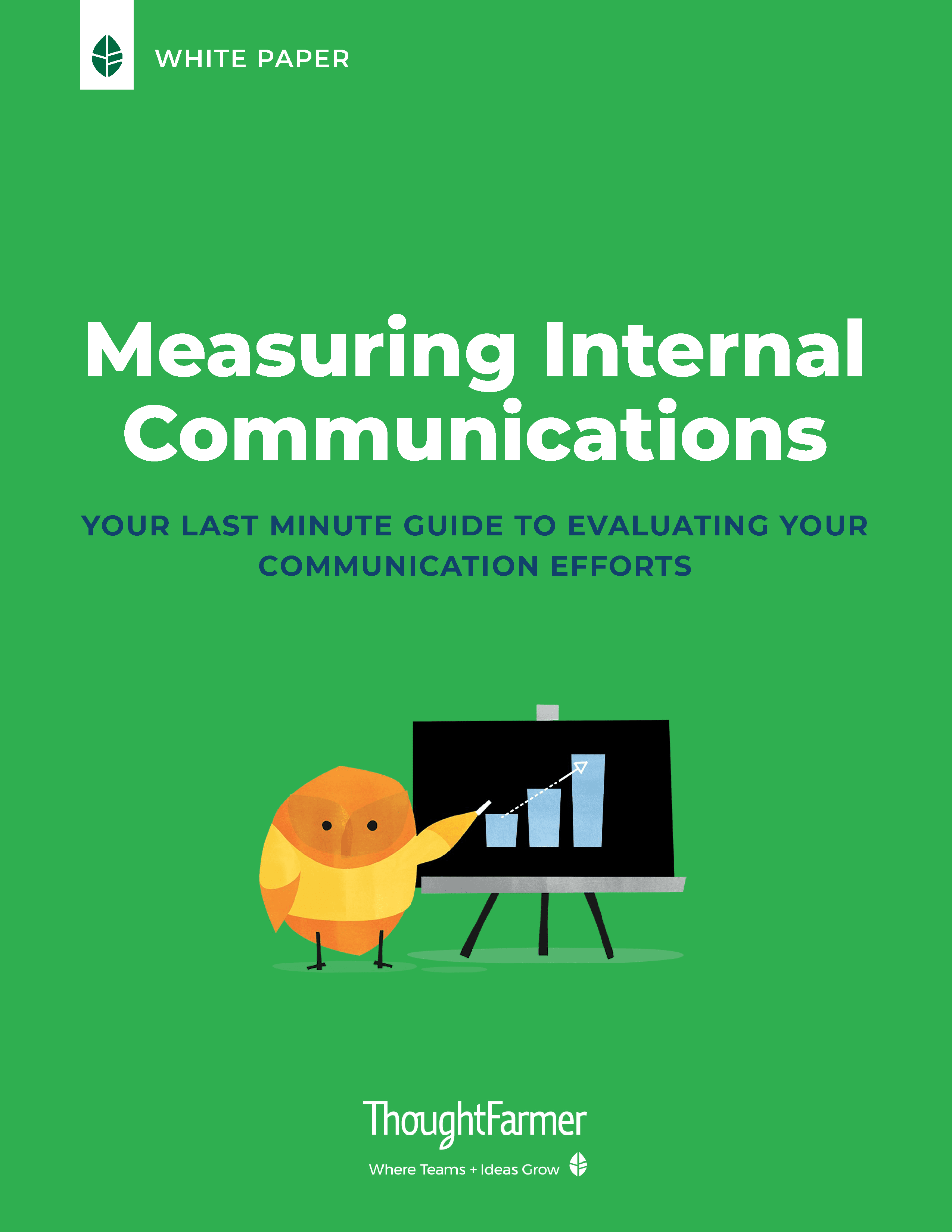 How to fix a lack of communication in the workplace
Now that we have established some subtle signs of poor communication, let's explore how to fix it:
Set some communication standards
Navigating both synchronous (instant messaging apps like Slack), and asynchronous communication (email, and intranet) can be challenging. For example, if you are expecting an immediate reply to an email, you will likely be disappointed. 
While responding to internal communication may feel like common sense, what seems logical to one employee may not feel that way to another. This is why it's worth establishing communication standards. One possible tactic is to require that synchronous messages are replied to or acknowledged within 24 hours, and asynchronous communication is responded to within five days. 
Cultivate a safe place to communicate 
The volatility of the last few years has created anxiety and outspoken opinions.  However with words comes visibility, responsibility, and even scrutiny as even the best intended communications can become misinterpreted and misconstrued. 
Adding to the frustration is the nuance we lose when workplace communication occurs via Slack or a webcam. This is why it's important to create psychological safety. Psychological safety is defined as the ability to display one's self without the fear of negative consequences. 
Psychological safety is a confidence that team members wouldn't embarrass or threaten individuals for speaking up or asking for help, trying something new, or voicing work-related dissenting views. In teams that are psychologically safe, team members feel comfortable to be themselves and to actively learn on the job.
Make communications accessible by everyone
The topic of accessibility is something many of us don't consider until we have a poor website experience. However, the World Health Organization (WHO) identifies 4% of the global population as being visually impaired, 4% as having low vision and 0.6% as being blind. 
That's a large demographic of people potentially excluded from your internal communication. And if your employees can't view information, you can expect a lack of communication. 
Learn more about accessible internal communications here.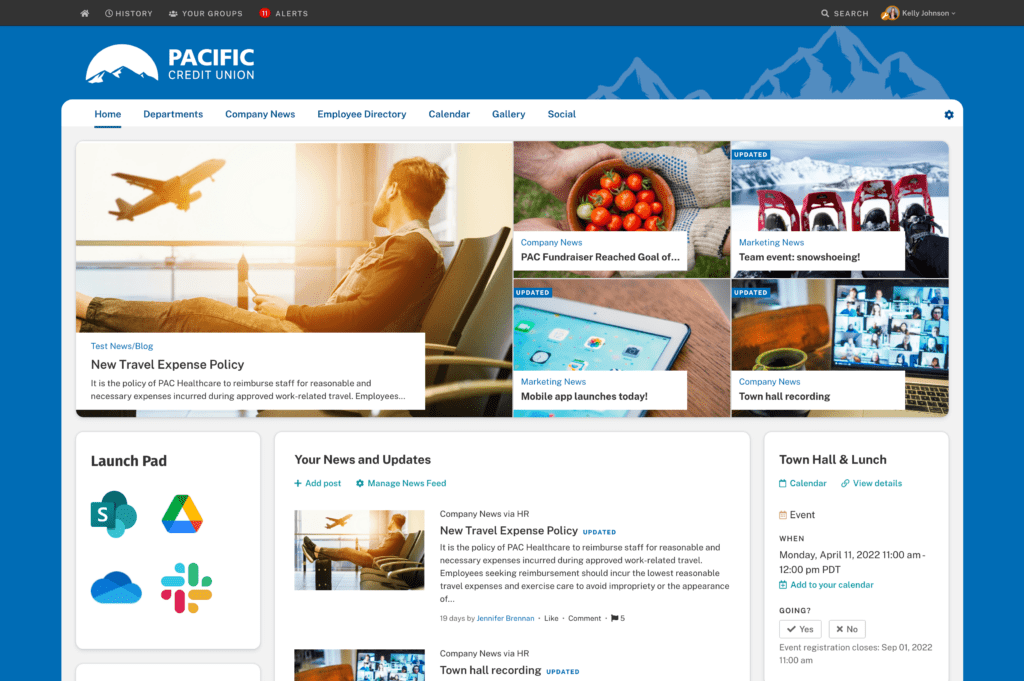 Keep communications targeted
An announcement of the latest bugs to be squashed by your developers may be of interest to many departments, but are they of interest to every single department? Probably not.  
No one wants to be burdened with communication unrelated to them, so ensure that communications are targeted to the right teams, departments, or locations. Targeting internal communications messages ensures you adapt the content to ensure it is relevant to the employees you are communicating with.
Make communication mobile friendly
As organizations continue to adopt more tools to communicate with and engage employees, there's a growing responsibility to reach them no matter where they work. This is why it is essential that all employee communication is mobile accessible. Read about how a transportation company used a mobile app to keep their frontline  workers informed and engaged.  
But don't assume mobile communication is just for remote employees. According to a 2017 study by CareerBuilder, 80 percent of workers keep a smartphone in view throughout the workday, with two in three acknowledging that they use it at least several times while at work.
Listen
Employees who feel heard by co-workers and superiors report feeling 4.6 times more likely to feel empowered to perform their best work.
We might not all have the ability or opportunity to sit down frequently with employees, but there are still plenty of ways to foster healthy listening. For example, encourage comments and feedback on intranet posts. Or, post daily or weekly pools to gauge employee sentiments and interest levels. 
You can also send out periodic surveys to benchmark how employees feel about the state of internal communication. While a lengthy survey may provide the deep insight you yearn for, consider also sending out pulse surveys. These surveys provide real-time visibility into what your employees are thinking and feeling, which enables you to take quick action to resolve employee issues, without having to wait on the annual survey results. 
Finally, to really demonstrate your listening skills, don't forget to share, and act on the information you receive. 
Be strategic 
Most workplaces use a plethora of communication tools. But that doesn't mean you should use every tool for every piece of communication. Instant messaging applications like Slack are great for quick communication but for serious and critical communication, ensure that you have a way of verifying your employees have received communication. 
The Required Reading feature in ThoughtFarmer makes it easy for internal communication professionals to verify which employees have read critical announcements (It comes in handy for those who complain they never receive anything).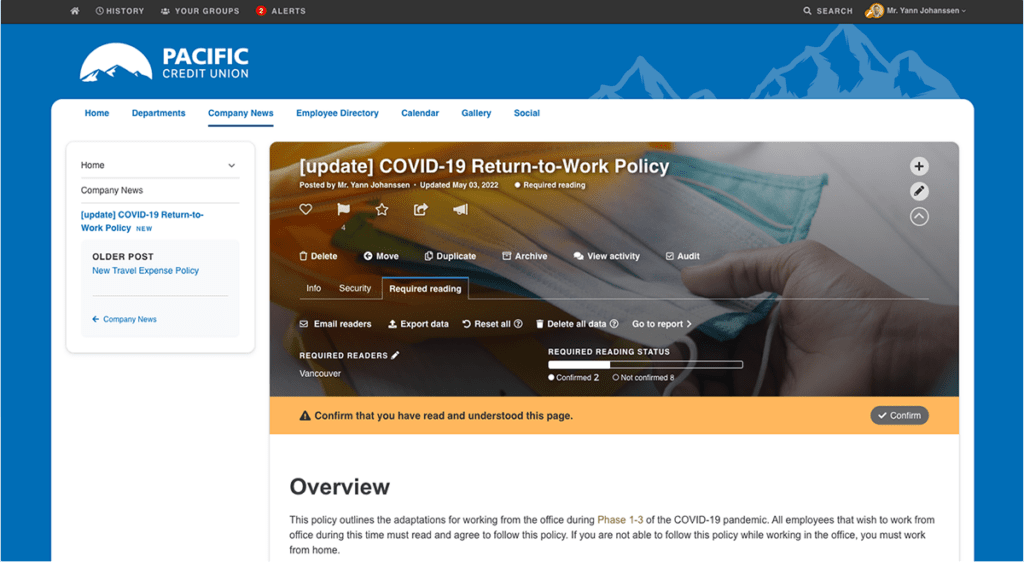 Don't neglect hybrid or remote workers
A hybrid environment may additionally put employees who cannot work in the office at a disadvantage of those that can. For example, consider a scenario where one employee is unable to attend an in-person meeting. Even if they join via video, there are potential side conversations they may miss out on. With two different experiences to manage, there is increased risk that one group may feel excluded in crucial conversations.  
If you have a remote or dispersed workforce it is important that there are equal opportunities for communication (see some communication stats on frontline workers here). 
In conclusion
Your employees are the engines that move your organization forward. If there is a lack of communication, they won't reach their fullest potential. 
When internal communication is strong, employees adopt the vision, values, and purpose of the organization they work for; they become enthusiastic contributors, innovating problem solvers, and collaborative colleagues.
Have questions? Get in touch! We're always happy to hear from you.