If you are an internal communications professional, arguably the most rewarding part of your job is the assurance that the information you disseminate is read by employees. 
But as you know, this isn't always easy. 
Even with the best efforts you are still likely to get a handful of employees who claim they didn't get the information (even when you know they received it!). This can be a huge challenge, especially if you are required to report on the number of employees who have reviewed a particular piece of content—like a new policy to comply with strict regulations. 
This is why we created Required Reading in ThoughtFarmer. 
What is Required Reading?
The Required Reading feature allows you to designate essential content on your intranet as a mandatory read. This feature was available as a custom add-on, but this new version is a more robust, user-friendly take on the original, and will be available to all customers at no charge. 
Required Reading is the ideal way to ensure any employees—from seasoned staff to new hires—are up-to-date and informed on current policies and processes, or regulatory requirements and SOPs. Or really any content you consider to be critical to your organization.  Think of it like when you sit in the emergency exit row on an airplane. The flight attendant requires verification that you understand the expectations of sitting in that row. But rather than a verbal yes, you are getting concrete and exportable proof of who read what. 
We've been using Required Reading internally on our own intranet for a while now, and we really came to appreciate its value when the pandemic required an updated Work from the Office policy. This policy includes critical information like an updated seating plan, occupancy limits, and health and hygiene guidelines. A few years ago this wouldn't have been such a big deal, but since the pandemic it's hyper-critical that employees review this information. It's equally important that our leadership and HR teams understand who has read it.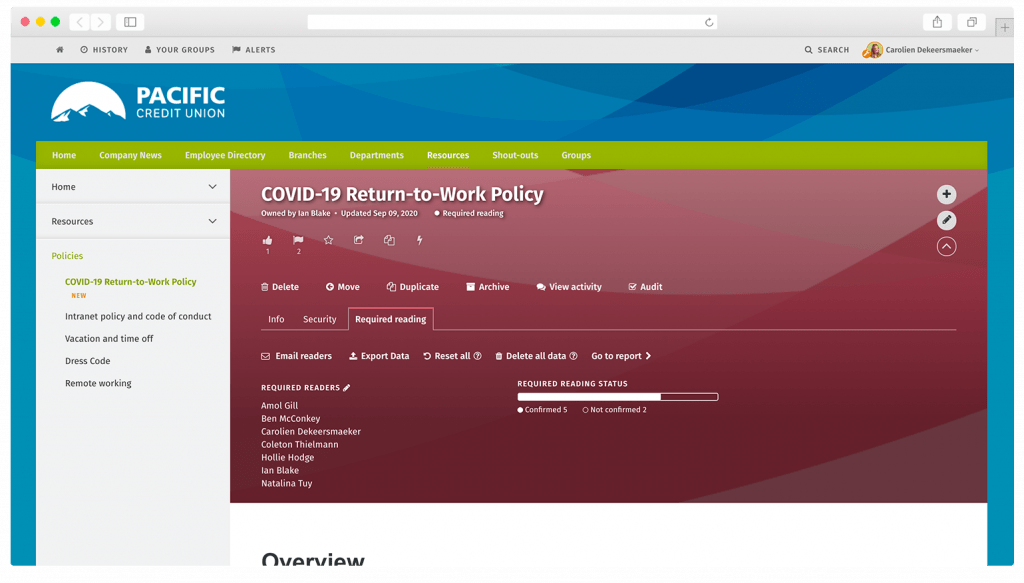 That's just one use case. There are many more that our customers are enjoying including: 
Onboarding/HR policies
Enable new hires and existing employees to read and review all important HR policies relating to working at your organization.  
Company-wide communications 
Ensure your employees are informed on things like merger and acquisition information, meeting minutes, and CEO town hall meetings.
Regulatory and compliance information 
If your organization is subject to an internal or external audit, you will want an easy way to confirm information to auditors. This could include security standards or ISO standards. 
Training and certifications
Manage relevant employee training, and ensure employee skills are up to date. There is also the option to reset Required Reading every year for new re-certifications. 
If you like this blog, you'll love our newsletter
From workbooks and whitepapers, to blog content and best practices, our monthly newsletter is full of great content, advice, and expert insight.
How does Required Reading work?
Like most of our features, the Required Reading feature is easy enough for anyone to master. 
Simply open up a published page, click on the Required Reading tab, and start building your audience.  Your audience can be built individually or by adding teams or groups.
Once the required readers are added, an employee sees a banner across the top of the page, prompting them to confirm. Once confirmed, a thank you message appears. All of these messages can be customized, so if you want a softer approach like "Pretty please read this" you can do so. 
If an employee is unsure if they have any outstanding pages to read, they can easily access their full list of Required Reading items within their intranet profile.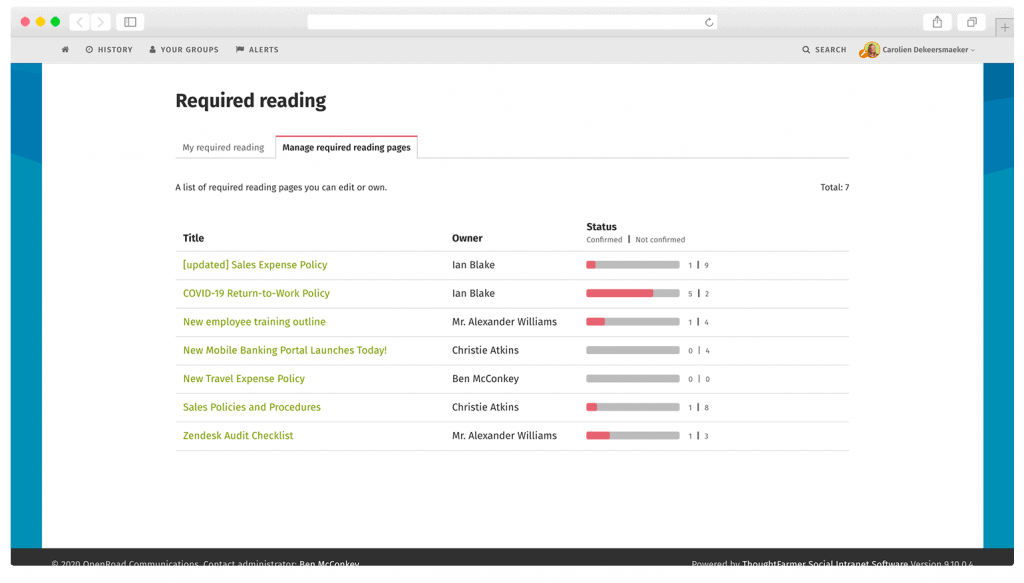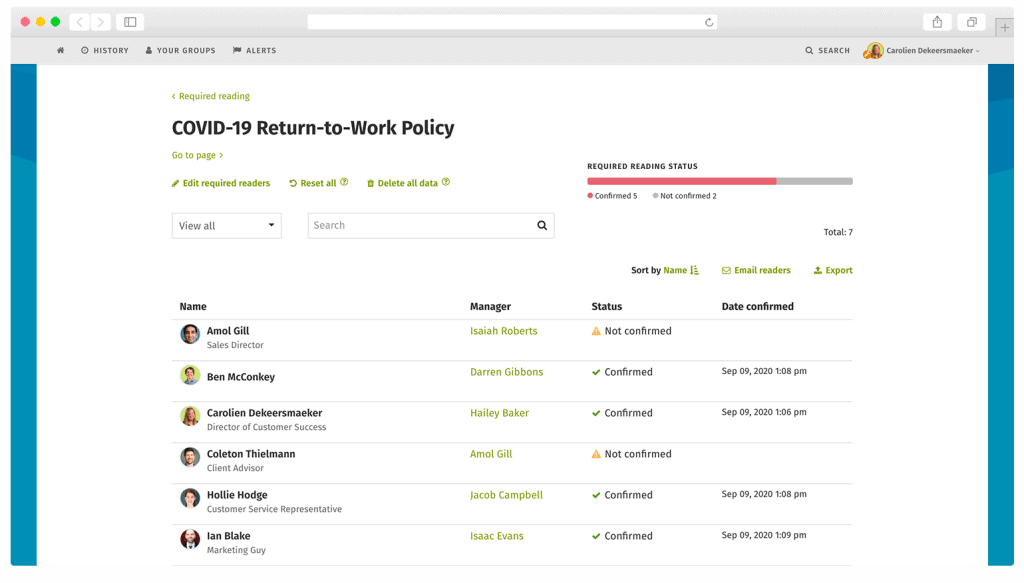 Delivering critical employee information
Perhaps the best part of Required Reading is the ability to view an entire report of who has confirmed they've read the content, and who hasn't. The page owner then has the ability to email outstanding readers and notify them of outstanding pages that require their attention. This report can be exported for audit purposes.   
As mentioned above, Required Reading has been extremely useful to us and our customers! If you would like to see this feature in action, please contact us for a personalized demo.  
Have questions? Get in touch! We're always happy to hear from you.