Workplaces everywhere are making massive changes to how their employees communicate.  Some of those changes may be temporary, but some are destined to continue long after the coronavirus pandemic. 
Either way, for most of us, how we communicate in the workplace is changing.
Water cooler talk has been replaced by instant messaging apps like Slack. Onsite meetings are occurring on Zoom. And, while we may not have the luxury of communally sharing a drink at a local watering hole, many employees have taken to enjoying a drink at home while virtually connecting with colleagues.  
So yes, we are all still communicating, but it's safe to say the coronavirus has dramatically changed how we communicate internally.  
Here are five ways this pandemic is reshaping communication in the workplace:
10 steps to a successful intranet launch
Create a dedicated strategy for success that continues long after launch day
Download our whitepaper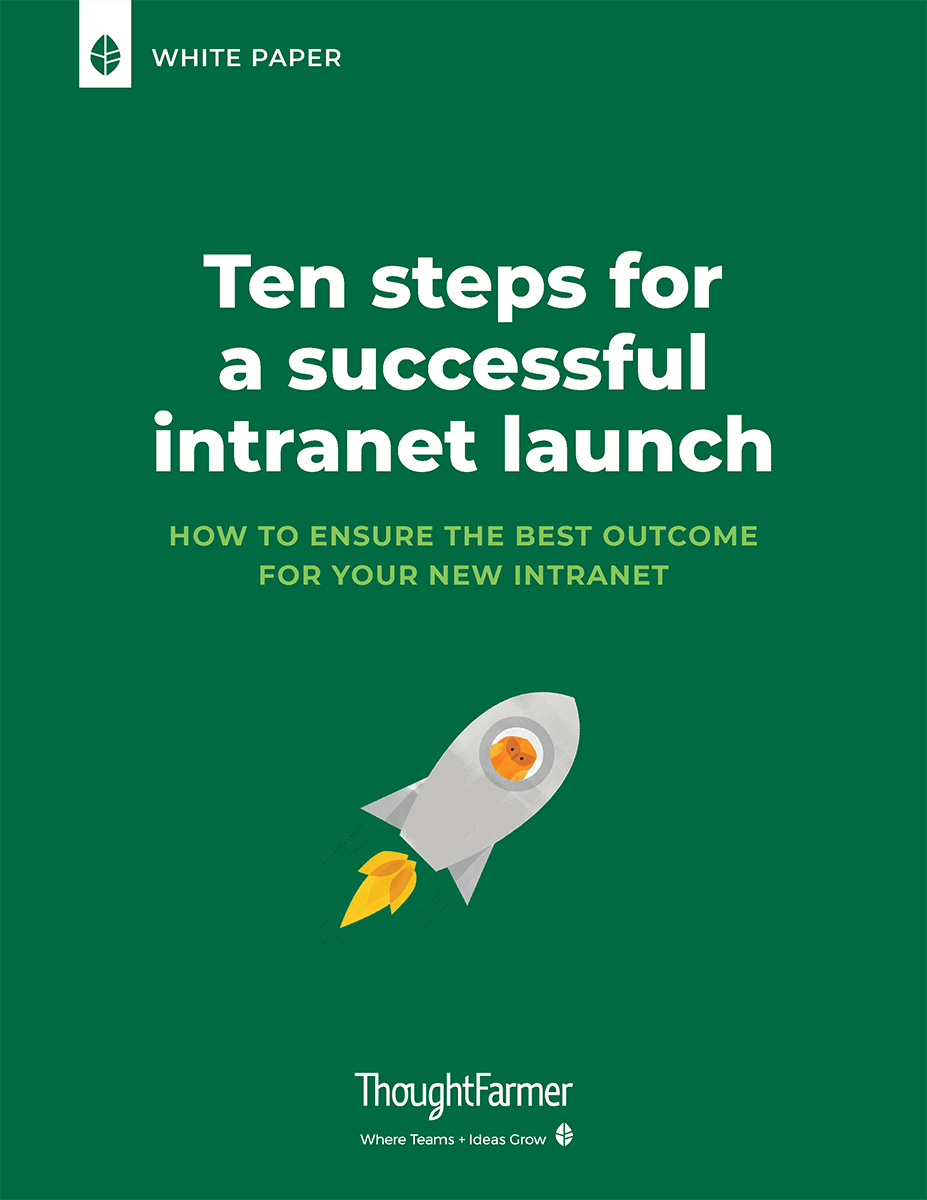 Internal communications professionals are at the forefront
If you are an internal communications professional, this is what you trained for. Using collaboration technology to deliver important information, crisis communication best practices, or more frequent town halls—these concepts aren't new to you; this is all part of your internal communications planning.  
As a result, internal communications professionals are now increasingly being called for advice on how to communicate sensitive and complex business situations. Their advice and expertise on communication tools and technology is critical to helping organizations manage the impacts of the pandemic on the workplace. 
Communication is essential to how organizations deal with the outbreak, whether or not they are impacted. Waiting until something has happened is not an option. 
Executives are now politicians
There is a natural need in a crisis to trust those in power. After all, it is reassuring to think that someone making the big decisions knows what they are doing. Information and news from authoritative figures can also provide much needed reassurance and guidance during a crisis. 
Today's business leaders have been emerging as de facto 'politicians', and are now required (whether they want to or not) to voice opinions on topics like climate change, diversity and inclusion, and now the coronavirus pandemic.  
For example, several organizations made the difficult decision to close their offices and transition to remote work well ahead of government directives. 
Daily/weekly briefings on your intranet or virtual town hall meetings are all great options for keeping employees connected to their leaders. 
Communication must be clear
Never before has the importance of clear communication been so important. Case in point, the term social distancing. It was a new term, and one that didn't instantly make sense to many of us. 
It could be argued that some of the initial defiance wasn't necessarily because people wanted to defy the recommendation (although that is the case in some scenarios) but because the term was ambiguous.  
You may have seen this image below circulating on social media. It encapsulates why the term social distancing caused confusion.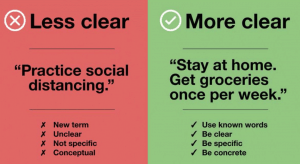 The same concept holds true with how we communicate internally. Employees are likely receiving an overwhelming amount of new information. This could include information about employment, benefits, or new technology. We must make communication as simple as possible so that ALL employees understand the message. It's essential for all internal communications planning. 
Those of you (especially comms professionals) familiar with the science of readability understand how simple language and reduced sentence length impacts readability. This isn't about dumbing down your words. It's about ensuring the message is understood by everyone. 
It's ok to be wrong
Wear a mask, don't wear a mask, wait, wear a mask. Information is changing by the minute forcing many of us to quickly change policies and direction. For some of us, this means admitting we were wrong, or taking ownership over our mistakes. 
When concerns arose last week over the security and privacy of video conferencing software Zoom, their CEO quickly took responsibility saying, "I really messed up as CEO."
No one has all the correct answers right now. And that's okay. We are all operating on information we receive in the moment. 
Hopefully you are using communication technology that allows you to quickly make changes and updates to any news and policies. Email, while useful for some communication, isn't the best medium for changing information, unless it includes a link to a dynamic page on your intranet. 
Be kind
Finally, it's important that we consider others when communicating, and that we humanize our internal communications planning. 
It's safe to say that a lot of us are operating under a heightened sense of anxiety right now. And even if this doesn't apply to you, it likely applies to those who you interact with. 
Whatever news and information you have to share with your colleagues and employees, ensure that it is communicated with care and compassion. 
When typing a message, consider, "Could this be interpreted incorrectly?", or "Is there a kinder way of communicating this?" 
It's also worth checking in on colleagues to see how they are coping. With an absence of water cooler chats, and run-ins in the lunchroom (or restroom!), many of us simply aren't interacting with the same amount of people we did before. I encourage all of you to leverage your corporate directory, seek out a colleague, and check-in with them. Moments of kindness and empathy are exactly what many of us need right now.
Have questions? Get in touch! We're always happy to hear from you.