Updated February 10th, 2021. Not all banks are the same. But it turns out that many bank and credit union intranets fit similar patterns.
Over the years we've worked with many financial institutions. We've engaged with these clients in Professional Services projects of varying sizes, from speedy three-week get-'em-done's to twelve-month behemoth efforts.
While every company needs a unique financial intranet tailored to its employees' needs and the company's culture, some very noticeable patterns have emerged:
1. Focus on customer-facing employees
There is one particularly direct way to gain financial intranet adoption and deliver business value with your new intranet: Make it easy for customer-facing employees to find the information they need.
Customer-facing employees fit into several common roles:
Bank teller

Call center operator

Loan officer

Mortgage officer

Business banking officer

Branch manager
These employees are the face of your bank and their efficacy can shape customers' experiences. The information these employees need spans all types of bank products and services including:
Details about different account types (fees, interest rates, etc.)

Up-to-date interest rate sheets

Instructions for cancelling checks

Trouble-shooting tips for using online banking

Account closure guides

Affidavit instructions for reporting unauthorized charges
By helping these employees quickly find information and do their jobs more easily you can increase their and customers' satisfaction, which can directly impact the bottom line. Providing this information can also drive financial intranet adoption and help you make the case for investing in an intranet. But how exactly do you implement this on your intranet?
Ready to build an intranet business case at your financial organization?
We break down every step necessary to build your intranet business case.
Download now
2. A special section for customer-related information
From our many financial intranet implementations, one strong pattern that has emerged is a top-level navigation section for information about the bank's products and services. Here's a sample global intranet navigation:
Home

People directory

About the company

Products & services

Tech & admin

HR & career

Fun/social
The Products & Services section is the real meat of a bank intranet. This is the material that employees need every day to provide stellar customer service. By consolidating the information needed for answering customer questions, you reduce the amount of searching employees will need to do, and this is a fantastic way to manage corporate knowledge. By including this section in the global navigation you ensure the information is just a click away (for some further reading on knowledge management, check out this blog post: Knowledge management: What it is and why it matters).  
3. Resources for branch operations
Another common pattern is the bucket of information about daily branch management This includes information such as:
Bank safety protocols

Opening and closing procedures

Teller cash-in and cash-out procedures

Courier pickup times

Night drop logs

Branch inspections
This information may not seem as critical, but in an emergency your employees need to know where to access it. For example, during devastating storms that knocked out power, BOKF relied on their intranet to keep employees informed and updated.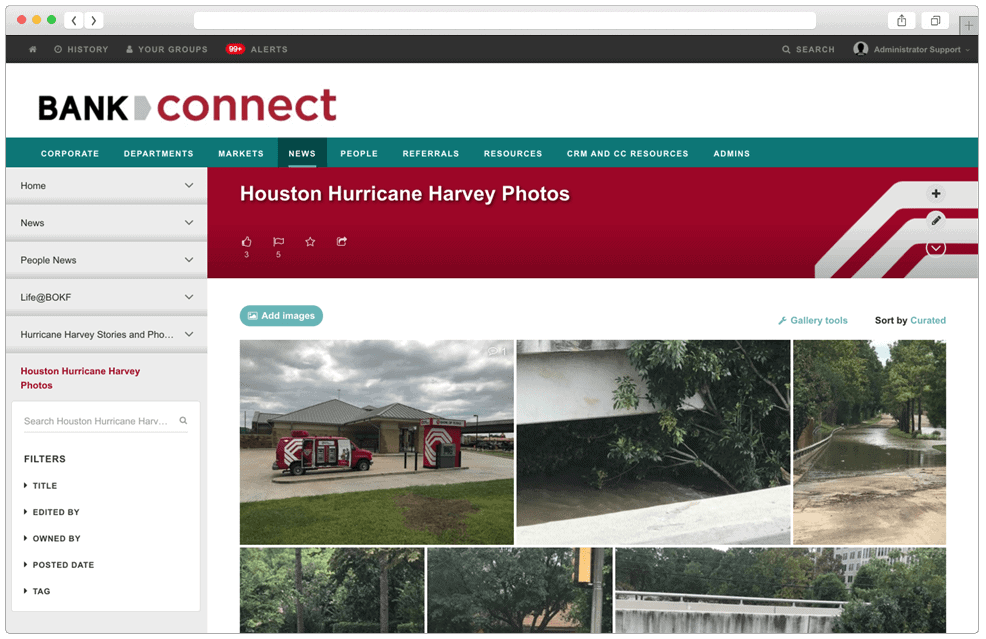 Resource and branch information could go in the Products and Services area (which might have a broader title, such as "Banking Services") if that's where employees look for it during user testing. Or it may go under the Internal administrative section — again, depending on the results of user testing, maybe it will have its own section in the global navigation.
No matter what, the decision about where this information goes should be based on iterative user input. Our Professional Services team does this most commonly through user-centered design techniques such as intranet card sorting and task testing.​
4. Employee engagement & knowledge sharing
A final pattern we've seen is the focus on building a positive work environment. This includes online and offline efforts to keep employees engaged and enjoying their work, as well as helping them share their internal knowledge and expertise. 
Common intranet features and activities that fit this pattern include:
Rich employee directory

Discussion forums focused on products & services

Recognition and shout-out forums

Internal classifieds

Community spaces for sports teams, recipe sharing, etc.
4 takeaways for financial intranet teams
Based on all of these patterns and a few intranet best practices, here are some recommendations that can help any bank or credit union intranet be a success:
Identify the common customer-facing roles at your bank

Research these employees' most common daily tasks and information needs

Use structured, user-centric techniques to design your intranet's site navigation

Use social intranet software that supports conversation, collaboration and knowledge sharing
Good luck out there! And if you have any questions, holler at our friendly team.
Have questions? Get in touch! We're always happy to hear from you.