First, what is an intranet? In simple terms, it's an internal website that helps employees get stuff done.
An intranet plays many roles inside an organization—it's a website, communications channel, and collaboration platform. Good intranet software makes it easy for every employee to contribute, not just a select few. The most effective intranets help people work better together by combining flexible content management tools, powerful search capabilities, and engaging collaboration features.
For a more detailed explanation of intranets, check out our full blog post, "What is an intranet", where we also discuss the difference between internets, intranets, and extranets. 
Next, what is social?
In the 21st century, "social" has become a term that we think of in relation to social networking or social media. When asked to define "social" the average businessperson would likely struggle, resorting to references of Facebook or Twitter. The term "social" simply refers to people interacting, whereas "social networking" describes the practice of establishing relationships. While the concept of social networking has been around for years, online communications channels—like social software and social media in the workplace—have come a long way and have rapidly increased the rate at which people are connecting and sharing information.
Social intranets marry these concepts to help employees interact and build relationships in the workplace.
Ready to learn more about intranets?
Download our Intranets 101 whitepaper and become an expert.
Download now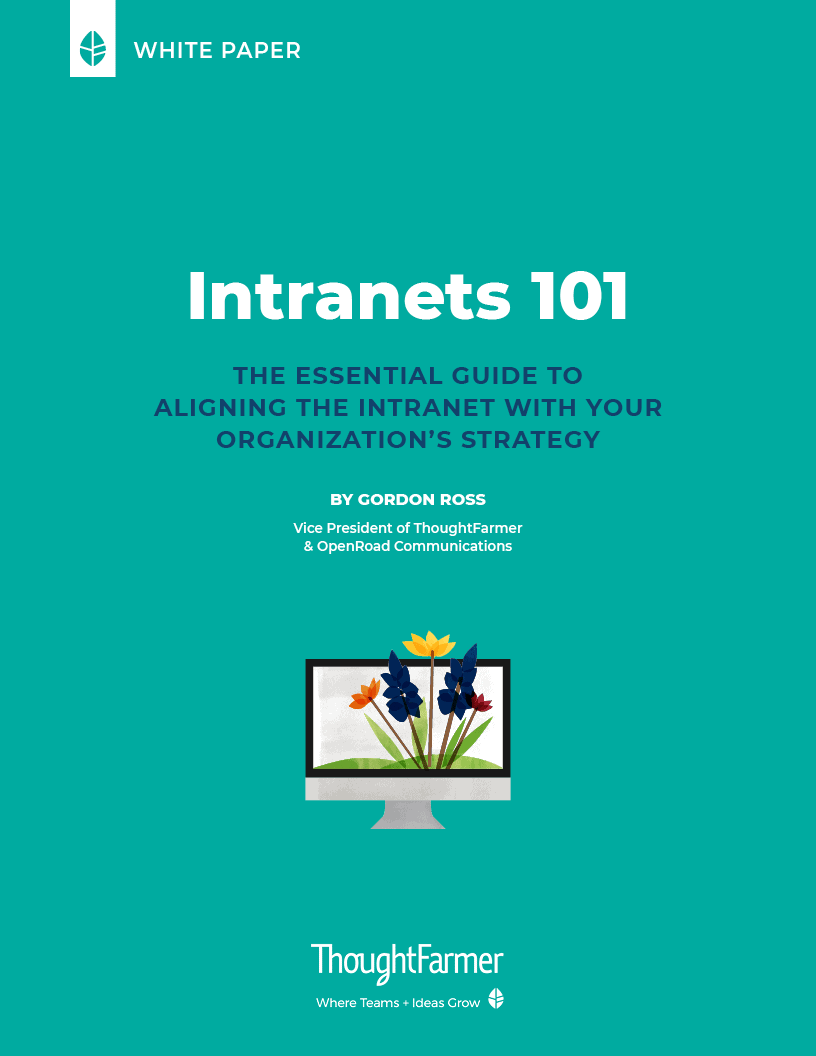 What is a social intranet?
Traditional intranet software has narrow authorship restricted to a handful of people with official "editor" permissions. Content is basically anonymous, making it difficult to establish a social context or connection between pages and specific individuals.
In contrast, a social intranet is built around people. It enables widespread participation and interaction by allowing all employees to author rich content. Social intranets connect every piece of information to a living, breathing person, and help people connect with each other. The "people layer" permeates the entire site and makes every page more human.
It takes two things to make an intranet social:
Authorship: The ability for everyone to create content
Connections: The ability to see the people behind the content and to connect with them in a meaningful way
With that, a social intranet is simply an internal-facing website where employees can easily contribute knowledge and communicate with each other to make working more efficient and effective.
Social intranet software and the hybrid workplace
With many organizations shifting to the digital and hybrid workplace, the way employees connect and exchange information continues to change. The digital workplace enables staff to communicate and collaborate beyond their physical office location. The technology that supports this virtual work environment can be anything from email, instant messaging, and HR systems to document management software and of course, social intranets. A social intranet is at the heart of the digital workplace—a critical component in providing opportunities for real-time collaboration and meaningful connections.
Social intranets provide robust, mobile-enabled features that can support the shift to a digitally-focused workforce. They are more than just a tool for pushing out content—they combine flexible content management systems, powerful search capabilities, and engaging collaboration features to maximize productivity, knowledge sharing, and community building.
Some typical features available on social intranets are:
Personalized homepages and newsfeeds
Video
Document libraries
Activity streams
Recognition tools
Group pages
Employee profiles
Mobile functionality
For a full checklist on desirable intranet features, check out our post on The Perfect Intranet Checklist.
By giving people a voice, social intranets help remove barriers—like location, language, or job level—that often hamper open, meaningful connections. Personalized content also helps employees feel a sense of ownership. This has positive effects on employee engagement, and employee experience—often important organizational priorities.
Social intranet platforms: Not just about specific tech tools
Too many organizations define "social intranet" by focusing on features. While features are important, fixating on them can be limiting because it tends to detract from highlighting the fundamental value of a social intranet—marrying the core function of traditional intranet software (content repository) with the benefits of social networks (connection and interaction). If your intranet doesn't have a blog or an RSS feed, it doesn't mean it fails the social test. The premise of a social intranet is to strengthen internal communication and support the digital workplace by bridging physical distances, unifying dispersed teams and simplifying how people accomplish tasks.
A social intranet solution: The heart of the digital workplace
Now back to the question, "What is a social intranet?" It's a vibrant internal communications channel, helping people work better by orchestrating the wide range of tools and activities in today's digitally-powered workplace. By harvesting the power of networks, social intranets can help organizations succeed by improving collaboration, communication, digital employee experience, and information-sharing. They play a key role in humanizing the workplace and empowering employees in the 21st century.
Ready to make your intranet more social? Our article, 15 ways to engage users in building a new social intranet presents ideas for creating a sense of shared ownership and community, while generating excitement about the new intranet.
Editor's Note: This post was originally published in August 2011 and has been revamped and updated for accuracy and comprehensiveness.
Have questions? Get in touch! We're always happy to hear from you.