The great resignation, the turnover tsunami, the big quit—whatever you want to call it, we are talking about a lot of people leaving their jobs. But more that that, we are talking about a lot of unsatisfied employees. 
For decades, employers have wrestled with how to keep employees satisfied and engaged in the workplace. And while there has never been a single solution, nor a straightforward one, it's certainly more complicated now than it was in the 1990's. 
For starters, very few organizations have a workforce that is entirely on-site and / or desk-based, which makes it challenging for teams to connect and communicate. Furthermore, employees are more empowered now than at any other point in history, and the pandemic has only served to accelerate that shift. 
All of this has put the topic of employee satisfaction under the spotlight. Now, more than ever, employers need to provide an environment where employees feel supported and appreciated. 
Retaining employees and keeping them satisfied requires effort, and while this blog can't provide a magic pill, it does offer some advice for measuring employee satisfaction, and some tips for improving it.
What is employee satisfaction?
Employee satisfaction is defined as the emotional state of the employee, and the degree of satisfaction of the overall job and the feelings and attitudes of the employee towards the job and their employer. 
Factors influencing employee satisfaction include workload, work environment (hybrid, remote or onsite), compensation, and feelings towards management. There are a few ways to measure employee satisfaction, however it is typically measured using an employee satisfaction survey. 
Ready to measure your internal communication?
Now that you understand how to measure employee satisfaction, it's time to measure your internal communication.
Read more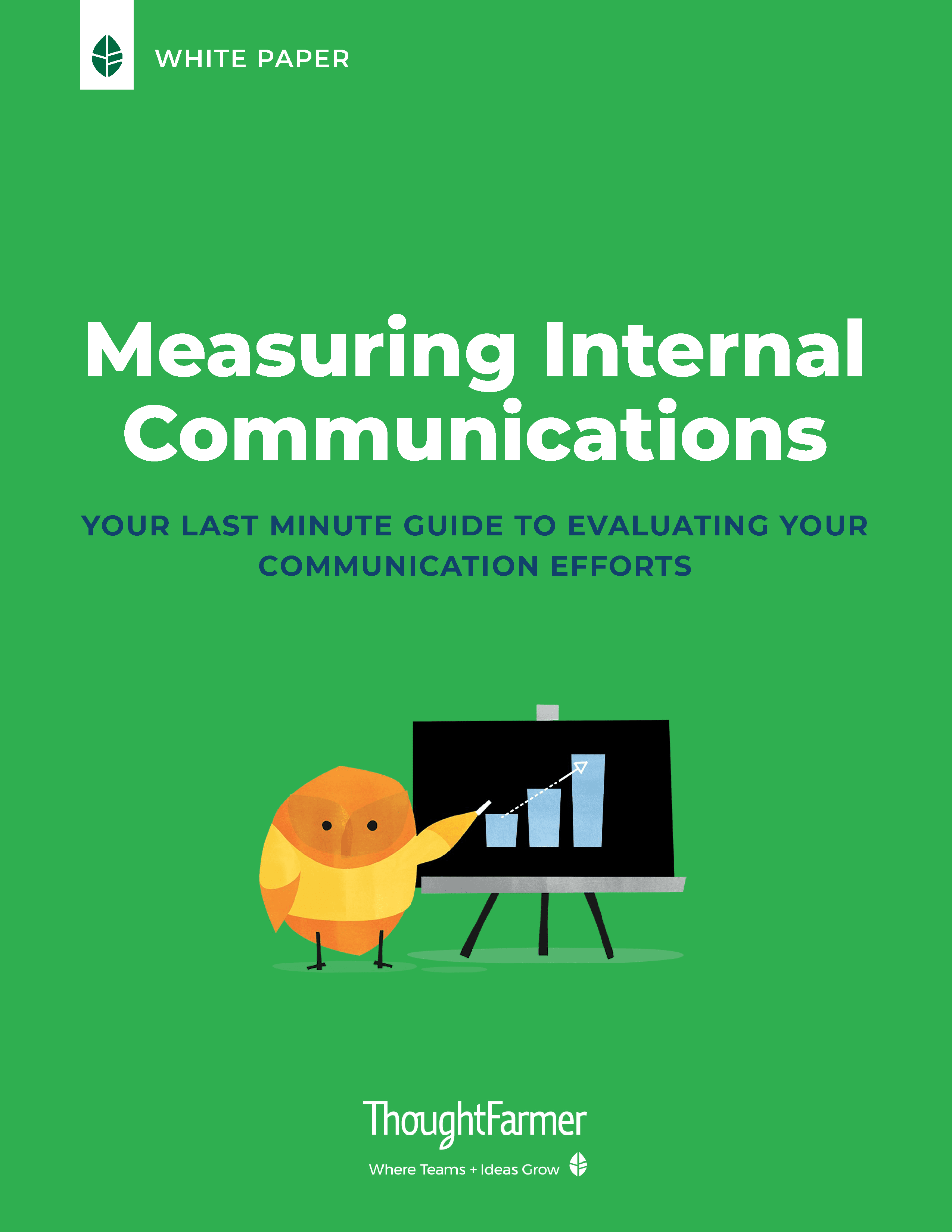 Employee engagement vs employee satisfaction: what is the difference?
On the surface employee engagement and employee satisfaction are similar concepts; however there are some distinct differences.  
Employee satisfaction is achieved when an employee is motivated by external factors (salary, benefits, etc.), while employee engagement occurs when an employee has a deeper source of motivation, one that contributes to a shared corporate vision.  
Satisfaction does not necessarily mean engagement, however employee satisfaction is considered a prerequisite for employee engagement. 
It therefore stands to reason that when an employee is satisfied, they are more likely to become engaged, and more likely to go the extra mile in the workplace. They are also more likely to enjoy being challenged, and have a solid sense of purpose and responsibility. In short, engaged employees are the lifeblood of your business, whereas satisfied employees are often content with the status quo. 
How to measure employee satisfaction
There are many different ways to measure employee satisfaction. Some of the most common ones are 1:1 meetings, the use of an employee net promoter score (eNPS), an employee suggestion box, or through an employee satisfaction survey. 
An employee satisfaction survey will help diagnose key factors that can help an organization improve engagement and performance. 
When designing an employee satisfaction survey, make sure your questions are easy to understand. Avoid ambiguity and include both open-ended and multiple choice questions. Here a few examples of helpful survey questions: 
How often do you feel stressed out at work? 

Are you happy with the opportunities for growth within the company? 

Do you feel that you're adequately rewarded for your dedication and commitment?

If you encounter an issue at work, do you know who to reach out to for a solution? 

Do you think that work is evenly distributed among members of your team? 
Best metrics to consider when measuring employee satisfaction
Your employee satisfaction survey will provide ample quantitative and qualitative data points. However there are many other metrics (including intranet metrics) that provide deep insight into employee satisfaction. 
Employee net promoter score
One of the most popular satisfaction metrics is the employee net promoter score (eNPS), which is a scoring system designed to help employers measure employee satisfaction and loyalty within their organizations.  This metric is usually measured by the question "On a scale from 1-10, how likely are you to recommend this organization as a place to work?" or "How likely are you to recommend our organization?" 
From here you can assign categories. Promoters score 9-10, passives score between 7-8, and detractors score below 6. Your eNPS can be calculated with a simple calculation: The percentage of detractors is subtracted from the percentage of promoters (eNPS = % of promoters – % of detractors). The percentage of passives is not included while calculating the score.
Absenteeism rate
Absenteeism can be an indicator of many things, including poor leadership, lack of work life balance, and employee mental health. It can also be an indicator of low employee satisfaction. High absentee levels also result in increased workloads, which in turn creates more stress and overall job dissatisfaction. You can easily calculate employee absenteeism by identifying the number of absentee days and dividing it by the number of available work days in a given period. 
Turnover rate
By now you have likely heard of the 'great resignation' or the 'turnover tsunami'. 
The Achievers Workforce Institute's Employee Engagement & Retention Report says that 52% of North American workers plan to look for a new position in 2021. 
It doesn't take research to understand that the more satisfied an employee is, the less likely they are to resign. Turnover is one of the highest costs for any organization, and leads to disruption and less productivity.
To calculate employee turnover, identify the number of terminations during a specified period, and divide it by the number of employees at the beginning of that same period. 
Employee satisfaction index (ESI)
ESI, or Employee Satisfaction Index, is another indicator of employee satisfaction. However, it is broader and encompasses expectations as well as enthusiasm. ESI surveys tend to rely on a few basic indicators of satisfaction including:
How satisfied they claim to be with their job

How much their job is meeting their expectations

And how close their current workplace is to ideal
Employees will have the opportunity to respond on a 1-10 scale. From there you'll use the following equation to calculate your response:
[question mean value/3] x 100 = ESI
How to Improve Employee Satisfaction
Improving employee satisfaction helps unlock collaboration, while maximizing employee performance. It can also help you increase profits and attract and retain talent. Conversely, low employee satisfaction metrics could lead to increased turnover and weak knowledge share. Here are four tips on how to improve employee satisfaction:
Provide a location for employees to connect 
With many of us either working remotely, or in a hybrid setting, getting all of your people together in person is now futile. An intranet helps by centralizing office activity and connecting and uniting all employees within the digital workplace. It does this by providing a discussion and collaboration platform, a document repository, an event calendar, an employee directory, a news feed, and an org chart. An intranet is a place for employees to be seen and heard and where contributions are rewarded. It's the starting point for a more engaged workforce.And thanks to intranet analytics, this is easy to measure/ 
Reward and recognize employees
The most engaged employees aren't always visible to anyone besides their team or manager. This can create feelings of frustration. A similar incident happened to our customer Capital Region BOCES. Through a survey they learned their employees were feeling unappreciated. 
To rectify this problem, they built a three tier recognition program on their intranet. The first tier launched shout-outs.  The second tier provided monthly commitment awards. And the third tier acknowledged employees who went above and beyond. Their intranet played a huge role in developing, launching, and managing the entire recognition program. 
Make engagement easy 
As mentioned above, getting everyone together in person isn't realistic; but that doesn't mean you should abandon engagement initiatives altogether. If you want to improve employee engagement, you need to ensure all your employees are provided with many opportunities for engagement. This includes deskless employees and frontline workers. To reach this group of employees, your intranet must be mobile accessible. 
Leverage Storytelling
Storytelling is a powerful way to strengthen company culture and improve employee satisfaction levels. Storytelling also plays a huge role in shaping the perception of an organization's culture—particularly when it comes from leadership. 
This is exactly what happened to publishing company PCI. As a self labeled workplace culture enthusiast, PCI CEO and President Drew Clancy blogs every single day and shares it on their intranet. His goal is to write about the "hows" and "whys" of building a great workplace culture as well as reflect on other topics that impact workplaces. 
Final Thoughts
Your employees are the heart and soul of your organization. It's therefore critical to prioritize their satisfaction. Even in a difficult economy, companies need to inspire and retain high performers.
Tracking employee satisfaction metrics will help you understand how employees truly feel about their workplace, so you can implement successful strategies for retainment, and hopefully avoid any impacts of a turnover tsunami. 
Have questions? Get in touch! We're always happy to hear from you.