Remote work wasn't exactly new in 2020, however many organizations were still on the fence of where and how real productivity occurred.
But, as we know, the pandemic changed this.
As part of their business continuity strategy, workplaces around the world were forced to adopt and adapt to remote and hybrid workplace settings. 
However, it didn't take long for new challenges to emerge, including video fatigue, bandwidth concerns, security issues, and employee burnout. 
Last month we co-hosted a session with ClearVoice Communications at the CommConnect Conference, on the topic of the hybrid workplace. 
During the session, attendees were asked where in the hybrid workplace spectrum they fit in. While responses varied across the spectrum, the majority of respondents were operating in a remote centric, or fully remote environment.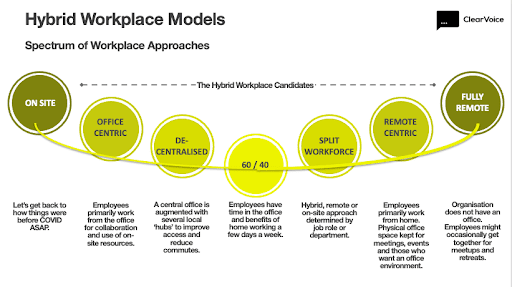 The interactive workshop also had participants brainstorming some of the common challenges they are facing, and potential solutions for success. Here are some of the components cited as necessary for a successful hybrid workplace. 
Leadership buy-in
The majority of leaders agree that the way we work has changed and we need to adapt. However, deciding how the workplace should adapt isn't so simplistic. 
For many leaders there are too many unknowns. For many leaders, the concept of remote work was foreign. Many managers initially questioned the validity of a hybrid work schedule, despite studies showing the average remote employee worked 1.4 more days every month (16.8 more days every year) than those who worked in an office.
As we are still in early days, it's not entirely clear what the future of work may look like. However, avoiding a hybrid or remote work model is much more than just a missed opportunity for savings on space and rent, it also impacts an organization's ability to attract—and more importantly—retain talent. 
For the hybrid workplace to succeed there needs to be buy-in from leadership. Leaders must evolve beyond their feelings and any misconceptions and value everyone's contributions equally. 
What does a well executed hybrid workplace look like?
See how our customers leverage their intranet to engage remote and in-office employees.
Read more
Single source of truth (SSOT)
The average worker spends nearly 20 percent of their workweek looking for internal information or tracking down colleagues who can help with specific tasks. If you are doing the math, you know that's a full day wasted from a 40-hour work week.  
This is why you need a single source of truth (SSOT). The principle of an SSOT is that any piece of data should exist in one spot — and one spot only.
Having a single source of truth (SSOT) has always been critical, but in a hybrid workplace it is even more important. Employees need quick and accurate access to the information, resources, and people to do their job. An SSOT, like your intranet, is a critical way to connect employees to valuable knowledge within an organization. 
There are other tools too, like instant messaging apps—which are great for communication, but employees also need a centralized platform to really connect to their culture and colleagues. An SSOT is important so your employees aren't conflicted with information, and so they understand where to access updated policies and news.
Strong internal communication
Internal comms professionals have long struggled to convince the c-suite of the significance of their role in the organization. 2020 changed that. The rapid shift to a remote and hybrid workforce put internal comms under a well deserved spotlight. 
But while many may still be celebrating finally having a seat at the table, there is still much work to be done. Internal comms is strategizing not only with executives, but also with IT, HR, and front-line workers. This has led to the targeting of the same audiences, with messages that overlap. 
To maintain organizational clarity in the hybrid workplace, internal communication professionals must work closely together with HR, IT, and senior leadership to coordinate, prioritize and plan messaging campaigns. 
Also, good communication isn't just a top down initiative. It further involves getting your employees involved in discussions and continuously getting their input and feedback. This could be accomplished through employee surveys and polls, where employees are asked for input on how they feel about returning to the workplace. Employees must also understand their expectations, as well as what they can expect from their leadership. 
An even playing field 
Organizations embracing hybrid and remote work policies are reaping enormous benefits from their new found flexibility. The flipside is the potential danger of creating a class system within the workplace. With two distinct employee experiences to manage, organizations must work to ensure remote employees don't feel excluded or at a disadvantage. 
For example, if you hold a meeting in the office, and remote workers aren't in attendance (at least not physically). You speak one-to-one with employees working remotely, while the team in the office only gets face-time with you during meetings where everyone is present.
Organizationals must strive to create new processes and implement systems that allow all employees to work in the same way, regardless of their location. 
Most organizations have three types of employees: in-office, remote, and those who periodically come to the office. Each of these employee types has a unique perspective on what makes them motivated, excited, and inspired to work on your team. 
A secure employee experience 
A hybrid work environment can create unexpected complexity. With two distinct employee experiences to manage, there is an increased burden on IT resources
With more work locations and connections, communications, devices, and content, your organization's risk exposure increases. Your hybrid work environment will require security that doesn't compromise simplicity and employee productivity while also ensuring employees' privacy.
A hybrid work model should offer multi-factor authentication, single-sign-on, and visitor management.
Guidelines and expectations
While the initial transition to an almost entirely remote workforce in 2020 may have seemed challenging to manage, the hybrid workplace is much more complex. 
To ease or manage the transition, it's important to have flexible work guidelines to help employees remain connected to each other regardless of their location. These guidelines could include proposed work hours, expectations around video for meetings, and structure to ensure employees aren't burnt out. 
In conclusion, while the hybrid workplace may seem like an answer to a temporary problem, it's really a solution for the future of work. It's about finding ways to structure and balance work, safety, communication, and mental health. The pandemic will eventually end. And when it does, the workplace will be a happier, healthier, and more productive place than before. 
We have this incredible opportunity to change workplaces from the ground up, and more importantly, make work more human. Let's strive to make the most of it. 
Have questions? Get in touch! We're always happy to hear from you.