Imagine you are a customer service representative who is new to the job. 
You likely have a well documented database of policies and procedures, but those don't tell you everything you need to know, do they? 
For example, what if you had to deal with a customer who insisted on knowing where every product was manufactured? Or, what if you were unable to understand the language the customer was trying to communicate in?  
Or, perhaps your organization is trying hard to gain a competitive edge against its closest rivals. To do that will require some intense innovation. But innovation isn't just the accumulation of hours spent researching, it stems from interactions with customers, solving problems, and realizing new market patterns. 
But how do you find and access all of this information and knowledge? And how can you easily share this with others? 
Traditional document storage solutions fail to capture the context and discussion around specific knowledge. This inevitably leaves employees to seek out answers in other ways—through chat, email, or in person discussions—all which are probably not recorded.
These scenarios are just a few of the examples of why organizations seek to implement a knowledge sharing/knowledge management (KM) strategy. 
A little background on knowledge sharing
For those of you who didn't catch our recent post on knowledge management, here is a brief refresher on the different types of knowledge in the workplace: 
Explicit knowledge: Knowledge that is easy to articulate and share. Like uninstalling an app on your phone. 
Tacit Knowledge: Knowledge derived from personal experience that is challenging to convey. Like how to deal with difficult people. 
Implicit Knowledge: Internally derived knowledge that comes from doing an activity. For example, the knowledge of how to type without looking at the keyboard.
Managing explicit knowledge is a clear strength of well organized intranets. While tacit knowledge is more difficult to convey as it is context specific, the strong personal voice of employees in a social intranet can be used to convey tacit knowledge. Implicit knowledge can be conveyed through training and exercises, and generally the focus on knowledge sharing is explicit and tacit knowledge. 
There are also different approaches to knowledge sharing. 
Some have claimed that KM is about "applying the collective knowledge of the entire workforce to achieve specific organizational goals." Others have argued that KM is about "facilitating the processes by which knowledge is created, shared, and used in organizations." 
The former approach suggests that KM should focus on managing existing knowledge, whereas the latter suggests the focus should be on collecting and curating new knowledge. 
If you find these definitions confusing or even a little esoteric, don't worry. The only thing you need to really understand is that there are different types of knowledge, different ways to manage that knowledge, and if you fail to have a strategy in place you can end up wasting considerable time and money.
Can knowledge sharing help build an intranet business case?
Download our step by step guide to building a business case for your intranet.
Download our whitepaper
The power of intranet software for knowledge sharing
Intranet software offers a promising solution to effectively manage knowledge because it allows organizations to manage both tacit and explicit knowledge with ease. 
Here are five examples of how our customers captured tacit and explicit knowledge in their workplace: 
1. Procedure management
Client: MEC
Knowledge type: Explicit
Goal: Capturing new knowledge
Mountain Equipment Co-op (MEC) is a retail co-op that sells outdoor recreation gear and clothing exclusively to its members. After a rapid expansion in the mid-2000s, MEC turned to an intranet to overhaul internal communications and cultivate a more collaborative, two-way style to help knit together their organization. 
As a part of that project, MEC created a procedures section within their intranet where they added new procedures as and when they were created. For example, a new "Annual Inventory Count" was added that details how an inventory count should be executed. 
Because this information is hosted on their intranet, all employees can easily access these instructions, and suggest updates or improvements where applicable.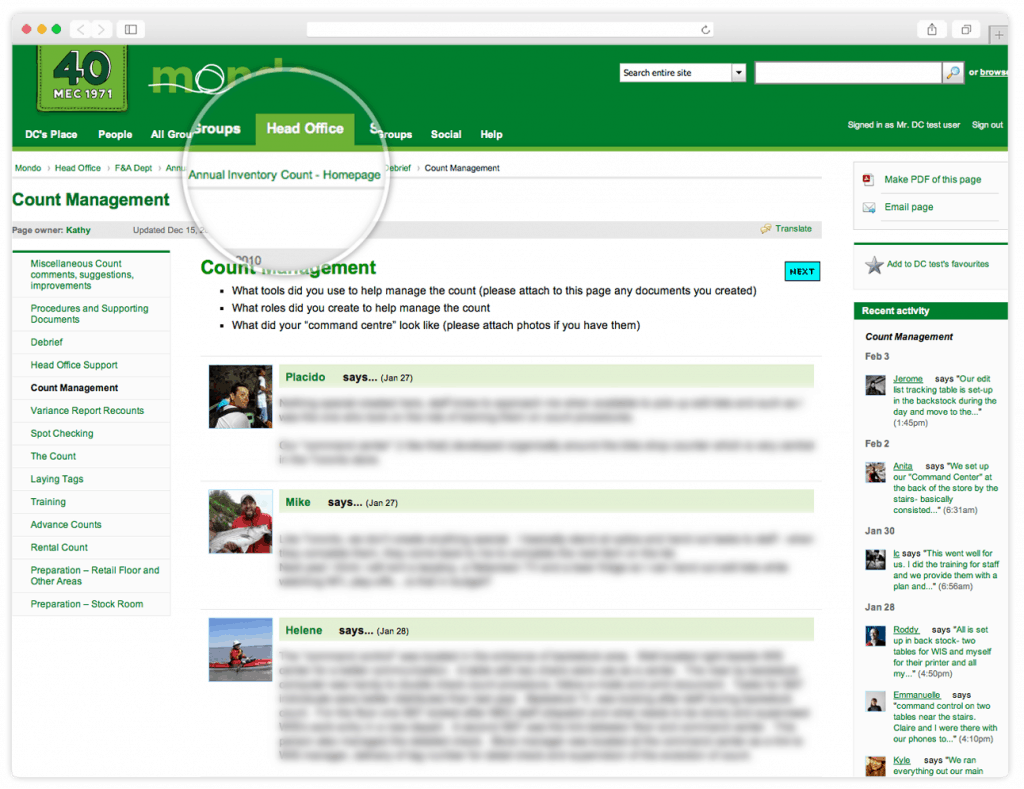 2. Idea management
Client: YVR Airport
Knowledge type: Tacit
Goal: Capturing new knowledge
Vancouver International Airport (YVR) is the second busiest airport in Canada. With a core team of over 450 employees, YVR is also a top employer in British Columbia and prides themselves on their innovation. 
One way they achieve consistent innovation is through the Innovation Garden located on their intranet. In this section employees are encouraged to share any valuable and innovative ideas they have that can contribute to the continual growth of YVR. These ideas become added to the 'garden', and depending on the success of the idea, will move through various stages from "seed" to "fully bloomed". 
Idea management is one of the best ways for capturing employee ideas and expertise to help organizations achieve and maintain a competitive edge.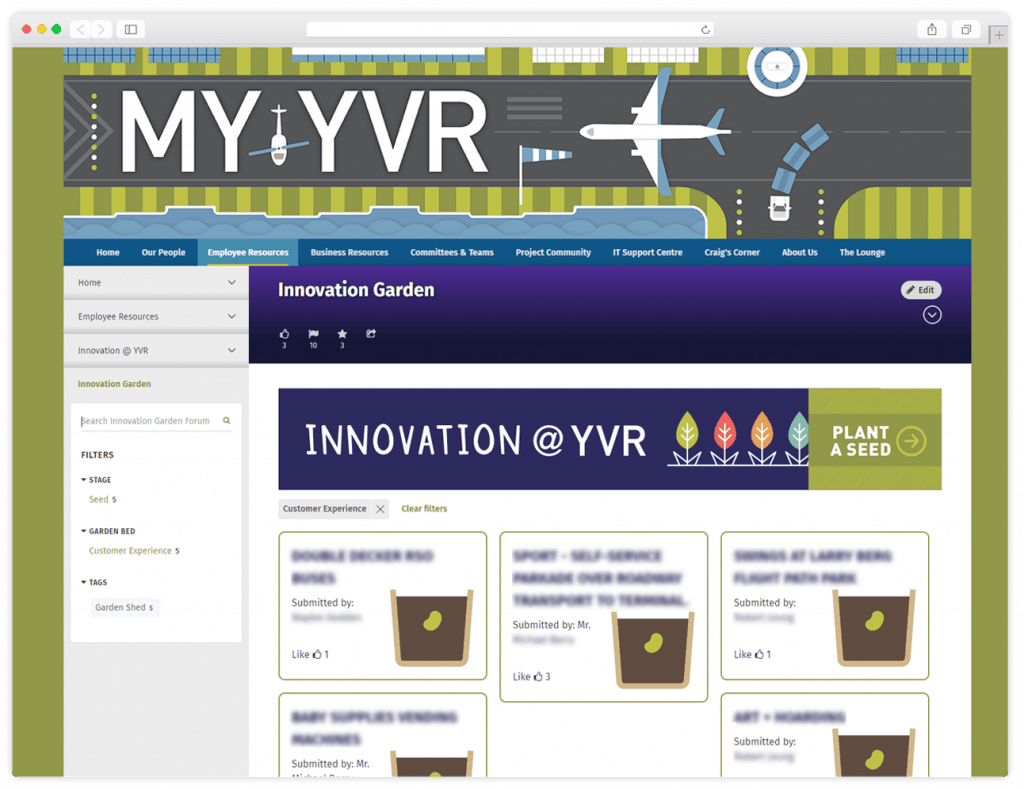 3. Expertise management
Client: FYidoctors
Knowledge type: Tacit
Goal: Managing existing knowledge 
FYidoctors is an eye care services company. Their business model combines an eyeglass store and optometry services into one retail experience. The employees are a diverse group ranging from optometrists to engineers, sales reps, to IT personnel. 
To ensure they captured tacit knowledge inside the minds of the subject matter experts, they created a forum on their intranet where opticians can ask each other questions, including non-medical questions such as how to file tax returns, or how to deal with challenging patients.  
Before launching their intranet, FYidoctors didn't have an organized location to store important documentation, or information relating to team members or clinics. Since deploying their intranet, the ease of access to these items has streamlined efficiencies and increased productivity, surfaced important information, and decreased mass emails.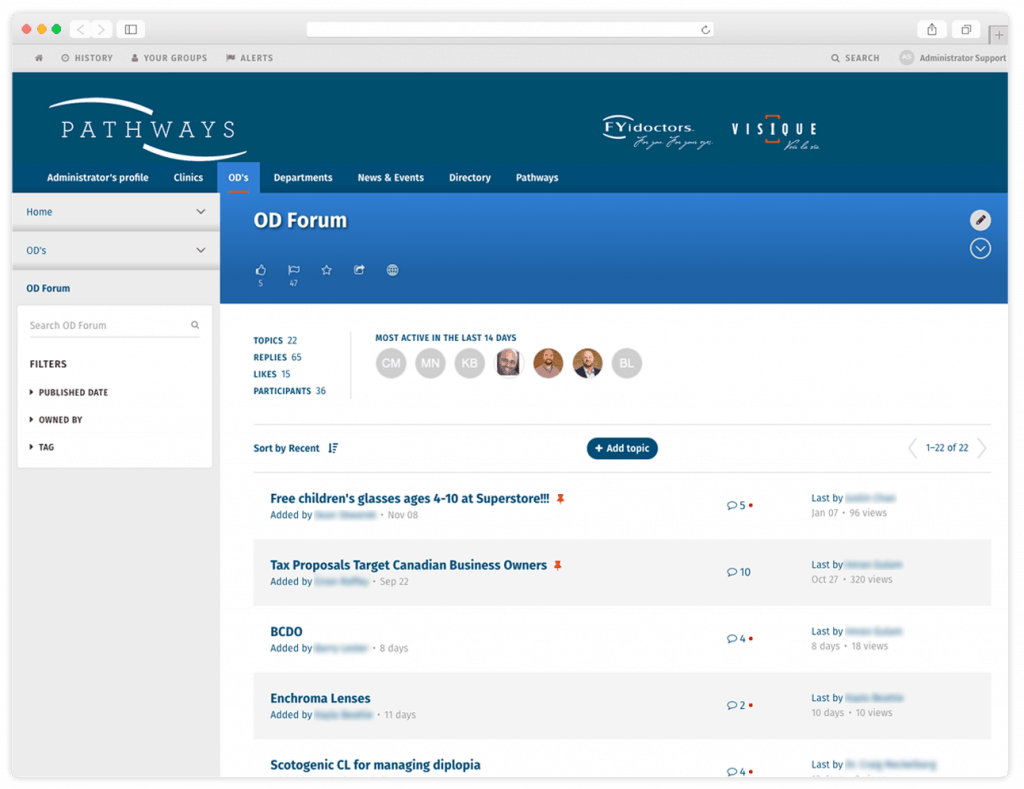 4. Critical information management
Client: VPD
Knowledge type: Explicit
Goal: Sharing critical knowledge
Sharing knowledge in policing remains a significant challenge for police forces around the world. Many law enforcement agencies don't know what knowledge they require and what knowledge they already have. Investigators from the the Digital Forensics Unit and Cybercrime Units (DFU and CU) of the Vancouver Police Department examine computers and/or mobile devices that may have been used as a tool to commit a criminal offence, or to store information storage related to a crime and report their findings back to the VPD.
The amount of information the DFU officers come into contact with in the course of their work is astounding. But this data isn't just a bunch of numbers; it's so much more. In the case of the DFU, the data was information and knowledge relevant to solving crime and ultimately protecting the community.
Since deploying ThoughtFarmer, the DFU's intranet now contains: standard operating procedures, training videos, software solutions, hardware solutions, equipment solutions, webinars, legal correspondence, High Technology Association information bulletins, and employee suggestions and solutions. The entire DFU and CU now uses daily ThoughtFarmer entries to manage multiple sets of knowledge and expertise.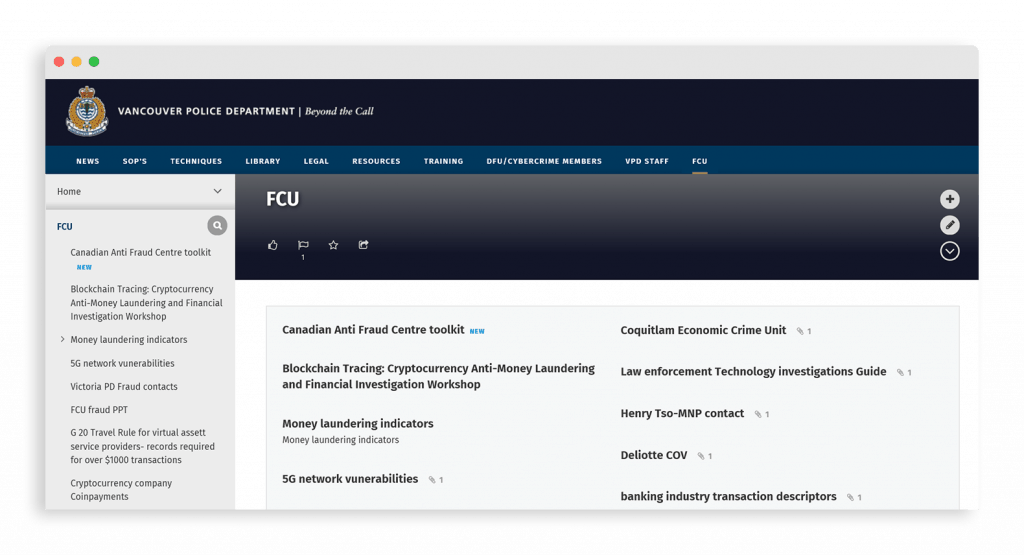 Have questions? Get in touch! We're always happy to hear from you.