In September, we put out a call for submissions to the ThoughtFarmer Best Intranet Competition. We challenged our clients to show us their best in 3 categories: Best-looking, Most Innovative and Best Collaboration.
The winners were unveiled at the 2011 Social Intranet Summit. Today, we're pleased to announce the winners to the world.
---
Best-looking intranet
---
Winner: WATG, Newport Beach, California

Who they are: Renowned destination design firm WATG has designed some of the world's most famous hotels and resorts, from The Atlantis in the Bahamas to the Emirates Palace in Abu Dhabi.
Why they won: Just like their projects, WATG's ThoughtFarmer installation is well-designed. It employs a neat, minimalist aesthetic that complements the stunning photography.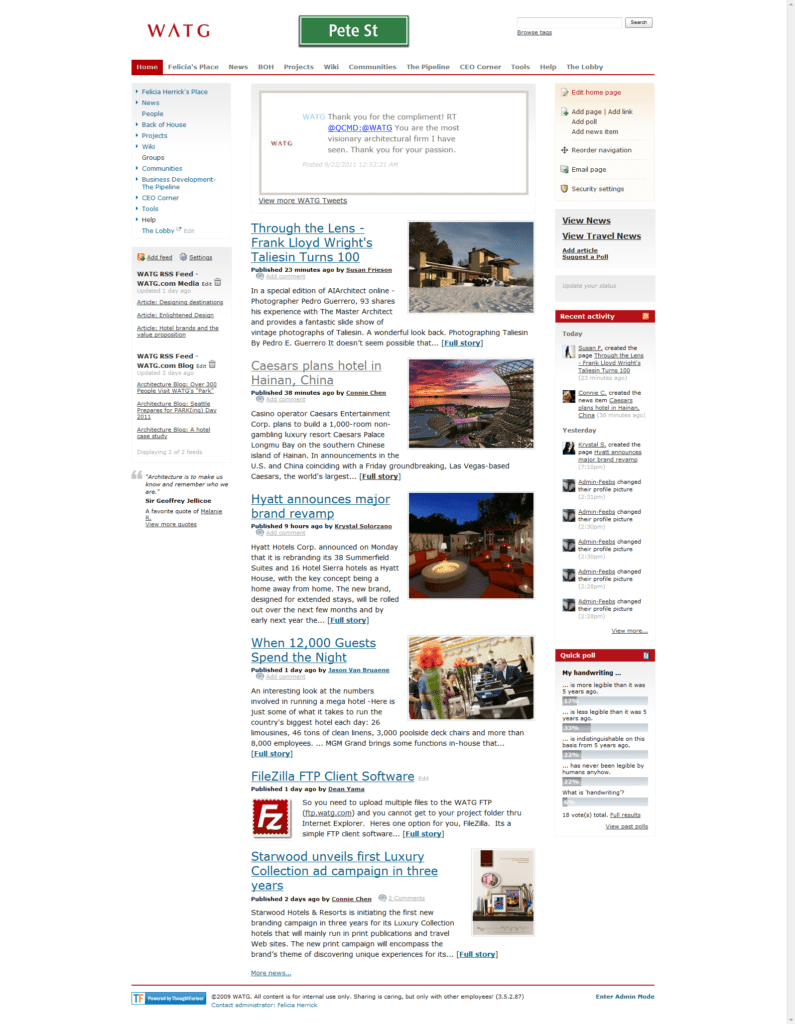 ---
Honorable Mention: Fortis Business Media, Nashville, Tennessee

Who they are: Fortis produces newsletters, videos, software, books, and directories to attorneys, human resources professionals, and other business executives.
Why they won: The name of Fortis's intranet, "The Pub", rolls right off the tongue so that users have incorporated its usage into the office vernacular -- and it's also a play on their core business of publishing. The look and feel is comfortable and inviting, taking design cues from an old English pub.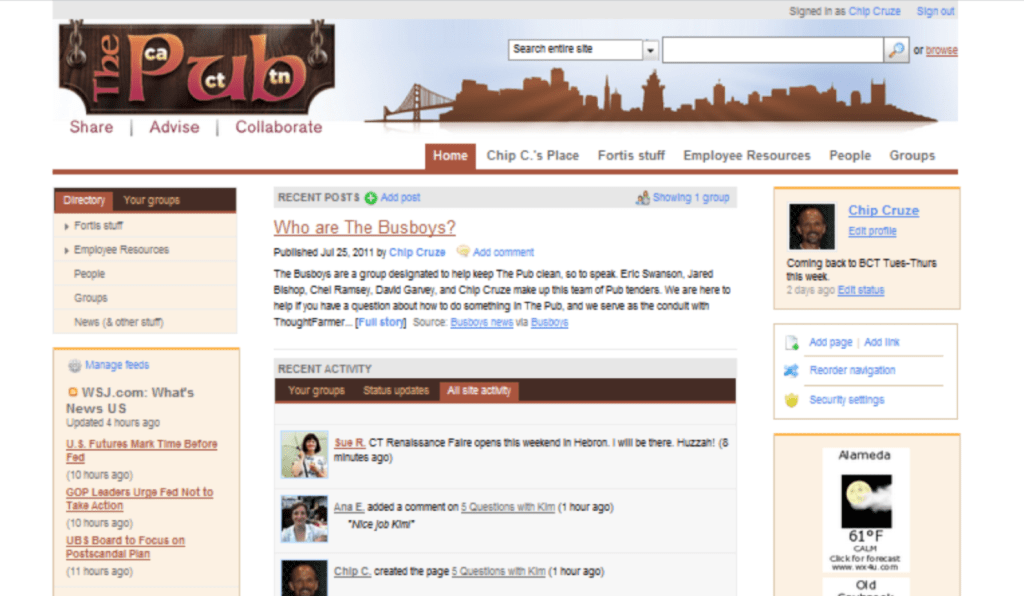 ---
Most Innovative intranet
---
Winner: KWL Consulting Engineers, Vancouver, Canada

Who they are: Kerr Wood Leidal specializes in water engineering for municipal infrastructure and resource development. They are employee-owned and strive to maintain an open, collaborative environment.
Why they won: Like many firms, KWL periodically refreshes the mobile phones of employees. Using ThoughtFarmer, they held an open auction for dozens of smart phones and raised money for charity. They created a page for each phone, then let employees submit their bids by using ThoughtFarmer's commenting features. The highest bid submitted before the deadline was the winner. In the words of Jonathan Funk, the intranet project manager, "In the end, we found a great new way to use our ThoughtFarmer intranet and raised $4230 for the Ronald McDonald House charity."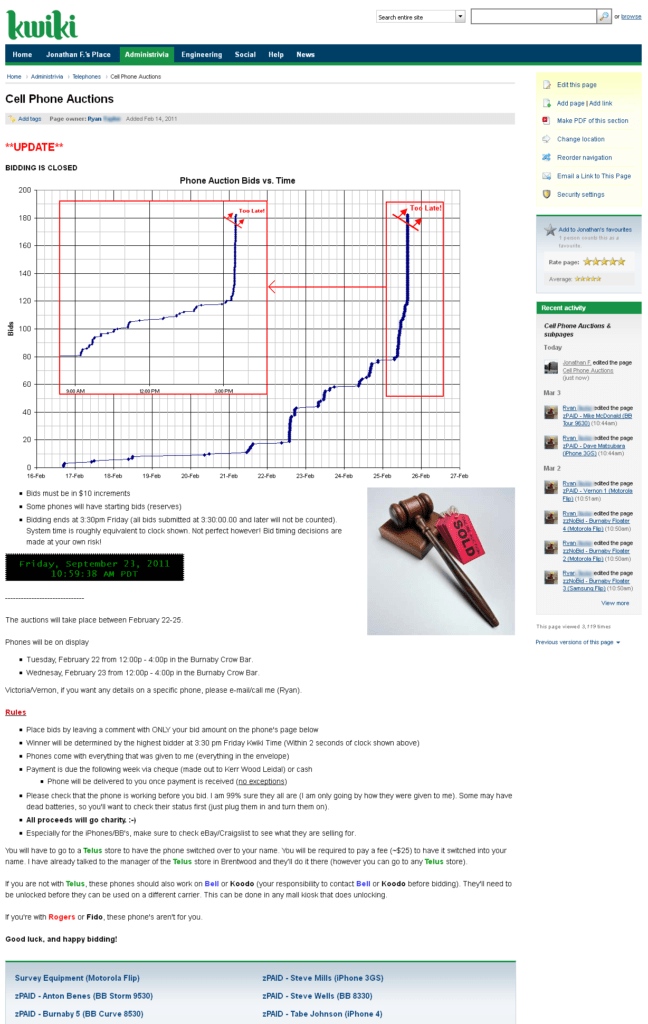 ---
Honorable Mention: Farm Bureau Bank, San Antonio, TX

Who they are: Farm Bureau Bank offers its banking services to members of the Farm Bureau, a U.S.-wide organization that strives to build strong, prosperous agricultural communities.
Why they won: Farm Bureau Bank created a "Shout-Outs" section on their ThoughtFarmer intranet. It's a place where employees can publicly thank (or "shout-out") a fellow employee or even a department for assisting with work-related issues. This kind of public recognition enhances employee engagement, which is a critical function of FBB's ThoughtFarmer intranet.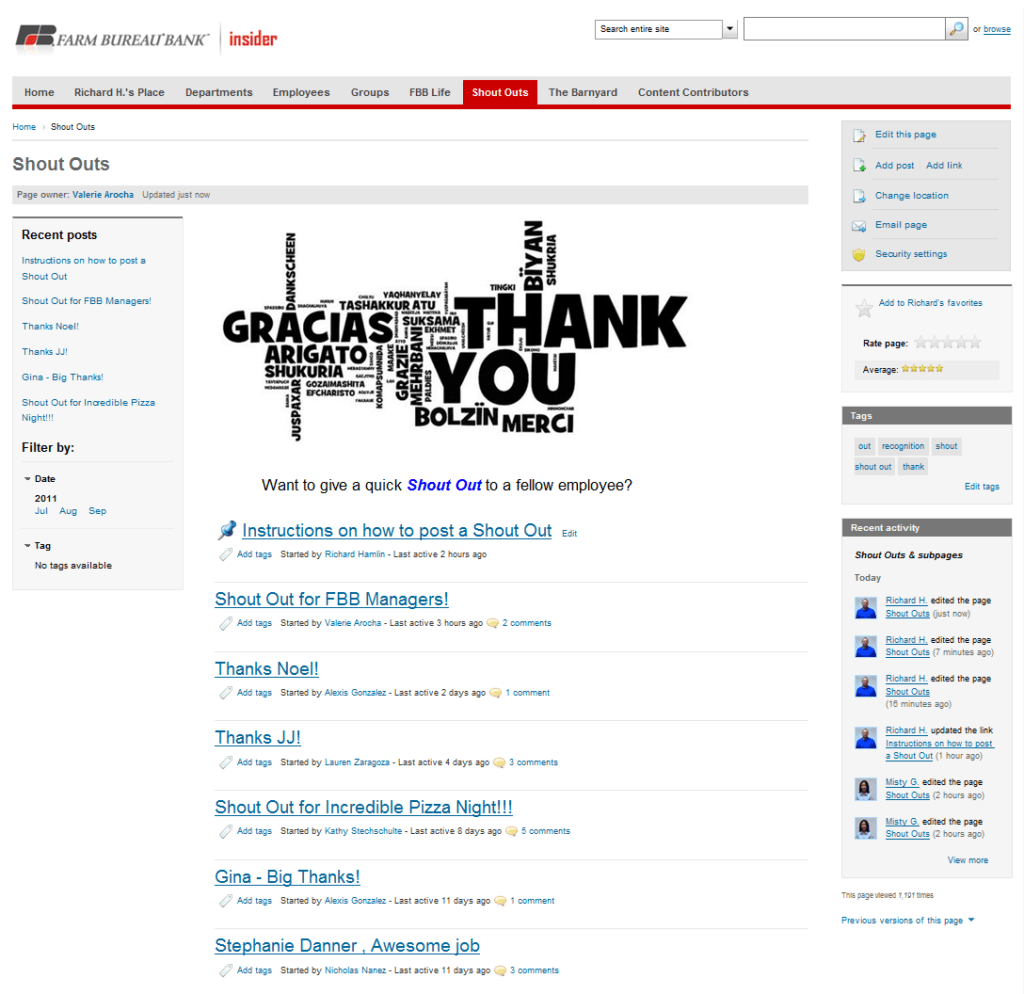 ---
Best Collaboration on an intranet
---
Winner: ACRONYM Games, Burnaby, BC, Canada

Who they are: ACRONYM Games in Vancouver designs popular video game titles like Family Guy Online, Wipeout The Game, and Monkey Island.
Why they won: Prior to publishing a game, ACRONYM does "smut and copyright reviews" to make sure the game's assets comply with the appropriate standards. Prior to ThoughtFarmer, they were forced to do this via lengthy and confusing email chains. Now it's done entirely in ThoughtFarmer using image galleries, commenting and version control.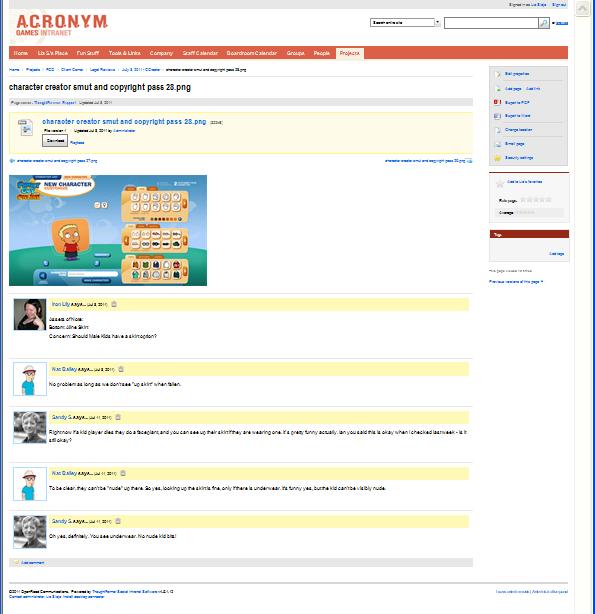 ---
Honorable Mention: Design Continuum, Boston, MA

Who they are: Continuum is a global design innovation firm. They design services, brand experiences and products. Some of their best-known innovations include the Reebok Pump, the Swiffer Sweeper and Pampers Pull-ups.
Why they won: Continuum has made extensive use of ThoughtFarmer's custom profile fields to help them locate experts. Their employee profiles capture employees' skills and attributes, from visas held to languages spoken to social style. According to Brendan Mullen, Continuum's IT Director, "If I'm looking for a French-speaking PHP expert with a current visa for China, I can do that with a few clicks. In an organization with offices on 3 continents, that's huge."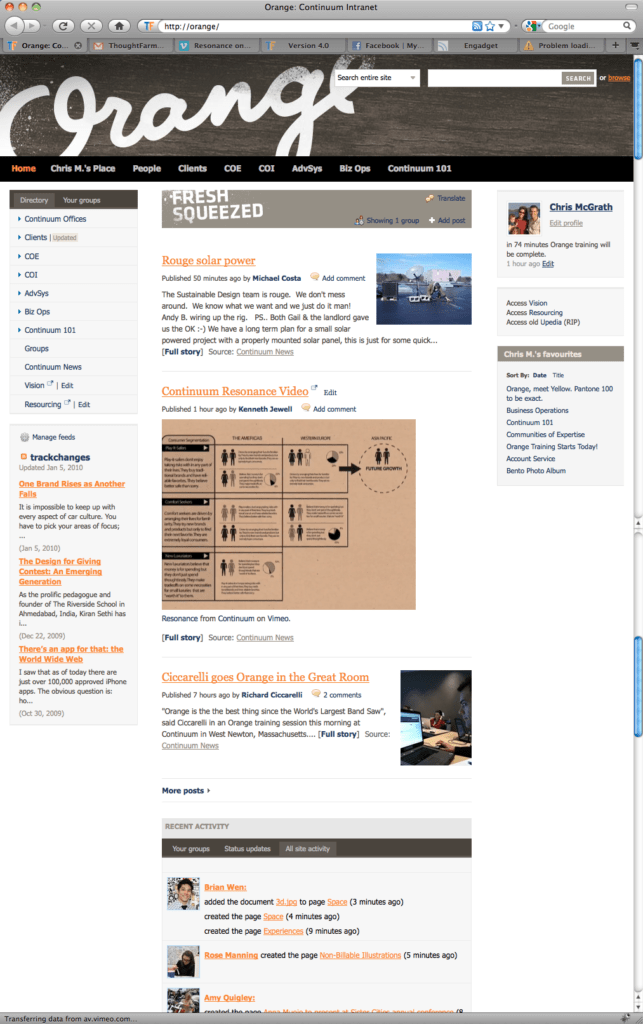 ---
Winner of the iPad Draw
All entrants were automatically entered in a draw for a new iPad 2. We were amused that the name we drew meant that our shipping charge would be almost as much as the iPad itself! Congratulations to our client DFDL Mekong in Phnom Penh, Cambodia.
Look for the next ThoughtFarmer Best Intranet Competition in late 2012!
Have questions? Get in touch! We're always happy to hear from you.