I don't know about you, but I am done with paper forms. 
They are useless, wasteful, cumbersome, and completely unnecessary. Besides, after a pandemic, does anyone really want to touch paper, clipboards, or pens? 
In 2019, when we launched FormFlow, our intranet form builder, it was an instant success. Our customers jumped at the chance to build and manage forms directly within their ThoughtFarmer intranet. 
But even though this was a huge accomplishment, we realized that there were still many employees unable to access these intranet forms—like deskless employees or frontline workers. This is why it was important for us to ensure complete form functionality was available on our new mobile app. Any ThoughtFarmer user can create, edit, manage, or 'submit' any form from their mobile device. 
Things like vacation requests, business card orders, employee surveys, address changes, benefits enrollments, or technology upgrade requests can now be automated from within your mobile device.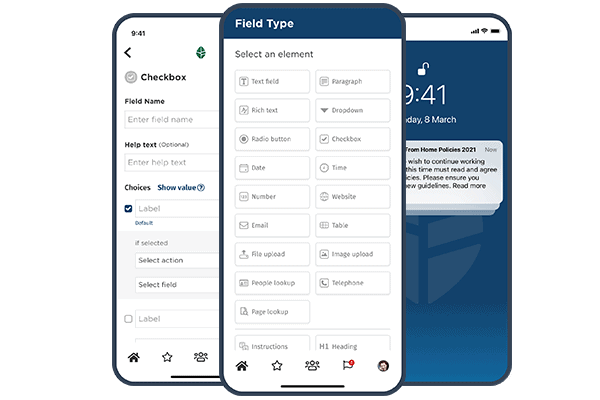 Within seconds, users can submit urgent information request forms, or order equipment and parts on the fly. Or, for those who come into the office or attend events, they can fill out a COVID-19 self-assessment form for everyone's safety. Another common use case is sending out and completing a survey immediately following an event or training session. 
Meanwhile, managers benefit from knowing they can approve form-based requests anywhere, any time, unblocking critical workflows and serving their team's needs. In other words, being away from your desk is no longer an acceptable excuse for being a blocker in these types of requests. 
How are our customers using intranet forms?
The New West Police Department likes that mobile forms can be completed by users outside their building. During COVID-19, mobile forms have improved safety in their workplace as visitors and prisoners in their jail cells can complete COVID-19 screening questions before entering a facility. 
Outcome: Increased safety measures.  
Publishing company PCI,  is one of our biggest users (and fans) of FormFlow. As a company who maintains leadership transparency and accountability, PCI uses FormFlow to create a direct connection between employees, and the PCI president, Drew Clancy. Drew's Red Button is a feature on PCI's intranet that allows employees direct access to him. When an employee 'pushes' the red button, Drew is instantly notified via email. With the mobile app, now everyone can take Drew's Red Button along with them and instantly connect to him, wherever they are.
Outcome: A true open-door policy, high employee engagement.
To ditch paper forms and to learn more about how you can manage your intranet forms through our new mobile app, click here. 
Have questions? Get in touch! We're always happy to hear from you.