If you haven't already explored it, we launched a feature, called FormFlow that made it easy to create forms within your intranet.
Why is this important? Because things like vacation requests, business card orders, volunteer sign-ups, employee surveys, address changes, benefits enrollments, travel reservations, or technology upgrade requests can now all be automated from within your intranet.
These custom forms also allow you to capture important data with a built-in approval process (we actually hosted a webinar on it if you want to check it out).
Below is a quick peek into what FormFlow looks like, and how to navigate the Form Builder.
How our form builder makes it easy to create intranet forms
The form builder works like a setup wizard, allowing you to quickly create and publish a new form. The builder uses simple drag-and-drop features to allow you to customize your form and includes tools to help you establish workflows, messaging, and permission settings.
If you like this blog, you'll love our newsletter
From workbooks and whitepapers, to blog content and best practices, our monthly newsletter is full of great content, advice, and expert insight.
Users begin by accessing the form builder from their profile drop-down menu.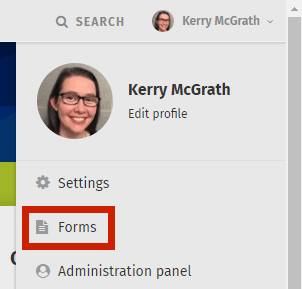 A user then clicks on Add a form. A modal appears, asking for the name of your new form. Type in the name and click Save to launch the builder.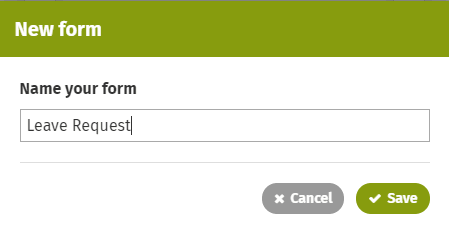 Your form is now in draft mode. It will stay in draft mode and only you will be able to see it until you click the Launch button.
The form builder has four navigation tabs: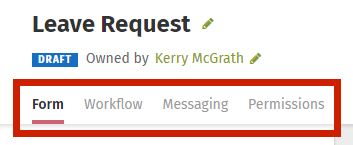 Form - Lets you add the form features and fields you need end users to complete.
Workflow - Allows you to apply multiple steps to a form to build a business process. The steps can be assigned and re-assigned as the form moves through the process.
Messaging - Lets you create custom messages, form descriptions, action buttons, and entry titles.
Permissions - Allows you to view and set permissions for the form such as a viewer, submitter, and administrator.
Form elements are all of the various fields and form content you can add to your form. There are options for paragraph text, different versions of multiple-choice scenarios, image or content blocks and more.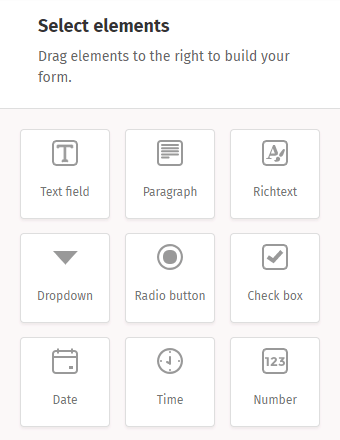 The main workspace is where you will build the form itself. You can drag elements from the menu on the left and drop them into the workspace, or you can choose to use an existing form as the base for your new form.

The More Details area is a section of the Form Builder that contains key pieces of information about the form, as well as some administrative tools.
Access the More Details section by clicking on the downward arrow button next to the launch button.

The More Details area lists:
Form Owner - You can click the user's name to go to their profile. You can also click the edit icon to change who the form owner is.
Created - The date the form was created.
Last Updated - The time of the last update and the name of the user who made the update.
View Activity - Clicking this will open the activity modal for the form.
Duplicate - Clicking this will create a duplicate form with the default name "[Current Form Name] COPY". All fields, workflow settings, messaging, and permissions are copied but the form activity and data are not.
Archive - Clicking this will archive the form.
Delete - Clicking this will open a confirmation that, when accepted, will delete the form.
Once you have built your form, you can move through the remaining builder tabs until the form and its associated process are customized to your needs.
When you are satisfied that your form is complete, click Preview to see how your form will look live, or click Launch to publish!

Remember, you can always edit, modify, archive, or delete your form after it is launched. Optimizing your intranet forms may take a little trial and error, and there are many school of thought on what exactly makes an ideal form, but it's safe to say that the longer your form, the less inclined people will be to fill it out.
If you are interested in seeing FormFlow live in action, watch the webinar or contact us for a demo.
Have questions? Get in touch! We're always happy to hear from you.