When the majority of employees were suddenly forced to work remotely last month, many IT departments were left scrambling to configure laptops, setup VPNs, and license video conference software to allow their employees to work remotely. 
For many companies (particularly those without a Business Continuity plan) the first couple of weeks of remote work looked more like a fire drill than a smooth roll-out. 
One month later, most organizations have overcome technology hurdles, but managers and team-leads are now facing a new set of questions:
What other tools and technology do we need to support a remote or hybrid workplace? Do my employees know how to use these tools? How do we track their productivity? Are we creating the same kind of value for our market before we switched to work from home? Is there an opportunity to be even more productive than we were previously?
The concern with employee productivity is nothing new. But unlike an early Ford factory you can't just count the number of items coming off the assembly line and use that as a measure of success. Productivity isn't just about quantity. We might be tempted to assign a formula for productivity, but that won't work for knowledge workers. And today, we are all knowledge workers.
Measuring productivity is challenging because not all forms of productivity are quantifiable. Add in the element of a newly created remote workforce, and understandably many managers are concerned. 
However, remote work does have its benefits. And just because it's difficult to measure, doesn't mean it's impossible. The best approach uses both quantitative and qualitative methods. 
Start with a baseline survey
Before understanding the productivity of your employees, you need to first establish a solid baseline of current productivity and intranet usage. One of the easiest ways to do this is through an employee survey. Once you have this baseline, you can continue to measure and understand what is working and what isn't. 
We've written a few posts related to surveys: How to Create an Intranet Evaluation Survey, and Designing, Launching, and Analyzing your Intranet Survey. These articles will help you understand what questions to ask on a survey, and how to analyze the results. 
Surveys are excellent for measuring improvements in time spent searching for important documents or subject matter experts. Locating the right information and colleagues can be a time consuming process, so if you can make this easier, your employee productivity will soar.
If you like this blog, you'll love our newsletter
From workbooks and whitepapers, to blog content and best practices, our monthly newsletter is full of great content, advice, and expert insight.
Leverage your intranet analytics 
Hopefully your intranet comes with an analytics package that will help you set up specific goals and objectives to measure. 
ThoughtFarmer Analytics differs from traditional analytics software in that it tracks more metrics about your visitors (such as their names and departments), and also tracks key intranet-specific metrics such as page edits, page creation, and comments. 
Start by measuring reach. Reach (the number of employees using your intranet) tells you the percentage of employees visiting your intranet. ThoughtFarmer begins measuring reach as soon as employees begin interacting with their intranet. If you have important policies for employees to read, or specific instructions that must be adhered to, reach will tell you who has read what. 
Next, dive into some of the detailed intranet metrics such as views, visits, bounce rate, average time on site, etc. These metrics are useful in understanding what employees are reading on your intranet, what they are looking for, and what they are doing on your intranet.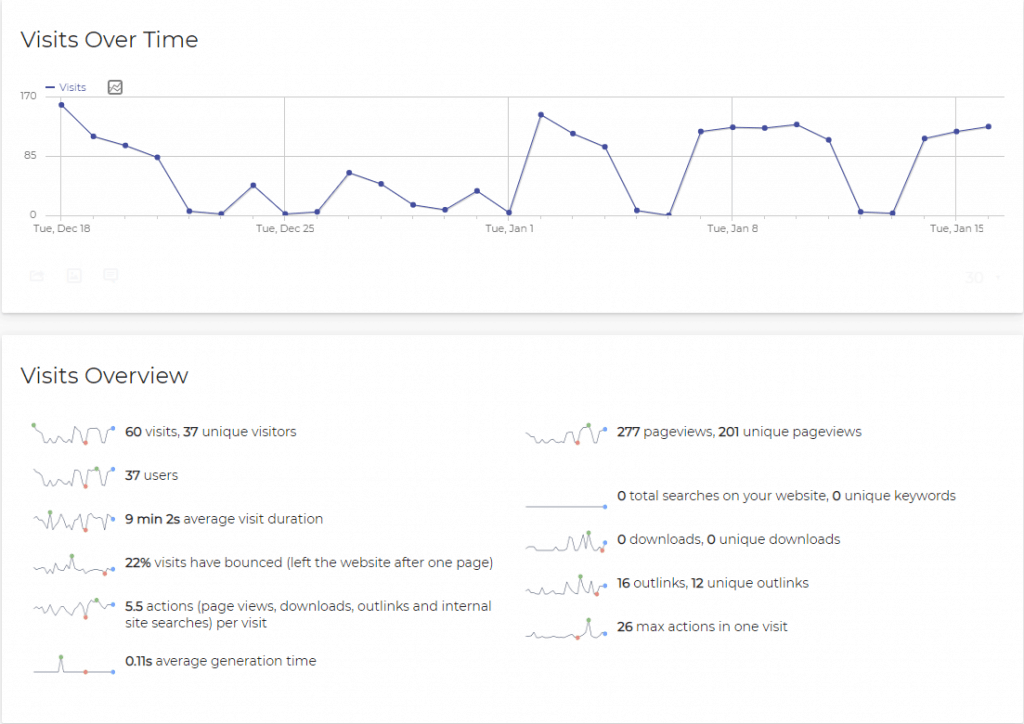 You can also learn a lot by examining metrics like top commenters, top searchers, and top viewers. Depending on how large your organization is, you might want to segment this by role, team, or location. Segments help you display tracking data relevant to your reporting needs. 
Define your own KPIs
Every organization will measure productivity differently. Discuss what intranet success/intranet productivity looks like with your key stakeholders, and then determine which metrics your organization needs measure to reach that target. 
For example, your goal might be: reduce the length of customer service calls. This goal might be achieved by creating a knowledge hub on your intranet that equips customer service reps with detailed information they need to respond to quickly respond to customer inquiries. 
The analytics within ThoughtFarmer allow you to create specific goals that help identify and track business objectives. You can define goal name, goal type, and even goal pattern. Some common goal examples include: newsletter subscriptions, content download counts, and the number of profiles created or edited.
Working out loud
Perhaps the most transparent way to understand and recognize productivity is through what is commonly referred to as "working out loud" (WOL). 
WOL is a term used to describe sharing work openly on a collaboration platform. Examples include employees posting about their priorities for the day, or openly requesting feedback on a project or document. 
WOL isn't new, but it's gaining traction as we all adjust to new remote work environments. An intranet easily facilitates WOL because it provides an employee directory for locating colleagues and experts, as well as serving as the platform to share documents and hold discussions with colleagues, teams, or departments. 
Happy employees are productive employees
One final note, the quest for productivity shouldn't come at the expense of burnt out, or unhappy employees. 
It's understandable that employers may think working from home means less work. However, studies continue to refute this. Research reveals that telecommuters "worked 1.4 more days every month, or 16.8 more days every year" than people who worked in an office. 
Your employees are your biggest asset, and while it may feel cliche, culture really does trump strategy. This is why it is more important than ever to treat employees with respect and compassion. 
Research found that a workplace characterized by positive and virtuous practices can also positively impact productivity. These positive and virtuous practices include:

Caring for, being interested in, and maintaining responsibility for colleagues as friends.

Providing support for one another, including offering

kindness

and compassion when others are struggling.

Avoiding blame and forgiving mistakes.

Treating one another with respect, gratitude, trust & integrity.
Such behaviors work for many reasons, particularly because they act as a buffer against negative events like stress, thereby improving employees ability to bounce back from challenges. And not surprising, happy employees lead to increased productivity, customer satisfaction, employee engagement, and profitability. Who can argue with that? 
Have questions? Get in touch! We're always happy to hear from you.