As we have learned in the last 12 months, even those of us who are desk based aren't feeling as connected to our colleagues as we once were. 
With many employees working from home, 'work' has become something we do, rather than a place to go. This has made it more challenging for employees to stay updated and informed on critical news and information. Water cooler chats, ad-hoc conversations, and lunchtime discussions aren't happening anymore—or at least not at the frequency that they were prior to the pandemic. 
Employees want and deserve to stay connected and updated in the workplace, while employers require mediums to communicate and push out urgent information. This is where our new mobile app really shines. 
Native to both iOS and Android, the ThoughtFarmer mobile app is a great way to stay connected and notified about important news or updates. It's also a great way to improve the adoption of your intranet since the in-app experience is the same as the web experience (no watered down functionality or app-for-the-sake-of-an-app here). 
Here are six business challenges you can solve with the ThoughtFarmer mobile app.
Keeping employees up-to-date and informed on urgent situations
Through either push notifications employees are instantly notified on important company news, updates and even emergency situations. This is useful for non desk employees or employees that have temporarily stepped away from their work. The benefits are instant updates, a connected workforce, and potentially increased employee safety. 
What do award winning intranets look like?
View a collection of our best designed intranets.
Download now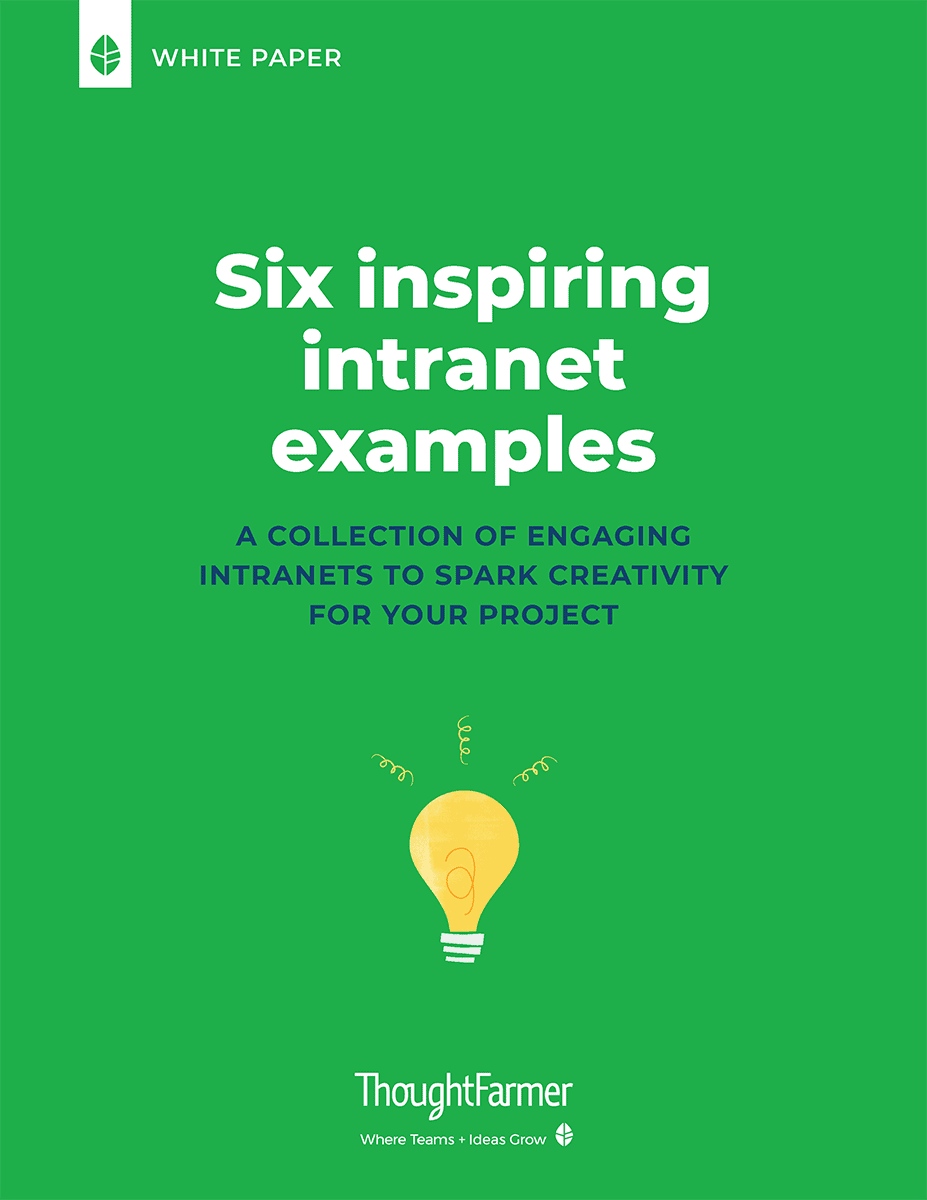 Disseminating important news
The mobile app makes it easy for HR and comms professionals to send regular news, announcements, and policy changes via an organization or department-wide broadcast.  Employees stay connected no matter where they are: at the office, working from home, or traveling. And the organization benefits from an informed and knowledgeable workforce, and improved business decisions.
Capturing critical images and media
Many employees, particularly field and service employees, benefit from the ability to share images and videos of their work. Whether it's assisting customers, surveying the area, or troubleshooting issues, the app makes it easy to share any visual and audio content captured on their devices directly onto the intranet. It's also a great way to exchange photos from team outings, company get-togethers, and volunteer events, creating a sense of community.
Quickly locating content (and people!)
No one wants to waste time when it comes to searching for information or content on their intranet. The mobile version of search is just as powerful as our popular desktop version. Employees can easily search the intranet as their single source of truth, and bookmark the pages for quick recall later. They can confidently find content, conversations, and experts even when away from the office. All employees benefit from  an instant knowledge base. 
Simplifying business processes
It took a pandemic for most of us to see the value of online forms. Our mobile app helps frontline workers submit urgent information request forms while assisting their clients.  Or site workers can order equipment and parts "just-in-time". For those who come into the office or attend events, they can fill out a COVID self-assessment form for everyone's safety. Meanwhile, managers benefit from knowing they can approve form-based requests anywhere, any time, unblocking critical workflows and serving their team's needs.
Communicating in multiple languages
The ThoughtFarmer app supports 13 different languages, making it easy for employees to consume and contribute content in their language of choice. Coupled with auto translation, the mobile app delivers a truly multi-lingual experience to ensure the highest intranet adoption. 
Interested in seeing the mobile in action? Click here to learn more, or download the ThoughtFarmer mobile app from the App Store.
Have questions? Get in touch! We're always happy to hear from you.