If you aren't using video to communicate with your employees, you are making a big mistake. And if you aren't hosting videos on your intranet, you are making an even bigger mistake. Why? Because one of the most impactful ways of disseminating information in the workplace is through video. 
Video communication helps us deliver internal messages about upcoming corporate changes, employee updates, new initiatives, or any other organizational information within seconds. Video is a powerful medium because it enables organizations to weave in emotion and tell a story better than words on a page.  
All of this makes it much easier for employees to relate to, and remember, what you need them to know.
If you are looking to improve employee engagement with video content, you'll definitely find this article useful. You will learn everything you need to know about how internal communication videos can improve employee engagement:

Internal communication video definition

How video helps internal communication

Examples of video communication in the workplace 
What are internal communication videos?
Internal communication videos are defined as videos that distribute information within an organization.
There are three main types of videos used for internal communications: executive messages, training videos, and celebrating successes.
Executive messages, often run as town hall meetings, are an excellent way for leadership to communicate with employees. These meetings themselves are nothing new, but the addition of video has made it easier for organizations to reduce costs and travel, while allowing employees to view on-demand at their leisure. 
Training videos are educational videos recorded and edited to help a target audience learn new skills and improve existing ones.
Videos that celebrate success allow organizations to capture and share victorious moments and celebrations. 
How video helps organizations as a means of communication
Second only to face to face communication, there is no better way to share information internally than by video. Video provides a platform to engage, train, and communicate effectively with all employees, especially remote workers. 
Employee engagement surveys have proven this to be true — according to Forrester Research, employees are 75% more likely to watch a video than to read documents, emails, or web articles.
Video is also a powerful medium because it appeals to various learning styles. If you are unfamiliar with the VARK learning model, it categorizes learning styles. These include: auditory, read/write, visual, and kinaesthetic. Because video incorporates visual, auditory, and sometimes even interactive elements, it has the most potential to reach and captivate your audience. 
Now that we know what internal communication videos are and how they improve internal communication, let's dig into how organizations are using video in the workplace.
Examples internal video communication in the workplace
So what does good look like? And how can you start incorporating video into your internal communication strategy? Here are a few examples of the types of videos you should consider creating in your workplace: 
Executive messages that convey emotion
There is no debate that video is excellent for conveying emotions. This is because video helps tell a story better than any other medium (if you doubt this, consider the exponential growth of TikTok). 
This is why many executives choose video as their platform of choice for critical announcements. It allows leadership to convey important information in a meaningful way.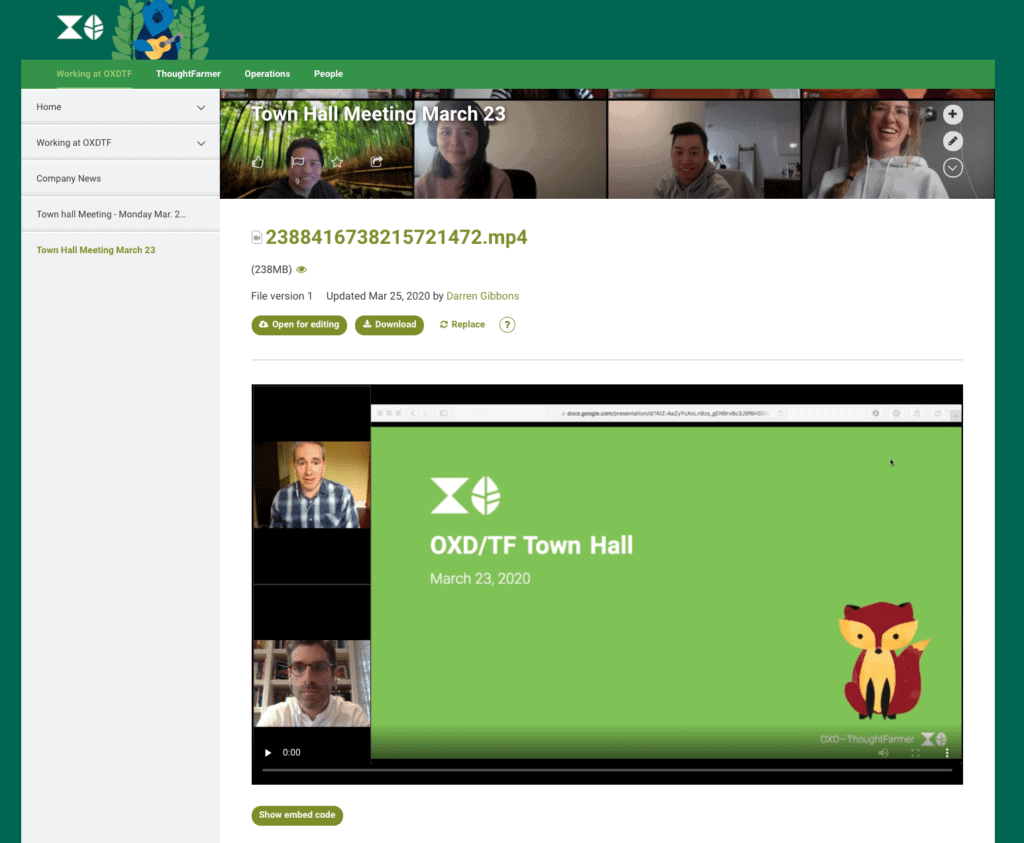 Training videos when you can't be face-to-face
Video-based training started gaining momentum long before the Covid-19 pandemic. It's effective because it's shorter and more engaging in nature, and reduces cognitive overload and maximizes retention. 
The reason that video lends itself so well to learning is because the human brain processes videos 60,000 times faster than it does text, according to a Psychology Today article "Video vs. Text: The Brain Perspective."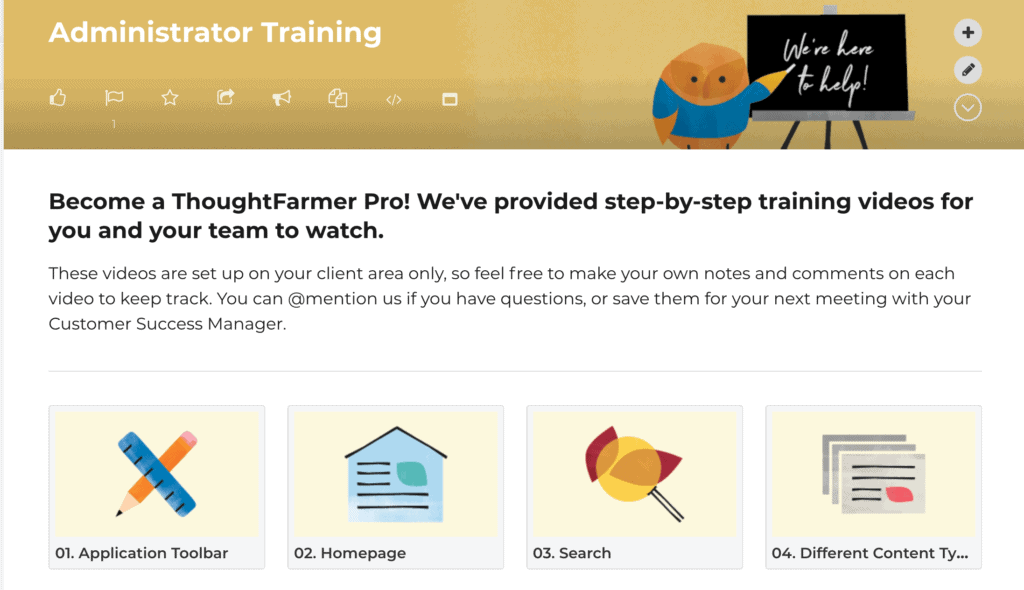 Celebrating company culture during a rebrand
Culture change can't be a top down initiative–it's a set of shared values and expectations that employees create together. 
Piksel could have tried to 'announce' and 'enforce' a new shared culture, but instead they took a collaborative approach. They appreciated that each office brought something unique to their new company.
To celebrate this, they launched a video contest, where each office submitted a video celebrating their office culture. Each video was streamed live on Popsikel (their intranet) and the winner was announced live. This meant everyone could participate, regardless of whether they worked in an office or virtually. 
Shortly after, all the videos were added to Popsikel for employees to watch again, and to vote for a People's Choice winner, using ThoughtFarmer's polling function. All 12 offices got involved, with the office in Malaga, Spain being crowned the winner.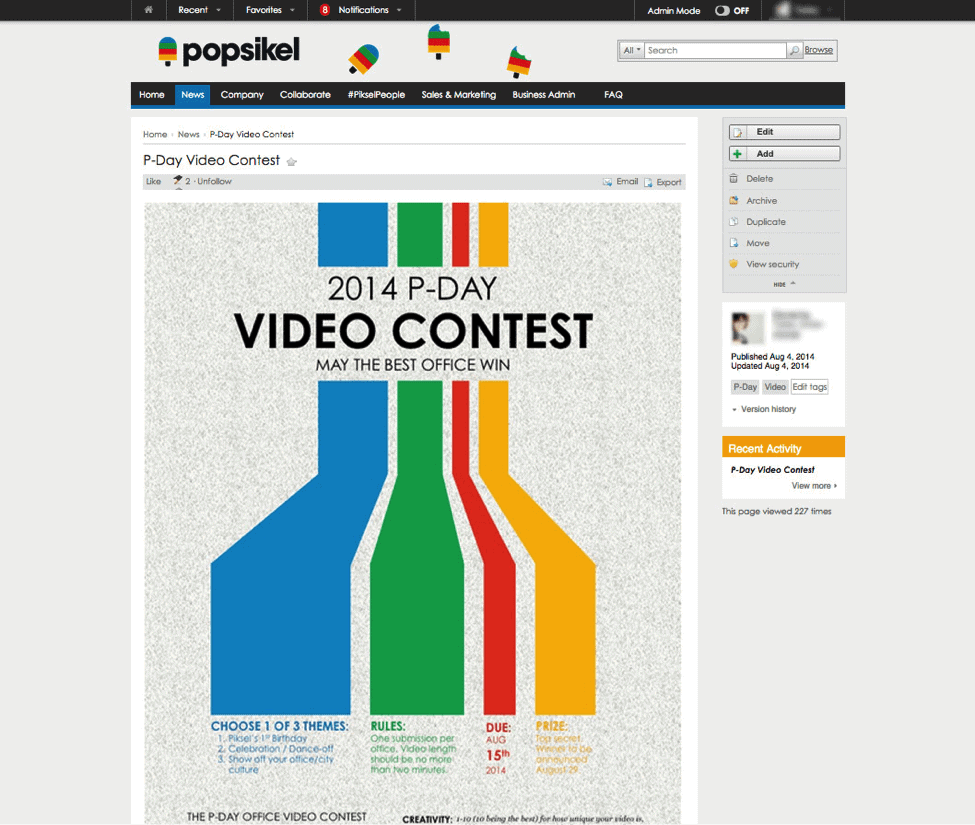 Technology behind sharing videos internally
In the past, aspects of using video for internal communications made them, well, less appealing. 
Before modern intranets, it was difficult for enterprise networks to host videos securely, requiring communications teams to use external platforms (such as YouTube), causing potential privacy and confidentiality risks. 
Intranet technology used to be slower and producing videos was more complex. In our current digital age, these are no longer issues. 
Producing, consuming, and distributing videos is now simple and easy to do using a company intranet like ThoughtFarmer. Embedding videos is a snap, making rich content accessible to employees at any time.
Final Thoughts
While the growth of video may feel like a temporary fad, video has superior communication benefits that were realized long before the pandemic. 
No matter how engaging your other content is, chances are your employees will prefer to watch a video over reading documents, emails, or online stories. And the more we can connect and communicate to employees, the more we can reduce employee turnover. 
Video is persuasive, cost effective, and can appeal to various learning visual, auditory and kinaesthetic learners.
Have questions? Get in touch! We're always happy to hear from you.