Most of us associate Valentine's day with chocolate and flowers to our significant others, but February 14th is also an excellent time to show appreciation and gratitude to your colleagues! 
Research shows that engaged employees are more productive and less likely to seek out a new job. Of the employees that do leave, one study found that 50% of them would stay if they were tangibly recognized. Another study revealed that 40% of employees who "do not feel meaningfully recognized will not go above their formal responsibilities to get the job done."
It's a frustrating time for many employees who continue to balance remote work, mental health, child care, and homeschooling etc. It's times like these where employee recognition is more critical than ever. So don't wait for an annual employee review to tell a colleague how amazing they are—use that time now! 
Intranets are a great place to recognize and applaud the amazing achievements by your employees. Here are four ways to show employee recognition in your intranet: 
Deliver some praise 
Shout-outs are a great way of empowering employees to recognize each other for their outstanding contributions, and are easy to deliver within ThoughtFarmer. As a 'virtual candygram', a Shout-out could be given for anything from a successful sale, a great presentation, or even recognition for juggling work and homeschooling duties. The great thing about Shout-outs is that they can be configured so everyone in the organization sees them, or they can be sent to a specific group or group page.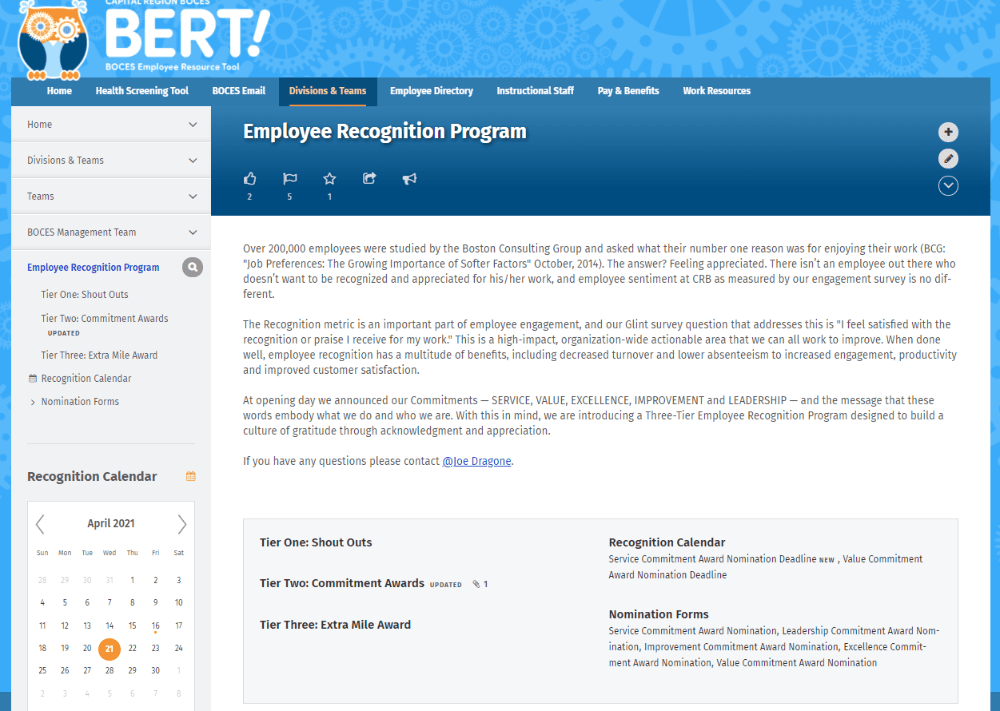 Highlight a teammate
With many of us now working remote it can be challenging to get to know your colleagues. It's not like before when we could just walk by someone's desk and say "Hey, is that a picture of your dog? I have a dog too!", and watch the rapport grow from there. Our Teammate Spotlight card in ThoughtFarmer works by randomly selecting an employee to display on any page. This can be customized, so if you want to provide a more personal slant, you can choose to highlight things like hobbies or interests. Similarly, if you want to focus on areas of expertise, you can highlight specific skill sets. 
Ready to build your intranet business case?
Our whitepaper walks you through every step necessary in building your intranet business case.
Download our whitepaper
Incorporate gamification
Many of our customers incorporate gamification into their intranet to reward employees for specific actions or behaviors. As part of an employee recognition program, and to create a culture of appreciation, consider adding in gamification badges to your intranet to praise employees. You could even reward an employee who sends out the most amount of 'love'. When executed correctly, gamification is also an excellent way to get your users engaged on the intranet platform.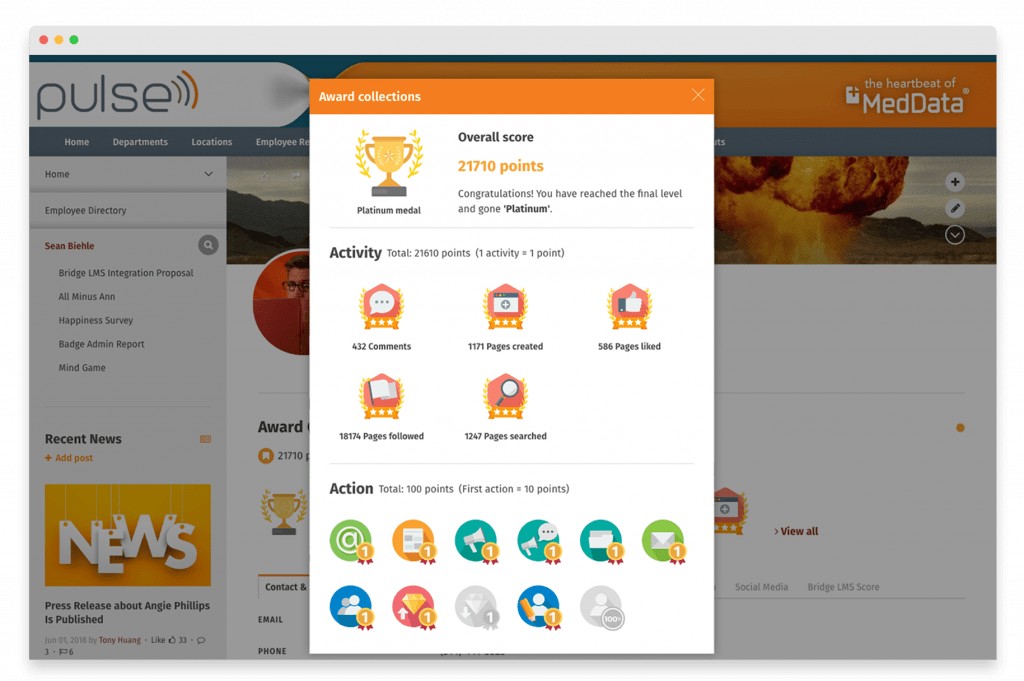 Acknowledge employee milestones
While it may feel like there isn't much to celebrate these days, take the time to acknowledge employee milestones—like a workplace anniversary. With the ThoughtFarmer Anniversary Card, you can easily celebrate how long people have been with your organization. On or near a person's work anniversary, their profile photo, name, and years of service will display in the Anniversary Card. This card can also be configured to highlight newly hired employees. 
With the pandemic forcing many of us to continue working from home, or in a hybrid environment, things may look a little different this year, but that doesn't mean we can't let our colleagues know how much they mean to us.  To see more amazing features that contribute to employee recognition, click here. 
Have questions? Get in touch! We're always happy to hear from you.