Culture plays an enormous role in the health of an organization, but it can feel invisible to those immersed in it. And because many of us don't see it, we have difficulty understanding what our corporate culture is, and more importantly, what areas require improvement. This is why a culture audit is a good idea. 
Whether your corporate culture is in need of a minor tweaking or, a major overhaul, it's never too late to begin the journey of improving your culture.
What is culture?
Organizational culture is a broad term that encompasses all aspects of an organization's environment. It is much more than providing free snacks and a foosball table. Organizational culture is defined as the collection of attitudes, beliefs, and behaviours that occur in a work environment.
Your organization's culture is an amalgamation of employee life experiences, combined with the impact of executive influence. Other factors include:
Employee personal values

Workplace procedures, behaviors, policies, relationships, and employee expectations

Company stories and interactions

Employee recognition programs  

Diversity and inclusion initiatives
Why does culture matter?
While it can be tempting to dismiss the significance of a strong corporate culture, it has the potential to make or break your organization.  

What role does culture play in your intranet use cases?
Download our informative guide to learn more.
Download now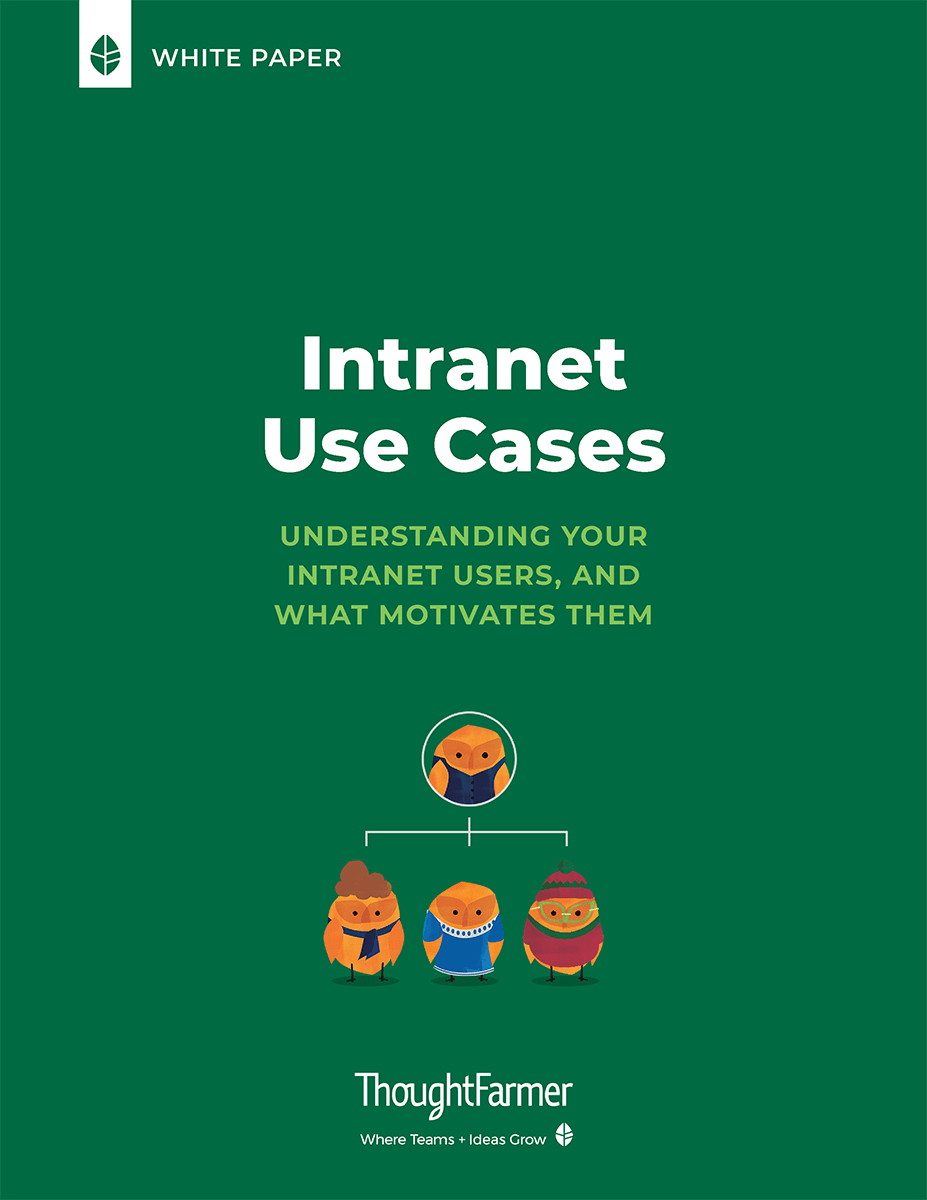 While the benefits of a positive workplace culture run aplenty, the costs of a negative culture run as deep. Poor workplace cultures are generally characterized by employee negativity, complaining, underachievement, low levels of trust, and high turnover, and according to Dying for a Paycheck author Jeffrey Pfeffer, toxic workplaces and job stress cost US employers more than $300 billion every year in the United States.
Why conduct a culture audit?
Even if you think your company has a strong corporate culture, there are a few reasons to assess it.
For example, while your culture may appear strong, it may not support your business goals. Or, perhaps you are already aware that your culture needs some TLC, and you want to understand why.
Whatever your reasons, a culture audit helps determine your overall working environment, employee sentiments, and determine rules around employee interactions and team communication.   
A culture audit can be a long and comprehensive process, which is why some organizations hire a third party to assist them. However, there are a few steps you can take to begin the journey yourself. By conducting this type of mini-audit, you can easily gain an awareness of your company's corporate culture and identify potential problem areas.
21 questions to ask in a corporate culture audit:  
What's the communication style?

Are there more one-way broadcasts from leadership or grassroots conversations?

How are decisions made?

Is the approach hierarchical or collaborative?

Remote? or onsite?

How are employees treated?

How are they expected to behave day-to-day?

What's the approach to getting work done?

Is the emphasis more on group collaboration or individual achievement? Do people pay more attention to methods or results? And are the negative ramifications if work isn't completed?

How freely is money spent?

What is the money spent on? Do employees feel money is spent appropriately?

What's the tolerance for risk?

Are strategies more daring or conservative?

How is customer service done?

What kinds of relationships are developed with customers? And how are complaints followed up?

What is the company's vision?

What does the leadership want the organization to be? And are you achieving that? Are there specific diversity and inclusion policies?

What are the company's stated and implicit values?

What is important to the organization?

What structures are in place?

These could be physical, technological, or procedural structures.

How are desirable actions rewarded?

How are undesirable actions discouraged? And is there an employee recognition program in place?

How do customers talk about the company?

How do they interact with employees?

What is the competition like?

How does the market behave?

What countries is the company operating in?

Where is it headquartered? And does each location operate differently?

What does the company do to help ensure diversity and inclusion?

Does the company offer employees training on diversity, equity, and inclusion?

How diverse is the executive team?

And how do they ensure that commitment cascades down throughout the organization? 

Do new employee recruitment initiatives support a diverse culture?

Are they attracting a variety of backgrounds and talents? 

What benefits are offered?

Are there maternity and paternity leave benefits, or family leave benefits that include all parents? 

How do they communicate change within the organization?

And how did they keep employees connected during the pandemic?

How transparent are they?

How do they ensure important information is shared throughout the organization? 
The answers to these questions will provide you with a mini corporate culture audit and a cultural snapshot of your organization. You can then use that snapshot to shape your intranet (or extranet) and guide interaction and communication long after launch day, so that it reinforces the culture that serves the company best. 
Culture isn't a panacea for success, but it is an important factor in attracting and retaining talent, which will ultimately contribute to your bottom line.
Editor's Note: This post was originally published in 2014, and has been revamped and updated for accuracy and comprehensiveness.
Have questions? Get in touch! We're always happy to hear from you.