Free pizza, sleep pods, on-site fitness, and foosball tables—these all sound great, but do these perks actually drive employee discretionary efforts, passion or commitment? Do they make employees feel as though they want to go above and beyond?
Probably not.
To understand how to engage your employees you need to start by understanding what motivates them and what problems they face in the workplace.
In this step-by-step guide you will learn how to measure employee engagement the right way, using real world examples.
Employee Engagement Defined
Gartner define employee engagement as the extent to which employees feel passionate about their jobs, are committed to the workplace, and willing to put in discretionary effort. 
It's something that we should have always been concerned with. However, in recent years it is increasingly shown to be a critical driver of success. Increased levels of employee engagement foster customer loyalty, improve organizational performance, and ensure talent retention—which is critical right now. 
What role does employee engagement play in internal communication?
Download our latest whitepaper and learn how to measure the effectiveness of your internal communication.
Read more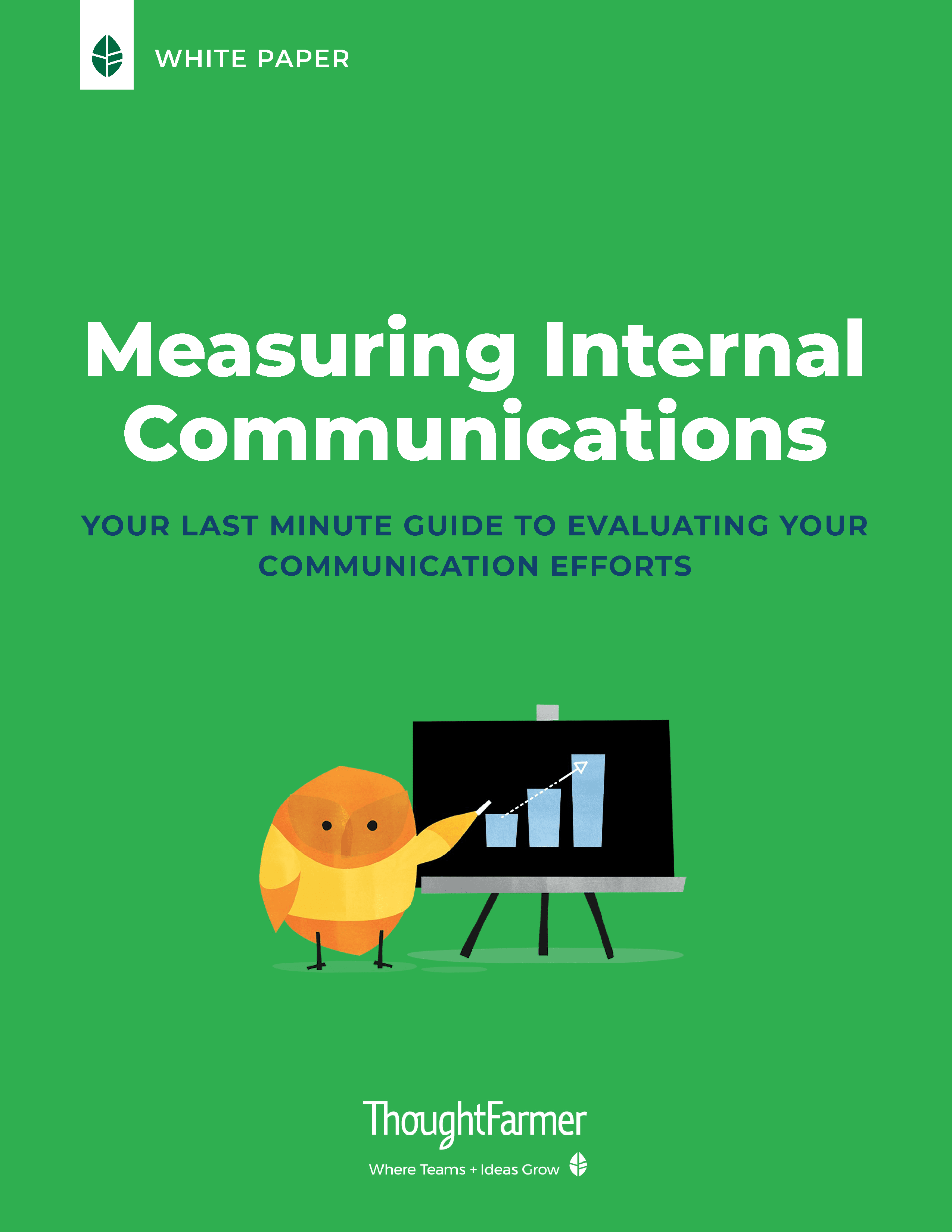 Benefits of Improving Employee Engagement
We all know that employees are the backbone to every business. But what are we actually doing to support our employees? 
Creating and sustaining an engaged workplace culture allows organizations to provide employees with the support and encouragement they need. Some benefits of increasing employee engagement may include:
Increased productivity
Research shows that engaged employees are more productive. 17% more productive, to be precise. When employees feel connected and engaged in their work, they strive to work hard. The more engaged employees are the happier they are in their work, and the more invested they will be in their job. This translates into stronger performance and productivity. 
Closer manager/employee relationships
According to Harvard Business Review, when employees feel comfortable and engaged, they are more likely to voice their concerns and opinions. In turn, feedback provides employers the opportunity to improve. 
Attract new talent 
Harvard Business Review also found that if potential employees discover that your company offers an employee-focused environment, they will be more eager to join your organization. Especially in the current employment market where employees have their pick of job offers. A focus on employee engagement may be all it takes to position yourself over another employer. 
Improve retention and reduce turnover
According to the United States Department of Labor, 2.7% of the US workforce quit in April 2021, the highest ever recorded at the time. Since then, that number has actually accelerated, with 2.9% of the US workforce calling it quits in August 2021. Employee turnover is expensive and time-consuming, so retaining the talent you have is crucial—and fortunately within our control. If employees feel satisfied and engaged in their role, they won't want to leave your organization
Best Metrics to Consider Measuring Employee Engagement
Engagement surveys are a great way to measure levels of employee engagement. However, it's important to understand the difference between employee engagement surveys, and other employee surveys. Employee engagement surveys will help you understand how much effort the employee is willing to expend. 
An employee engagement survey should be created following an employee engagement strategy. An effective engagement should incorporate these components: 
An understanding of how the strategy will be implemented

How actions items will be identified

What outcomes will be used to evaluate success

What actions may be taken to address the survey results
When developing an engagement survey, consider these guidelines: 
Include questions that could be asked every year. This will help you establish a baseline for future measurement. 

Avoid loaded and uninformative questions. For example, questions such as  "Do you enjoy working overtime?" will likely result in a "no" response very easily, even from those who are engaged. 

Keep the survey concise. Extensive surveys reduce participation rates and may result in skewed responses because employees check answers to finish the survey as quickly as possible.

Quantitative data is great, but consider keeping some questions open ended, so employees can write in-depth comments. 
Here's what you will want to measure in your employee engagement survey:
Mental Health
Mental health has also been an increasingly important topic in the last two years. According to a 2020 survey on mental health symptoms during COVID-19, 68% who reported a mental health issue reported that their mental health has worsened since the pandemic, and 30% of disability claims are related to mental health illness. Organizations have an increasing responsibility to safeguard employees and address mental health concerns. 
Possible survey questions to include: 
Do you feel the organization provides adequate access to employee mental health resources? 

Do you feel your manager supports the mental health of their employees?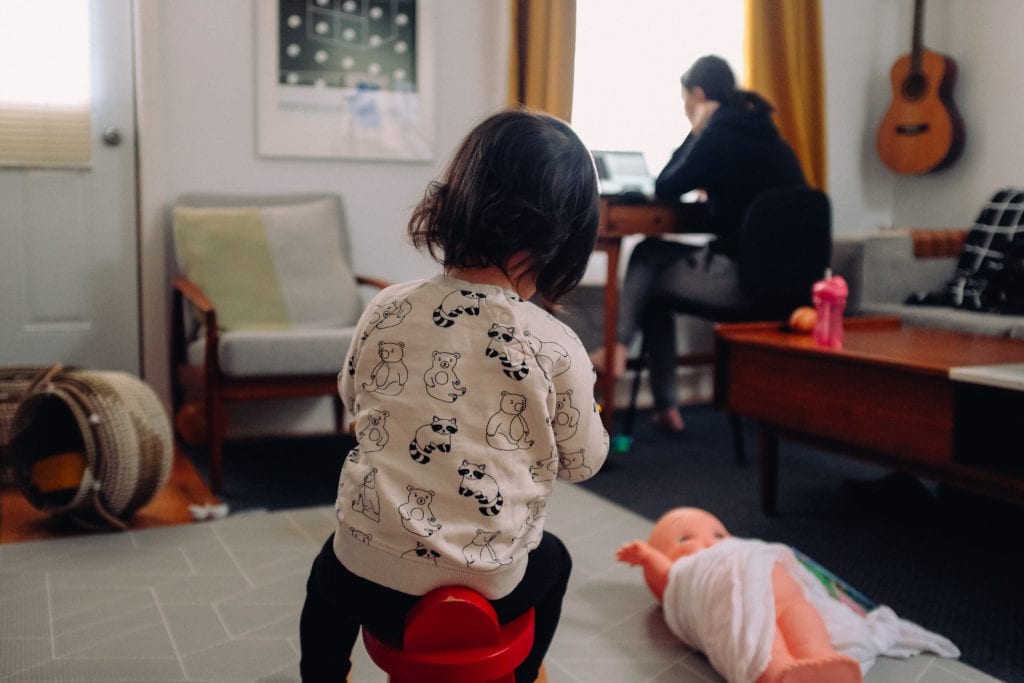 Recognition
While it may not seem like an obvious factor, employee recognition is critical to your organization. When employees understand their worth, and its impact to the overall success, they are more likely to be engaged. 
Possible survey questions to include: 
Do you feel employees are recognized when going above and beyond? 

Do you feel valued and appreciated by the organization?
Manager/Colleague Relationships
Employee engagement is dependent on many relationships with the organization. This is because collaboration and cooperation is essential to productivity. 
Possible survey questions to include: 
On a scale of 1- 5, how comfortable do you feel approaching your manager?

On a scale of 1-5, how comfortable do you feel communicating with your team members? 
Professional development opportunities
Focusing on career development is one way to positively impact engagement levels in your workforce. In fact, people are more likely to flock to companies that can give them the opportunity to grow and develop. 
Possible survey questions to include: 
Do you feel employees are provided with opportunities to expand their talent and expertise? 

Do you feel you have enough knowledge and expertise to do your job effectively? 
Work-life balance
The pandemic has put a giant spotlight under work-life balance. With more employees working from home than ever before, it's become critical that employees understand where work ends, and home life begins. 
Possible survey questions to include: 
On a scale of 1 to 5, what would you rate your work-life balance?

How often do you receive communication from colleagues after your typical work hours? 
Workplace Culture
There is a deep correlation between employee engagement and workplace culture. If your organization has a strong and healthy culture where everyone is respected equally, then employees aren't likely to seek employment elsewhere.  
Possible survey questions to include: 
Does your organization have a safe working environment for all the employees?

Is there a culture of teamwork and cooperation within the organization?
How to Measure Employee Engagement
An employee engagement survey is much more than just a bunch of random questions. It should be strategic, and well thought out. Here are some things to consider when measuring engagement in your workplace. 
Determine desired outcomes
An outcome is a survey question that reveals or indicates the true feelings of an engaged employee. These questions usually measure an employee's intent to stay, advocacy, or organizational pride. This is usually determined by the question "I recommend this company as a great place to work."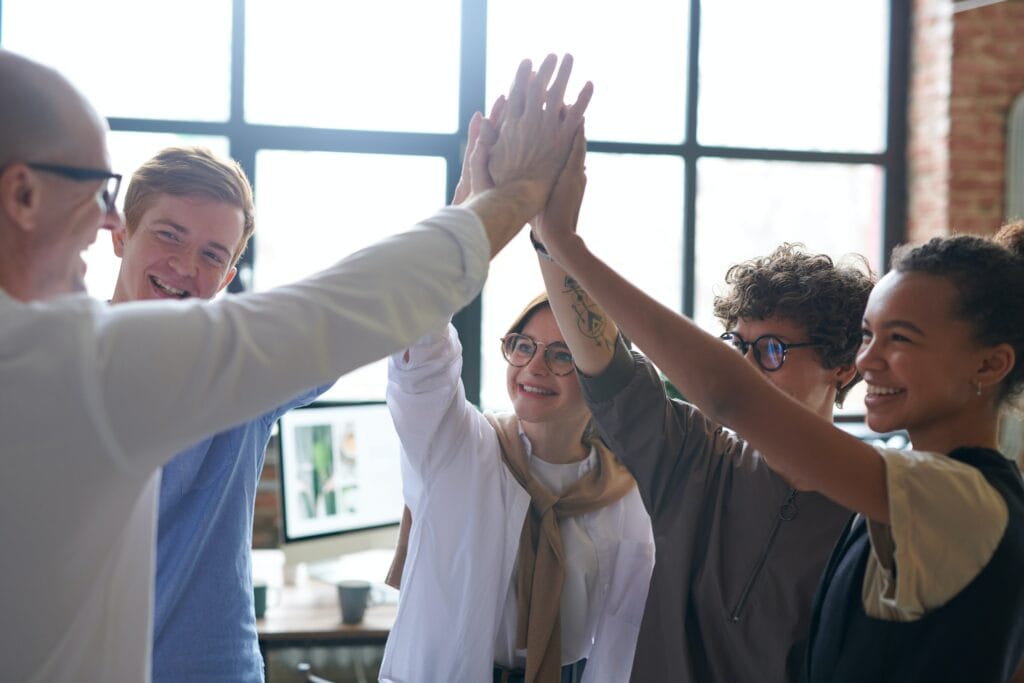 Identify what your employees care about
To understand what truly matters to your employees, you will need to ask actionable questions that determine levels of engagement. To determine this, consider asking employees to rate their opinion of topics including: employee recognition, professional development, trust in leadership, and overall communication. 
Make sure your questions cover a wide range of topics that impact engagement. For example: "If I contribute to the success of the company, am I certain that I will be recognized?" Answers to these type of questions will reveal the degree that a business values and recognizes its people. 
Develop a listening strategy
Surveys are a great way to determine employee engagement levels, but how often should these surveys be conducted? An annual engagement survey is most common, however behaviours and preferences can change more frequently. As a result, surveys may need to be sent more often. To avoid survey fatigue, consider making more frequent surveys 'pulse surveys', and save the more extensive surveys for a deeper dive. As with any survey, the more you educate your employees on the significance of the survey, the more likely they are to respond. 
Include all employees 
It might be tempting to exclude specific employees or departments (particularly if you are nervous about their feedback), however it's crucial to include as many employees as possible. Leaving our certain segments of employees will skew your survey results, and won't enable you to improve on any real areas of weakness. 
Employee Engagement Measurement Example(s)
Sometimes employee engagement surveys can catapult amazing change—which is exactly what happened to Capital Region BOCES. In a 2018 employee engagement survey they learned their employees were desiring two things: a more collaborative culture, and increased employee recognition. 
The team at Capital Region BOCES immediately began building a three tier recognition program within their intranet. They started by creating different pages for different features of their programs. They then added online forms for nominations and created a recognition calendar with dates for ceremonies.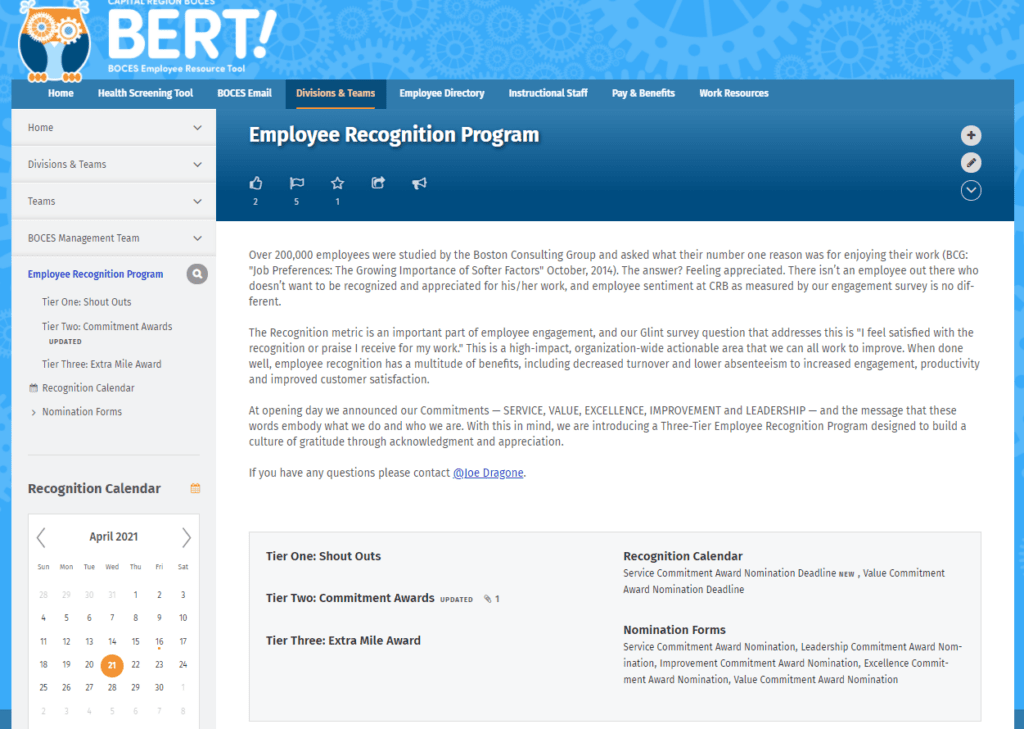 And how did employees react? There were over 35 shoutouts in the first month. Capital Region BOCES launched an additional survey in September 2020 and saw a marked increase in employee satisfaction. The Capital Region BOCES team has also noticed an increase in employees posting spontaneous congratulations and comments of appreciation. 
A similar thing happened at Coast Mental Health (CMH). As a nonprofit with many remote workers, any technology they deploy must have a tangible output. So when they deployed their intranet, they needed a way to demonstrate immediate and measurable value.  
To achieve this, CMH used an employee engagement survey to establish clear benchmarks prior to launching their intranet. Questions asked revolved around employee communication, culture, and the challenge of locating information. Six months after deploying their intranet these questions were asked again—this time with much different results with some metrics doubling.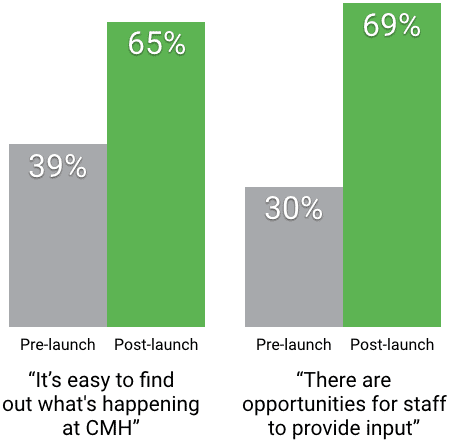 The survey also helped them develop action items for further improvements to employee engagement. Without their intranet, it would have been challenging to identify these issues. They can further measure success through their intranet analytics. 
Final Thoughts
To avoid (or diminish the impact of) the turnover tsunami, organizations will need to prioritize employee engagement. Those that do will not only elevate the motivation of existing employees, but will attract the attention of the best new recruits and position themselves to emerge from the pandemic not just where they were, but in a stronger position to move forward. While employee engagement doesn't happen overnight or without effort, it is within our control. We already have all the tools and resources we need to make this a success. 
Have questions? Get in touch! We're always happy to hear from you.