Early intranet adoption hinges on your ability to communicate the launch of your intranet. This article explains the key considerations and sequenced steps involved in creating a comprehensive intranet communications plan.
"Project management isn't about charts, graphs, and statistics — it's about communication". When I first read this definition for "project management" (in the book Getting Real by 37Signals), it resonated with me. So many problems in large projects come down to issues of communication — a lack of it, not doing it with the right people, not doing it clearly.
There is added communications complexity when doing an intranet project because a large number of people are impacted by the project — often your entire company. These people have a diverse array of jobs, perspectives and competing priorities. So how do you get a broad array of people with too much other stuff on their minds to remember the details of your intranet project, feel involved in the process, and complete their relevant tasks? Good communication. And lots of it.
The following framework for creating an intranet project communications plan can help create a smoother path and ultimately higher adoption and engagement.
Step #1: Define communications objectives for your intranet communications plan
Your communications objectives should support your intranet objectives. Communication objectives usually seek to create awareness, establish needs, change attitudes or drive actions. Review your intranet objectives and determine what knowledge, attitudes, and actions will help get you there. Contemplate what might prevent you from achieving your intranet objectives and how communications can help you overcome these barriers.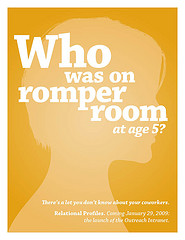 For example, our client Penn State wanted to help employees connect and relate better to their peers. They set an objective to create awareness about the new employee directory features. Their launch campaign included posters with fun facts employees could learn about their peers using the new directory features.
Another example is LPK, a design consultancy. Their previous intranet was hard to use and infrequently updated. Therefore, employees had developed negative sentiment towards their intranet. They set out to change employee attitudes and developed a "Who Killed the Wiki?" thriller-style launch video to celebrate the destruction of their old intranet and to break down old attitudes.
If you like this blog, you'll love our newsletter
From workbooks and whitepapers, to blog content and best practices, our monthly newsletter is full of great content, advice, and expert insight.
Step #2: Define your audiences
Would you give the same intranet presentation to executives as you would to new employees? (Hopefully you answered "no.") Your colleagues will need different information about the intranet project depending on their roles and responsibilities.
To get started in defining your audience, brainstorm a list of all the different groups of employees that will somehow be involved in the intranet. List out:
What are the different groups?
What is each group's role in the intranet project?
What is the purpose of communicating with each group?
These basic questions will help you differentiate between very different types of audiences and their varied information needs.
Common intranet audiences include:
Executives
Executive sponsors
Your boss
Your team
Project team
Stakeholders (often starting with heads of the IT, HR and Finance departments)
Content owners (for centralized reference content and for company-wide news)
Champions (intranet super-users who are interested in the project)
Pilot users
General employee body
Step #3: Identify your communicators
Next, think about who your communicators are. Who are the people who are involved in the project and who could communicate to your various audiences and through various channels?
Identifying your communicators helps in several ways. You can:
Spread the communications burden
Align communicators with proper audiences based on their type and amount of influence
Increase the visibility of the intranet project
Cultivate trust in the project as audiences hear from communicators they are connected to
Create early intranet champions that will act as role-models for others in the organization
Ensure the project isn't just about you
Step #4: Get the thumbs up from your executive sponsor
Make sure your communications convey the expected value that the executive sponsor is aiming for. Start by explaining the process you've gone through (steps 1 to 3) to create the communications plan. Make sure to discuss the goals and purpose of the new intranet, the value they see in the project, and the core messages that different audiences will need to hear.  Then, discuss next steps and gather their input. Having 100% buy-in from your executive sponsor ensures they will champion the program to the executive team and continue to support the project.
Step #5: Identify key moments
The goal of this step is to map out major milestones in the project when audiences need to be informed and involved. This requires identifying important moments and mapping each one to the relevant audiences, messages, communicators and mediums. You can use a spreadsheet similar to this:
| Moment | Audience | Message | Communicator | Medium |
| --- | --- | --- | --- | --- |
| Contest to name the new intranet | All staff | "We need your help" | Executive Sponsor | Email |
| Content migration / barnraising | Content owners | "We need your help" | Project lead | Email |
| Power user training | Champions | "Meet your new intranet" | Project lead | Email |
Here are the basic steps to filling in your communications plan:
Review the intranet project plan and make a list of important milestones or moments
For each one, list which of your audiences should be communicated with
For each audience, define the core message of that communications moment along with:

Who should communicate with that audience
The medium/channel best suited to that message and audience
Once you've completed this step you'll have your basic intranet communications plan, but don't assume it'll stay static. You'll likely need to review and update the plan on a regular basis. However, by having it well thought out and documented you'll be at an excellent starting point.
Have questions? Get in touch! We're always happy to hear from you.