Fact: most organizations will face challenges around the search functionality of their intranet. But just as all challenges are little more than opportunities in disguise, search can become an indispensable resource (and, dare we say, a magical experience) for your employees; all you need is a solid set of features and a solid set of best practices to guide the way.
In this post, we've compiled a set of search-centric features that will boost productivity and refine your intranet experience. If search is about the destination, actually managing how that search functions is all about the journey, and the following features will help make that journey an infinitely more satisfying one.
If you like this blog, you'll love our newsletter
From workbooks and whitepapers, to blog content and best practices, our monthly newsletter is full of great content, advice, and expert insight.
Centrally managing search results
1: "Best bets" for intranet search results
"Best bets" (similar to, but better than Google's "I'm feeling lucky") will ensure that the most relevant pieces of content are bubbled to the top of your search results. Allowing the intranet admin to highlight specific pieces of content for known search terms will guarantee that users get what they want, how they want it, and when they want it (yesterday, preferably).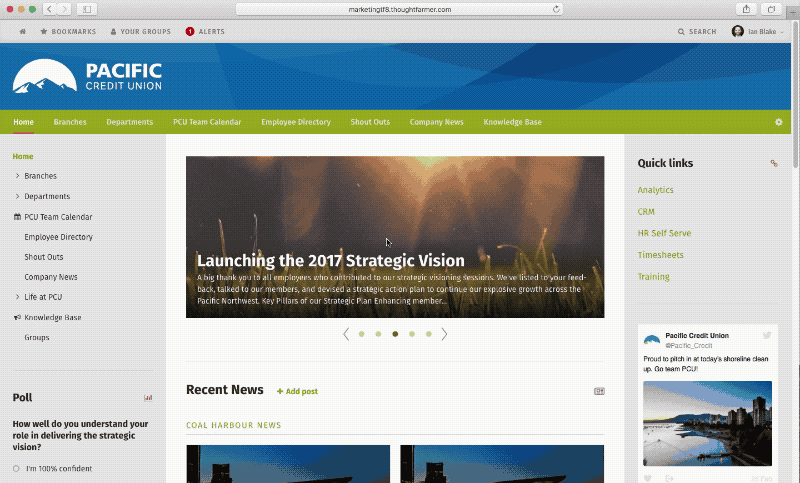 2: Editable weighting of search parameters
Search engines consider many elements of content (title, body, headings, tags, etc.) when deciding which results to surface. The importance of ensuring those results are as relevant as possible cannot be understated—it's arguably the most important feature of search—so it's critical that you have the ability to optimize how your algorithm weighs those elements against each other.
3: Indexing of title, text, tags, and attachments
It's important that the search engine index every possible information-carrying element of content on your intranet. For example, if you're not indexing the text of files attached to your intranet, those files will be significantly less findable, and significantly less functional.
4: Indexing of navigation paths as page metadata
This special feature adds highly contextual metadata to an intranet page. It circumvents the "file folder" issue that intranets inherited from shared drives of yore. For example, you search for a file by typing "internal communications meeting August". If the file you are looking for is named "August 11th", it may not find it's way to the results page. But if the full page path is indexed for that page, the page's search terms will include all the page names that lead to it. All of which means that each page automagically has helpful keywords added based on where it lives on your intranet. Super nerdy, yes. Super specific, yes. Super helpful, yes. Super brilliant, definitely yes.
Improving employees' search experience
5: Real-time search results/predictive search
While this functionality is partly about keeping up with the Google-Joneses, it also allows users to skip the results page altogether and get to where they need to go more quickly and more efficiently.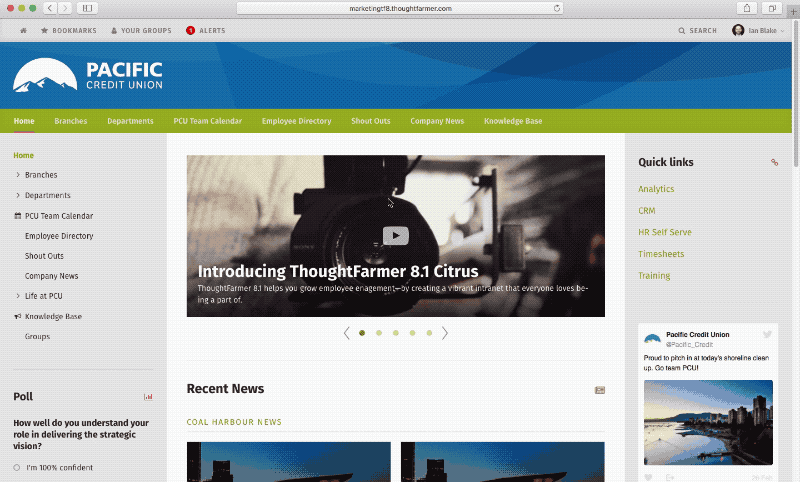 6: Search results that show author, date updated, breadcrumb trail, etc.
It's helpful to see at-a-glance if a listed search result was updated recently and who owns the page. Also, seeing the owner and the breadcrumb trail provides additional possible paths to what users need.
7: Spelling corrections
If you, like me, have the typing skills of a tech-savvy 2-year-old, you'll come to love this feature. It's akin to your intranet reading your mind and delivering results based on what you meant to type as opposed to what you actually typed.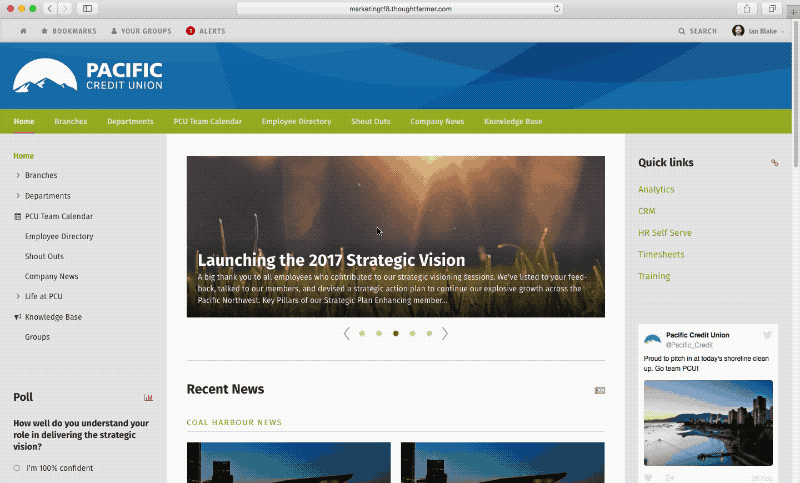 8: Employee profiles in intranet search results
Having a dedicated "people" search option is critical, but that shouldn't stop colleagues' profile pages from appearing in general search results too. Often the detailed answer an employee is looking for lives in a colleague's mind and not on an intranet page (yet). Showing colleagues who are relevant to a search term can help bridge the gap.
9: Search filters
Modern social intranets are bustling with new and evolving content. Date, author, and other search filters provide your users with extra ways to cut straight to results that matter most.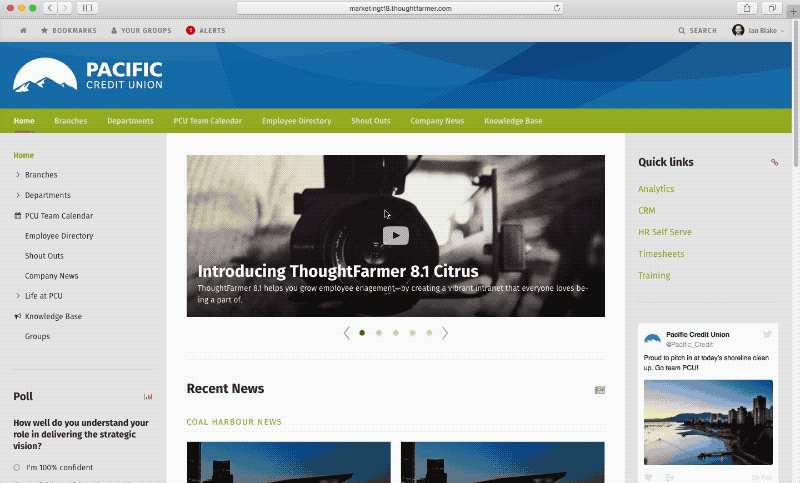 10: Real-time "People" search results on mobile intranet
Imagine you're headed to a client meeting and all-of-a-sudden realize you need a critical insight. We've all been there, right? The "People" section of your intranet will know who can answer your question, and the ability to one-click-call from your smartphone could make or break your meeting and/or your day.
11: Scope search to the current section of the intranet
Your intranet's version of "redo search in this area". This is particularly helpful when searching within group workspaces or large sections with clear content scopes (e.g. "Project templates and good practices").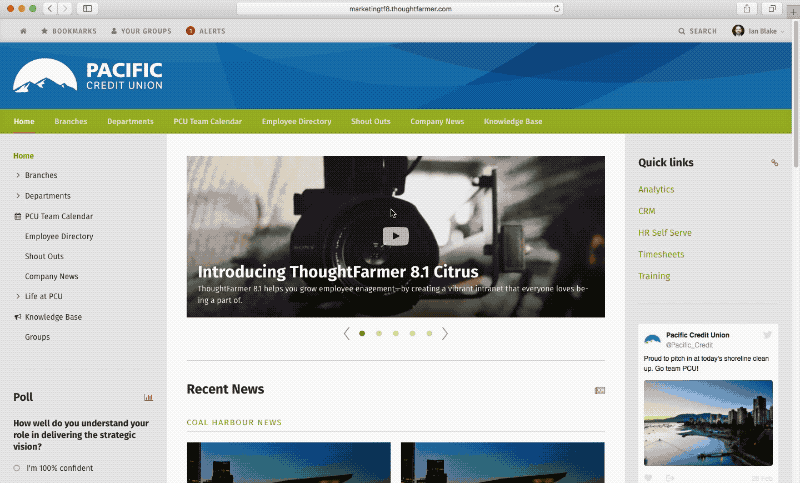 Optimizing content for findability
12: "Full titles" and "abbreviated titles" to display in the navigation
While pages with full, descriptive titles are easier to spot in search results, they don't necessarily help your navigation structure. In fact, brevity is the soul of a clear navigation structure and pages with shorter, alternate titles that show in the navigation are incredibly helpful.
13: Easy archiving of old, unused content
Ultimately, the work of a search engine is to comb through oodles of content and surface related results. But more content generally means more results, which may dilute the efficacy of the search at a granular level. Remove old, unvisited material from the content corpus means the search engine will have fewer pieces of irrelevant content to consider, thus optimizing the highlighted results.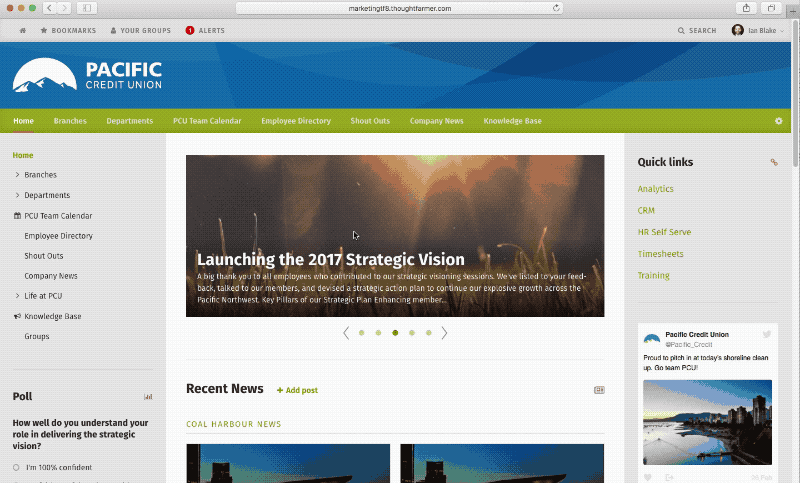 Targeting the holistic intranet search experience
While you may not notice it, the search experience goes way beyond the "search box". Search is akin to the chassis of a car: it may not be super sexy, it probably won't win any awards, most folks will never appreciate how critical it is, but without it, everything falls apart.
To deliver a great intranet search experience you need features that target the whole search experience, from the search algorithm to search zones. (Note: search zones aren't really a thing, we just needed a word that began with z!)
Psst... If you're interested in learning more about the steps you can take to create a great search experience, our free eBook is now available.
Have questions? Get in touch! We're always happy to hear from you.