One of the greatest strengths of Thoughtfarmer is its flexibility and ability to customize components to meet your organization's brand and culture. 
If this is your first ThoughtFarmer intranet, the process can feel slightly intimidating–especially when you see all the other amazing intranets our customers have created. 
The good news is that our greatest intranets weren't created by designers; they were created by people like you–communication professionals, IT managers, and HR specialists etc. 
Here are some easy to follow tips to ensure your intranet achieves all your design and branding goals. 
If you like this blog, you'll love our newsletter
From workbooks and whitepapers, to blog content and best practices, our monthly newsletter is full of great content, advice, and expert insight.
Intranet Branding
Your intranet brand is a representation of what makes your company unique, different, and valuable.
Branding your intranet will help distinguish it from other work tools,  build a sense of community and support other forms of communications about the intranet (emails, signage, posters, etc.) 
The approach you take to branding your intranet can vary. Some organizations choose to apply their corporate brand and extend it onto the intranet, while other companies spend some time developing a new, internal brand for their intranet. This often involves a different color palette, a unique intranet name—one that aligns with your organization's culture, and your intranet's purpose.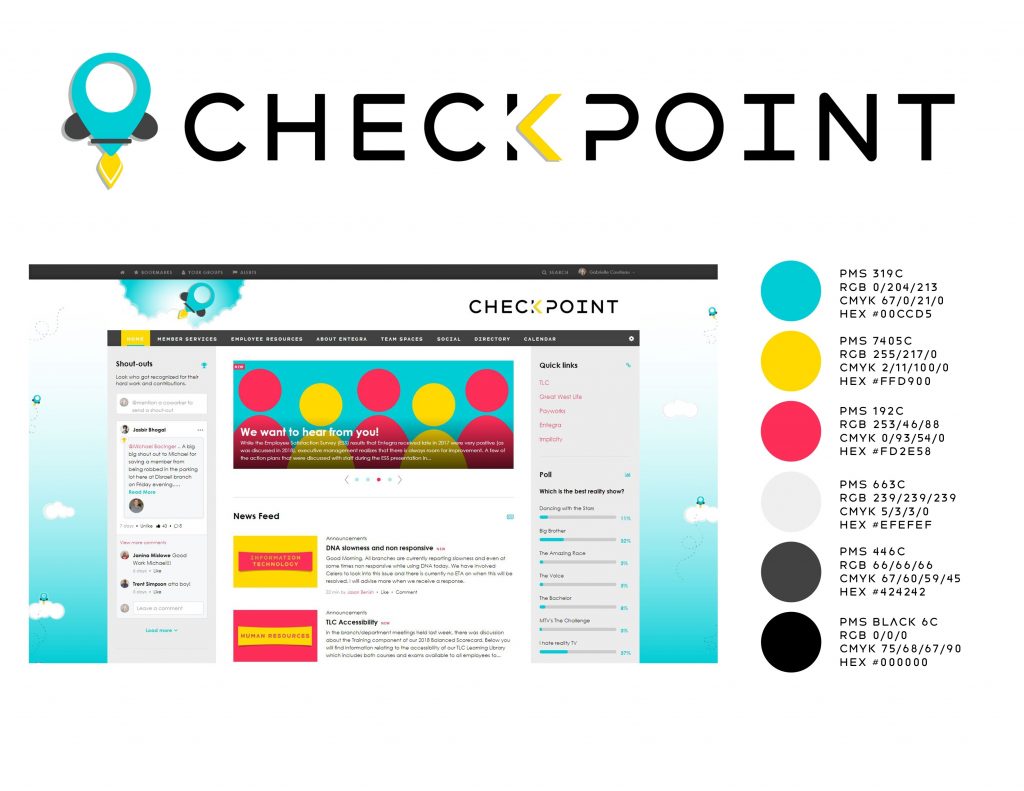 Personify your intranet
While the most common intranet names we see are communications focused (Connect, Hub, Wire, or Loop), many of our clients develop intranet names by referencing a company origin story, creating a mascot, using an acronym, or referencing terms specific to their industry. Here are some of our favourites from each category:
Communications based: Loop, Hub, Connect, Wire

Mascots: Ollie, Sam, Bert, Arthur.

Acronyms: SAM (Smiles Across Miles), JET (Just Employee Talk), FLIP (Friedman Learning Info Portal).

Industry related: Vault, Mint (customers in the financial industry)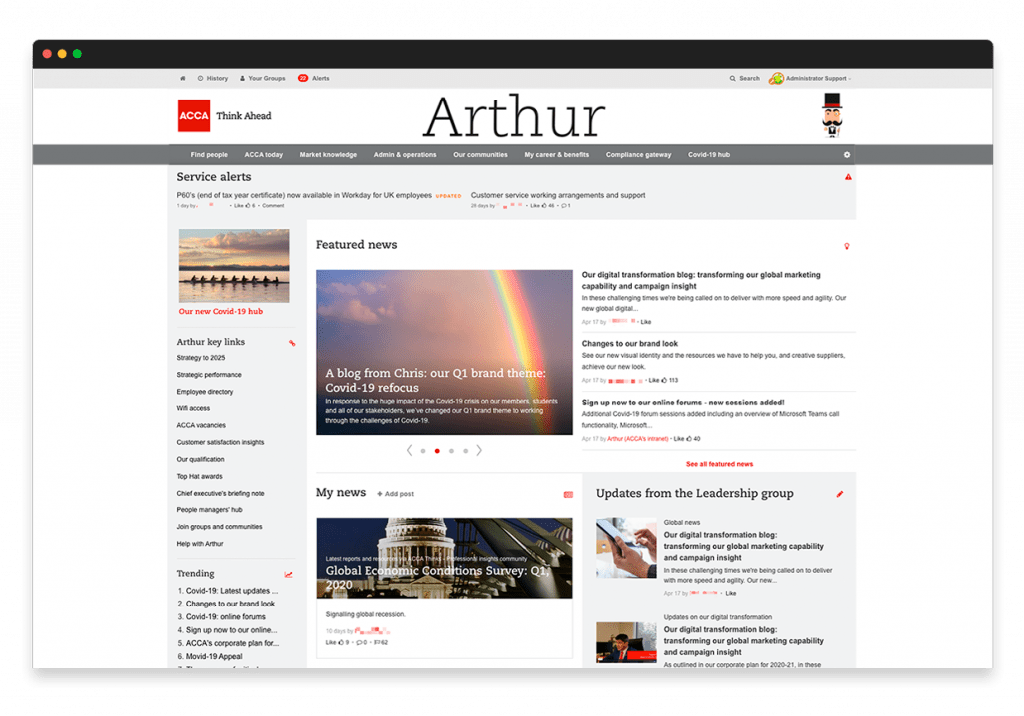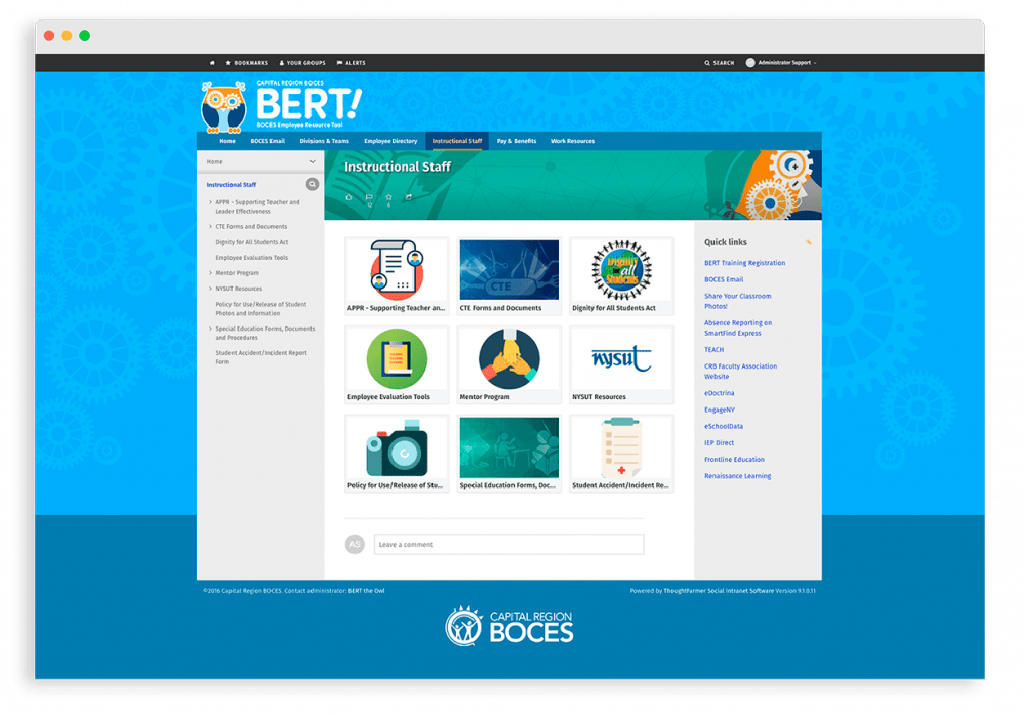 Another benefit of personifying your intranet is that it makes the URL very easy to remember and reference (e.g. https://sparky.oxd.com). If  you would like to move to a custom URL, the ThoughtFarmer support team is happy to assist with this process.
Develop assets for your theme
There are several ThoughtFarmer assets that make up your theme:
Logo/mascot

Favicon (browser icon image)

Background pattern

News carousel images

Thumbnail images

Header images
If you are interested in developing assets for your intranet but don't have an in-house design team, ThoughtFarmer has a world-class Professional Services team that can help you.
We also encourage you to consider freelance sites such as People of Craft which can connect you with local designers.
Images/Galleries
One way to draw in and engage readers is to use the Recommended Galleries feature to create an inventory of images that can be used by your team when they are adding images into a news post or a page header.
In order to create consistency and ensure that high quality images are used, we recommend using free stock photography to build the inventory of recommended images. Here are some sites  that we recommend: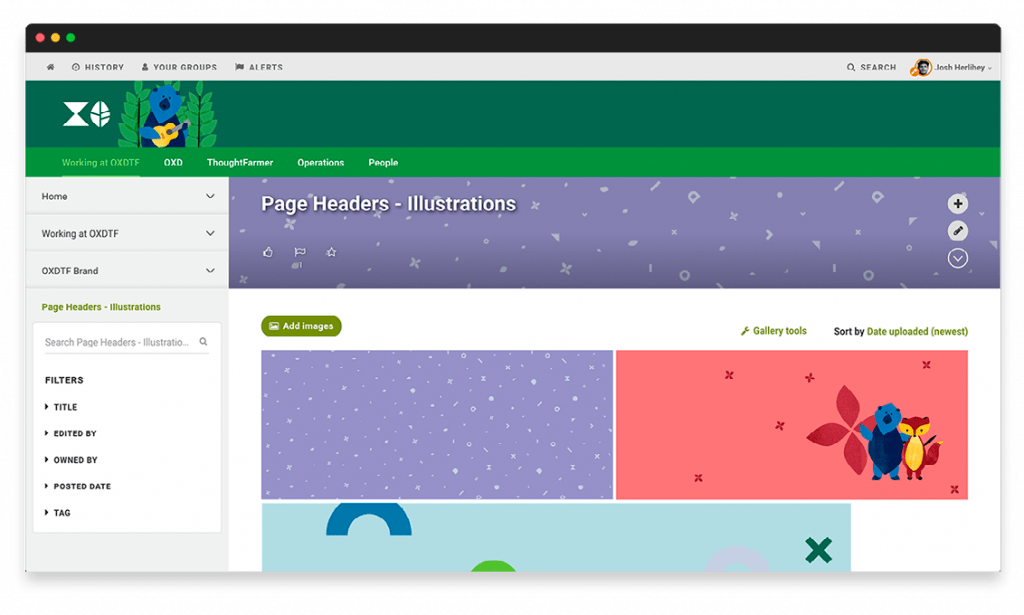 At ThoughtFarmer, we have some great resources available on the ThoughtFarmer community site that can help you optimize how you use images in your ThoughtFarmer Theme (logos, icons, etc), but also images you use as part of your intranet content, e.g. in news posts, on group pages, as page headers for sections or in the grid navigation lay-out. 
Theme Panel
When you join us as a new ThoughtFarmer customer, our Customer Success team will set up a complimentary theme for your ThoughtFarmer site. This will give your intranet a polished look and feel, including company logo and branding colours.
As an alternative, we also have pre-designed starter themes available to use.
You can find any of these themes on our ThoughtFarmer Community site, where you can download them and then upload them to your intranet's Theme panel
ThoughtFarmer's Theme Panel (accessible from the Admin Panel) will give you the ability to further customize your intranet. There are a number of areas to customize in the admin panel. Here is a summary of each area and links to our documentation:
Logos

: site logo, notification email logo, browser and desktop notification icon, mobile logo, and sign-in page header

Colors

: page header colors, navigation colors, button, accent, and font colors

Typography

: font family selection for page body and page header 

Component Style

: site footer, header, background, application toolbar, and more!
Extending ThoughtFarmer
Beyond the default options in the Theme Panel, you can inject any custom HTML, CSS, and JavaScript directly into key portions of the page to get the customization that you want. You can add these customizations on the Theme page, under the Custom HTML or CSS & Javascript tabs. 
In addition to style customizations, you can also use this section to add references to third party libraries e.g. Lightbox, SyntaxHighlighter. Customizations using ThoughtFarmer CSS hooks are not guaranteed to be maintained after version upgrades. It is recommended that any customizations be tested after upgrades and modified if necessary.
ThoughtFarmer is an excellent out-of-the-box intranet solution, but it can also be customized to support unique business cases through customization and integration. If you and your team are looking for assistance with extending ThoughtFarmer, we have a professional services development team available to help!
Custom Cards
Custom Cards allow you to add custom extensions to your intranet, so that you can get the most out of your ThoughtFarmer experience.
While some of the Custom Cards carry a fee, many of them are available for free.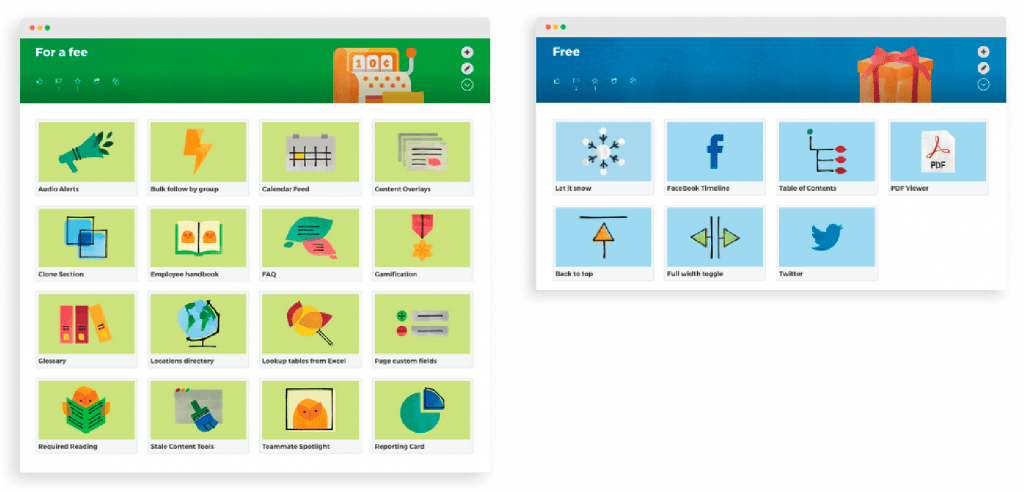 Needing more inspiration? Looking for more help in designing your ThoughtFarmer intranet? 
We are often asked how organizations can make their intranet more visually appealing, increase engagement, boost productivity, or enhance company culture. A good place to start is to gather inspiration to help develop your vision for how you want your intranet to look and feel.
We compiled some of the best award-winning ThoughtFarmer intranets into a white paper. These six intranet examples will provide you with enough inspiration to hit the ground running on your own intranet project.
This white paper showcases some of the submissions that we have received for our Best Intranet Awards over the past few years. It is great to save and to help think of ideas for making the most of your intranet.
Have questions? Get in touch! We're always happy to hear from you.