Discover a new way to connect with other ThoughtFarmer champions. We're excited to announce the launch of our new community site! ThoughtFarmer Community is a space that's built exclusively for you to collaborate with other ThoughtFarmer clients. The community site will help you connect with other intranet managers, provide quick access to important client resources, and share your passion for internal communications.
Grow your network and share ideas
The community site is a great resource to help you with everything ThoughtFarmer related. Connect with other clients to hear best practices, lessons learned, and to exchange tips and tricks. It also offers another way to can get in touch with our friendly support team. Join the discussion and learn with the ThoughtFarmer community.
If you like this blog, you'll love our newsletter
From workbooks and whitepapers, to blog content and best practices, our monthly newsletter is full of great content, advice, and expert insight.
Everything you need in one place
The refreshed community site has centralized information to make it easy for you to take your skills to the next level. Community members can now access documentation, articles, and feature requests all in one place. We've also optimized our content to make it easier to find and reference. Bookmark the community site and you'll have everything you need.
A platform you already know and love
ThoughtFarmer Community is powered by ThoughtFarmer 8 Citrus. If your company is using ThoughtFarmer 8, you will already be familiar with how to engage with the people and content. If your organization hasn't upgraded, this is a great opportunity to get a feel for the new features and try it out for yourself.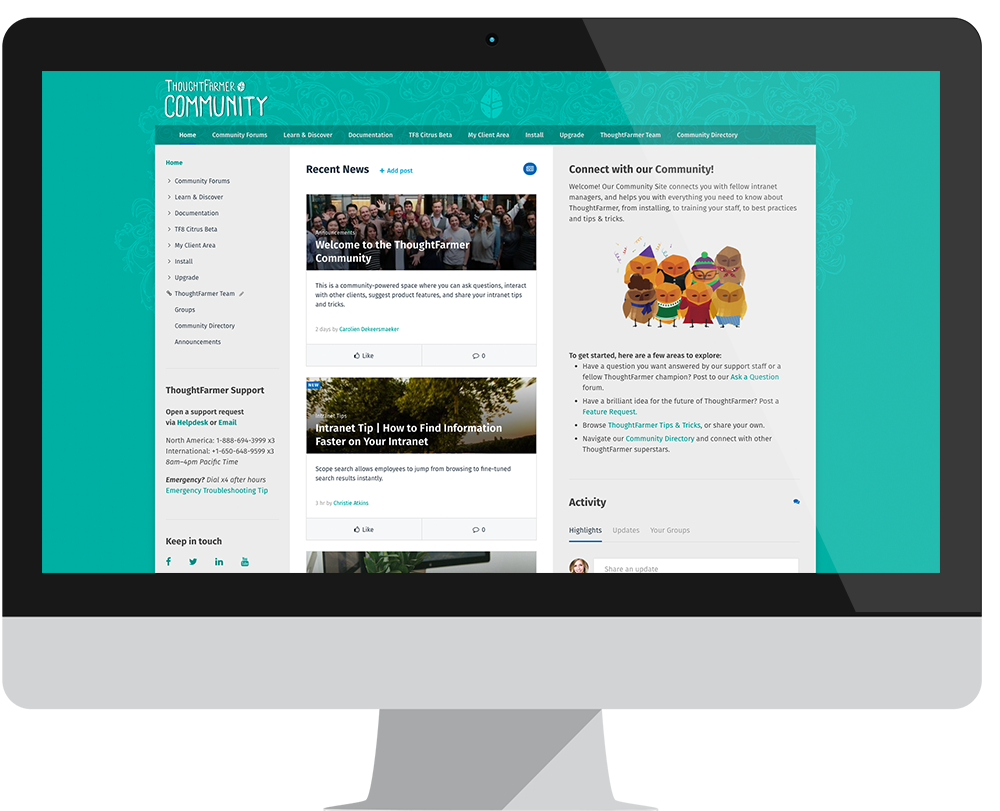 Learn more
Whether you're a veteran or new to ThoughtFarmer, there are a ton of great resources on the community site to help your organization get the most of your intranet.
Not a ThoughtFarmer client yet? Contact our friendly sales team and they would be happy to talk about your intranet needs.
Have questions? Get in touch! We're always happy to hear from you.