Diversity, equity and inclusion is hard work, which requires total commitment, a solid strategy, and a lot of cooperation. For some organizations, it can often feel like DEI work is never enough. 
We understand these challenges, and have worked hard to create a diverse, equitable, and inclusive culture. We were awestruck when we saw firsthand how ThoughtFarmer customer, FirstBank, is walking the talk. 
While many of our customers have impressed us with their DEI work, we were especially inspired by FirstBank's efforts. 
Headquartered in Lakewood, Colorado, FirstBank has long valued DEI, and in 2021 the bank announced a strategic plan including an entire DEI pillar. They also created a role dedicated exclusively to DEI initiatives. Sean Choi, Director of Diversity, Equity, and Inclusion, oversees the DEI committee, STRIDE (Strength Through Recognition of Inclusion, Diversity and Equity), and focuses on DEI for employees, customers and the community.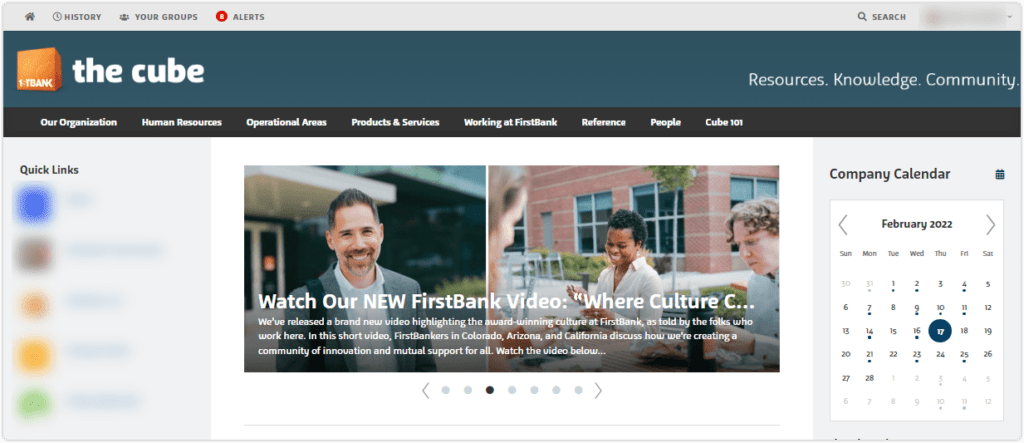 When FirstBank became a ThoughtFarmer customer in 2020, they had ambitious goals for their intranet. They worked hard perfecting the architecture of their intranet site (called the Cube) to ensure that important links and company information—like DEI resources—are easily accessible for employees. 
The STRIDE committee has its own page on the Cube. "We use the Cube to communicate who STRIDE is and what we do for employees," said Sean.  STRIDE also oversees FirstBank's various employee resource groups (ERGs). ERGs are voluntary, employee-led groups that foster a diverse, inclusive workplace. Each ERG has a subpage on the Cube that includes a description and upcoming events. Sean and the STRIDE committee intend to grow the ERG subpages to include memberships, photo galleries and more.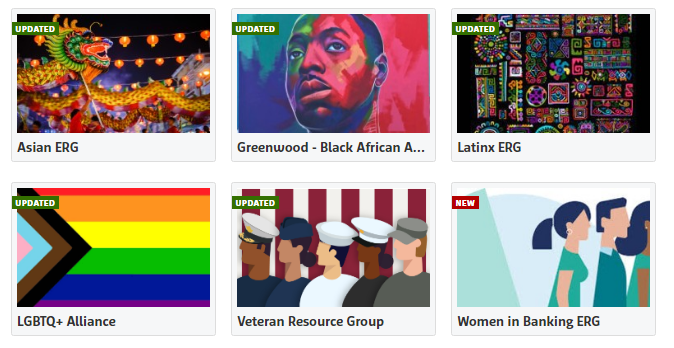 FirstBank has taken advantage of many DEI-related ThoughtFarmer features, including name pronunciation. This feature works by enabling users to record an audio segment of themselves correctly pronouncing their name. The audio clip is then added to an employee's profile page. FirstBank has also made use of the pronoun field. This new field is displayed prominently on the user's profile page, next to their name, salutation, job title, and avatar.

Much of the DEI work done by FirstBank emphasizes transparency, which helps them stay accountable and authentic to the incredible work they are doing. 
Sean continues to see more DEI participation from employees every day. "All of our work within STRIDE is accessible through the top navigation on the Cube. We also ensure that STRIDE news and videos are featured on the homepage carousel," said Sean. "This has increased traffic to our STRIDE page."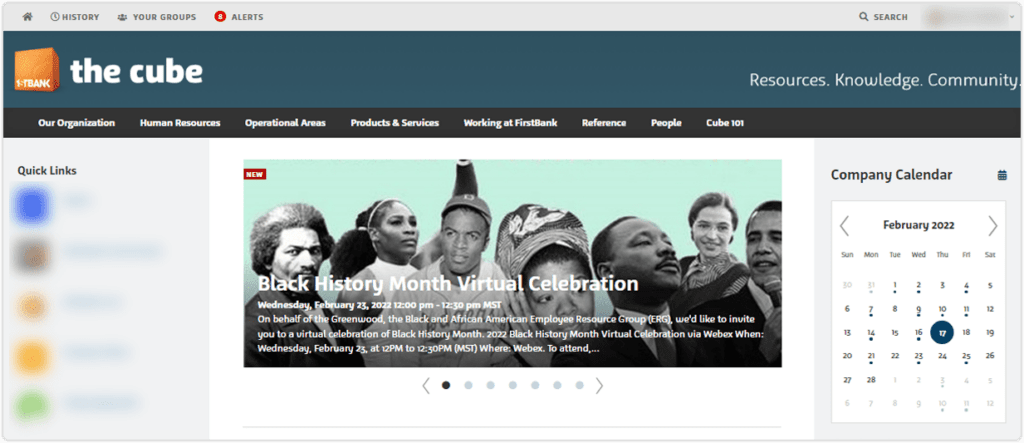 When asked if they had any advice to share with other organizations, Sean said, "Having senior leadership involved definitely helps. FirstBank's senior leadership team truly cares about and listens to our employees, which helps us create a workplace environment that is inclusive and accessible for all." Sean also advocates for starting a DEI committee. "It's important to make connections  and have representation across your company. You never know what your company needs until you listen to employees." 
As mentioned, DEI initiatives can be a lot of effort, but it's great to have organizations leading the way, like FirstBank. "I feel proud of the work we are doing," said Sean.  
So are we. 
Have questions? Get in touch! We're always happy to hear from you.