With so much emphasis placed on architecture and navigation, it's easy to lose sight of the significance of a visually appealing intranet. But a well-designed intranet isn't just a pretty face. It helps reinforce branding, assists in adoption, and keeps users coming back.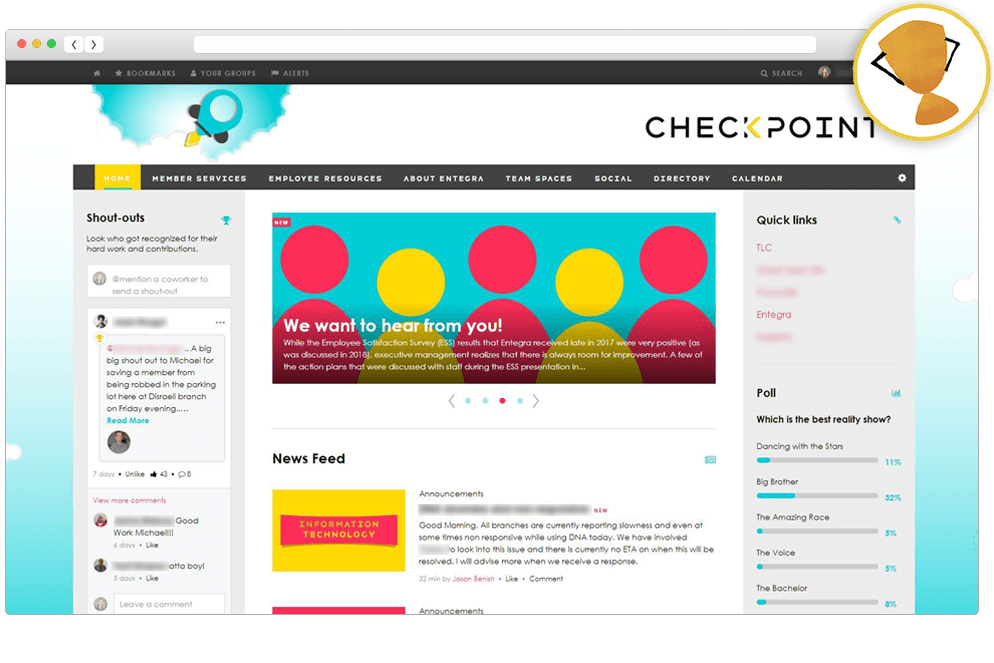 As the winner of the Design category in the 2018 ThoughtFarmer Best Intranet Awards, Entegra Credit Union blew us away with their impressive visual design. From the colors to the branding consistency, to the unique ways they encouraged adoption, their submission caught the eye of our creative team.
If you like this blog, you'll love our newsletter
From workbooks and whitepapers, to blog content and best practices, our monthly newsletter is full of great content, advice, and expert insight.
Canadian credit union wows with award-winning intranet design
Entegra Credit Union is a fast-growing Manitoba based financial institution serving over 14,000 members across 4 branches and an online savings division.
When they launched ThoughtFarmer in 2017, Entegra was eager to take advantage of all the customization options available.
"When we launched our intranet we wanted staff to feel that they could talk freely and engage with one another, rather than feeling that this was a top-down way to share information. The goal was to make it a fun, safe space to ask questions, engage, and collaborate with fellow employees," said Gabrielle Courteau, Marketing and Communications Manager at Entegra.
One of the first things they did was unveil a logo and identity. Entegra chose a rocket ship, which they named Orbit. It slowly became the inspiration for their entire site, and can now be spotted flying on most pages throughout their intranet.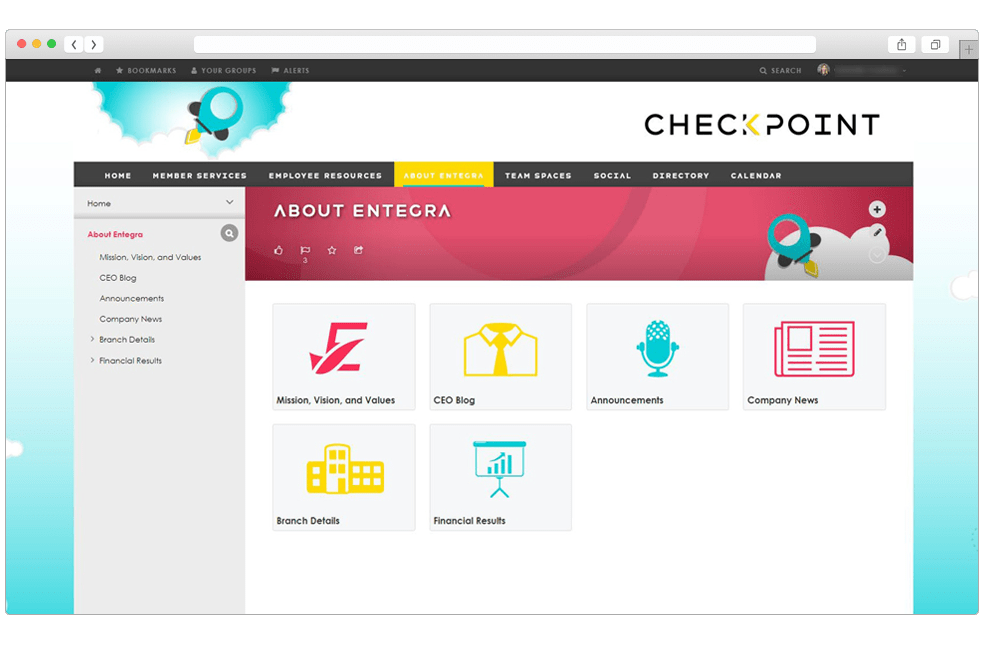 Apart from the impressive visual design, Entegra also did a few other things that made their intranet special. To engage staff, they held a naming contest where staff submitted and voted on potential monikers. After a lot of excitement, they eventually landed on the name CheckPoint.
Following the principles of design, all the images on CheckPoint grid view follow the same chosen color scheme and iconography seen throughout CheckPoint. But they didn't stop there. They even had CheckPoint branded swag and candy all containing the CheckPoint color scheme at their launch party. "When we have a theme, we really go for it!," exclaimed Gabrielle.
Entegra continued to be creative even after their initial launch. A "The Hunt for Orbit" contest encouraged employees to locate Orbit on various pages. The outcome? Increased awareness and familiarity with Checkpoint's navigation.
Entegra achieved their intranet goals by designing a fun, vibrant and inviting space for employees. Best of all, they reminded us of all the merits of a well-designed intranet.
Have questions? Get in touch! We're always happy to hear from you.