Halloween is one holiday that you can easily incorporate into nearly any workplace. When employees participate in Halloween festivities, they can develop camaraderie among their colleagues, and take an enjoyable break from regular work tasks. It's a great opportunity to increase morale, motivation, and creativity while having a little fun.
Below are some ideas of how to incorporate Halloween into workplace:
Take advantage of intranet customizations
One of our most popular intranet customizations is our Falling Fun card. Our Falling Fun card easily allows ThoughtFarmer users to pick and choose any image—snowflakes, autumn leaves, emojis, money etc.—and configure it so that the images fall on a page(s) of your intranet. In the spirit of Halloween we recommend adding falling spiders, cobwebs, witches, ghosts. You can learn more about our Falling Fun card in this article. 
In addition to falling images, there are many other ways to incorporate Halloween into your intranet. As per the example below, you could add a Halloween theme to you intranet.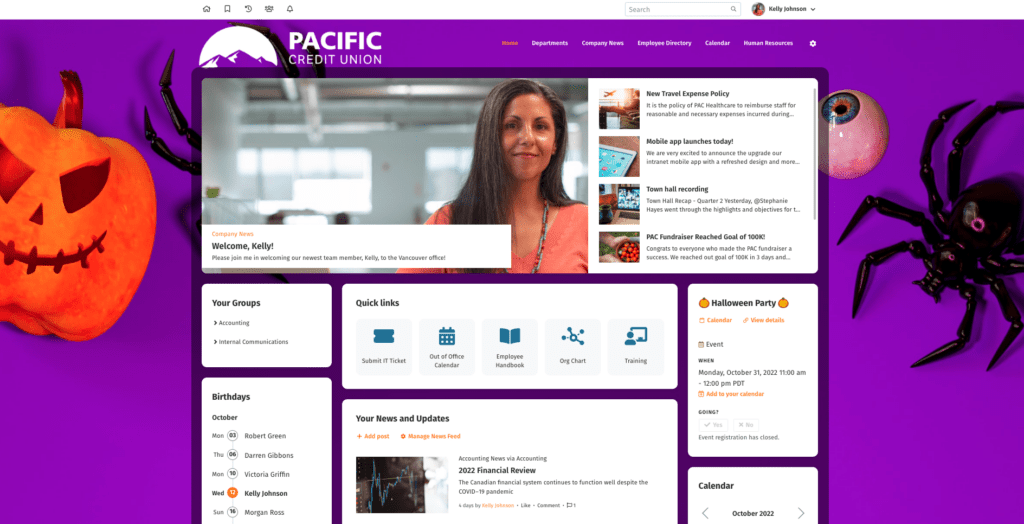 Share some spooky links
Navigating an online ghost tour provides a fun way to connect with your remote teammates during the spookiest season.This link features a list of 14 different online tours of some of the most famous haunted sites. Included in this list are the Salem Witch House, the Winchester Mystery House, and the Chernobyl site. 
Add in some auditory notifications
Auditory notifications are a great way to add some flare to your intranet. MedData did this a few years ago with a thanksgiving gobbling turkey sound. For Halloween, why not try a howling coyote, a creaking door, a meowing cat, a witches cackle, or even a high pitched scream? 
Share some ghost stories
Whether you believe in ghosts or not, chances are you know a good ghost story. Use a shared space on your intranet to encourage employees to share ghost stories. You could even create a contest where employees vote for the scariest story. Or, if you really want to spook your colleagues you could embed a video of yourself narrating your favourite ghost story.
Plan a murder mystery event
A murder mystery is a game the whole office can play either in a virtual setting or in person. Simply designate a narrator who assigns characters to all participants, then employees will ask each other questions to determine who the murderer is. It's a collaborative game involving lots of teamwork while creating some light-hearted competition among work friends.
Switch up your profile picture
Image apps make it super easy to drastically change your appearance with little effort and without resorting to props or makeup. Why not take advantage of this and temporarily replace a traditional corporate photo with something a little more ghoulish? 
For further information on all the customization and add-ons available on ThoughtFarmer, please contact our Professional Services team to learn more. 
Have questions? Get in touch! We're always happy to hear from you.