*Update: Whoaaa, this blog post is really old! Check out some more recent posts here. 
Staff morale is closely linked with company productivity and performance, yet HR and Corporate Communications managers often have limited tools to impact morale. This free white paper explains how a social intranet can offer a lasting, meaningful improvement in employee engagement.
Social Intranets and Employee Engagement:
An HR Solution for Meaningful Morale Building
If you like this blog, you'll love our newsletter
From workbooks and whitepapers, to blog content and best practices, our monthly newsletter is full of great content, advice, and expert insight.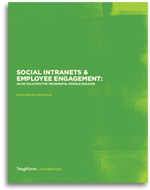 Too often HR teams are tasked with improving employee engagement, but with only limited resources and support. Similarly, HR departments often have only small roles in intranet projects because these projects are seen as technical rather than strategic.
Low employee engagement is not a simple problem to fix. It requires lasting attention and shifting attitudes. Enter the social intranet.
A social intranet's fundamental value is that it gives every employee a face and a voice. This shift in internal communications results in a show of respect and trust that can foster meaningful and lasting improvements in employee satisfaction. Summer picnics and annual recognition programs on their own don't cut it, and will never offer the authentic and persistent value of a social intranet (what is a social intranet?).
Included in the white paper
Research: Extensive references to research from Gallup, Aon Hewitt and other renowned organizations.
Expert insights: Interviews with experts from the fields of employee engagement and HR, internal communications and social intranet design.
Real-world examples: Stories from companies experienced with social intranets.
Screenshots: Examples from several companies' live social intranets.
Best practices: A meaty list of best practices for implementing a social intranet aimed at improving employee engagement.
Why this paper? Why now?
Over years of learning from our clients about their real-world experiences of launching and using social intranets, we've identified a clear pattern: One of the greatest benefits from a social intranet is increased employee engagement.
While increased employee engagement can be tough to measure, its value has become more and more fully researched, defined and proven. Now that companies like Gallup have long-term, quantitative data about the business benefits of highly engaged workforces, it's time to officially recognize the marriage between social intranets and employee engagement.
However, our interest in the topic is personal and runs much deeper. At ThoughtFarmer, beyond fostering employee engagement because it helps people achieve more, we simply feel it's the right thing to do. A respectful and caring workplace can enhance every aspect of employees' lives, from their family time to their health and well-being.
We all strive to sustain a work-life balance and create an enriching work environment and, fortunately, the software we make helps to support that.
Have questions? Get in touch! We're always happy to hear from you.