*Update: Whoaaa, this blog post is really old! Check out some more recent posts here. 
Our newest ThoughtFarmer edition, 6.7 Bamboo, is fast. Really fast. See our previous Bamboo blog post, The Most Important Intranet Feature? Speed.
We've also made it faster to insert forms with Wufoo Form Integration. Now you can access the world's easiest form building software from right inside your intranet. Need to collect some information? Run a survey? Gather some data? ThoughtFarmer with Wufoo Form Integration is a perfect solution.
Why Wufoo?
We love Wufoo, and so do many of our clients. Their tagline sums it up: they make forms "easy, fast and fun". It's low cost, ranging from free to $200/month. It's stable, owned by one of the first SaaS companies, SurveyMonkey. And it's powerful: it includes a wide array of rules, notifications and integrations.
If you like this blog, you'll love our newsletter
From workbooks and whitepapers, to blog content and best practices, our monthly newsletter is full of great content, advice, and expert insight.
What types of intranet forms can I create?
Wufoo provides a range of field options, from basic fields like name, email, and phone number to complex fields like file uploads, calendars, and "likerts". They also allow for rules, which change the form questions depending on users' responses. Best of all, they are really easy to build and use.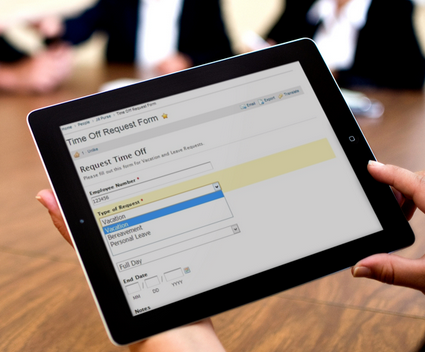 Wufoo's Form Gallery has dozens of great form examples. For your intranet, you might consider forms such as:
Volunteer form
New employee information form
IT request form
Bug report form
Employee satisfaction survey
Suggestion box
How do I use the integration?
For administrators:
Start by setting up a Wufoo Account. Then, you just need to add the Wufoo API token through the Admin Panel.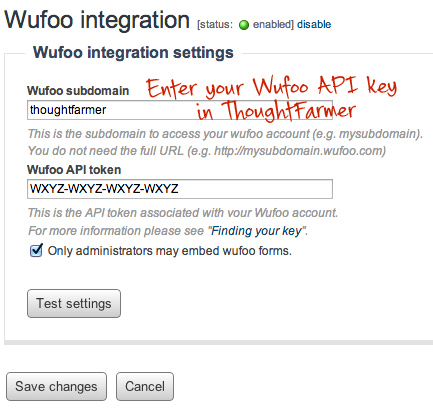 For content authors/managers:
Create your forms with Wufoo's online form builder. It's drag and drop, with easy to follow instructions.
Once your form is set up, insert it by clicking the 'Wufoo' button on ThoughtFarmer's text editor. A pop-up box will allow you to select any form that you've created in Wufoo. It's similar to adding a photo to a page.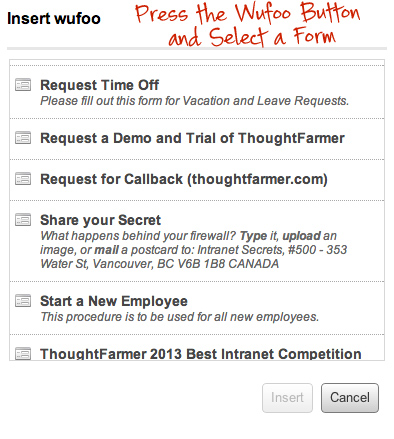 For employees:
Wufoo forms are seamlessly embedded in ThoughtFarmer. Users simply complete the form.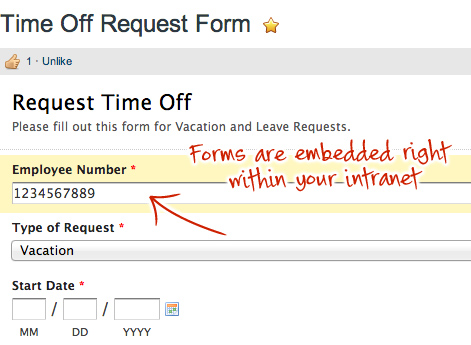 Bonus tips
Use these extra tips to get the most out of your Wufoo forms:
Embed forms close to related policies. For example, if you have a policy about requesting time off, embed the form directly into that page, or on a child page. This makes sure users read the policy and can find the form.
Use notifications & form rules. Notifications will send all entries to any email address or mobile phone number you choose. You can use form rules to send the entries to different people depending on the form content. For example, you could add a form rule to the suggestion box to send intranet-related suggestions to the intranet manager, and office-related suggestions to the office manager.
Send users a confirmation email. From the form settings, you can set up a confirmation email. This email will send a copy of the form to the user who is submitting it. You can also add information about how long their form will take to process and any next steps they should take.
Happy form building!
Have questions? Get in touch! We're always happy to hear from you.