80% of companies claim they offer a superior customer experience, but only 8% of their customers actually agree. 
Ouch. That's a huge gap. 
And it's estimated that in the US alone, over $62 billion in revenue is lost every single year because of bad customer service.
Customer service is a broad term used to define how a company supports its customers before, during, and after a purchase. It can include an employee at a call center, a receptionist, a concierge at a hotel, or a bank teller. 
When done correctly, customer service has as much impact as an excellent sales funnel or strong marketing efforts. Conversely, poor customer service can impact sales, increase turnover, and harm your brand and reputation. 
From the perspective of a customer service agent, it isn't always pleasant on their end either. 
It makes sense: if a customer was happy with their product or service, they wouldn't need to complain, and they wouldn't require assistance. Hence, customer service agents  are often already dealing with fired-up customers. Compounding the issue is the demand for instant information and resolution.  
So why is customer service so bad? 
One survey found that 36% or respondents thought the most frustrating aspect of a poor customer service experience is an agent that lacks the knowledge or ability to solve the customer's issue. To satisfy customers, customer success agents need the resources to do their work effectively, and deliver the right answers to the right customers. 
Ready to build your intranet business case?
A knowledge management strategy plays a key role in establishing an intranet business case.
Download now
So what can we do about it? 
Despite the research citing the challenges within customer service, there is actually a lot we can all do to improve it.
Create a knowledge base
An internal knowledge base helps employees find information, collaborate with others, and locate subject matter experts. By using your intranet as a knowledge base, you can store policies, handbooks, guidelines, and share information cross-departmentally. As a single source of truth for your organization, employees can trust the information they access is correct and current. 
Make information multilingual
Multilingual employees are the backbone to many customer service roles. It therefore goes without saying that when these employees login to your knowledge database, they should be able to access content in the language of their choice.
If your customer service team is multilingual—and depending on the size of your knowledge database—you might want to consider using the services of someone who specializes in translation. For small and minor updates, you can make use of free websites that translate text from one language to another. However, be careful since the translation may not be the exact same dialect as that of your employees. 
At ThoughtFarmer, content creators can create pages in multiple languages, either using their own manual translation, or auto-translation to supported languages. When users visit a page, they will automatically see the page in their default site language (if a version exists in that language). Users will also have pages in their preferred language prioritized in search results. 
Make information easily discoverable
An internal knowledge base is only as good as the speed in which information and expertise can be surfaced. Employees will lose faith in their knowledge database if they cannot find the information they want at the speed they expect. 
Research estimates that enterprise organizations lose nearly $2.5 million annually due to employees' inability to locate and retrieve critical information. Your internal knowledge database should allow faceted and filtered search and should pretty much resemble the ease of Google search. Anything less is wasted time—and money.
Meet accessibility standards
Accessibility is about providing the same user experience for all users and ensuring no one is excluded. An accessible internal knowledge base ensures the functionality and content is accessible regardless of physical barriers, and creates an overall positive user experience.
The beneficiaries of an accessible knowledge base can also serve those with non-disability issues. This includes employees located in regional offices with slow internet connections, team members not fluent in the primary languages, and workers on the road who need to access vital company information via other non-primary devices (such as a desktop or laptop).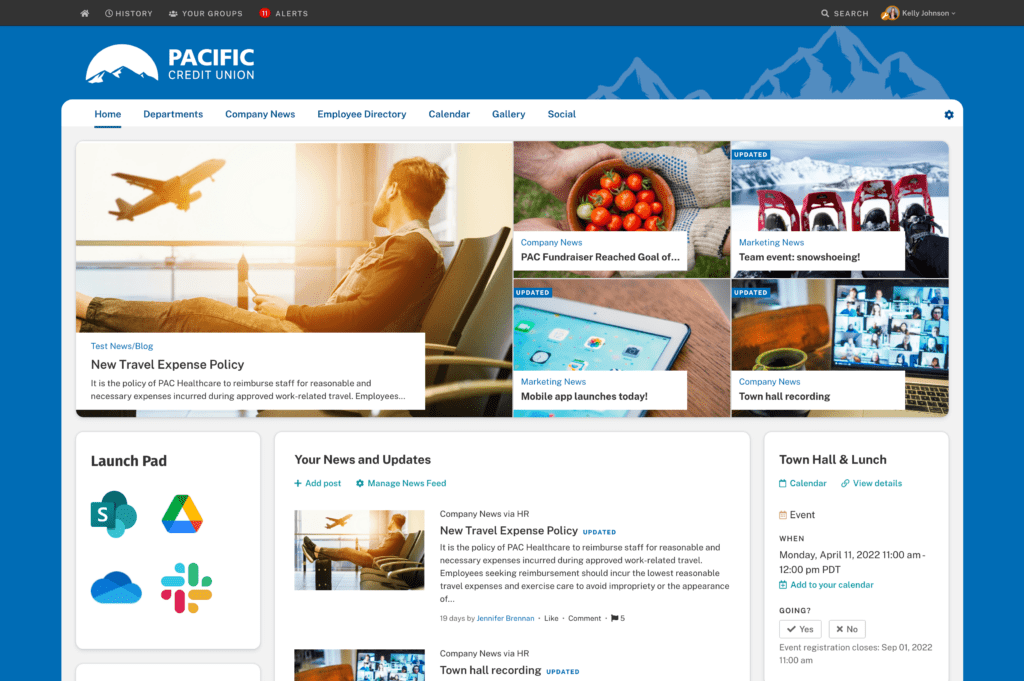 Ensure the database is mobile accessible
80% of the overall workforce are deskless workers, and 83% of frontline workers don't have a corporate email address. This contributes to deskless employees and frontline workers feeling left out, uninformed, and unaligned with corporate strategies—which is essential in customer facing roles. This is why it is essential for internal knowledge bases to be mobile accessible. 
The mobile version of your internal knowledge base must be just as powerful as your popular desktop version. It should be easy for employees to easily search the database as their single source of truth, and bookmark the pages for quick recall later. This ensures they can confidently find content, conversations, and experts even when away from the office. 
In conclusion, great employee experiences help define great customer experiences. By setting a knowledge sharing strategy, involving the right people, and supporting them with the right technology, companies can harness the power of knowledge management to improve customer service and ultimately drive more revenue.
Have questions? Get in touch! We're always happy to hear from you.