*Update: Whoaaa, this blog post is really old! Check out some more recent posts here. 
"Hello there, Mr. Intranet."
People actually call Luke Mepham "Mr. Intranet." It may have something to do with his decade or more of working on intranets at the same company. But Luke got into intranets without much pomp and circumstance. "Back in 1999 while working on the IT Helpdesk I took on responsibility for putting self-service content up on the company's first, very primitive intranet," he told me.
Luke has always been the kind of guy people come to for help with technical things, from printer settings to Excel spreadsheets. He's friendly, tech savvy, and loves to fix things. So it made perfect sense for him to start working on the help desk content for the intranet. Little did his colleagues know the love affair that basic task would ignite.
It's one of the great mysteries of the universe, why some of us find intranets fascinating and become drawn in by the gravitational pull of employee communications, user centered design, collecting requirements, getting the most out of web technology, and making work a better place to be. But mystery aside, Luke is definitely one of us passionate intranet nerds.
If you like this blog, you'll love our newsletter
From workbooks and whitepapers, to blog content and best practices, our monthly newsletter is full of great content, advice, and expert insight.
Career trajectory pushed off course
After his humble beginnings on the help desk, Luke became part of the intranet team. Over the years the team transformed, grew, shrank, switched departments, outsourced technical development, and went through many changes, but all along Luke was there, working on the intranet.
At a certain point, though, Luke's supervisors started shifting him slowly away from the intranet and towards supply chain management and application development. He managed software development projects and a team of Indian developers, but didn't feel the same sense of fulfillment he'd felt working on intranets. Luke said that "while grateful for the broader experience I was able to gain, I felt I'd strayed away from what I really enjoyed and was good at." As he came to realize this, his thoughts and heart returned to the intranet world.
In 2007 as Aviva started consolidating its acquired and merged companies into a single global brand, an opportunity came up to manage the UK intranet team. Luke applied for and won the job and happily returned to the intranet realm.
A series of fortunate intranet events
As part of the company's push towards globalization, the group CEO called for a new single intranet, available to employees everywhere in the organization. This gave Luke the chance to work on a new intranet for a 45,000-person employee base and he took on the project with a fresh gusto. The first phase was simply to create a global intranet that reflected a consistent brand. This happened in 2008 with the launch of "Aviva World." In 2009, once employees had become familiar with the new global intranet, Luke led a huge project to build out the functional content - the type of stuff that falls under "Work & Office" and "HR & Career" headings in the global navigation - for what they discovered would be a total of 6,000 operational tasks.
Originally the Aviva World intranet team had a clear picture of what they wanted from this functional content and how to organize it. "I had a little trouble getting folks on the team to buy in to a user centered design approach, so I ran a card sorting exercise in the London office. The results came back and showed that users had very different ideas about how to organize content than the intranet team." The simple card sorting exercise convinced the team to follow Luke's lead and employ some key practices of user-centric intranet design.
Over the following three months Luke's team conducted card sorting exercises in offices around the globe and online, involving a total of 1,200 employees. Through many iterations of card sorting and with help from a consultant and software to analyze the results, Luke's team came up with a new and beautiful information architecture for the functional content. The new IA went five levels deep, but represented hundreds of perspectives and many hours of gathering and analyzing data.
Once the section was completed, the functional content area saw a 96% success rate for task completion and an 80% accuracy rate. That means that four out of five employees could find the right content for a task on the very first try. These rates are what every intranet manager strives for; Luke's team was able to achieve these results through their significant efforts and investment in card sorting, analysis, and testing.
It was this work that landed Luke the Global User Experience role in London.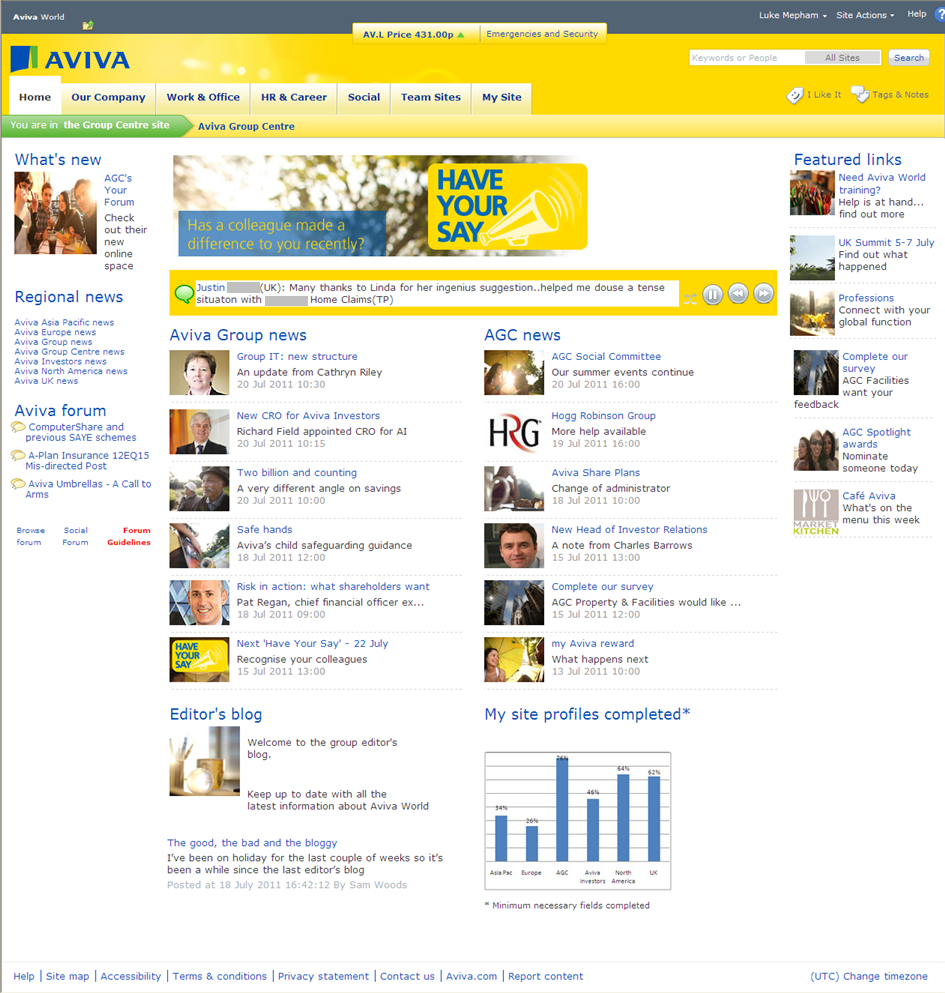 Open, transparent, & engaging intranet planning
Luke credits the success of the content project to broad employee engagement and input. This represents one of Luke's wonderful traits, and a trait shared by many successful intranet managers: he loves ideas and doesn't have to come up with all the good ones himself. This perspective took center stage the following year (2010) when Luke and his team started planning for an upgrade from SharePoint 2007 to SharePoint 2010.
"While many intranet upgrades are seen as an opportunity to surprise employees with a cool new treat, we wanted to lead a very open process. I got approval to seek extensive employee contributions to the upgrade planning process and to run a very transparent project."
Luke and his team created forums on the intranet and asked employees for input on intranet design improvements. Employee comments poured in and the intranet team used the feedback to plan for the upgrade. This high level of openness and employee involvement led to an intranet upgrade that avoided catching people by surprise and instead received rave reviews.
Luke wears sunglasses at night
Today, the latest company discussion forum posts show up on the homepage of the upgraded Aviva intranet, which gets 10 million pageviews per month and has 35,000 discussions in forums. Discussion topics range greatly, from employees helping other employees in need to gathering important corporate insights. Luke elaborates:
"Recently an employee had his iPod stolen. Through forum posts on the intranet, employees around the world organized and raised enough money to buy him a new iPod."
"When Aviva employees are invited to speak to the UK government, they gather other employees' questions and comments beforehand via discussion forums on the intranet."
Employees are actively using and benefiting from the intranet and Luke had a critical role to play in that success. Today he is setting his sites on the new horizons of a fully enabled mobile intranet. But it's not exactly Luke's inspiring vision that has made him a great intranet manager. Instead it's his focus on employees and his role as a facilitator. "The intranet is really about what it allows people to do. I get turned on by ideas much more than the kudos of having good ideas myself," Luke told me.
It's that ability to see and hear his colleagues, truly value them, and find ways to support their needs that has made Luke a wonderful intranet manager. While his career moved away from intranets for a bit, Luke's passion for helping colleagues do their work brought him back to the intranet world and today he's living the dream.
Name: Luke Mepham
Age: 33
Hometown: Born in Yorkshire; grew up in Norwich
On Twitter: @LukeMepham
Blog: Intranetizen
Company: Aviva PLC (Insurance)
Headquarters: London, England
Employees: 45,000 globally
Job title: Global Intranet Strategy & User Experience Manager (GISUEM for short)
Name of intranet: Aviva World
Last intranet overhaul: April 2010
Technology stack: SharePoint 2010
Have questions? Get in touch! We're always happy to hear from you.