ThoughtFarmer 5.5: Gorgeous, Effortless, Engaging
ThoughtFarmer Version 5.5 brings the visual appeal and convenience of social intranets to a whole new level. Elegant photo galleries, customizable and easy-to-scan discussion forums, the helpful Application Toolbar and other features make ThoughtFarmer 5.5 a treat for your intranet users.
Photo Gallery Overhaul: Easier, More Visual
Photo galleries are now even easier to use, more visually engaging, and better geared towards fostering discussions.
New photo gallery features:
Enhanced display of image galleries: Images display much larger than before in a tiled, highly visual format. Galleries with hundreds of images load progressively to maximize speed.
More discussion: See at a glance which images have sparked comments. Click to join the discussion.
Click to enlarge in Gallery Preview: One click on an image enlarges it for easy viewing, editing and commenting. Step through the gallery by clicking the arrows.
Inline title editing: In Gallery Preview, just click an image title to edit it.
Keyboard shortcuts: In Gallery Preview type "e" to edit the title, click "t" to add tags to the gallery and use the arrow keys to move through a slideshow.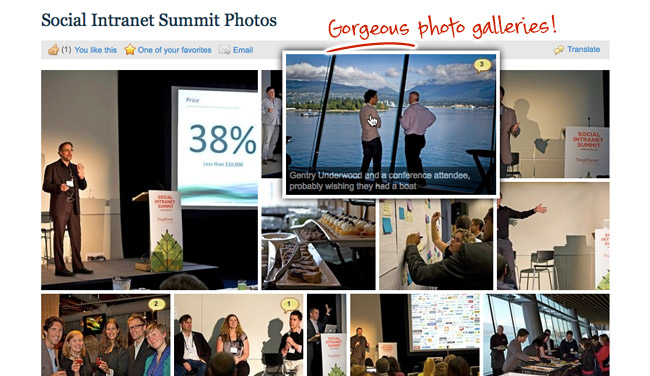 Forums Overhaul: Get the Conversation Started
We've completely re-worked forums to make them easier to read, more engaging and better-suited to real-world collaboration scenarios.
New Forum Types: Build a Q&A, an Idea Incubator or a Travel Forum. Administrators can create custom Forum Types to guide usage.
Compact display: See more at once with the compact, easy-to-scan view.
Unread indicator: ThoughtFarmer now tracks forum posts you haven't seen yet. If a topic has 3 new posts, you'll see "3 new" beside the topic name.
Search within a forum: Each forum page comes with a search box.
Simple leader board: See a snapshot of forum activity and who the most active recent contributors are.
Improved date filtering: Narrow results by "Last 24 hours," "Last 7 days," "Last 30 days," "Last 3 months," "Last 6 months," "Last year," or "Over 1 year".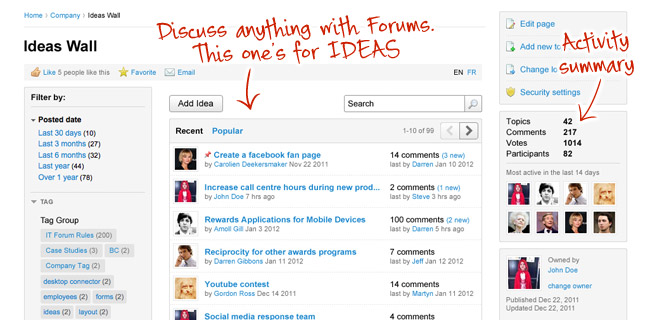 New Application Toolbar: Quick access to key functions
The new "App Bar" takes convenience to the next level, providing quick access to recently viewed pages, intranet favorites, your profile page and the Admin Panel — all from any page of the intranet.
Application Toolbar features:
Access Favorites on any page: A drop-down list shows your Favorites, available from anywhere on the intranet
Recently visited pages: Click the "Recent" button for a list of the last 15 intranet pages you've visited.
More room for your top navigation: You no longer need "Home" or "Your Place" on the top navigation bar. A home icon and a direct link to your profile page are on the App Bar.
Easier access to Admin Panel: Quick and easy access to the admin panel via the "Settings" icon.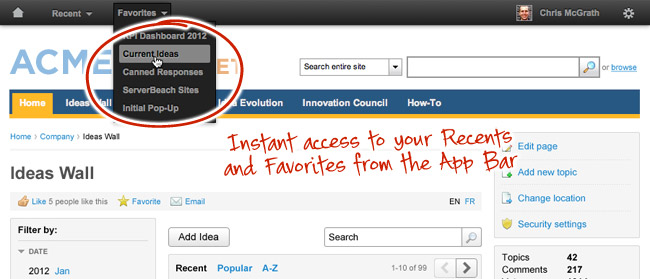 Comments: Prettier, faster
Friendlier comments display: Comments appear like thought bubbles with a fresh, clean design.
New "Quote this" feature: Reference other people's comments on the page directly in your new comments.
New reply box easier, faster: On pages where comments already exist, the "Reply" comment box is already open on the page, ready to be filled in.
New Layout & Branding Options
Full bleed header & footer: Admins can now set the site header & footer to bleed to the edge of the browser window.
Max width for better usability: When set to fluid layout, ThoughtFarmer stretches to a width of 1440 pixels and then stops stretching, centering in your browser window. This makes for better placement of UI controls and increased readability of text on high-resolution monitors.
App Bar branding: The appearance of the new App Bar can be controlled from the skinning console.
Active Directory Sync from ThoughtFarmer Cloud
ThoughtFarmer Cloud clients can now enjoy easy user administration by syncing users with their existing Microsoft Active Directory. Please see AD cloud configuration for configuration and supported feature details. This new feature will also work for clients wishing to set up a non-domain-connected web server in a DMZ.
Increased accessibility for users with visual impairments
ThoughtFarmer 5.5 introduces new WCAG features to assist users with accessibility requirements. These new features include:
Hidden menus to shortcut to key page elements for screen readers
ALT tags for all ThoughtFarmer application images (e.g. icons, profile photos)
Ability for users to set ALT tags for embedded images in the Rich Text Editor.
Request a demo of ThoughtFarmer 5.5
Are you already a ThoughtFarmer client? Visit the ThoughtFarmer Helpdesk to schedule an upgrade or read the release notes.